SO LONG BRUCE CRUMP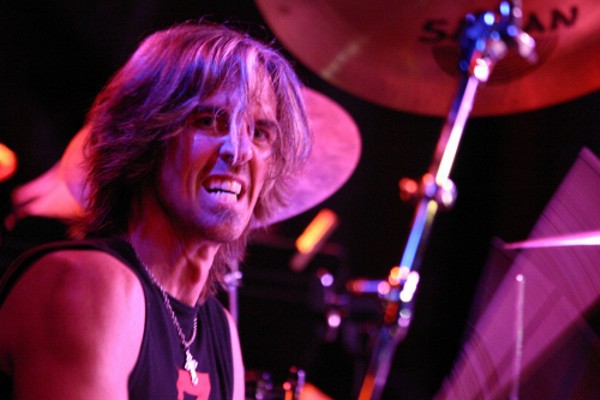 Bruce Crump died the 16th of March 2015 ; the reason of his death hasn't been yet revealed. Molly Hatchet's slugger was 57. The man was so discreet that it's difficult to establish his biography. Born the 17th of July 1957 in Memphis, the other musical capital of the Tennessee, Bruce is raised in Florida, in the area of Jacksonville and St Augustine. Attracted very young by all that is percussion, he has to wait for the highschool years and sufficient savings (at that time Bruce multiplies little jobs to get pocket money) to be able to buy a drum kit. One day, he's present at a concert of the first line-up of Molly Hatchet and he is seduced by the energy that those young musicians already radiate. A bit later, from shared friends, he learns that their drummer is about to quit. So Bruce stands for hold the vacant post of lead slugger and everybody knows the rest of the story.
Bruce Crump takes part to the Molly Hatchet adventure from 1976 to 1982, he plays on the four first albums of the band and collaborates in several tunes' writing (« Trust Your Old Friend », « The Creeper », « Whiskey Man », « Boogie No More », « Few And Far Between » and some other).
In 1983, Bruce leaves Molly Hatchet to try his luck in California as well as in Canada where he plays with the band Streetheart. He returns in Miss Molly in 1984 and doesn't leave anymore until 1990, the year where the Hatchet Boys decide to grant themselves a break of a year (that will in fact last several years). In 2005 he naturally joins the Gator Country Band with his former Molly Hatchet workmates. Yet, the life doesn't spare him. In 2003, he is diagnosed a throat cancer while Bruce is the father of a young eighteen monthes child and his wife is pregnant with the second one. That takes the cake for someone who apparently never commit any excess and always focused on his fitness. Incidentally, in an interview, John Galvin described him as a discreet guy, living in his own bubble without participating to the misdemeanors of the other members of the band. According to him, Bruce Crump took care about what he had to eat (he didn't go to the restaurant with his pals and prepared his own food), drank water in bottle and worked his body building in a very strict way. Tongues wagging assure about that that Bruce would perhaps have abused steroids, that could have passed him this dirty trick (it's true that, when we look at the back covers of the two first Hatchet albums, the difference is striking : a bit buxom and paunchy on the first one, Bruce appears with huge and blew up biceps on the second one).
Bruce fought during years against the illness and suffered from the consequences caused by the treatments. Despite everything, he continues his job of drummer till the end, joining the bands White Rhino and China Sky (recently set up again) and developing an Internet site of drums lessons. Recently, Bruce fed the controversy on the Net with his quarrel with Bobby Ingram, accusing him to have proposed him a less payed place of « sideman » by Molly Hatchet, that wasn't very elegant to a former charter member of the band. He even promised to write a book informing about the Ingram's « machinations » ; he didn't have the time. Of course, the last pics uploaded showed us a Bruce a bit thinner but even though looking physically fit. And then, suddenly, those sad news.
So, what can we say to pay tribute to him ? Quite simply saying that he was a living metronome ! From my point of view, Bruce Crump has always been underestimated because some people found his style simplistic. Yet, in a band counting three guitarists and a bassist playing very often different melodic lines, the drummer has to keep the feet on the ground and focus on the tempo otherwise it's the mess. Bruce hit right, without a flourish but with talent. To give proof, you just have to listen again to his work on « It's All Over Now ». A perfect and efficient hit, a sharp and forthright drumming. Some punches offbeat here, some snare drum rolls there but a keen and sustained steel tempo.
And the offbeats bass drum/charleston on the break of « Bounty Hunter » (just after the solo), he had to find them ! And the hypnotic drums on « The Creeper ? Hat off ! And « Beatin' The Odds » ? What a rhythm ! And the infernal hammering on « Boogie No More », who was in charge ? I remember the concert of Molly Hatchet at the Elysée Montmartre in 1990 : Bruce hit powerfully; it knocked badly !
So, even he didn't rival with Ian Paice or Carmine Appice, Bruce Crump was a super rock drummer. And as he assured it in an interview, he always lived thanks to his instrument, and that is not given to everybody.
So, well done Mister Bruce and thanks for the pleasures you gave us !
Danny Joe Brown, Duane Roland and Riff West are delighted. They were missing a drummer : they have one now !
Olivier Aubry
Translation : Y. Philippot-Degand


Copyright © 2013 Road to Jacksonville
Webmaster : Patrice GROS - The Sound Of Chicago
Tous droits reservés.
Design par Zion pour Kitgrafik.com