MOLLY HATCHET - RECORD AFTER RECORD (AND A LITTLE BIT MORE…)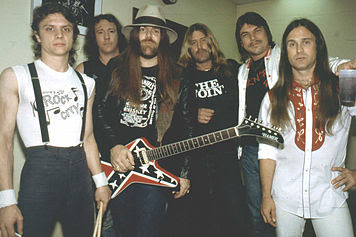 Head of the second wave of Southern Rock from the end of the seventies, this band maybe is not as famous as at his beginning, but he let some obvious testimony of his talent and his musical originality.
We are going to talk about the incredible Molly Hatchet saga in his recordings and to show, if necessary, his real print in the music world.
Are you ready? Ready for a story of great moments and many excess? Ready for an adventure full of screaming guitars and yelling amps? Did you save some food and beers? So, we can begin…
THE BEGINNINGS
In 1977, autumn has not only lost his feathers. A giant of the music world has also fallen. The myth Lynyrd Skynyrd has stopped because of a plane crash and let a huge hole in the world of Rock n' Roll. But his famous leader Ronnie Van Zant had the time to begin the production of another band from Jacksonville. This group is led by Dave Hlubeck. This man has gathered some musicians of his surroundings. He began with Steve Holland on guitar, met in a music shop. Then he recruits banner Thomas on bass and Bruce Crump on drums he met in different local bands. Then Duane Roland joins them. Duane and Dave knew themselves before they met, each of them having the reputation to be a star of the guitar but they never met before. Duane arrived one evening in a bar where the band was playing, he wanted to see the famous Dave Hlubeck on stage. They were playing a cover of Charlie Daniels' "The South's gonna do it again". Dave saw him and he changed the lyrics: instead of talking about Dickey Betts, he sang "and Duane Roland picking on hat red guitar". Then Dave invited him to join them on stage; after some songs, Duane got the job.
Dave Hlubeck also gave his version of his meeting with Danny Joe Brown. One day, between two sets, Dave saw a big man coming to him and saying: "You're a great guitarist but you can't sing!". So Dave answered: "And who are you?", "you don't know me but I'm your next singer!" told Danny. He got an appointment for an audition next week during a show.
When Danny arrived he was so self assured and so hot that all the audience stared at him for all the show. He sang Lynyrd Skynyrd "Gimme three steps" and he got the job. This new band played in every bar and show room in the Jacksonville area. Ronnie Van Zant knew them because they all came from the same workers area in this industrial city. Ronnie already met Dave Hlubek in the past and he invited him and his pals to record some demos. MCA gave money to Ronnie to take care of a country music female singer and this new band from Jacksonville. After the demos, Ronnie promised them to record a real album, just after Lynyrd Skynyrd tour. Destiny and fate decided it in another way. So many talents have fallen in a stinking swamp this bad day of October!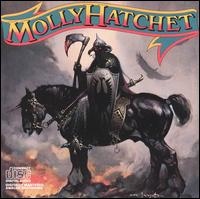 MOLLY HATCHET (1978)
Molly the hatchet was a prostitute who used this instrument against his lovers in Salem during the 17th century. The band has chosen the same organization than their mentor, three guitars in the front. But this is the only real comparison. Some can say they just are pale clones of the great Skynyrd (they play "T for Texas" on stage and "Bounty Hunter" looks like a fast "Double Trouble"). Yes this Southern boogie, famous with Ronnie's band, is one of their inspirations but they it in a totally new hard Rock vein.
Add the strength they got in living in Jacksonville and you understand the way they are.
Just note that Molly Hatchet musicians took the Lynyrd Skynyrd instruments to record their demos, and that may explain the musical similitude.
Molly Hatchet first album is issued 1978 the 28th of August, Dave Hlubek birthday. A nice gift.
Cover is a Frazetta painting where we can see a middle-age warrior on a black horse, with red eyes and an axe full of blood. There's a vulture in the sky showing that Death is coming with this horseman. This freezing painting has a banner at the name of the band, it hurts imagination.
On the other side of the cover there's a picture of the musicians, rough men who spent their youth in the streets and who are not there for fun. Danny Joe Brown has a tee-shirt with the inscription "Redneck Power". What a promise!
Music is in the same way. Sharp guitars just like razors, with harmonies in the Southern style. Tempo is heavy, bass roaring and drums that hit. And Danny Joe Brown's voice, full of whisky and feeling (he explained later he got his voice when he played at the American football). It hurts, it takes the guts with bloody lyrics, far away from Ronnie van Zant poetry.
"Bounty Hunter" is close to hard rock and talks about the work of hunters for money. It says that you can kill a man for five hundred dollars. Southern pride appears in "Gator Country" that talks about Florida beauty, also talking about great rockers from the South. It's a great tribute full of guitars. Dave Hlubek told later that Ronnie Van Zant himself whistles on that song…who knows if it's true?
Duane Roland also talked about that song. In the lyrics it's written « Skynyrd says it's a real sweet home, but it ain't nothing to me ». To be kind to Ronnie they decided to change the words in « and it's okay by me ». So Ronnie told them they were faggots and obliged them to let the original words. This is an unverifiable story.
On "Big Apple" Molly Hatchet warns New York they have to take care of these Southern bad boys. "The Creeper" has a rhythm section in the perfect Southern way, "Trust Your Old Friend" is heavy and guitars are at the top on all the songs.
There is also Gregg Allman's cover "Dreams I'll never See" that shines in a faster tempo and an historic guitar battle that shows how gifted Duane Roland is. There a legend that pretends that Duane has played all the guitar parts on that song, Doc Holliday's Bruce Brookshire confirms it. Don't if it is true or not.
So Molly Hatchet has made a heavy and perfect first album, with a great and compact sound that light up the guitars. A lot of people understand the quality of this product and buy the record; it becomes golden record with more than a million copies sold. Band is the special guest of many famous groups (Bob Seger, Reo Speedwagon, UFO), and then becomes the top of the bill. Success is on!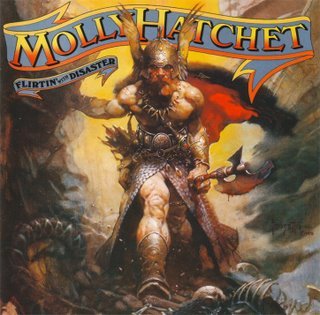 FLIRTIN'WITH DISASTER (1979)
Band second album is always expected and is often the harder to create. It shows the way the band is going, better or worse. And here Hatchet guys don't deceive and realize a perfect master hit. Their rock is heavier, sound is better and Danny Joe Brown voice hurts more and more. This album is full of guitars solos. Every song is a real hit.
Danny Joe plays his harmonica on "Whiskey Man" intro. There's an original Southern swing on a powerful but light rhythm section but never too much heavy.
"It's All Over Now" cover is a real firework and shows what is in that record: good old Rock n' Roll for good times! "Good Rockin'" and "Let the Good Times Roll" are in the same way. Southern spirit flies on "Gunsmoke" and "Long Time" (with its wonderful guitar solo). "One man's Pleasure" is full of rhythm and "Jukin' City" has been recorded with the first album and is full of joy with a Duane Roland solo (easily identifiable).
Then we get "Flirtin' With Disaster" close to the hard Rock. Dave Hlubek told later that this song comes from a car accident when the girl that was in his car screamed "This guy is flirtin' with disaster" just before the crash. The lady's name is written on the album cover. And at the end the electric organ explodes on "Boogie No More", full of guitars solos and a final that leaves us happy.
All these songs are in a cover signed again by Frazetta, a warrior enters in a cave with his axe walking on human bones with a snake on his feet; a terrible and freezing painting.
Molly Hatchet musicians have made a good job and they sale a lot of this anthology album that enjoys Hard Rock, Southern Rock and Rock n' Roll fans. They sold more than two millions of records and got a platinum record.
Band plays now in huge stadiums and gives more than 250 shows in 1979. They come in Europe and share the stage with the Who in Nuremberg. They also play in France for the TV show Chorus. They are living an awaken dream. They are at the top, famous and rich. Everything seems to be perfect. But unfortunately big success often leads to big excess.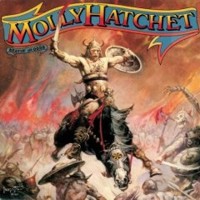 BEATIN'THE ODDS (1980)
Fame is dangerous: life can be better or worse. Becoming stars Molly Hatchet members take all the excess of this new life. That's logical when you know where they come from. Duane Roland told that when they played in small clubs before their contract with Epic, they all slept in their van and often didn't eat after the shows. One day they went to a drugstore, explained they had no money but promised to pay as soon as possible. The owner of the shop gave them food and received his money later; a nice story from life on the road.
Now that they have money, musicians are ready for all. It is in this period that Dave Hlubeck met Lady Cocaine and that Steve Holland drinks beer during breakfast. Danny Joe Brown is the first to become alcoholic, after a crisis during the "Flirtin' with Disaster" tour. Doctors said he got diabetic too. Often, at the end of each show, fans offer him Jack Daniel's bottles. Danny always accepts and drinks all the bottles he got. But diabetes and alcohol can be deadly and Danny has to cure for his health.
Then Danny Joe Brown and Dave Hlubek begin to fight pretending each one is the leader of the band. Tension is high and Danny Joe quits the band.
It's terrible: Molly hatchet has no more singer.
Pat Armstrong their manager looks for a substitute and Jimmy Farrar's name arrives. They call Jimmy. He answers he can sing all the songs but he warns them: he pretends he is ugly. It's a very big giant with an ugly face. But he's got an interesting voice, clearer than Danny Joe's and a larger scale too. These particularities will sure help him to follow Molly Hatchet in the hard Rock way.
Dave Hlubek and Duane Roland are endorsed by the revolutionary guitars Hamer, it's the first time in the Southern world. Steve Holland prefers his Fender Stratocaster.
New singer, new guitars, new sound and new compositions. All that will change the die-hard fans, even if this album is good with good songs. There are great moments on "Beatin' the Odds" and "Double Talker". "Penthouse Pauper" is good too and the Hatchet spirit is present on "Sailor". "Dead and Gone" and "Few and Far Between" are good enough. And for the first time they offer us a ballad, "The Rambler", even if guitar breaks are heavy. However it is a wonderful song where Jimmy Farrar voice is perfect. Only "Poison Pen" and "Get Her Back" are poor and seem to be there to finish the album.
Frazetta signs another wonderful cover with a warrior on a flying horse. However sound is heavier and is not so close from Southern way. But Dave Hlubek often said that Molly Hatchet is not a real Southern band but more a metal band from the South.
And fans don't understand why Danny Joe Brown is gone and ask for his return. (Dave Hlubek told that Jimmy Farrar got chairs, bottles and many different stuff on stage at his first show). This album however gets a gold record with more than a million of copies sold, but is far from "Flirtin' with Disaster" success.
It's true that when we are high we just can go down. Molly hatchet guys unfortunately will understand that next year.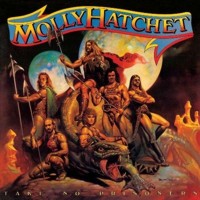 TAKE NO PRISONNER (1981)
Even if the last album was not as successful as expected, band is still touring in crowded stadiums. But the Epic Records staff worries. And the sales of the new album are not good, it is a real disaster. First, cover is special. Frazetta has been fired for money reasons. His prices have been three times increased and Dave Hlubek said he pretends it's because of his work that Molly Hatchet got such a success. Band answered that never any cover has been heard on the radio. His substitute Boris Vallejo draws musicians as old time's warriors, with tanned muscles, on a dragon. Even Jimmy Farrar has no more big belly and Dave Hlubek confessed that he paid the painter to draw him with an enormous sex. Bad taste is at the top!
Even Molly Hatchet special sound and music becomes an usual Hard Rock music, because of bad production and mix. However this record has good songs, such as "Bloody Reunion" and "Respect Me In The Morning" with a duet between Jimmy Farrar and Mother's Finest female singer "Baby Jean" Kennedy."Lady Luck" and the ballad "Power Play" are good enough, and "Dead Giveaway" is heavy. But "Loss of Control" and "Don't Mess Around" in a hard Rock vein are not great, just like « All Mine » et « Don't Leave Me Lonely ». And the cover of "Long Tall Sally" doesn't bring anything new, Cactus having played a better one ten years before.
Sound is too bad and guitars sound like metal. But, with another mix, some songs could have reached another dimension. At the end, the album looks like a bad recording. Later Dave Hlubek confessed that he maybe was lazy in writing songs, just like the other musicians too.
Critics bring the album as low as possible, excepted Kerrang that sees the best album of the band and a small article in a French revue that compares Molly Hatchet to Ted Nugent. It is really catastrophic!
At the same moment, bass player Banner Thomas leaves the band, and Riff West is his substitute.
Success being gone, Hatchet guys understand they have to work harder because they are going in a hole. So they work harder.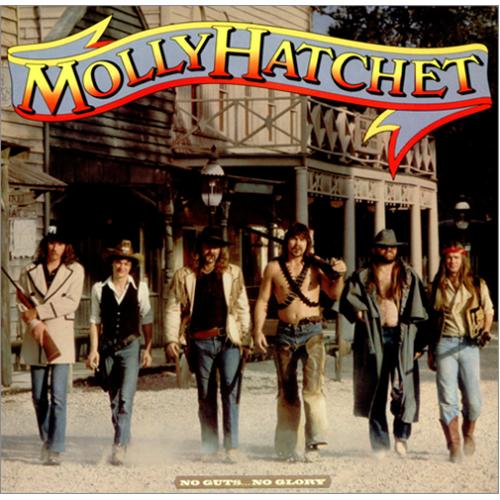 NO GUTS… NO GLORY (1983)
Many times has passed since "Flirtin' With Disaster" that brought Molly Hatchet to the top.
Danny Joe Brown leads his solo career and made an album in 1981, recorded in Bahamas. This album, even very good, got no success and was a deception for the singer. His old musician friends did the same with little success. And Jimmy Farrar begins to be tired of life on the road. He misses his family. Later he talked about his second child birth: he told he took him in his arms just before leaving to go back on the road. He saw him again three months later. So, ready to break up, Jimmy Farrar tells his bandmate that they to find a substitute. So whatever the size, there's no fun! That why appears an obvious conclusion: Danny Joe Brown has to come back in Molly hatchet.
It seems that the Epic boss himself asked the singer to come back in the band. And they talked about that in the Men's room (Danny Joe always pretended it was true).
Danny Joe agrees and comes back. Everyone in the bad is ready to work and create some good stuff.
In the same time, drummer Bruce Crump leaves and goes to Canada, and is replaced by Mother's Finest's BB Bordan.
So let's be clear: their new album is an incredible good one (best for the fans just like "Flirtin' with Disaster").
Cover is different and is close to the cow-boys world. No more warriors, but six outlaws with guns. Respect!
And music is really crazy and incredibly good, sound and songs are at the top. Rhythm section is heavier as possible and guitars are totally dangerous, maybe because Dave Hlubek and Duane Roland share the production. There is no bad song. « What Does It Matter? », « Ain't Even Close » and « Under The Gun » are Southern hard rock jewels. Southern rock is back on "Sweet Dixie" (with Dave Hlubek triple solo), and on "On the Prowl" with an unforgettable intro and slide solo. Sweet « What's It Gonna Take » and country ballad « Kinda Like Love » are good enough, just before the wonderful instrumental song "Both Sides" where Grinderswitch's Dru Lombar comes and play. Then Molly hatchet offers us his masterpiece "Fall of the Peacemakers", which is talking about John Lennon. This song begins with a moving ballad and ends in a guitars explosion, just like great such as "Freebird" or "Green Grass and High Tides".
With such good song, miss Molly can begin (with the Outlaws) a world tour and they come in Europe. March 1983 the 14th they are at the Mutualité concert Hall in Paris. People who were present will sure remember Danny Joe Brown performance, Dave Hlubek playing "Sweet Home Alabama" intro, the ten-minute long "Fall of the Peacemakers" and the power of the sound (I stayed deaf for three days after…). There's no doubt, Molly Hatchet has a terrible power.
But, even if he's perfect on stage, Danny Joe Brown is still ill and diabetic. June 1983 the 11th, a show in Kansas City with Blackfoot was quite cancelled because Danny Joe had to go back in Florida to cure his insulin dependence. Blackfoot helped Molly Hatchet to end the show with Rickey Medlocke singing and Charlie Hargrett on rhythm guitar. Tour could finish and Danny Joe was back the following day.
Molly hatchet has pleased his fans with his music back to the roots and issuing a great class album, just as said the musical critics.
Unfortunately, this masterpiece didn't bring too much money. Because in the beginning of the eighties they were no more up-to-date, they became has-been and sales didn't make it. Molly Hatchet guys had made a good job, that's pity!
They have to understand that people don't like heavy guitars and long solos anymore; synths are now at the top. They need to react, and unfortunately it's gonna be hard.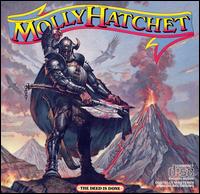 THE DEED IS DONE (1984)
After an album such as "No Guts…No Glory", we could hope that Molly hatchet will follow the same way.
Unfortunately, this new album will really deceive fans and was so bad that "Take No Prisoners" could have been a masterpiece compares to it.
There is a new drawer, Ezra Tucker, who use the usual universe of the band (warrior, bloody axe and vulture) and signs a very beautiful cover. But something seems broken.
First, we can see that Steve Holland is gone. He left to protect his own health and to make his old dream : to live on a boat and flee around the oceans. John Galvin takes his place on keyboards (he already played on Danny Joe Brown solo album and on "No Guts… No Glory"). We also can note that Bruce Crump is back on drums. But clothes and haircuts of Duane Roland and Bruce Crump show that they want to be in the fashion wave. Even Danny Joe Brown seems to be very clean and polite. Fans can worry. And it becomes obvious when we listen to the new songs. Drums is badly mixed and synthesizers' sounds appears on "Satisfied Man" and on all the album: we just got a very bad musical soup full of FM music. Doc Holliday, Blackfoot and Point Blank already had sunk in that musical shit before, and now the old Molly dive into it.
At this moment it was a real scandal and a true betrayal, and we asked ourselves why such musicians went in such a musical way. We didn't know that music industry did what they want and bands had to what they ordered. The Epic staff looking at the Molly Hatchet sales obliged our Southmen to create new songs that could be aired or broadcast on MTV. Composers arrived to help musicians to create such songs. And result is really bad, sometimes it looks like a parody (keyboards close to New Wave and surprising saxophone). However, some songs are good enough like « Heartbreak Radio », « Good Smoke And Whiskey » or « Straight Shooter », but it's too short. Only the acoustic instrumental song "Song for the Children" written by Dave Hlubek is good.
The worst is that this musical turn won't sell more copies. Molly Hatchet has won nothing and lost his credibility. No clip on MTV can change it. Nice job of the Epic staff. We can ask ourselves why such stupid guys are at the head of the musical industry? Only for money I guess.
So, whatever happens, it's not good for our Southern boys.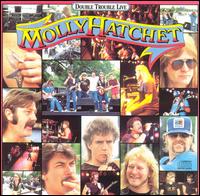 DOUBLE TROUBLE LIVE (1985)
When a band has a lack of inspiration, or has to do an album for his musical support or if they are threaten to be fired, they often issue a live album. Molly Hatchet does it and fans were waiting it for a long time. But sound is too much clear, too clean, and don't brings the real power of the band on stage. We also can think that some re-recordings have been done, but all the bands did it at this moment. We also can be disappointed of some new songs, but all the hits are present for the fans happiness, with good versions of « Dreams I'll Never See », « Fall Of The Peacemakers » and « Edge Of Sundown » (from the solo album of Danny Joe Brown). Molly Hatchet plays a great cover of Lynyrd Skynyrd « Freebird » with its own style. Bruce Crump told that some recordings are pretty old. BB Borden was on drums on "Fall of the Peacemakers" and the three guitar players played together on some songs. Maybe it's true but difficult to prove.
This album is good but it's not a revolution. Many fans used to have live bootleg recordings for a long time. And some lucky ones had the promo albums "Flirtin' with Disaster" and "Beatin' the Odds" with some real live songs.
Let's just talk about live and bootleg recordings of Molly Hatchet. There are plenty of such albums, some are easy to find especially on the Net or in the records markets.
In 2000 and in 2003, two official live album have been issued : one of a 1979 show (with Danny Joe Brown) and one of 1982 (with Jimmy Farrar). We could have been happy to get them at this period!
So this "Double Trouble Live" won't make it and it will be the last Epic album. We are now at the end of the century and Molly Hatchet has no more contract.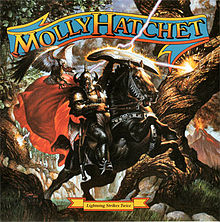 LIGHTNING STRIKES TWICE (1989)
Even if Epic records is gone, Molly Hatchet is still on tour, especially in the USA Universities campus and in some other particular places found by their manager Pat Armstrong. They have to do is for a living and musicians keep touring everywhere they can. Some other troubles arrive too, because of Dave Hlubek who has a real huge cocaine problem. He told later he spent his days to drink and sniff drugs. His mood changes and that creates some problems inside the band. Old tensions between Dave and Danny Joe Brown come back again. Hughie Thomasson, Outlaws guitar player, remembers he saw them fight many times at this period. But now it has gone too far. Dave doesn't talk anymore to the other musicians and is in a real delirium. He tastes crack and looks like a living dead.
There's a live recording of this period, called "Rock n' Roll fire" or "Gods and Knights", shows the tension in the band. Danny Joe only talks of Duane Roland ("Go Duane!" "Do it Duane", "Here's a Duane song" "Ladies and Gentlemen here's Duane Roland"). Not any word about Dave Hlubek who is present and can be heard with his special sound and his solos close to "cats screams" (as told Jay Johnston who played with him in the Southern Rock Allstars).
Tension is too high and Dave Hlubek leaves the band at the end of 1986 (in January 1987 he said).
After his guitar player and founder left, Molly Hatchet is again in a bad mood. Danny Joe Brown asks Bobby Ingram (an old pal who played in the Danny Joe Brown band and in China Sky) to join them. He accepts and Molly Hatchet can be back on the roads.
The band is able to catch a deal with Capitol and creates a new album in 1989. After four years of silence (five if you don't count the double live album), fans are impatient but anxious, the awful "The Deed is Done" staying in the memories.
But the first notes of "Take Miss Lucy Home" show that we get here good old Rock n' Roll, just like « There Goes The Neighborhood », « Find Somebody New » and « What's The Story, Old Glory ». Beautiful ballad "Goodbye to Love" is great and the Southern spirit is back on "No Room on the Crew" and especially on "I can't be Watching You". The modern but bluesy "The Big Payback" is pretty good too. However, FM rock is back on « Heart Of My Soul » and « Hide Your Heart » (composed by Paul Stanley of Kiss), but these two songs can be heard. John Galvin keyboards are present but in an old fashioned way (piano and organ) that's good for the guitars ambiance.
This is a real re-birth! Old Molly is still alive and well and knows perfectly what's boogie.
Band begins touring in Europe (it's been a long time…). March 1990 the 18th they play in the Elysée-Montmartre in Paris, a heavy show, an enormous sound, Danny Joe Brown at his best and a perfect Duane Roland. It's a great souvenir for people who were present.
There's a new spirit in Molly Hatchet that can bring them to a new career. But the old time Southern Rock glories don't interest a lot of people now. Too less album sales and Capitol leaves them. They are not lucky because with such a record issued one or two years later they could use Lynyrd Skynyrd reformation to help them (Hatchet and Skynyrd often missed their rendez-vous).
Once more, success wings didn't touch Molly Hatchet. Once more. Once too much.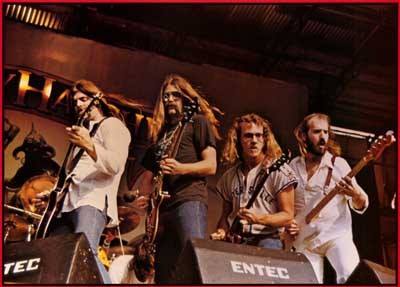 SUNSET (EPILOGUE)
Molly Hatchet keeps on touring for some money without any help. It's hard for them and they decide to break up for one year. Bruce Crump and Riff West play in different bands and Duane Roland begins to sell electronic appliances.
Danny Joe Brown is alone and bear Molly hatchet skeleton, with just the help of Bobby Ingram and John Galvin, with different rhythm sections that don't last more than one evening.
But Molly's flag is still in the air in every possible place to play. And in 1996, German label SPV (who signed with Lynyrd Skynyrd) offers a recording contract. That's good news! Unfortunately Danny Joe Brown can't enjoy that for a long time. He just create two songs ("Devil's canyon" and "Rolling Thunder") when his diabetic disease is back. He catches a cerebral commotion and is half-paralyzed. Many months after, he just can walk alone. He names Phil McCormack (ex-Road Ducks) to take his place, and his voice is close to Danny Joe one's. "Devil's Canyon" album is issued in Germany in 1996. Danny Joe appears on the cover but doesn't sing any song. He stayed a long time in the hospital with no news from the band. One day, in the hospital, he receives an official paper where it's written that Bobby Ingram had bought the band's name, becoming the boss. End of the story and no more words from his dudes. Thank you for all man!
In 1999, Molly Hatchet old musicians gathered for a benefit concert for Danny Joe Brown medical care. Show is filmed and at the end we can watch Danny Joe singing "Flirtin' with Disaster". Some people help him to walk and he sits on a chair. The other musicians kiss and hug him. Danny Joe seems very ill but happy to sing in front of an audience. It's a great moment of emotion! It's the last time Danny Joe is back on stage.
We just want to engage in controversy about the "new" Molly Hatchet that has nothing to do with the original one, because it's absolutely not the same band. Let's just say that this new band has issued some good albums year after year, albums that are very similar (some Southern songs, some hard rock songs, a ballad and an acoustic cover like « Dreams I'll Never See », « Fall Of The Peacemakers » or « Edge Of Sundown »).
The new Molly Hatchet will tour for year without any original member. In 2005, Bobby Ingram asks Dave Hlubek to join the band, maybe to bring legitimacy and to fight the Gator Country Band who plays with old Hatchet musicians (Duane Roland, Steve Holland, Jimmy Farrar, Riff West, Bruce Crump). Dave Hlubek who was broke and needed money accepts to play with the new Molly Hatchet.
The new band keeps on touring in the USA and in Europe, and in some festivals (French Hellfest in 2012). It is not so bad, but no surprise. Nothing's new. And nothing can replace the old Molly Hatchet!
And Death is still present and keeps on catching the old Hatchet musicians. Danny Joe Brown passed away the 10th march of 2005. Duane Roland joins him June 2006 the 19th. Riff West dies at the end of 2014, just before Bruce Crump at the beginning of 2015. Let's hope the play live wherever they are, beyond the stars.
Jimmy Farrar (who got an attack in 2008 without too many damages) and Banner Thomas (who played with Big Engine) are discreet. The good old Dave Hlubek now works for a company he had created decades before. Still alive (but sometimes sat on a chair depending of his health), he still plays and does his solos still asking how things could have gone and changed to this point.
Beautiful and sad in the same time, Molly Hatchet story joins the great Rock n' Roll book who has a lot of another broken destinies. It's just the story of six guys from the South who wanted to play music and did it for a living, and that one day became international superstars. They jumped in this dreamt life without thinking too much about it. They sure gave too much their confidence to their management, and didn't figure what's future will be. But, after all, that's Rock n' Roll: live fast, having good time and sound at the maximum. In many ways, Molly Hatchet guys have lived the real Rock n' Roll way of life. "Flirtin' with Disaster everyday" used to sing Danny Joe Brown: what a song title!
But, more than that, only one thing remains: these musicians have touched millions of people bringing happiness with their records and their unforgettable shows. And on stage, Molly Hatchet guys never cheated. That's the most important.
So long, boys! And thank you for everything!
Somewhere in a Florida bayou, an alligator calls..; but no one is answering anymore.
Olivier Aubry
Copyright © 2013 Road to Jacksonville
Webmaster : Patrice GROS - The Sound Of Chicago
Tous droits reservés.
Design par Zion pour Kitgrafik.com