RUSTY BURNS. LIFE AND DEATH OF A « ROCK N' ROLL SOLDIER »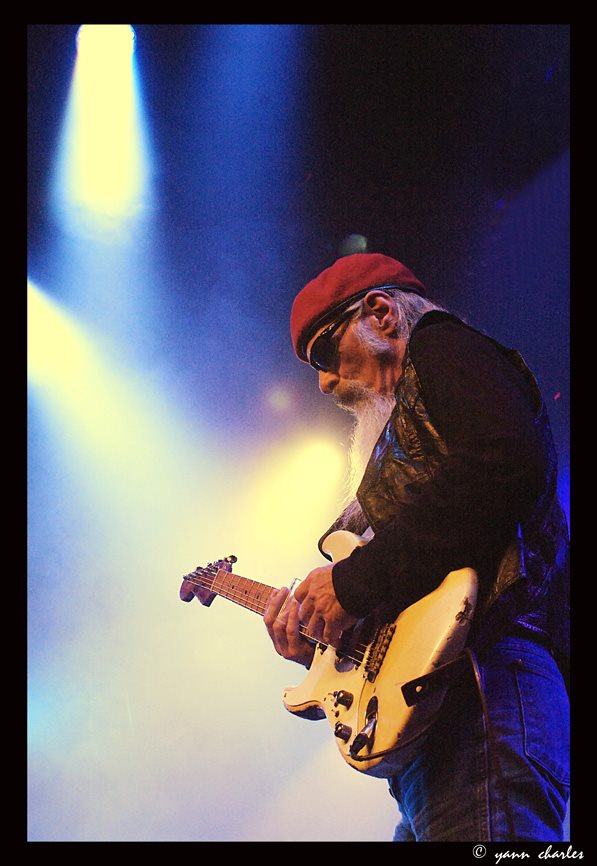 The 19th of February 2016, shortly before midnight, RUSTY BURNS leaved this Earth.
His name won't probably evoke anything for most of the mortals but, for a little percentage of enthusiasts, it means a lot. The sadness in the heart, a few thousands of people all around the world cry over a phenomenal guitariste and a huge artist but also the one that set up the mythical band Point Blank.
The Music lost one of its greatest representatives. What a nice sentence !
In truth, a very banal tribute for someone who wasn't so.
PRECOCIOUS BEGINNINGS
Rusty Burns is born the 30th of June 1952 in the small town of Cleburne, close to Fort Worth in Texas, and he is immediatly brought up in a musical atmosphere. His father, Bob Burns, is a professionnal guitarist in a « country music » band and the family house sees every day a bunch of landing musicians. At the age of five, the little Rusty begins to skim his father's guitar (a D-28 Martin). Papa Burns lets him doing it and even encourages him in this way, without allowing him however to reverse the strings. Actually, Rusty is lefthanded and he has to let rotate this axe conceived for a righthanded to be able to play it. With this characteristic learning how to play was not easy but later it will give him a real advantage. Actually, to pinch him licks will turn out to be almost impossible, Rusty playing totally reverse (reverse neck with the bass strings down and the treble strings up). That's also probably the reason of his so distinctive phrasing.
According to him, Rusty falls literally in love with this guitare. He sleeps with, he watches TV with and does his homework on it. To the point where he considers school as a prison or a punishment that pulls him apart from his favourite instrument. As soon as the bell is ringing, he rushes at home to strum.
Under the direction of his father, he improves quickly and plays for a fee for the first time at the age of eight. From then on, he devotes all his free time on his passion. Over the years, he strings together the middle school and high school bands and he makes a recording for the first time at fifteen. Already launched on the rock n' roll highway, nothing's gonna stop him anymore.
MUSIC BUSINESS
The early seventies see the young Rusty throw himself in the music but also in the problems. In 1972, a relation as short as stormy with an older woman breaks his heart (this unfortunated story would have inspired him the tune « Bad Bees »).
To recover, he moves to Houston where he multiplies the jams and the concerts and ends up playing regularly at the Cellar Club. He builds relations with the local musicians, particularly with the Vaughan Brothers, but also with the drug that nearly caused his loss. Indeed, because of this bad habit, he contracts a dangerous hepatitis that leads him at the gates of the death but an experimental medicine saves his bacon. As he lies in a bad shape on his hospital bed, he composes in his mind a lot of tunes (that will build up the two future first Point Blank albums).
Fresh from hospital, he decides to ease up on the gas pedal but, one day, as he is resting at home, he hears ringing at the door. He has the surprise to see a private detective announcing to him that Mister Bill Ham, ZZ Top's manager, would wish to have a discussion with him (incidentally, a member of Ham's team heared Rusty playing guitar in a music store and informed his boss that he found a new six string gunman).
He signs a contract with Bill Ham who wishes that Rusty sets up a band around him. Until then, Mister Ham proposes him to fit in ZZ Top's staff as guitar tech (a job that Rusty will manage during two years).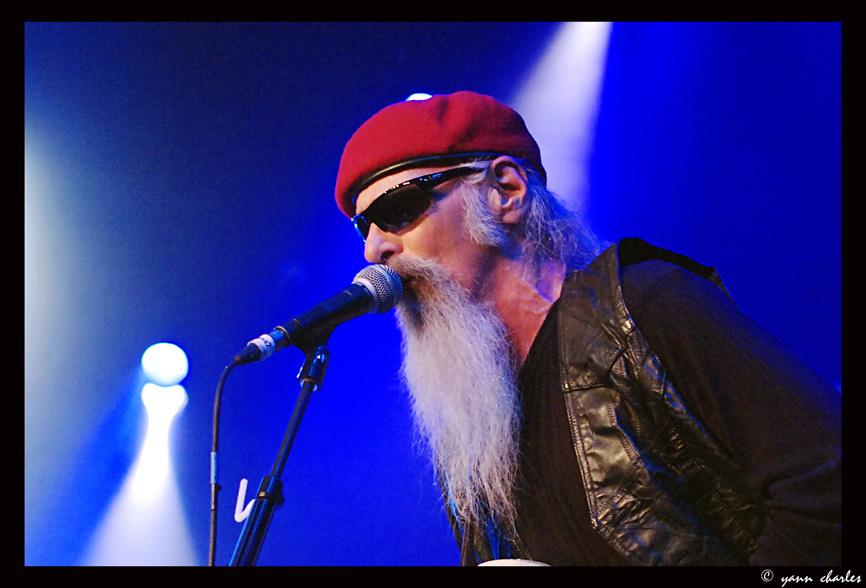 THE DREAM OF A LIFE
In 1974, Rusty gathers a handfull of exceptionally gifted musicians whom he crossed in the past : the bassist Phillip Petty, the drummer Buzzy Gruen and the singer Johnny O'Daniel (who, a few years ago, enabled him to recover his stolen guitar). Yet, he wants to enlist the services of another axeman because he adores the twin guitar harmonies. He even auditions the young Stevie Ray Vaughan but he prefers to opt for Kim Davis (more rock in the spirit while Stevie Ray doesn't want to play anything but the blues). This choice will reveal itself very judicious.
The 19th of July 1974 marks the birth of Point Blank, a name brought by Rusty himself.
The rest is known by all the enthusiasts of good music.
The band tours intensively during two years without having a record under the belt, what Rusty will himself describe as a huge mistake but his buddies and himself are yet inexperienced and ignore all of the musical strategy.
The concerts are hot in every sense of the word. Not only ours musicians set the fire on stage but they also sometimes have to face up to the animosity of the Texan rednecks who deem them hippies because of their long hairs. From the hair point of view, Rusty isn't outdone compared to his friends but, unfortunately for him, an early baldness clears the top of his head. Therefore he opts for wearing a headgear (a Stetson, a bandana or a beret according the times). Concerning Phillip Petty, he has been arrested by the cops because of his mane of hair and handcuffed to a tree. This unfortunate anecdote will give birth to the tune « Free Man ».
During those two years, the musicians string together the concerts without coming back home, and the price to pay is the girlfriends they had at that time. When Rusty comes back home after this long périple, he changed so much with his luxuriant beard that his family has hard time to recognize him (Rusty always maintained that he opted for the « competitive » beard before the ZZ Top guys).
Then Point Blank releases two fiery and unrestrained albums by Arista in 1976 and 1977 (« Point Blank » and « Second Season » that, according to Rusty, would have been recorded almost one following the other during the same session). Some nasty boogie-rock made in Texas !
Point Blank opens for many stars (Bob Seger, ZZ Top, Journey, Kiss, Aerosmith and many other) and plays in huge stadiums. The concerts succeed one another at an exhausting rhythm (more than 300 dates in 1976 and about 260 shows in 1977). The band also opens for great Southern Rock names like Marshall Tucker Band or Lynyrd Skynyrd. During this era, with the help of his complice Kim Davis and the other members of Point Blank, Rusty set the stages of the entire América on fire with burning solos. He spends his life strumming his guitar, his dream is now reality.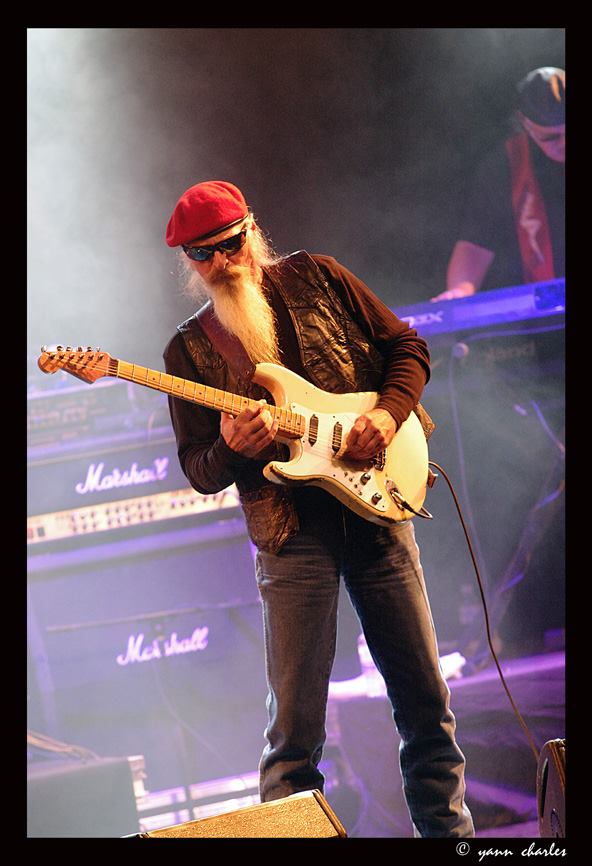 TRAGEDY, SETBACKS AND BAD LUCK
The Point Blank guys fire away awesome shows and the success begins to smile on them. One more step is overcome as they are appointed to open for Lynyrd Skynyrd for a great autumn tour. On the agenda, a huge tour across the United States but also in Europe and other countries around the world.
Rusty exults seeing all his hopes coming true. The 20th of October 1977, he and his fellows cram in a van to meet Lynyrd Skynyrd the same evening in Bâton Rouge in Louisiana. They drive for about twenty minutes when they hear at the radio the terrible news : the plane transporting Lynyrd Skynyrd's entire crew crashed in the swamp. Rusty is devastated.
Not only he lost some friends (Ronnie Van Zant and Steve Gaines) but the so much expected huge tour is also over. More, by just one day, Rusty and his workmates could have been in the fatal crate (it was planned that the two bands share the same plane). From then on, Point Blank won't never have the opportunity to charm the fame anymore and will somehow search for the earnings. A misfortune never coming alone, Arista doesn't extend the contract.
The departure of the bassist Phillip Petty (replaced by « Wild Bill » Randolph), an appointment by MCA and two beautifully crafted albums with the add of a keyboard player (« Airplay » in 1979 and « The hard way » in 1980) won't set up a new deal. Johnny O' Daniel leaves and tries his chance elsewhere and is replaced by the Texan singer Bubba Keith. The following record (« American Excess » en 1981) gives a hit single for the radios (« Nicole ») that arrives too late and isn't enough to right the ship.
1982 sees the release of a record that claims to be in keeping with the times (« On a Roll » with a lot of keyboards eyeing towards the FM) but that comes up short disconcerting the fans from the outset. Let's underline in passing that, according to those concerned (especially Rusty Burns and Buzzy Gruen), the musicians were the only responsibles for this musical shift, as the manager and the record company never influenced their style.
In addition, this year isn't a lucky one for Rusty who breaks his both legs and the pelvis in a serious accident (in two interviews at a distance of about ten years, he gave two different versions : first, he said that it was a fall off skis, then, much more later, he affirmed to the magazine Easyriders that it was a motorcycle accident).
He stays several long monthes being convalescing, and that doesn't arrange the band's affairs. Then, Point Blank goes with ZZ Top on an American tour but, strangely, the groupe doesn't follow the bearded band in Europe. Two versions about this topic exist. According to Rusty Burns, the band would have neglected its breakthrough on the European continent thinking it was unknown. However, Buzzy Gruen affirms that Bill Ham didn't allow them to travel over there.
As if it wasn't enough, a trial against Lone Wolf Productions relieves Point Blank of its name in favour of Bill Ham who finds himself as its only owner. Without any engagement, any tour, any name and overall without any vision of the future, the band breaks up. Rusty's dreams collapse and he lives very badly this tough episode.
But the Music fire in his belly doesn't leave him. Unlike Kim Davis who will join the amps company Peavey as représentative or Johnny O' Daniel who will become golf player, Rusty goes on in the way he choosed.
He takes up the following decades to work in the Country music and to set up a little recording studio. He plays for a while with Black Oak Arkansas. He also works like « hired gun » according to him in varied projects and several albums. And he always has work, because a lot of people in Texas want his presence on their records. He is also busy with the production of some albums.
If the fame doesn't illuminate him, at least he still can go on making a living from his art.
And when the crisis hits the musical sector in the early 2000, he doesn't object to roll up his sleeves and have jobs to put food on the table and make ends meet. He even sets up a trucks company.
With his personal side, the life isn't gentle with him and the death of his father plunges him in the utmost dismay (he will incidentally compose years later the instrumental « My Soul Cries Out » to honor his memory).
He also has to weep over the death of « Wild Bill » Randolph (former bassist of Point Blank) and of his buddy « Dimebag » Darell (Pantera's guitarist, shot on stage by a madman in 2004).
Rusty also turns toward the religion and some of his near relations depict him as conservative christian (what is more natural for a purebred Texan ?), but it doesn't seem to prevent him to operate with ease in this liberal world.
Moreover, Rusty isn't a fake preacher. Just like Bruce Brookshire of Doc Holliday (who became pastor helping people in the need), he tries to make himself useful. So, at the beginning of the 2000 decade, he travels in Honduras and visits in a jail the members of an ultra violent gang (18 Street Gang) who wear all « 666 », the apocalypse number, tatooed on their forehead. According to his own declarations, when the railings close and that we are in the cells with them, the sentence « have faith in God » takes a completely different meaning. After having talked to him, some of them would have been converted and would have leaved the resort to an excessive violence. Rusty will incidentally make again this experience in some Texas jails.
Yet, to live entirely his faith doesn't prevent him to have friends, to appreciate a good beer and overall to go on stage to make his guitar scream each time he has the opportunity. And that's the best bit !
REBIRTH
The destiny comes sometimes forward in very strange circumstances.
Rusty was often part of charity events and honoured of his presence some shows useful to collect funds for different causes. When he learns in 2005 that the health of one of a former Point Blank roadies needs a liver transplant, he doesn't hesitate. With his former complice Phillip Petty, they set up a concert to collect the necessary money. The legal imbroglio with Bill Ham seems to be smoothed out, the musicians can gather again as Point Blank (Kim Davis is the only one missing and Buddy Whittington stands for him). This show is released in 2007 on the French label Dixie Frog and titled « Reloaded ».
And the unbelievable happens ! Decades later, Point Blank get back together and starts on an European tour for the first time in its existence. The band begins with a performance in the Sweden Rock Festival in front of a huge crowd, then goes through Germany, Switzerland and, yet more unbelievable, France. Rusty enjoys every second of this saga, his dream is again on the right track.
Some scandalmongers exhort the fans not to be delighted too quickly but, quite unexpectedly, the band releases its first studio album since 1982 («Fight on» in 2009, still by Dixie Frog) and comes back in Europe in 2010, making a detour by Monaco and Paris (at Bobino) amongst others, then in 2011, going again by France (Morzine and Goncourt). Another record (« Volume 9 ») is released in 2014 and demonstrates that Rusty and his buddies are still in top shape.
Who could have thought that Point Blank would rise up from its ashes after all those years ? Even Rusty thought that this adventure was definitively over. Yet he declared in the German show Rockpalast that if someone announced him that he would come one day to play in Europe with his original band, he would have call him a madman. Enjoying this unexpected second chance, he thinks sensibly that the time of the ordeals draws to an end. Unfortunately, the poor Rusty is not yet out to the woods.
BAD LUCK TILL THE END
If the come back of Point Blank oversteps his expectations, Rusty has yet to stand some unpleasant strokes of bad luck. First, he looses old buddies within the time of a year : Phillip Petty (dead from a stomach cancer in June 2010), Kim Davis (deceased a few days after shooting himself a bullet in the head in October 2010) and Mike Hamilton (former keyboard player, dead from cancer in May 2011). But overall, he has to face to serious family problems, his mother becoming subject to fits of dementia.
Because of those repeated emotional shocks, he signs only one title on the album « Volume 9 » released in 2014. Incidentally this record is funded through the internet site Kickstarter (supporting various projects through donations and crowdfundings of the netizens), showing that it's hardly a bed of roses with the money.
Yet, Rusty continues bravely to fight against adversity clinging on to his guitar. He plays with Point Blank but also with another band, Big Wampum, and he also takes part in some sessions (all that having another job besides).
The life could pass like that but the destiny holds another hard blow in reserve for Rusty. He is diagnosed a lung cancer and he has to be operated but he comes across a financial problem. Actually, as a musician and company boss, Rusty isn't put on the payroll and don't get any social security insurance. A benefit concert is set up and happens the 21st of June 2015 with a whole host of Texan artists (like Buddy Whittington, The Stratoblasters, Neal Drennan or Tim Hood). Beyond this top line-up, a big surprise lies in wait for the crowd with the participation of last minute of Big Wampum with Rusty himself. This one, despite the illness, decides to grant himself a slight musical digression and goes on stage to give some flamboyant solos (he will do this exploit again a week later playing to the benefit show for John Nitzinger). The receipts are close to fifty thousand dollars, and that's only justice for Rusty who went always with enthusiasm to that kind of event to help his friends musicians.
So he can be operated but has a very hard time recovering. To such an extend that he decides, in agreement with Johnny O' Daniel, to stop definitively Point Blank. He also ceases his collaboration with Big Wampum. Fighting against the fatigue and the post-surgery pains, he feels unable to strum his guitar and prefers to focus on his recovery.
But he knows another big disappointment learning shortly after that Johnny O' Daniel decided to set up Point Blank again despite their agreement. Feeling betrayed, Rusty gets over somehow those deplorable news but sureley this serious disillusionment doesn't contribute to the improvement of his state of health that alternate highs ans lows. Nevertheless, he goes on fighting with détermination against the illness, like the brave man he has always been.
We could find him in his home studio to record some snatches of tunes on new year's day.
In the middle of January, he leaves Fort Worth to move in Denver (Colorado) where he can follow a treatment still illegal in Texas. He starts on a fight with unpredictible results but he keeps the hope to play again one day (on his social network page, we can incidentally see him sitting on his hospital bed, skimming his acoustic Martin). In front of a stubborn enemy, Rusty defends himself with energy but ends up succombing the 19th of February just before midnight at the age of sixty three years and eight monthes.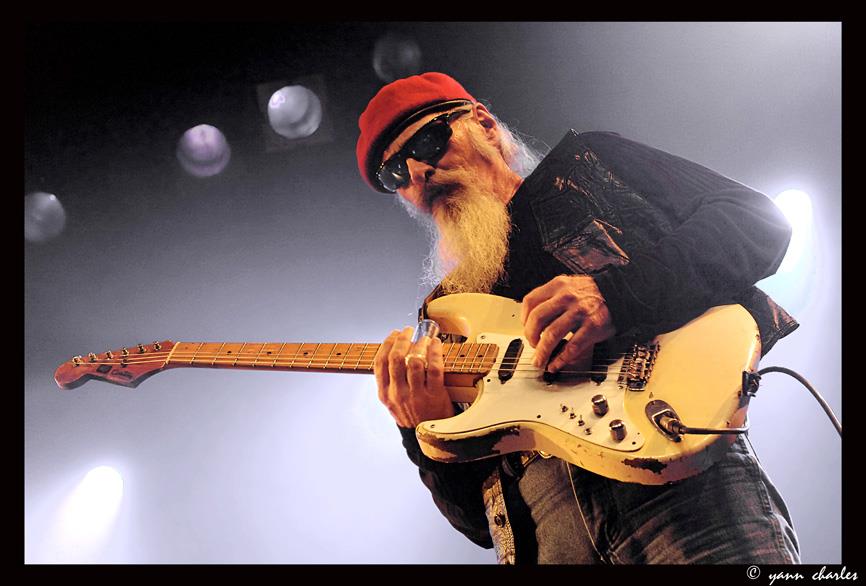 AN INIMITABLE STYLE
Rusty gone, his discographic testimonies are still here to demonstrate his huge talent. If it's quiet difficult to describe his style, some elements can clarify it.
First, the guitar sound, immediatly identifiable. A sound modelled on the man, robust like a rough diamond but that let filter a myriad of different glows. Rusty played during a long time on Gibson LesPaul then, searching for more subtle tones, leaned towards the Fender sound with his Blade with contours reminding a Stratocaster but with complex and tampered electronics. In terms of amps, he always prefered the Marshalls with, from time to time, some infidelities for Hughes and Kettner. Yet, during those last years, it wasn't possible for him to bring his own gear in tour (for simple financial reasons) and he had to deal with the amp that was made available for him. Of course, he owned a rack of effects but everyone knows that a guitar sound varies from an amp to another. But despite everything, he still sounded the same way because of his touch beyond compare, that is the trade mark of a great guitarist.
Then, his incredible style. An amazing mix of ferocity, melody, aggressiveness, emotion and subtlety. If Rusty showed a nonstandard dexterity, he also had the gift of an extreme musicality. He didn't focus only on the guitar but on the whole tune in order to generate the best possible arrangements. So, a large number of the artists having had recourse to his talents declare that he played above all else for the song and not for the show.
His work with Point Blank illustrates wonderfully those words and his brilliant interventions speak for themselves, whether the solos (« Free Man », « Uncle Ned », « Nicole », « Mean To Your Queenie ») or the composition (« Stars And Scars », « My Soul Cries Out »). Moreover, Rusty could make himself heard behind a microphone although he didn't consider himself as a singer (« Bad Bees », « Stars And Scars », « Fight On », « Rock'n Roll Soldier »).
About his influences, Rusty didn't hide his passion for the Country music and his love for the Blues. But he also assured that in Texas, you have to know how to immerse yourself in all the musics if you want to play (cajun, soul, boogie, jazz). Yet, he gave it all for the rock and its sound excess.
Like a stage actor who can equally go from laughter to tears, Rusty was able to alternate a lightening notes swoop at the limit of the hard rock, enhanced with jazzy alterations, with some sober phrases bursting with passion and feeling. He could let an harmonic be brought out with an expert pick stroke and he hit sometimes on the body of his six-string to extend a note. He also developed an effective slide playing without resorting to the open tunings. His guitar playing was also sometimes sprinkled with some « Hendrixian » touches because he admired the famous lefthanded.
Yet, despite all those qualities, Rusty never pushed himself forward. He could have fallen in the quirks of a selfish guitar hero but he gave priority to the group work. So, he didn't hesitate over integrating a second guitarist inside Point Blank so much he loved the guitar harmonies (he quoted often Wishbone Ash as an example). And he always choosed aces (Kim Davis, Buddy Whittington, Mouse Mayes), proof that he never took all the credit. He was never so happy than when he crossed the neck with another axeman, not for the competition but for the synergy. All the musicians having had the pleasure to play with him are unanimous about this subject : he could have glued everybody with a gigantic demonstration but he prefered to let space to the other musicians, contenting himself with simply bringing his contribution to the whole.
Inquestionably remarkable guitarist, mind-blowing musician and visionary composer, Rusty had known how to integrate an awful lot of various musical influences to shape a totally original style. In concert, we could litterally see the sparks escape from his instrument.
Sadly, he took away with him the secrets of his art.
MEMORIES
Whether it be during years or during only a few moments, all the persons who have rub shoulders with Rusty can testify that he was a true gentleman. Always available for his fans (handshake, autograph, pic), he answered smiling to the compliments. Even if it didn't last more than a short moment, we had the feeling that we really were talking with him as if we knew him since always. He gave it all for his public. So, when the Ancerville concert was cancelled because of meteorological reasons in 2007 (a big hail flooded a part of the gear), Rusty came back quite simply to talk to the people and apologize in the name of Point Blank. This unexpected appearance allowed to soften the bitterness of all those who moved to see ther favourite band. Only few artists would have act like this. Respect !
Moreover, he always was a part of charity events and of invitations to get funds for ill musicians, going to a lot of benefit concerts. Musically generous, he was also like that from the human point of view.
Since his decease, his social network page is crawling with tributes to his memory (that come from the United States but also from a lot of other countries). Supporting messages, concerts memories and also a multitude of pics. Pics of Rusty on stage, guitar ahead. Pics of Rusty posing with famous musicians, with common people, with fans after a show. Always smiling. That's how we will keep Rusty in our minds : an approachable, simple and nice guy.
(Because we have experienced it during many long years, the RTJ editorial board can also witness to the rare quality of Rusty's unfailing loyalty in friendship, we wish to thank him here, Editor's Note)
As far as the music is concerned, the loss is huge for the Southern Rock and the Texas boogie-blues that loose here a first-rate representative. Now, it doesn't remain a lot of famous guitar slinger originally from Dixieland except Gary Rossington, Dave Hlubek, Rickey Medlocke or Billy Gibbons.
But beyond the sadness felt by the fans, beyond the rapid change of the musical labels, Rusty's death sounds the death knell of a time. The time of the sound discoverers and of the amplification pioneers, influenced by the great Jimi and by the Blues. The time of the inventors of heavy riffs and of white hot solos. The time of the brilliant guitarists whose talent exploded at the end of the sixties and in the early seventies like Johnny Winter, Eric Clapton, Jeff Beck or Jim McCarty from Cactus.
Without exaggerating, Rusty Burns belonged to this elite even he didn't have the same fame. His passing on our little planet didn't perhaps have the deserved flamboyance but he layed his stone to the Rock n' Roll structure. Simply, without prétension. The existence didn't spare him and he often lived the hard way (The Hard Way) but he always stayed a free man (Free Man) living only for his music. We would only have wanted to enjoy this music a little longer time.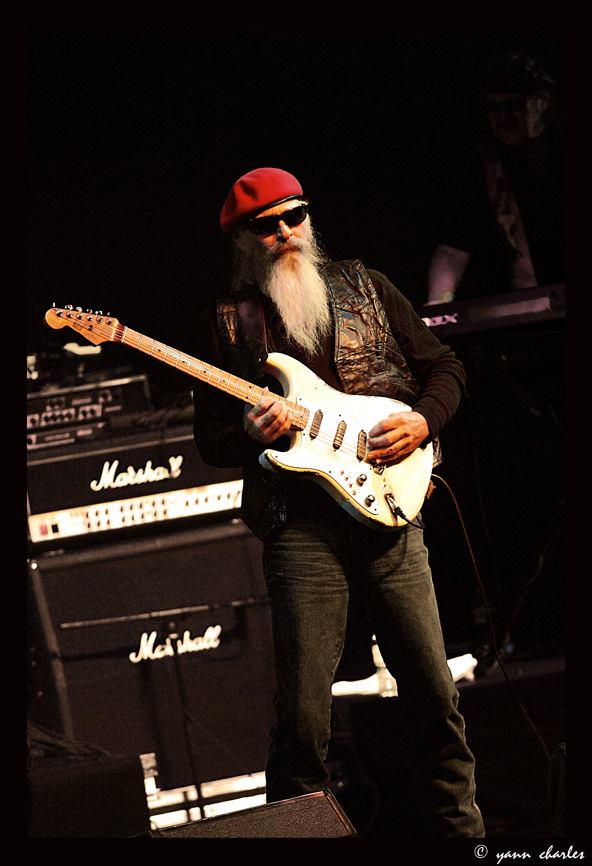 Somewhere, in deepest Texas. The setting sun sets alight the horizon.
In the bar laying by the side of the highway, it's not a happy time.
Leaning on her elbows at the counter, Nicole gently weeps. Just beside her, Oncle Ned sips a glas of bourbon. Both are gazing at the back of the hall with a distant look. On the little stage, sunk into darkness, a guitar that no one will ever touch anymore takes pride of place. They know that nothing will be the same anymore.
A sniffing Nicole wipes away her tears while Oncle Ned downs perfunctory another bourbon.
Who will make them dream now ?
Olivier Aubry
Translation and italic : Y. Philippot-Degand
Copyright © 2013 Road to Jacksonville
Webmaster : Patrice GROS - The Sound Of Chicago
Tous droits reservés.
Design par Zion pour Kitgrafik.com