CHARLIE DANIELS hangs up her violin forever.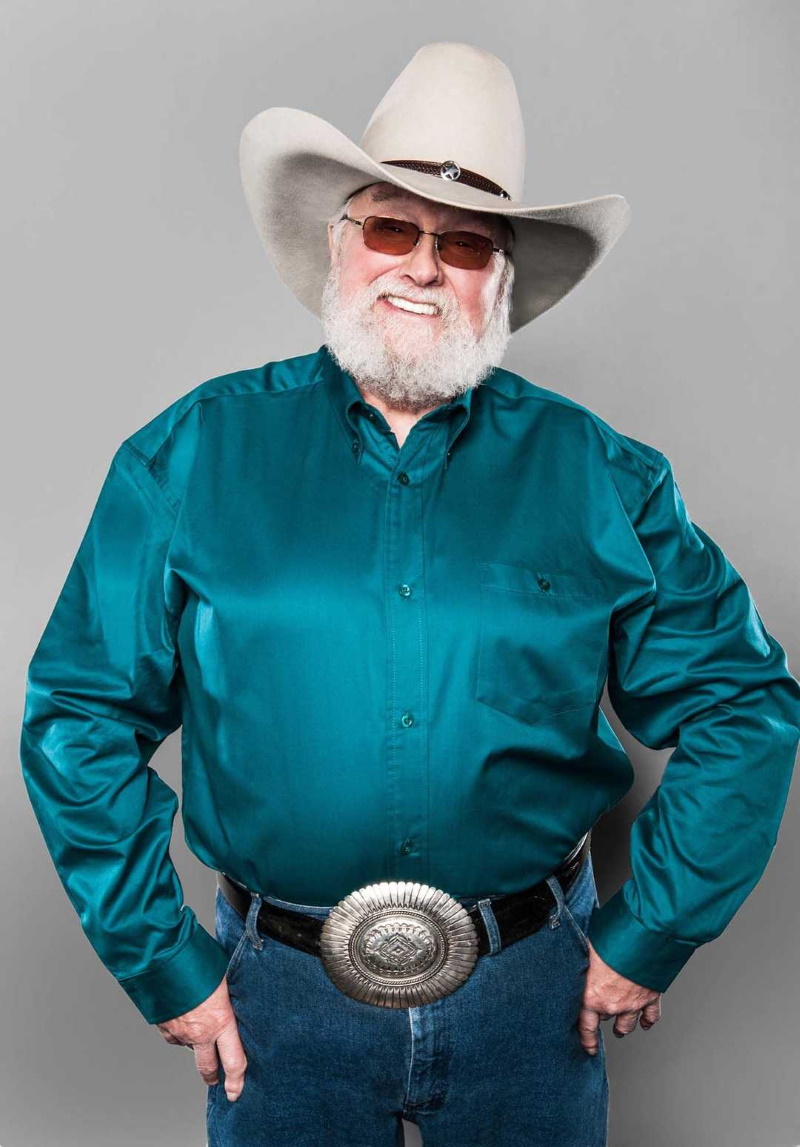 Our good old Charlie died of a stroke on July 6, 2020. At least he could have attended his beloved America's National Day. He passed away at the age of eighty-three, leaving behind an exemplary career and a huge musical legacy.
Although he did not necessarily have great international fame, he was a major legend in American music. At least for the initiated. He has been rightly nicknamed "the godfather of southern rock" although his albums are stored in the "country music" section of record stores (in the United States as in Europe).
The enthusiasts knowing everything about his biography, this tribute will rather focus on the personality of the musician with the luxuriant beard. Besides, his life could be summed up in a few sentences. His lumberjack father played the guitar and the violin. Charlie imitated him and made it his profession. And he played to the end. A simple man who performed on stage for simple people. Point. What more could we say?
Of course, there are a few highlights in his long career that deserve to be mentioned here.
His collaboration in the composition of the song "It hurts me" recorded by Elvis in 1964.
His participation in several Bob Dylan albums. The great Bob had demanded the systematic presence of this guitarist during the recording sessions. He also said in his autobiography that he had a lot in common with the musician and that "when Charlie was in the studio, it always came out with something good from these sessions". A huge compliment!
His work with Ringo Starr and his role as an accompanist to Leonard Cohen.
His support for southern rock bands, in particular the Marshall Tucker Band and Lynyrd Skynyrd whom he named in "The South's gonna do it again". The guys from Lynyrd will return the favor by quoting Charlie in "When you got good friends".
His resounding Volunteer Jams, superb musical meetings bringing together many southern artists but not only. Many international stars have performed there (Ted Nugent, Billy Joel, Stevie Ray Vaughan, the immense James Brown).
His hit "The devil went down to Georgia" which propelled him to the box office in 1979 and his appearance in the movie "Urban cowboy".
His enthronement into the Country Music Hall of Fame and his admission as a member of the Grand Ole Opry (a huge honor for Charlie who declared that seeing his name alongside those of his idols was the final step in his career).
On the personal side, some of his character traits are also to be highlighted.
His legendary good humor and sympathy. Gary Rossington has also recorded a video in tribute to Charlie, posted on the social network page of Lynyrd Skynyrd, in which he states that during his life, he never met someone who did not like Charlie.
His unwavering loyalty to his wife Hazel, to whom he was married for more than fifty-five years.
His understanding of simple people and in particular of the country world (Charlie's father was a lumberjack). In 1985, he composed the song "American farmer" to alert public opinion to the agricultural crisis in the USA.
His participation in various support projects for war veterans and veterans as well as his concerts in Iraq for American troops.
His membership in the National Rifle Association (NRA), an association defending the rights of gun owners.
Its great physical resistance.
Charlie toured to the end but he also survived an accident (which happened on his farm and damaged his arm), prostate cancer and his heart had been helped by a pacemaker since 2013.
His political, social and religious positions.
A man of faith and conviction, Charlie unashamedly displayed his ideas, beliefs and patriotism with calm and determination, but never descended into intolerance. He initially conveyed a rather left-handed and counter-cultural image at the start of his career with songs like "Uneasy rider" (the hippie assaulted by the "rednecks" of the Ku Klux Klan) or "Long haired country boy" (the country guy with long hair who gets drunk in the morning and gets high in the afternoon. Charlie will change those lyrics later).
In the early 1980s, Charlie would move into a more right-wing political branch and this would be heard in some of his songs released over the following decades. "In America" (with a verse evoking the Iranian crisis and the American hostages), "Still in Saigon" (a tribute to Vietnam veterans), "M.I.A. "(which talks about prisoners still being held in South East Asia) or" Simple man "(proposing hanging for drug dealers and alligator grazing for child killers).
Regarding religion, Charlie will express his faith through several albums of Christian inspiration.
As for his music, it will forever be the proof of his immense talent.
An accomplished multi-instrumentalist, Charlie excelled in violin, electric and acoustic guitar (in "classical" or slide playing), dobro, mandolin and banjo.
This did not prevent him from letting his guitarists express himself widely on stage (the solo performance of Tommy Crain as the introduction to "Cumberland mountain number nine" or the overture of William Tell performed with passion by Chris Wormer).
With his band, Charlie could decline practically all musical styles. From funky rhythm ("Trudy") to rock'n'roll ("Let it roll"), from country music ("The devil went down to Georgia", "Long haired country boy") to southern rock ("Still in Saigon"), through blues, boogie ("The South's gonna do it again","Funky junky"), and gospel. And without forgetting bluegrass, western swing, Mexican folklore ("Caballo diablo", "El toreador") or Cajun. Also, don't forget the traditional Christmas carols' albums that Charlie recorded regularly (he was particularly fond of the holiday season).
With all of this, Mister Charlie proved that he was indeed a monument of American music.
Regarding his style, especially for country songs, he used to mix minor and major chords to invent beautiful melodies (the sublime song "Georgia").
His voice was not exceptional but it was expressed with precision and feeling. However, immediately recognizable, it could give chills when Charlie gave free rein to his talents as a storyteller (the spoken passage from "The legend of Wooley Swamp" is a perfect example). Charlie has also often played the role of narrator for documentaries (on the Tribute Tour of Lynyrd Skynyrd in 1987 or on the Civil War).
But there you have it, that special voice is forever silent. This violin with insane flights will no longer resonate. This guitar playing so characteristic will not sing any more.
Music has lost one of its staunchest servants, and Southern rock mourns its legendary patriarch.
Only the records remain to bear witness to Charlie's passage on this earth.
And what a passage!
May the albums "Fire on the mountain" (1974) and "Night rider" (1975) resonate in the speakers to celebrate his memory!
Charlie has passed away. He leaves us with boots sunk into the Wooley Swamp and sadness in our hearts. He will undoubtedly meet his old friends, guitarist Tommy Crain and pianist "Taz" Di Gregorio. And with them, he will embark on an eternal improvisation by stroking a violin studded with stardust.
Olivier Aubry
Translation : Y. Philippot-Degand
Copyright © 2007 Road to Jacksonville
Webmaster : Patrice GROS
Tous droits reservés.
Design par Zion pour Kitgrafik.com