GOODBYE "BUFF"
R.I.P. MICHAEL BUFFALO SMITH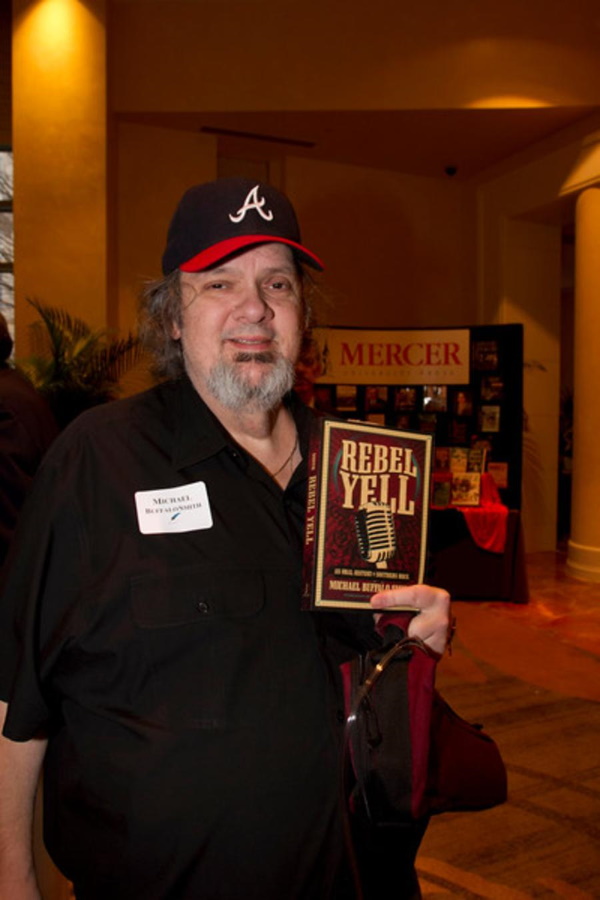 This summer of 2021 will be remembered for the musical world with the passing of legendary ZZ Top bassist Dusty Hill and monumental Rolling Stones drummer Charlie Watts. Hundreds of millions of lovers of good music have mourned the departure of these two rock giants. But among them, how many knew Michael Buffalo Smith?
Over the years, he had been dubbed the ambassador of southern rock because he tried to prevent this musical trend from falling into oblivion.
As large in size as in talent, he had become essential in the small world of southern music.
Here is a brief summary of his life dedicated to "southern music".
Originally from Spartanburg, South Carolina (home of the Marshall Tucker Band), Michael was drawn to rock'n'roll at a young age. He began his career as a journalist in high school while at the same time trying his hand at the theater. He writes quite a few articles as a freelance writer and sports journalist. But he also combines practice with theory by playing guitar and singing in several local groups.
In his youth, he was particularly marked by the Allman Brothers Band and especially by Lynyrd Skynyrd. On October 19, 1977, he attended the Jacksonville gang's last show in Greenville, South Carolina. After the concert, he meets Ronnie Van Zant with whom he talks for a few moments. The next day, Michael learns with horror that a terrible plane crash has wiped out part of his favorite band. He will never forget that short moment spent with the singer in the hat the day before his death.
Continuing his momentum, the young Michael very quickly specializes in interviews with musicians with a very personal style, preferring a relaxed discussion to the classic game of questions and answers. Artists really enjoy this kind of interview and are also happy to talk with someone who knows music. The following anecdote is a perfect example. In 1992, Michael was scheduled to interview George Harrison. He was warned from the start that it will only last ten minutes and that in no case should the subject of The Beatles be broached. After a good twenty minutes, the conversation with the great George is still not over. Michael then tells him that he would like to ask him something about The Beatles. George quietly replies "What do you want to know, Michael?" "
In the same vein, he will also successfully interview Leon Russel and the immense Doctor John (figures notorious for having a difficult character).
In 1998, he found himself hospitalized for a period of forty-eight days. He then decides to create a fanzine on the internet. One of the first artists interviewed is none other than Charlie Daniels who will support this promising young talent. Gritz was born and Michael would speak to an impressive number of big names over the next decade (Charlie Daniels, Dickey Betts, Greg Allman, Tom Dowd, David Allan Coe, Bonnie Bramlett, Leslie West, Duane Roland, the guys from Blackfoot , Freddie Salem recently, etc…).
He will even try a paper version of his magazine but he will stop after a few issues because of the lack of profitability.
Many years later, he edited Kudzoo magazine (in which he produced a number of articles and interviews).
He will occasionally collaborate with the French magazine Bands of Dixie.
With a natural gift for writing, Michael would take the next step and sign a dozen books, all devoted to southern music, including "The road goes on forever" (on the Allman Brothers Band) and " Carolina dreams "(recounting the history of the Marshall Tucker Band and other artists from South Carolina like Garfeel Ruff or guitarist Hank Garland). His interviews on the internet will also be featured in a two-volume book "Outlaws, rebels and renegades".
He had a long friendship with actor/director Billy Bob Thornton.
He will also release some good albums under his name (like "Something heavy" and especially the beautiful "Makin 'it back to Macon") with some distinguished guests (Tommy Talton, Tommy Crain, Paul Hornsby).
Always well received by southern musicians, he will also fulfill his teenage dream by sharing the stage with some of his heroes (opening acts for Blackfoot and the Marshall Tucker Band, jams with the Southern Rock Allstars).
His equivocal song "She loves to ride a fat boy" will achieve some success with fans of southern rock.
Unfortunately, Michael has experienced a lot of health problems in recent years, especially in 2021. At the end of May, he feels unwell at home. Unable to reach him, friends come to his home and find him unconscious. He remained in a coma for several days following a serious kidney problem. At the beginning of August, he was again hospitalized for a foot operation. In mid-August, he entered the hospital again to treat a double pneumonia. It won't come out. He was sixty-three years old.
Michael Buffalo Smith has spent his life defending his beloved Southern music by writing about it, playing it and singing it. He stuck with his passion until the end.
Musical literature has lost a great writer, but all musicians in the South have lost a friend.
Who is going to talk about them now?
Olivier Aubry
Translation : Y. Philippot-Degand
Copyright © 2007 Road to Jacksonville
Webmaster : Patrice GROS
Tous droits reservés.
Design par Zion pour Kitgrafik.com