Copyright © 2007 Road to Jacksonville
Webmaster : Patrice GROS
Tous droits reservés.
Design par Zion pour Kitgrafik.com
Simple man Cruise 2009



by John Molet.
"A nightmare in my Dream"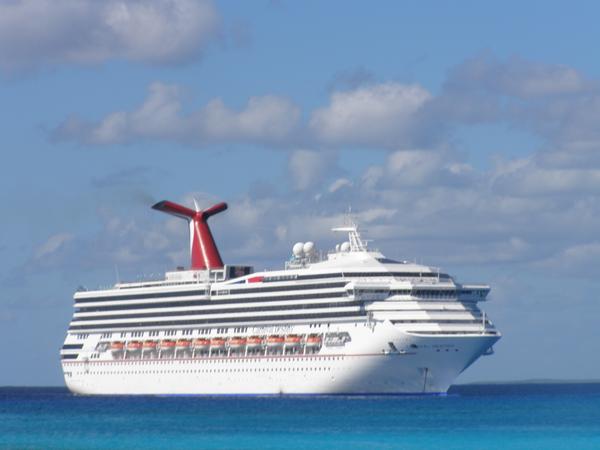 "It was too beautiful!"
So, yes, it was too beautiful, this Wednesday January the 28th when I was just remembering the best moments about the Simple Man Cruise, and the phone was just ringing!! My friend Manu on the phone "Hi John, so you have seen? It's terrible… John you don't seem to know the last bad news? » "What bad news?" I didn't go on the Net today and I don't know anything about what happened in the world… and Manu tells me "John, Billy Powell just passed away last night…" in a few seconds I am in the fog, I don't know where am I "You're kidding me, we just saw him fifteen days ago…" "Just have a look on Skynyrd website!"
I need to sit down because I can't realise, I go on talking on the phone, but I don't know what I'm talking about, I'm in another place… This isn't true, not them, not them again! Skynyrd again!
Other friends try to call me in the same time, I have the same sad message. I hang up the phone and I feel very bad, very sad, I feel just like I've lost someone of my family, I had the feeling that Billy Powell was a member of my family (of our family), this fucking Wednesday I spent many hours in front of my computer screen looking for any news about his death and talking to all my friends about it.
Billy has just gone to join all the Skynyrd family members already dead. That's sure, he will join again a lot of friends (Ronnie, Steve, Cassie, Allen, Leon or Hughie) and they sure will play a great jam we'll never be lucky enough to see !
Rest in Peace my old Billy !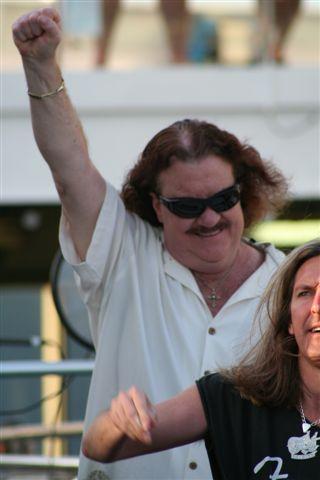 That is why my text about the cruise doesn't begin just as I wanted and began just after here. I don't want to write another text, I don't change anything, I just wrote it before I know about this tragedy !
The Dream (that's what I told….)
Yes, it was the dream that about fifteen French Southern Music fans could live, during the four days cruise on the wonderful Carnival Destiny… Yes, I know, we can talk about the difference between Rock music and the luxury of such a cruise in the Bahamas Islands (Yeahhhhhh !!!) but I must admit that sometimes a real Rock n' Roll fan can afford this human temptation !
So however, I took the plane (Manu and our favourite Southern girls) January the 6th in Paris, I was happy to fly to sunny countries, because the weather in Paris was awful !
Ten hours later we landed to Miami airport with 30° Celsius… and that's here that really begins our trip !
Two quiet days to begin, just to become the real tourists and enjoy Florida and Thursday at 2pm we were ready to get on the boat. Just a little move in the crowd because Gary, Rickey, Johnny, Billy etc.. were all present just close to us… first great sensations !!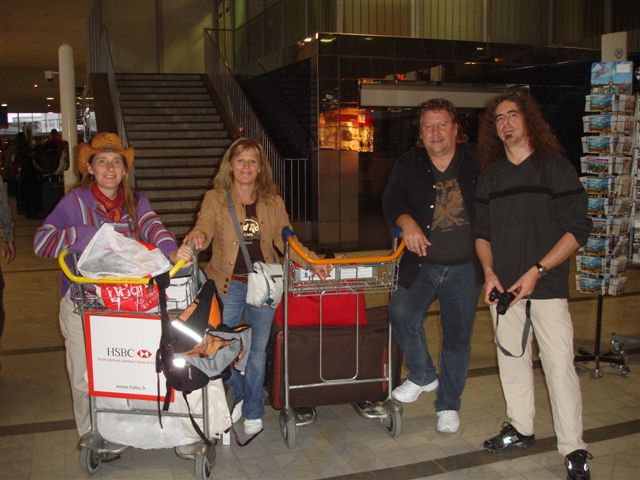 My friend Manu reminds me that the first show on the boat is Blackberry Smoke at the end of the afternoon and we didn't want to miss it ! We just left our luggage in our cabins a little visit of the ship (what a wonderful bar ! and we are back on the deck for the first show !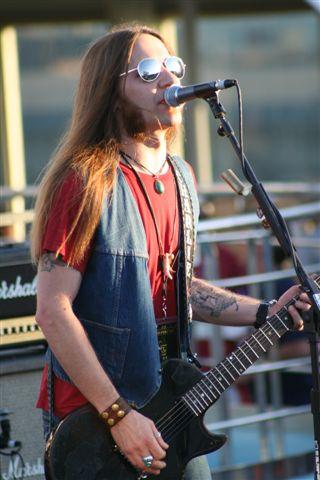 First impression : we are in the United States, with so much excess… The show begins with 'Like I Am', with a heavy sound.. I feel so good, especially when I see the smoke getting out of the boat chimney that means that we are leaving the harbour ! Here we are, we are really in the cruise, at the Simple Man Cruise, it is wonderful, how lucky we are ! Blackberry Smoke gives us a great and heavy show, we just figure that Carol and Dale, the Skynyrd background singers, are present just on our side, singing and dancing, talking with us, giving us the opportunity to take some photographs. I feel more and more that we are in another world, really different of our everyday's life !
Just the time for our first dinner that Molly Hatchet and the Marshall Tucker Band first evening is beginning, an extraordinary trip with the legend Doug Gray who is a real father for all the younger musicians around him. Great !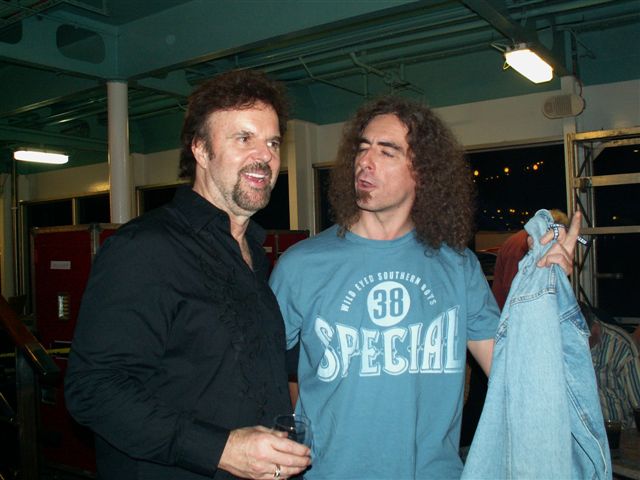 This first night was already extraordinary to us, even if our friend Christian from Limoges told us the following day that around 1am, happened a jam between Mark Matejka ( Skynyrd ), Chris Hicks ( Marshall Tucker ), and Don Barnes (38 Special), with the participation of Mary Rossington and Raquel Chase (Dale and Carol's daughters) on the side of Blackberry Smoke. We were deceived to miss such a wonderful jam, and we promised not to miss again such a great reunion !
On Friday, the second day, we got another great moment with .38 Special and Lynyrd Skynyrd first shows, these two bands being the guests' stars of the cruise. We needed tickets for these shows, so everyone on the boat could see them once (1400 people every show) !
To be able to see .38 Special was a great and excitant moment, we were not deceived, some kind of magic, even if we could have expected a wilder attitude (Southern Boys) for Don Barnes and Donnie Van Zant band, as they always play the same songs for some years now. However, it was a nice show, great quality music, Johnny Van Zant did come to sing with his brother on the song 'Help Me Somebody' (from the brothers' album Get Right With The Man).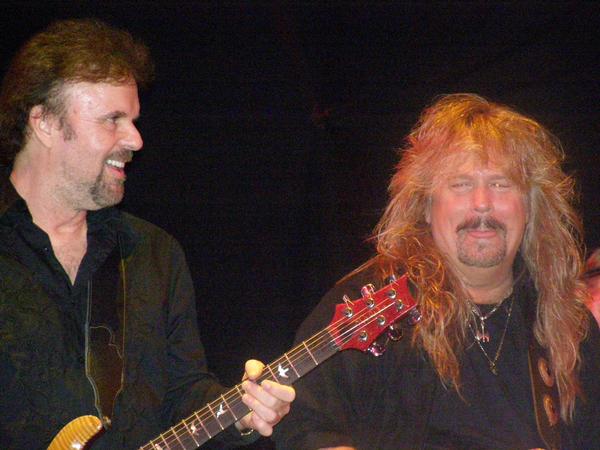 One hour and a quarter of famous titles, with a wonderful 'Hold On Loosely' at the end, with the classical 'Livin' In USA/Travellin' Band just after, and that was the end
of .38 Special show.
We already have seen the important moment we wanted to get on this cruise !
A fast change of instruments, and the great Skynyrd comes on stage with 'Workin' For MCA'. As I knew from the day before that Ean Evans was not present (because of his health), I wanted to know who was on the bass guitar. And it was a surprise to discover a tall Southern musician who played all the classical songs (What your name, Three Steps, Call Me The Breeze, Tuesday's gone, Simple man, etc…) with a great assurance, and where the great Billy Powell himself got some hesitations, maybe he was a little bit tired…. No problem in fact, and everybody did forgive him !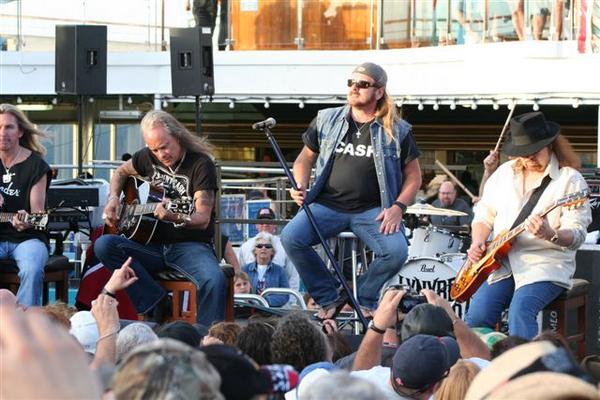 The famous and classical Skynyrd songs did the network of the show, 'Sweet Home Alabama' sung by all the audience and a great 'Free Bird', where we could enjoy the connexion between Mark Matejka and Rickey Medlocke, ended this exceptional evening !
Then we could see some jams and shows on different places on the ship, and we wanted to sleep early because Saturday could have been terrible !
Back to the bars and many great moments with Southern music die-hard fans from everywhere in the world. On Saturday midday we could talk to the bass player who did a great show with Lynyrd Skynyrd the day before. We could talk with him and he told us how he could get this place for the cruise. He just got a Rickey Medlocke phone call asking him to play at Ean Evans place for the cruise, he thought it was a joke on the phone and was close to hang up the phone ! But at the end he got the job, he told us he plays in a band in Memphis Tennessee that plays Skynyrd covers ! That's the explanation. He was happy to talk with us and he revealed that he is hot a professional musician but he works as a bricklayer in everyday's life ! Great moment for him to be able to play with all his favourite musicians !!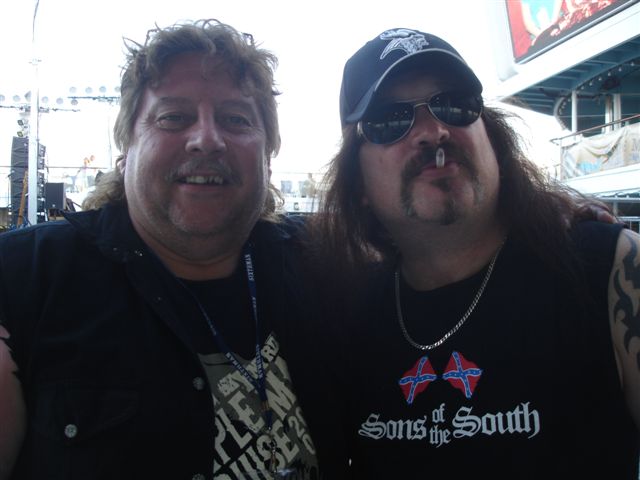 On Saturday evening another wonderful moment, with a Molly Hatchet open air on the deck, we were lucky enough – with the help of John Galvin (Molly Hatchet) – we could see .38 Special and Skynyrd second show, what a great moment ! Later in the night, our ears were a little bit tired, and we just enjoyed some beers in front of Jupiter Coyote show, a great quality kind of Jam band !
Sunday, the last day, was already there, too fast for us, we really dug the ambiance, good moments at breakfasts with people such as Phil Mc Cormack, Doug Gray or some other musicians, just talking at the bars, the very good meals, the musical feelings everywhere, and we were sad that all these moments were already close to the end. At the end, another great moving moment with a Lynyrd Skynyrd acoustic show outdoor, great emotion we really wanted to be longer. Then we just had a look at Tom Hambridge, before the third Molly and Marshall show. It was the last musical moment, and we got the surprise when Phil Mc Cormack talked about two special guests, Chris Hicks and Don Barnes… in a jam with Molly… the dream was still alive. T for Texas and Crossroads made this evening totally magical. Around midnight, again some jams on the outdoor stage, we were really exhausted but happy, and I went back to my room just to sleep a couple of hours to be ready to leave the boat at 8am on Monday morning, my friend Manu didn't sleep more that some minutes… however we wanted to keep the maximum of these great moments in our memories, and we did it !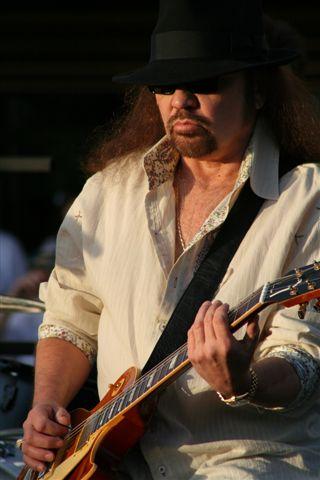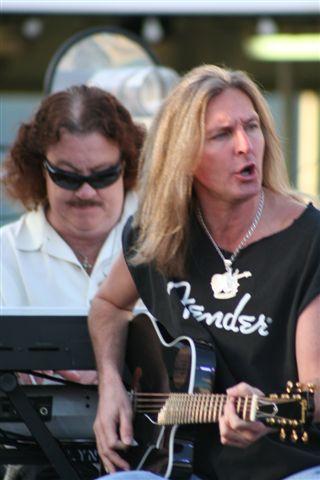 Back on earth was a little bit hard, we all were tired and sad because the party was over, a lot of "Good-Bye My Friend" and it was the end of this Southern Rock die-hard fans meeting. However as we can say in France "every good thing finish one day", even if it was not funny to be obliged to leave such a great place!!
A couple of days to rest and visit in Florida (Key West for instance) and our January holydays were over, we had to go back to France and its cold weather !!! I won't give too many details about our way back home and back to work, but today, three weeks later, my head and my memories are still on the cruise. Just before going to Florida, we used to say "We need to do it one day", now Manu and I we think that we need to do it again and go back to the next cruise !!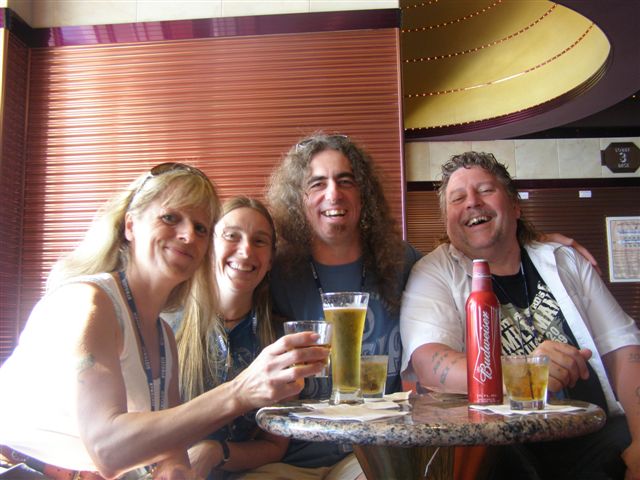 So, even if it is expensive, I think that we cannot resist saying to every Southern Music fan in France and in Europe that they have to live that extraordinary moment, a Southern Rock cruise !