Copyright © 2007 Road to Jacksonville
Webmaster : Patrice GROS
Tous droits reservés.
Design par Zion pour Kitgrafik.com
POINT BLANK : "Second Season in Europe"
Live at Chateau-Goncourt, France
15 June 2008 by John Molet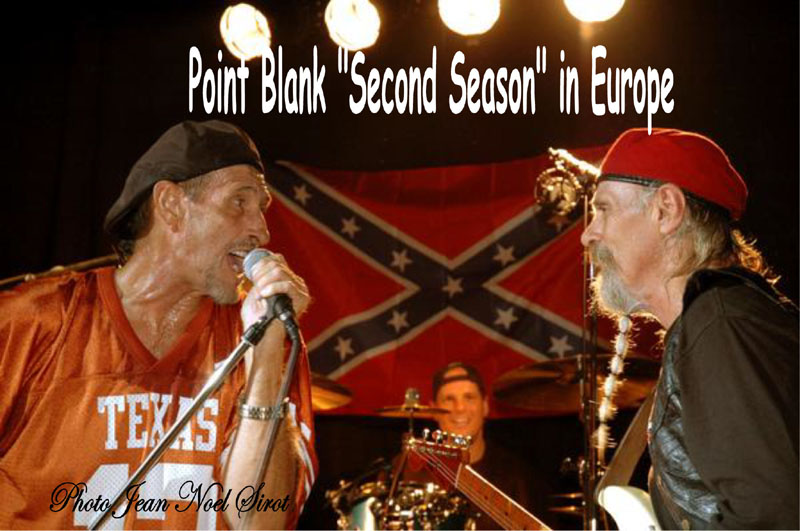 Almost a year ago to the day, Rusty and his buddies conclude their first european trek with a little sad note, because this moment coincides with the Ancerville Festival's rude cancellation. A dreadful storm followed by an incredible downpour (that surged stupidly inside the fold back monitors' mixing table) annihilate right now the great pleasure expected by the audience that came sometimes from very far to pay tribute to the legendary Texans! A lot of disapointed people of this day also remember that Rusty came back in the area (after the downpour) to chat a bit with the people and sign some autographs (classy real gentleman!). While leaving, he even assured us that Point Blank would come back in 2008 and that he hoped a lot that a show would be scheduled in those parts to fix up the misfortune due to damn disrespectful weather conditions! So you have to believe that malediction that harassed the band during a long time is gradually letting it go, as the so expected come-back happened in those parts et as today Point Blank has surely some good time to appreciate and share! Once again organised under the leadership of the Ancerville Firemen Association (thumbs up for Olivier and the group), the event was this time scheduled in the "Chateau de Goncourt" (Goncourt Castle, a stone-throw away from Ancerville), where Bernard, the Boss and in charge of the area, answered favourably to the requests of Christian Nicolas (Bacchus) and Manu (Natchez).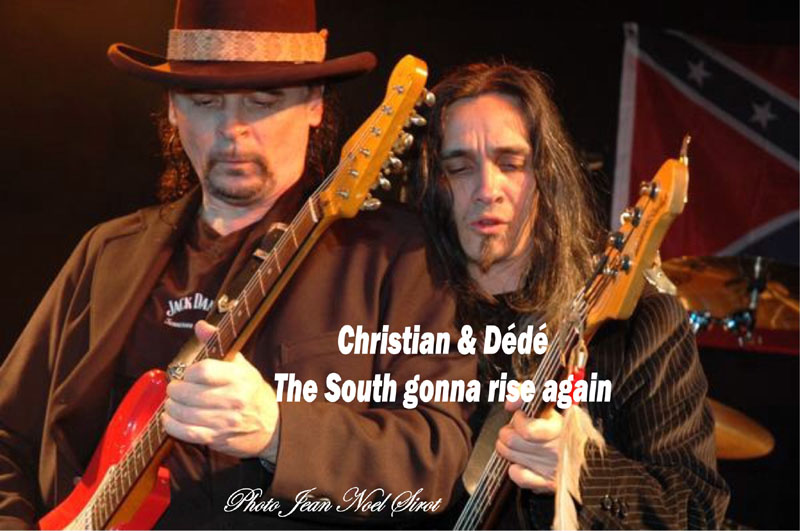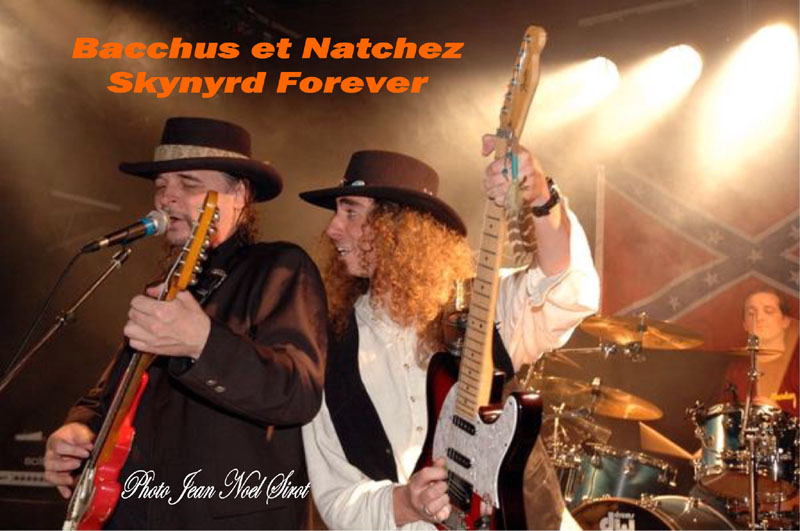 We could hardly trust it... Natchez, Bacchus and Point Blank... Who could have believed it? Incidentally, for me, I have to concede that the weeks before let sometimes alternate dream and nightmare... Anyway, Didier, the Texas Boogie Production's overseer, kept his word and we can only thank him!
A lot of the band's fans took the direction of Matignicourt, from Montpellier to Paris as well as Tours or Clermont-Ferrand, under an unforeseeable weather again (well yes... this damn thing never lets go definitely!). The frantic people were well-represented once again in this end of the afternoon, and honestly, I'm sure that none of them deplores it! We had one of the best welcome and the receptiveness of the "Blank's" guys delighted the "Southern Rock Boys " again. Whether it be Rusty, John O' Daniel, Phil Petty, those guys are really nice, they haven't the minor reluctance when they have to answer to the questions or to pose for the cameras! Point Blank certainly doesn't convey a kind of ZZ Top fame (too bad!), but I think regardless that those guys can't be able to get too big for their britches (it's in their genes !) !
About 18h 30, Natchez enters on stage, garlanded with the recent release of its magnificent DVD, and we got once again slapped in the face by the Bachbach's gang this Sunday, a really in place show, brimming with faith and feeling, it's a real pleasure to see the band operate with such an ease. The audience doesn't deceive, dedicating to the Indians a well-deserved ovation ! Ninety minutes later, it's Christian Nicolas and Bacchus' turn to blast it. For your information, we have to remind you that Bacchus was probably one of the Southern Rock's cornerstones in France in the early 80's. Among the seniors that we are (for the most part), who doesn't remember "Le Beaujolais nouveau est arrivé" or "Marche pas sur les pieds d'un sudiste" ? I suppose that, for many of us, it must call up some good memories... Well, it seems that the Southern Rock era was some years ago... Really? (Too bad, ha ha ha !)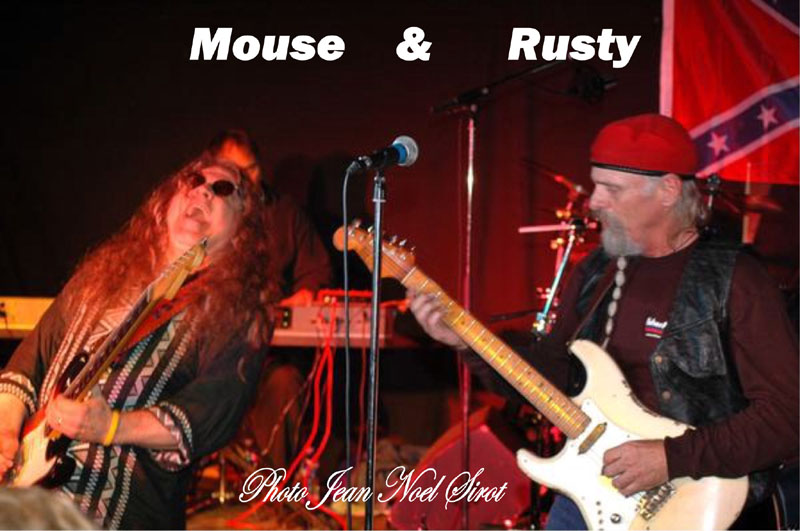 Alternating Southern atmospheres and some similar covers, Bacchus gave a good time during whitch I'll single out the "Highway Star" version, where they sent very well the two axes chorus that projected us already and inevitably to our texan heroes!
But before the high point of the evening, we got a very good surprise with a Natchez-Bacchus jam session, and we could see the bands dispense for the occasion a super cocktail Skynyrd-38 Special almost essential in that kind of event! Following those mouth watering starters, it was time to turn to the main dish of the day. According to the conversations, the eyes, a real expectation could be observed on the faces, and when the chords of "Back in the Alley" pierced the atmosphere, each one showed a very expressive and communicative joy! "The great Point Blank was back" ! In a not very different forming comparing to last year, with Mike Gage (young drummer corresponding quite well with the band's style) and of course Mouse Mayes, who had the heavy task to substitute Buddy (still with John Mayall). If you hear some purists, "Mouse" 's style and guitar sound (perhaps less technical but more Rock) would better correspond with Point Blank's spirit and wild style. So, let's wish that all will find together a real pleasure to play in this band, in order to recreate the best possible dynamics and to burn again something that may give again to Point Blank a deserved reputation, thirty years later!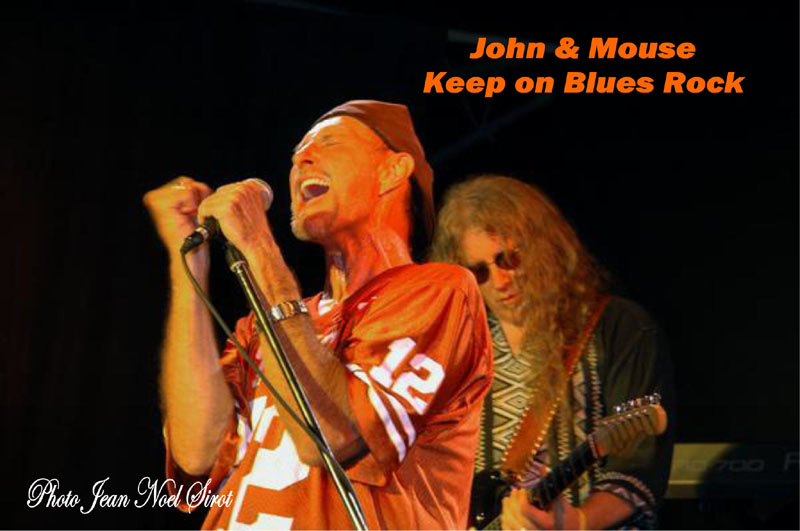 The set-list was like the one of the last year until the moment John O' Daniel announced us a first novelty with "Automobile", a well spiced-up blues rock removed from John's solo album (Legacy). This title was followed by another novelty "Made of Stone", a little more FM atmosphere that splits always a little the opinions of the "Blank" 's fans (globally we can say nearer from American Excess than from Airplay!). The atmosphere moved up a notch with the essential "Lone Star Fool", "Free Man", "Mean to Your Queenie", and even found its harmony with "Down on the Bottom" and "Deep Ellum Women", the third introduced novelty, but the great moment of the evening was unmistakably (barely after a completely mad "Uncle Ned") the curtain calls as, after the standart "Nasty Notions", Point Blank let the thermometer explode throwing themselves in a sublime "Thank you Mama" shared by a passionate audience. Most certainly, Rusty and John made a lot of radiant people with that one (and I'm part of them!). Despite a last curtain call attempt, it was finished, the band came back some moments later to answer the questions and to sign the mythical vinyl discs, and the audience leave the "Château" (Castle) with a head full of images, and of course the open hope to see Point Blank again next year (never two without three, as we say in the area!). Until then, the new studio album, expected in September, will perhaps have come and titillated our ears. At least, there are sometimes miracles we can't explain and Point Blank is one of them !
Keep on playing Texas Blues !
Set list.........
1/ Back in the alley
2/ Moving
3/ Bad Bees
4/ Nicole
5/ Stars & Scars
6/ Automobile ( new )
7/ Made of Stone ( new )
8/ How Blue Can You Get
9/ Lone Star Fool
10/ Free man
11/ Mean to your Queenie
12/ Down on the Bottom
13/ Deep Ellum Women ( new )
14/ Uncled Ned

Rappel

15/ Nasty Notions
16/ Thank You Mama !
Band :
Rusty Burns -Guitar, Slide Guitar & Vocals
John O'Daniel -Vocals
Phillip Petty -Bass
Mike Gage -Drums
Larry Telford -Keyboards
Mike "Mouse" Mayes -Guitar
(from Black Oak Arkansas)