Copyright © 2007 Road to Jacksonville
Webmaster : Patrice GROS
Tous droits reservés.
Design par Zion pour Kitgrafik.com
SIMPLE MAN CRUISE 2011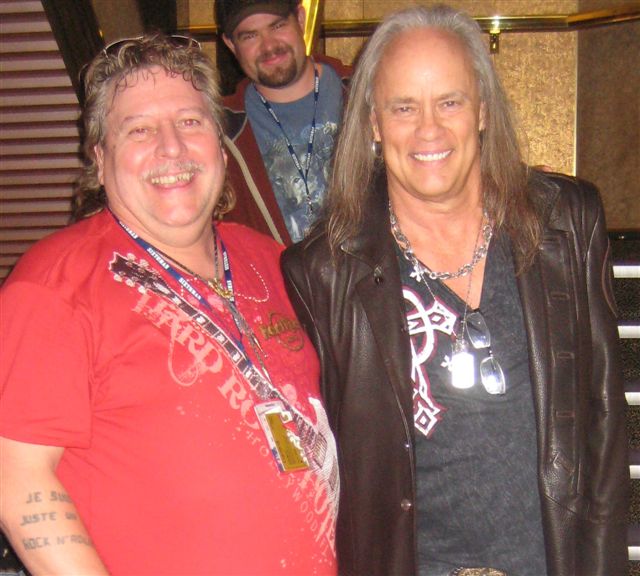 I have to confess that after this fresh escapade in Florida, I took a little time to open my cases and to unpack my things, but well, I had to bring myself, the « Simple Man Cruise » is still inévitably something exceptional and then, willy-nilly, we have to go back to a less turbulent and exciting life than the one we lived during those 4 intense days on the « Ship » with its « Southern Rock Family » atmospheres!
In short, anyway, it made me think again that I promised this little review for Road to Jacksonville, better late than never and so go !
This 2011edition was announced as the last one with Lynyrd Skynyrd as main headliner and, as I write those words, we still don't know what will happen next year. We only know that another cruise with legendary bands seems to take over, going just to show that rock and cruises begin to get on well and don't seem to be as removed as we could think for some times !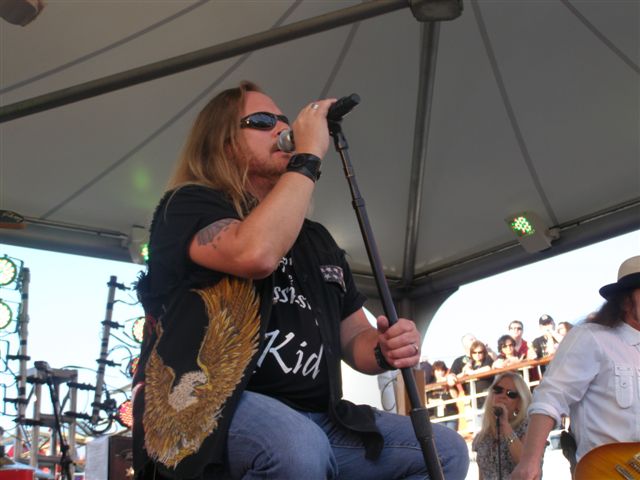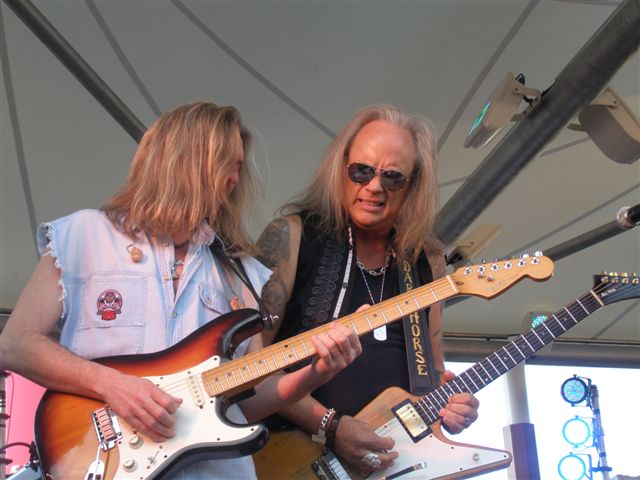 This being said, I have to come back to this 2011 SMC that, if I believe some talkings (?)... didn't let the Southern Rock enthusiasts of our country cold as we counted from 20 to 25 « Frenchies » who made the appointment with the Southern Rock on the occasion of this extraordinary event ! Great to see the French flag on the deck beside the one of the German, English, Finnish, Swedish, aso… people. Well done Valère !
From the moment we arrived in the pleasant and magnicent town of Tampa, the turmoil is really present, we can see a true joy on most of the faces. We have to say that some of us have good memories, because they were here last year, and some friendship links develop inevitably ! With Jean Marie and Patrice (my Calibre 12 acolytes) in tow, I meet again with pleasure my friends gone from France in the same time as us, and the first impassioned discussions begin in the boarding hall with Thierry and Karine (Lynyrd Skynyrd.fr), with Seb and Florence (big Skynyrd's fans), with Johnny Da Piédade and Alison (Big Cactus Country) and many other enthusiasts who will surely recognize themself !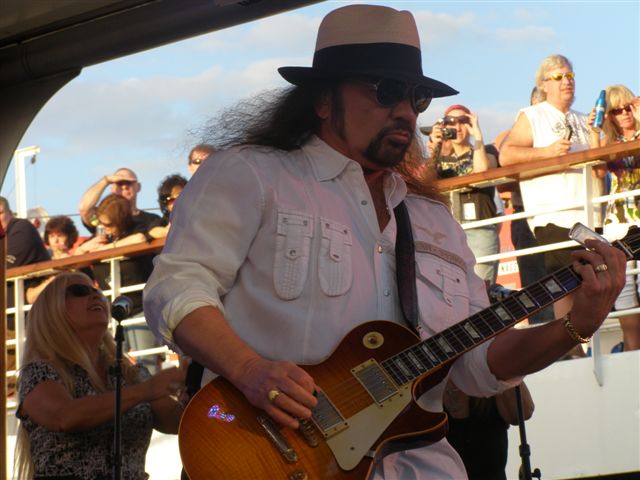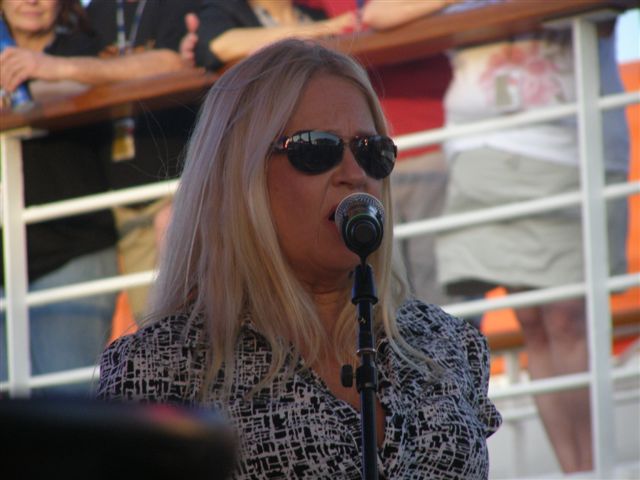 As soon as the baggages were put down in our cabins, we move quickly toward the desk because this year, it's Lynyrd Skynyrd's turn to fire the opening shot, and that's good news for most of us ! After about one hour waiting in front of the stage (you have to do that if you wanna be close to the band !), Sixthman (the SMC organizer and manager) arrives with the microphone in the hand on the front of the stage, and as preamble invites the little girl Lana Turner accompanied by her father Brit Turner (Blackberry Smoke's drummer) to announce the Cruise 2011start. A lot of emotions and reassuring feelings can be seen then on the faces of the people knowing the health problems that arised recently by the rocker's little daughter !
And suddenly they enter the arena. More fit than ever, Gary, Johnny, Rickey, and the others start with "Skynyrd Nation", a priori a fully justified choice !... I don't precisely remember of the set-list, but we could see a very good show (with the classics « What's Your Name », « Simple Man », « That Smell », etc ...) and practicaly all electric !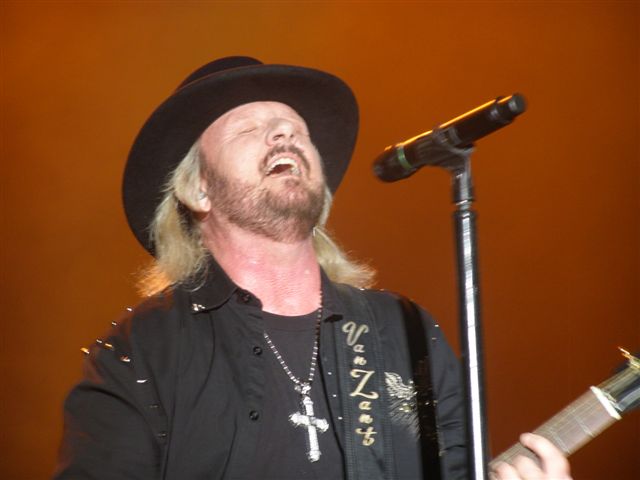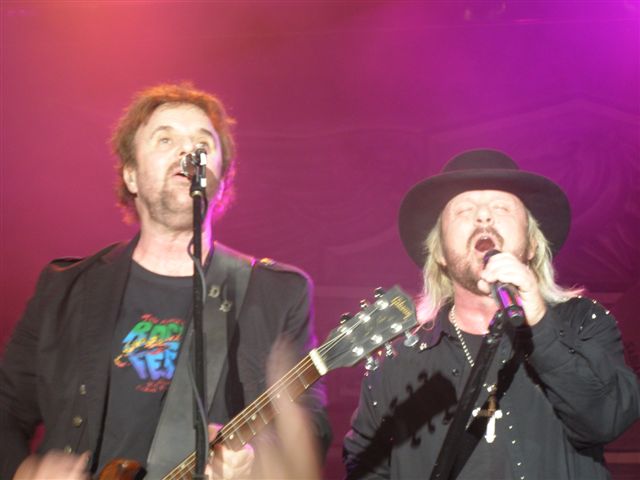 Hardly got over this mouth watering starter, we couldn't lose any time because the good things will follow on with Blackberry Smoke and 38 Special !... A little beer, a little restaurant, and a "Margarita" (to keep the fit!), and let's go, direction the "Paris Lounge" for three other hours of pleasure ! Immediately Blackberry Smoke confirms (if there could be a need !) that they belong to the Top concerning Southern Rock. We just had to watch around us to see most of the people singing the chorus together with the band ! Then arrived those waited with Chimene's eyes by a lot of Frenchies (that's it Manu, Seb, John... no?), I was speaking about 38 Special ! Sure, the show won't surprise us, since it seems to be strictly the same as the last year's one and as all the shows played by the band for several years. We regardless could appreciate again a "Rebel to Rebel" (still essential according to me !) or a "The Squeeze" that will remain (from far!) Mister Jeff Carlisi ! Well, even if we'd like to see 38 Special with different tunes (old or new!), what's the matter, Don Barnes, Donnie Van Zant and Larry Junstrom stay still unquestionnably the central characters of this fantastic band, and what a musical quality !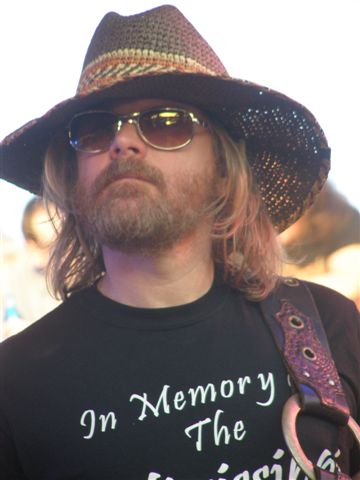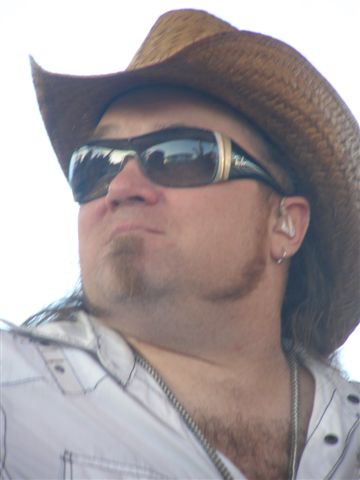 The jet lag and the tiredness of our long travel got the better of us after a last little beer and we finished this first "Simple Man Cruise" 2011 day around 2h30 am! We learned the day after that a very interesting "jam" happened just one hour after our lights out!... It's a pity, but it's very difficult to fight the tiredness when we reach a certain age !
From the first hours of the friday morning, the conversations flow easily during the breakfast during which the fans meet together and with a lot of members of the bands who don't hésitate to exchange pleasanteries and even to talk with the fans : it completely changes from the concerts all along the year ! To eat, concert, to drink, to eat, to drink, concert... that's basically the rhythm that we have to follow (so hard for rockers, no ? Ha ha ha), so, after some drinks to be in great shape, many of us meet again on the deck at the beginning of the afternoon for the Tom Hambridge's show, a very rock'n roll one during which the Canadian played (among others) "Sweet Mama" and "Thing I Miss The Most", tunes that he co-wrote for Skynyrd or Van Zant ! Just a short break and Little Feat will take over. Although I still think that Little Feat's musical style and mind look a little delicate in a Southern Rock Cruise like the Simple Man Cruise, we spent a great time with the "Dixie Chicken", "Oh Atlanta", "Willin" or "Let it roll", fabulous Paul Barrere, Fred Tackett, Bill Payne, et Kenny Gradney ! This evening's end is not completely spent but we already have to move quickly to be in time at the great Lynyrd Skynyrd's concert planned around 21h !... A concert with a great level of quality with a little and pleasant surprise : the integration of "I Got The Same Old Blues" into the set-list ! An extraordinary second day in every way !
A little sleeping night and it's started again, after a cool cool port of call on the Mexican island Costa Maya to have a quick dip and a Margarita, with Little Feat around 17h, followed by Blackberry Smoke, Swampdawamp, and 38 Special... Great evening again in spite of a very strong wind that limited a little the appreciation of all those bands ! The fourth and last day was also memorable, partly devoted to the photo shoots and the bands' interviews. It was really a pleasure to mix so close with those people (who could believe that only 3 or 4 years ago?). A final show with 38 Special again on the desk (3 concerts in 4 days, those who never saw them live should have sometimes believed that they lived a dream !) with other shows at different floors like Swampdawamp, Black Stone Cherry (a little « hardos » for my old southern ears !) or once again Little Feat to conclude this "Simple Man Cruise", and this fifth edition was over !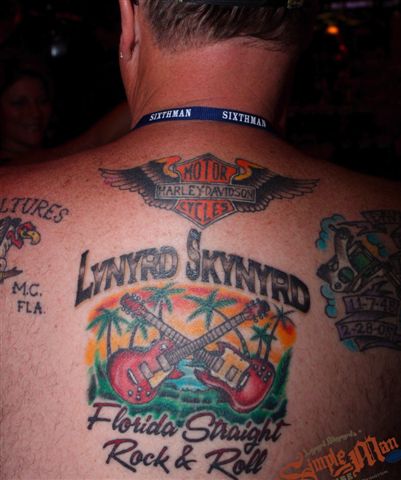 By and large, that was once again a great moment made to stay in our minds, even though many of us were sorry about the lack of some Southern Rock pillars like Molly Hatchet, The Outlaws, or The Marshall Tucker Band ! We just had the time of a friendly "au revoir" (each time a little sad) with our french or american acquaintances, a few days in Fort Worth in Texas to unwind, and a to quick return on the France ground where a question is already racing in my mind : by us, don't we say « Good things come in threes »... do we?
John Molet