ALLMAN BROTHERS BAND


Beacon Theater, NewYork 21 March 2014 19 o' clock

The highlight is coming, I was dreaming for years of my first Allman Brothers concert in New York
at the Beacon Theater !
In the hall, big merchandising of tee-shirts and posters, and of the book Duane's sister.
The American audience is still as noisy and dissipated, and its main activity consists in talking with its neighbours about everything but the show, and then to restock in beer at the bar.
At last, the concert starts but where is Gregg Allman ?
Unbelievable, he is missing ! We'll learn later that he suffers from bronchitis and that Rob Barraco (Phil & Friends' keyboard player) and Kofi Burbridge (brother of the bassist and keyboards/flûte by Derek Trucks) stand in for him.
So the beginning of the show is a bit uncertain, everyone is searching for his bearings, under the orders of Warren. It really takes off with « Every Hungry Woman », then Susan Tedeschi joins the band to play two tunes, and that's the moment the guitarists pull out all the stops, Derek Trucks is mind-blowing, Warren Haynes seems to be a little set back because he has to deal with Gregg's absence, but the end of the first set is splendid with « Stand Back », « Good Morning Little School Girl » and a spectacular « Jessica ».
The second set starts with « Little Martha » and a superb « Blue Sky », then an excellent version of « One Way Out » with Devon (at least an Allman on stage), then Bill Evans and his sax play on « Who's Been Talking » and the Grateful Dead's cover « Franklin Tower » before a high-flying finale with « The Sky Is Crying » and a huge « Hoochie Coochie Man » where Warren sings wonderfully and pulls out a classic chorus.
We escape before the encore to hurry by the underground to the BB King's Club at Times Square where the concert of Royal Southern Brotherhood is planned at midnight.
Classic set-list, with Samantha Fish playing three tunes, including a superb version of « Goin' Down Slow ».
The band runs now at full capacity, the sharing out between the two guitarists changes for each performance, but this evening no one gets the upper hand over the other.
Cyril Neville is in great shape (he played percussions on « Good Morning Little School Girl » at the Beacon), and as he take the microphone for « Gimme Shelter », the tension rises...
It's half past three in the morning, fortunately it takes only ten minutes on foot to go to the hotel, we go up the 41th street for a southern dreams night.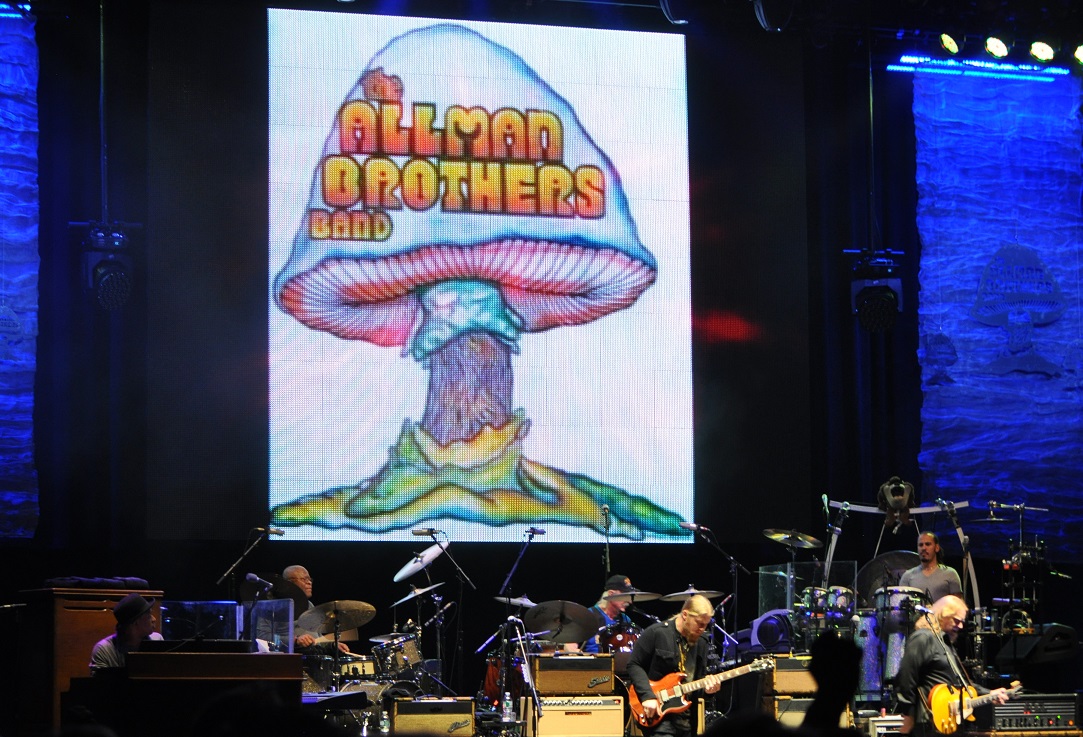 And it's the same old thing the 22th of March.
19h30. We have a little better places on the right side when watching the Beacon's stage,
The show, still without Gregg, is much better than the evening before, with a Dantesque start, on « Done Somebody Wrong », Jimmy Hall (Wet Willie) is on stage with his harmonica, and his presence and his experience completely free Warren Haynes. Jay Collins and his saxophone join the band for « Come and Go Blues », « End of the Line », « Dusk Till Dawn », the solos strike more, the rhythm section runs at full capacity. And Oteil is spectacular on bass ! Fabulous, a light string touch but an incredible presence. Show more bluesy : after Elmore James, Muddy Waters' "« Can't Lose What You Never Had »! Jimmy Hall is back, and Derek is magic ! He nods to Warren, showing him that he takes the solo, then he comes close to Rob Barraco and launches into a superb dialogue with the keyboardist before ending by a devastating chorus.
Susan is here for « All My Friends », then « She Caught the Katy » (cover of Taj Mahal) and « Revival » end on a high note the mind-blowing first set.
Again a blues, and Jimmy Hall, to start the second show, Willie Cobbs' « You Don't Love Me », then again a guest guitarist, Jr Mack, for « Ain't Wastin' Time No More », and then we only have happiness, with a fabulous « Black Hearted Woman », where the guitars take off, then Susan is back for « Feel So Bad », and the absolutely spectacular last part, the classics « Dreams », « Les Brers In A Minor », and « Why Does Love Got to Be So Sad ? » (that appears on Derek & the Dominos' Layla). Just one tune for the encore : « Southbound », shorter but more intense concert than the night before.
Michel Bertelle
Trad. : Y. Philippot-Degand


Copyright © 2013 Road to Jacksonville
Webmaster : Patrice GROS / thesoundofchicago.com/
Tous droits reservés.
Design par Zion pour Kitgrafik.com