BLACKBERRY SMOKE


at Nouveau Casino Paris 15 March 2014.

The Nouveau Casino is super packed for Blackberry Smoke.The amazing thing is to still see or (re see) the same spectators who crossed half of France just to see the show. A bigger place would probably have been filled. We regret that the opening was performed by a heavy metal band that is doing the whole European Tour.We would have preferred for example, Natchez who would have suited better. The sound of the basses is super strong where we were standing so we had to back off a little and it was just right!

First obvious fact is Charlie Starr's maturity and how he can fill the stage.However,we can still feel his shyness
in his gestures but that doesn't stop him from being a great frontman. After all,we're not asking him to be
Mick Jagger! The beginning of the show is pretty heavy with the excellent "Leave a Scar" for the opening, we could hear some southern men regret the absence of big sturges or big solos,not the sound barrier type but lots of harmonies with a representation of thee last cd (The Whippoorwill)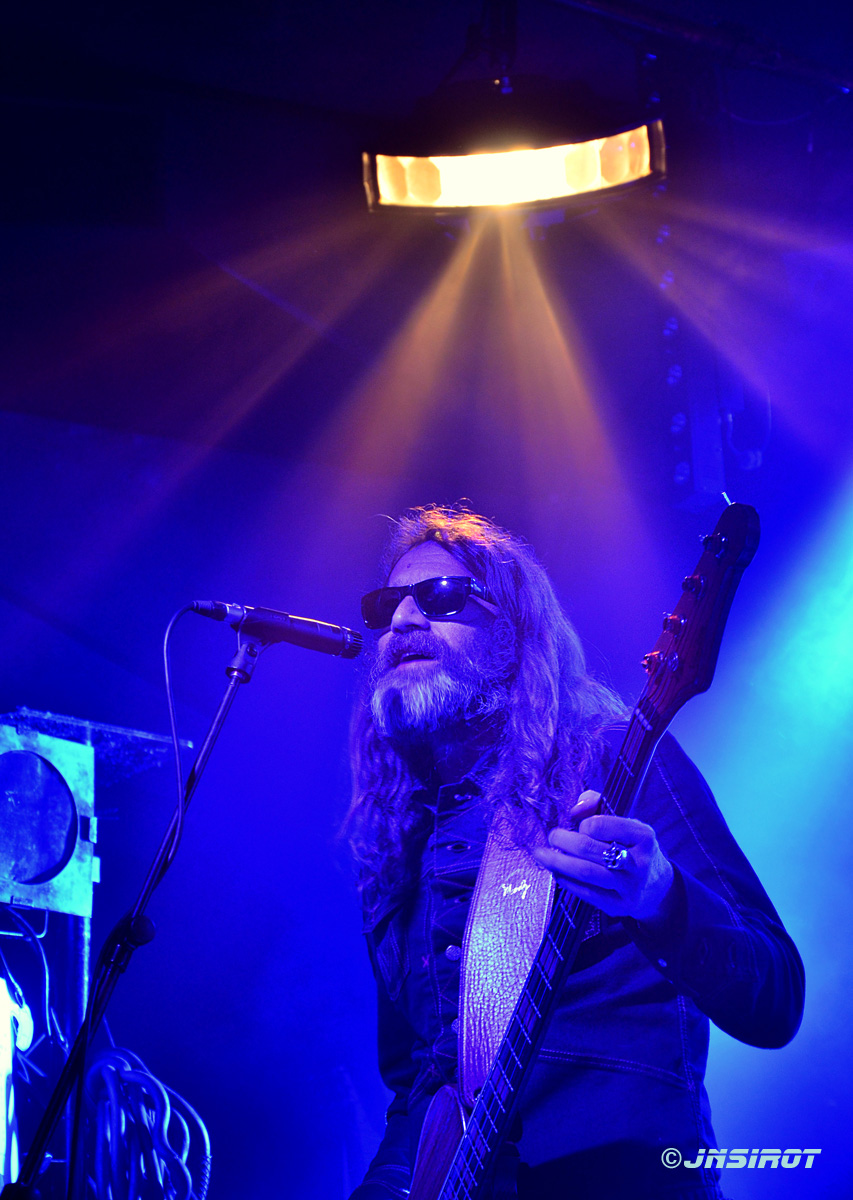 But for me,the show really took off with "Six ways to Sunday"a remarkable song,particularly well constructed.The interest of the band is the quality of the harmonies and the construction of the songs.Charlie Starr doesn't have an extraordinary voice but he knows perfectly well how to place it and give it all and finally, I'd say it's in the mid tempos and some somptuous keyboard pieces that the band excels.

I really digged "The Whippoorwill", a fabulous "One Horse Town "suberbly followed by a " Ain't much left of me".
The band clearly claims their influence with fragments of "Midnight Rider" inserted in "Sleeping Dogs". Magical moment of extreme beauty with "Ain't Got the Blues" acoustic guitar supported delicately by the Turner Brothers, a beautiful emotion comes out of this song.The gig was pretty short, 1h40 in all but was particularly well built with a combination of heavy and cool songs which wasn't a problem.The feeling I got from this gig is that the band is still a bit under the pedal but can definitely progress.To my opinion, the level of the compositions of the last CD is excellent and maybe one or two passages of 'army guitar" would give a more spectaculor view of the show and put the stage on fire even though the place was crowded and people pleased.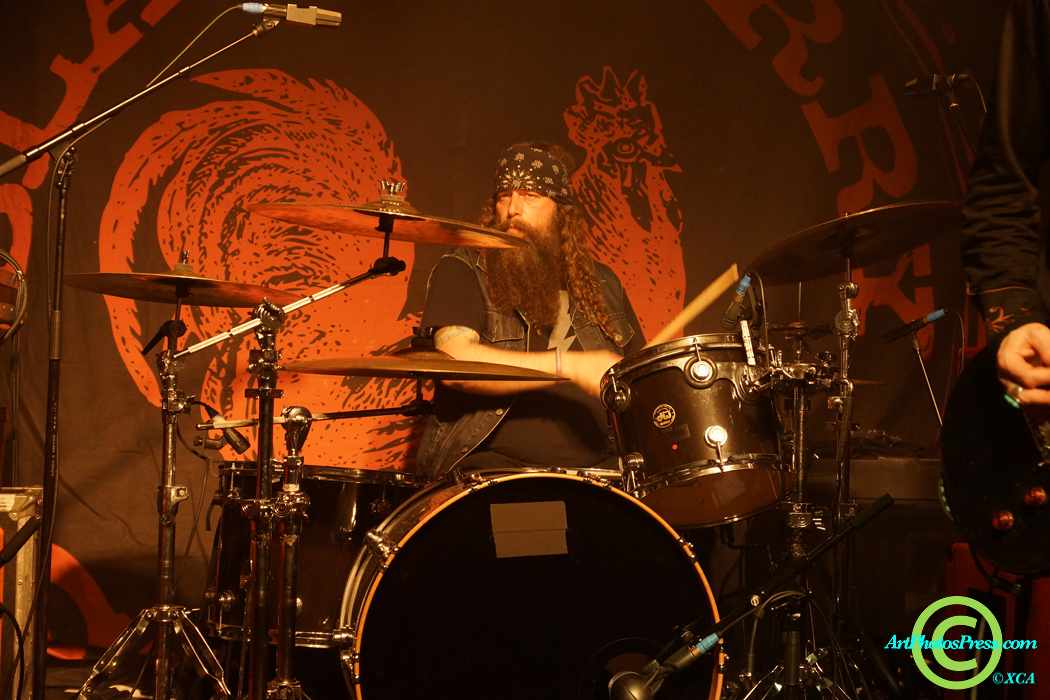 In any case,there's nothing better than a good southern rock gig to make you feel good especially when the guys
of Blackberry Smoke besides being professionals are also very cool who don't act like rock stars.
Michel Bertelle
(photos Xavier Caupenne & JN Sirot)
Set-list :
1-Leave a Scar
2-Like I Am
3-Lucky Seven
4-Pretty Little Lie
5-Six Ways to Sunday
6-Good One Coming On
7-Crimson Moon
8-Sleeping Dogs (with Midnight Rider tees)
9-Everybody Knows She's Mine
10-he Whippoorwill
11-Shakin' Hands With the Holy Ghost
12-Wish in One Hand
13-Up in Smoke
14-Ain't Got the Blues
15-Restless
16-One Horse Town
17-Ain't Much Left of Me
18-Fire in the Hole
Shake Your Magnolia
Charlie Starr- lead vocals and guitar
Richard Turner- Bass and vocals
Brit Turner- drums
Paul Jackson- guitar and vocals
Brandon Still- keyboards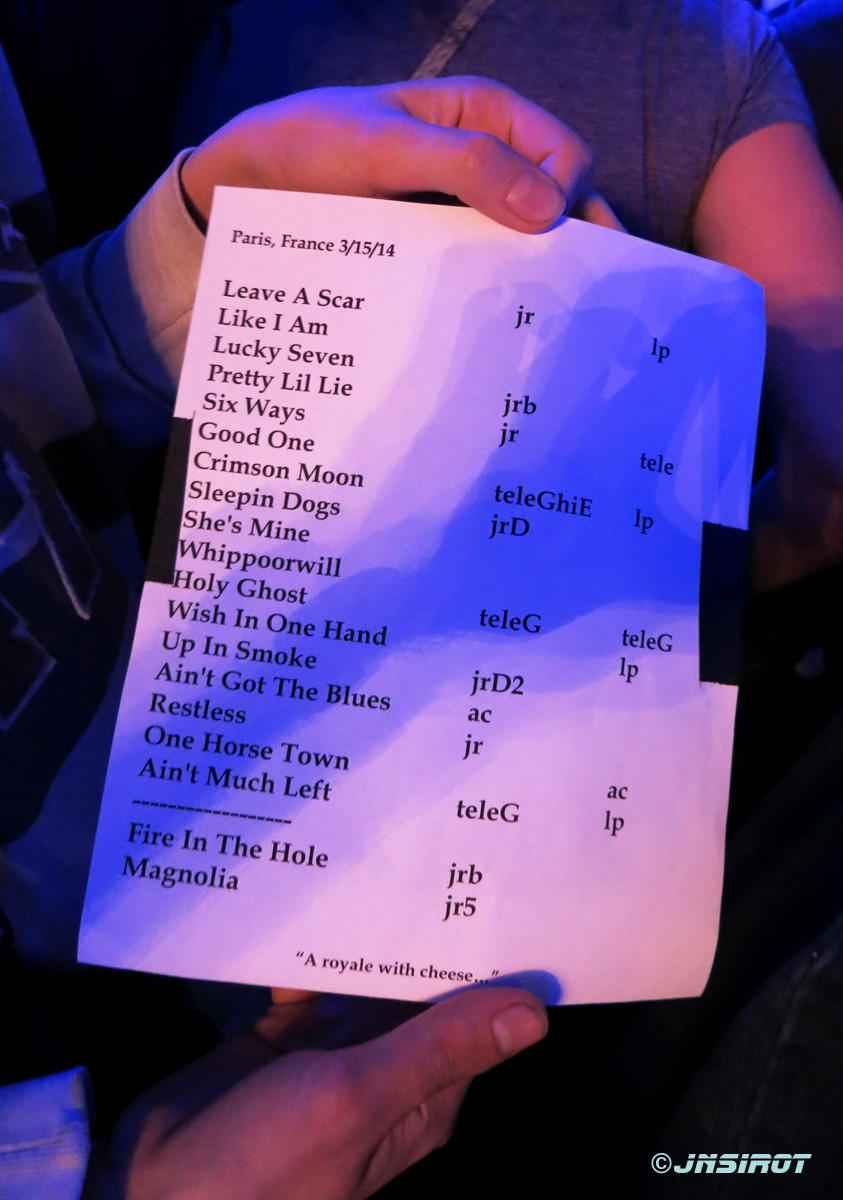 Copyright © 2013 Road to Jacksonville
Webmaster : Patrice GROS / thesoundofchicago.com/
Tous droits reservés.
Design par Zion pour Kitgrafik.com