BLACKBERRY SMOKE at the Trabendo, Paris,
20th of October 2015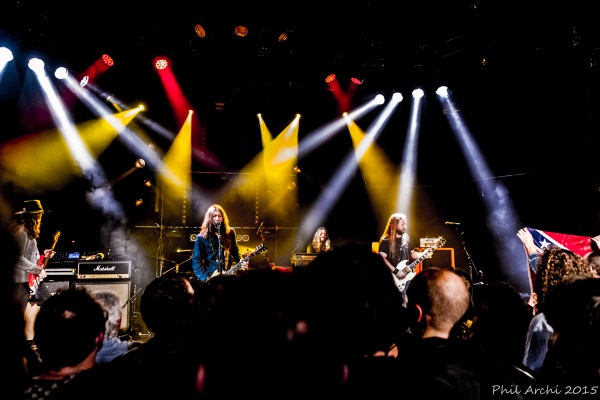 New Parisian date for Blackberry Smoke that string together the tours in Europe, and it's a true pleasure for us to meet again Charlie's gang, what's more in a real rock hall. About 600 people are present this evening, it shows the importance that the band begins to gain knowing that other dates, including Barcelone the night before, were sold-out.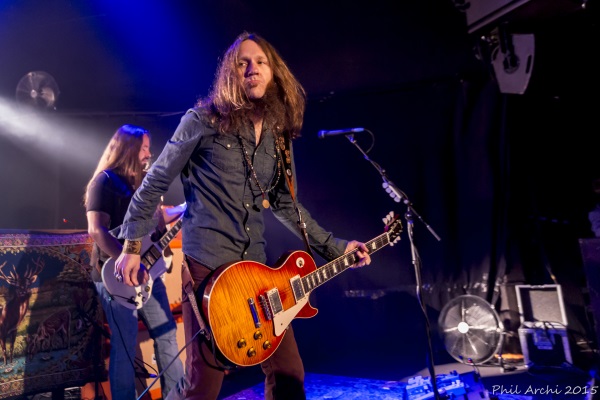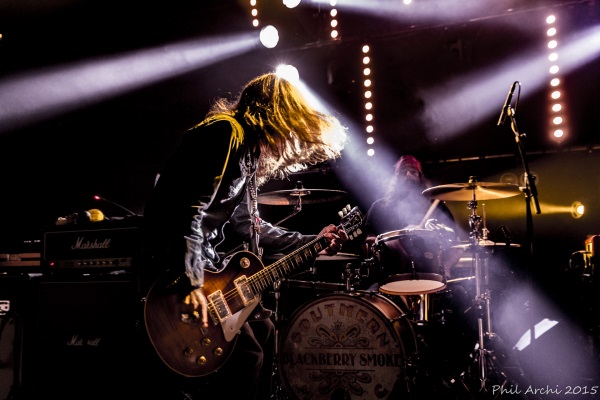 Opening, The Record Company offers us a really superb thirty minutes set, this Californian trio (Chris Vos : vocals, guitar, harmonica, Alex Stiff : bass, Marc Cazorla : drums) plays a music that makes us think to North Mississippi All Stars by their rhythmic approach and the drums' playing of the drummer. Something rare, the band got a well deserved encore.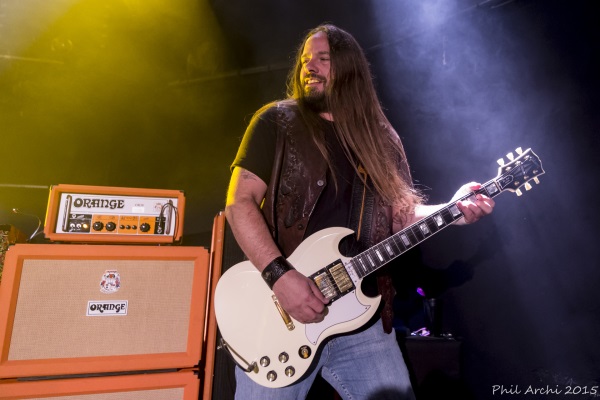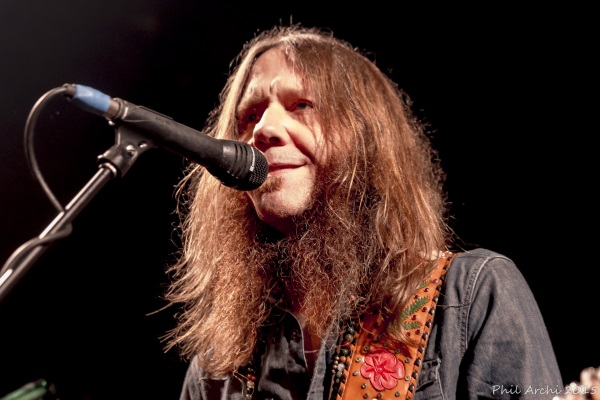 Barely a few minutes to quench our thirst, and Blackberry Smoke appears on stage. Then, as usual, we got some heavy, solid duty. The band improves each time it appears and tunes like « Six Ways To Sunday » or « Ain't Got The Blues » are about to become classics. One of the great successes of the combo is to write strong and beautiful melodies that become embedded in the listener's head. The show is quiet short (1h45 including the encore) but intense. Charlie, more and more comfortable on stage, lets the audience sing and we were treated to the « tease » of the Allman Brothers's « Midnight Rider » inserted in the splendid « Sleeping Dogs ».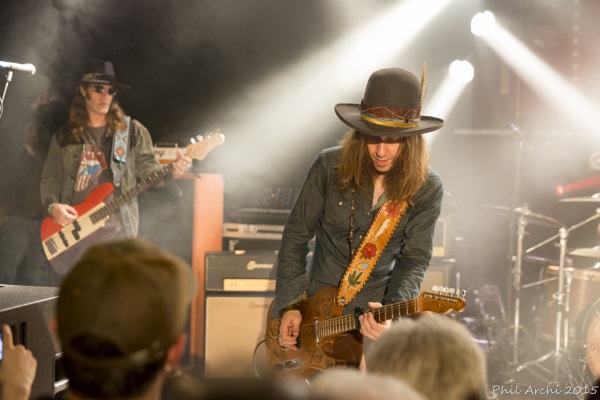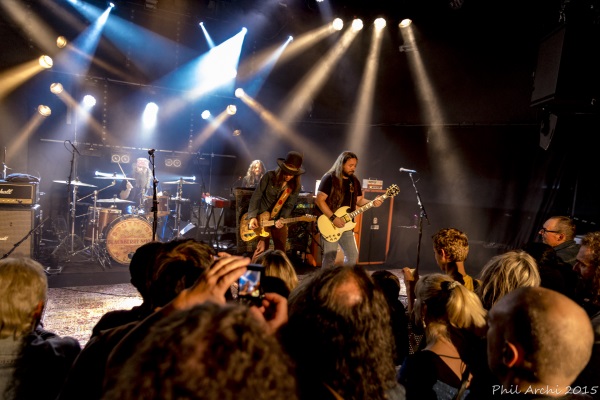 Superb night with two stimulating bands packed with feeling. Blackberry Smoke in full team lent itself to the game of the pics and dedications before taking their tour bus, and continuing their tour. I heard a woman singing completely the songs of Blackberry Smoke upon exiting, that's the point where we can think that de band is rising, and its performance during
the Conan O'Brien show at the US TV demonstrates it, as you can see on the vidéo on
YouTube https://www.youtube.com/watch?v=XQKsV9RY510.
A new album planned for 2016 as the festivals in June, what more can we say ?
The rocket is launched…
Philippe Archambeau / Michel Bertelle
Translation : Y. Philippot-Degand

SET-LIST Blackberry Smoke :
01. Six Ways to Sunday
02. Let Me Help You
03. Like I Am
04. Pretty Little Lie
05. Living in the Song
06. Rock and Roll Again
07. Good One Comin' On
08. Sanctified
09. Sleeping Dogs (with Midnight Rider "tease")
10. Shakin' Hands (with the Holy Ghost)
11. The Whippoorwill
12. Everybody Knows She's Mine
13. One Horse Town
14. Up In Smoke
15. Ain't Got the Blues
16. Holding All the Roses
17. Payback's a Bitch
18. Leave a Scar
19. Too High
20. Restless
21. Ain't Much Left of Me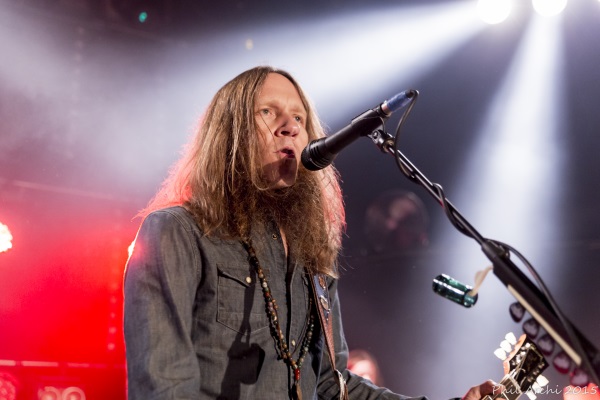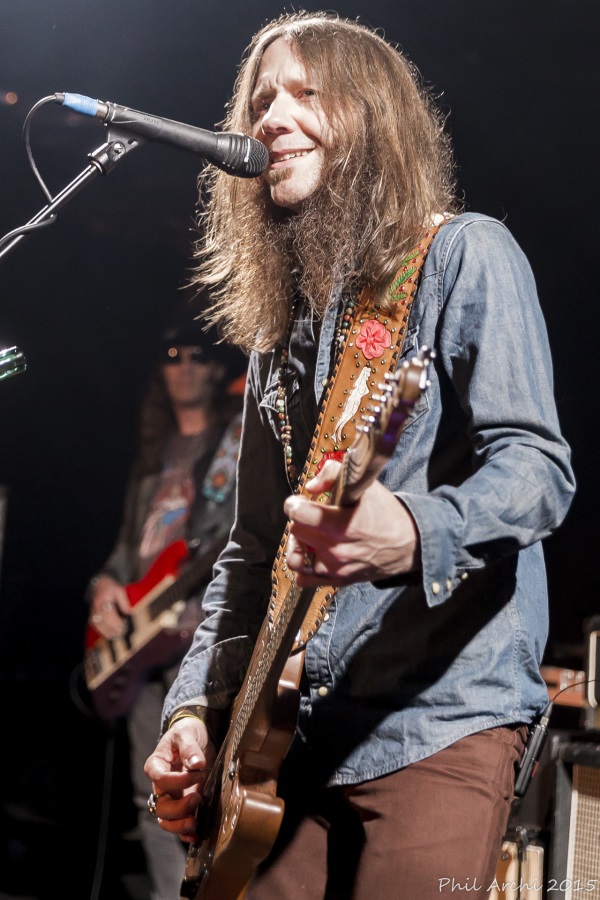 Copyright © 2013 Road to Jacksonville
Webmaster : Patrice GROS - The Sound Of Chicago
Tous droits reservés.
Design par Zion pour Kitgrafik.com