Copyright © 2007 Road to Jacksonville
Webmaster : Patrice GROS
Tous droits reservés.
Design par Zion pour Kitgrafik.com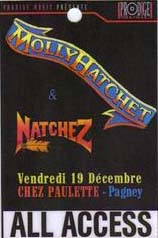 MOLLY HATCHET /NATCHEZ
«Chez Paulette» 19th December 2008 / Photos: Pierrot Bigand,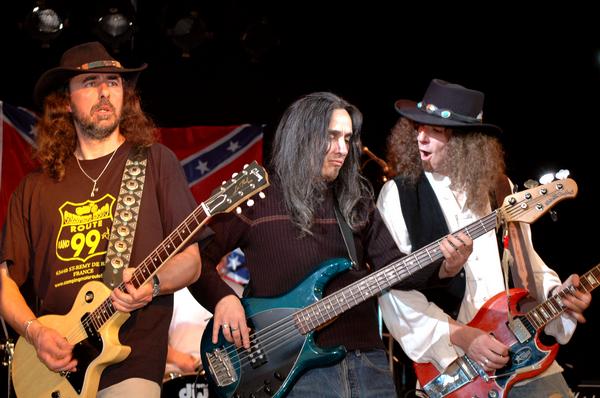 photo natchez: JN Sirot
Who would have believe it ?…
Who would have imagine that Molly Hatchet would stop over some day in "Pagney derrière Barine" (!) for a come-back in France? Who would have reasonably think that after their last french show in 2003 (Paris, Elysée Montmartre), we would find them again a winter evening of 2008 «Chez Paulette», a modest, but very nice pub rock in Lorraine? Surely very few of us, and yet, someone had to dare this unimaginable dice roll, someone had to launch into this awesome trick, moreover at first financially quite risky. Well, it seems that the enthusisast musicians are really odd people out in this environment because, non content with playing regularly and excellently with his band, Manu Aeschbach, Natchez's lead guitarist (since it's him we talk from!), went into this delicate business, eyes almost closed, with the only intent to give a great Southern Rock evening to our country's friendly southern brotherhood !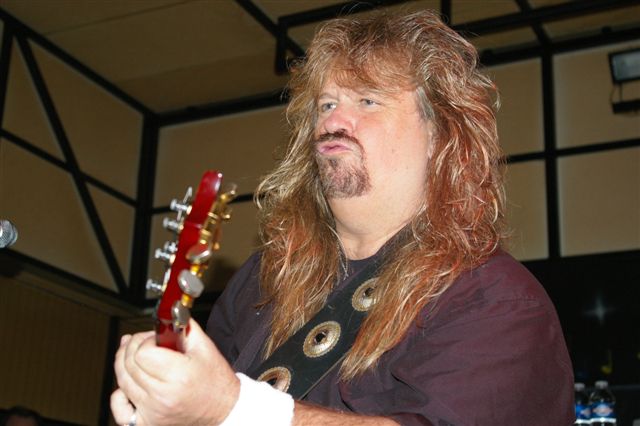 Well, once the events over, we can say that this guy met the challenge, and even beyond… Think about: 650 people, more or less compressed in front of the speakers, in order to see or see again Bobby Ingram, Dave Hlubek, John Galvin & Co !
Brilliant, enormous, terrific, etc… «Le coude sur le bar» (the elbow on the taproom), the faces were happy and the glowing superlatives didn't lack !
A musician just proved to our country's cautious organizers that with enthusiasm it's possible to get differently onto some things!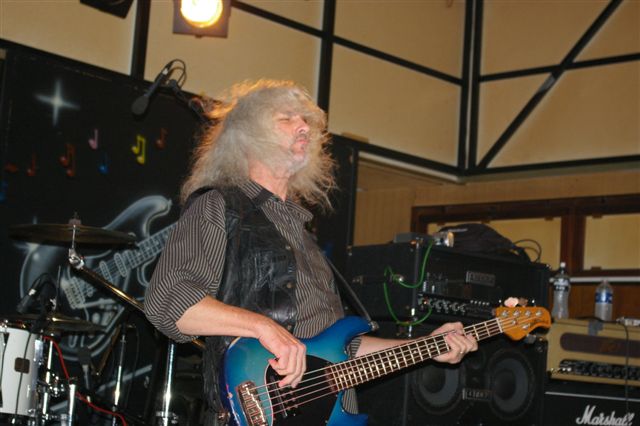 We attended then to an «endangered species» evening, that started of course with Natchez... True to themselves, the Indians gave an unfailing set, entirely based on their own original titles ! The merit turns out even bigger when you consider that it's not easy to play both the characters of the stage manager and the lead guitarist in the same evening! Once again : hats off to the Bachbach's gang !
Then came the so long awaited moment, the reunion with the Jacksonville'gang !
It started with "Whiskey man", nothing really surprising : Molly opens for years with this song, but immediatly, we felt that most of the people shifted their gaze to the one who was one of the band's icons at its start : Monsieur Dave Hlubek ! And we quickly understood that a great part of the audience wants to pay tribute to this brave guy, one of the leading characters of Southern Rock !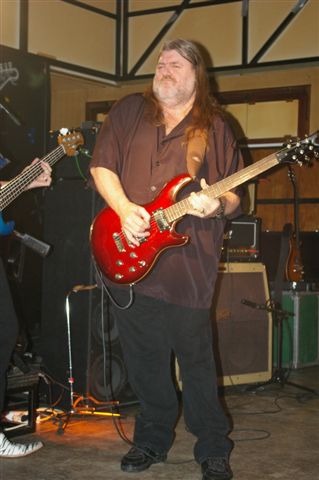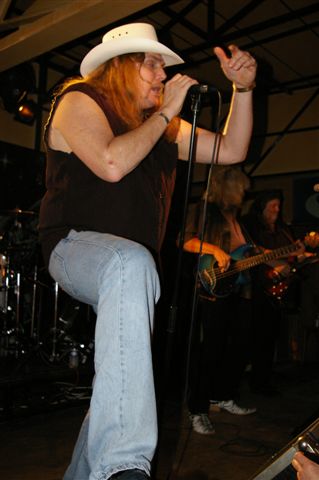 The transition with "Bounty Hunter" remained inevitably the great moments Molly Hatchet gave us at the end of the 70's, and the audience, already quiet hot, was won over by the must-play "Gator Country" !
Later, Bobby Ingram and Phil Mc Cormack gave us a splendid alternation, introduicing cleverly the slow sequences of "Edge Of Sundown" and "Fall Of The Peacemakers", to finish magnificently with "Devil's Canyon", surely one of the best present Molly's titles (with "Tatanka") !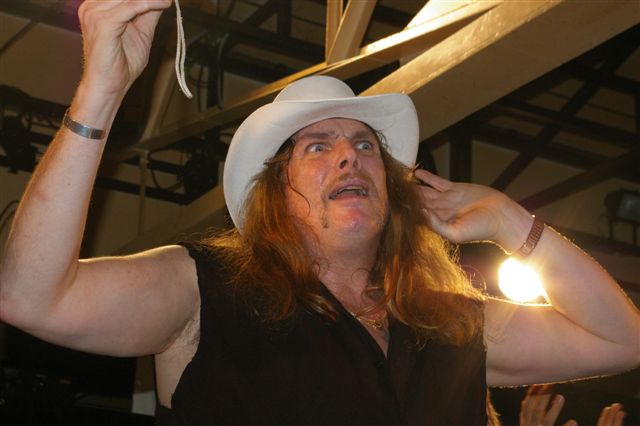 If the interpretation (a little disorganized for me) of "Down From The Mountain" didn't make the expected impression, it was completely different when Phil Mc Cormack announced "Free Bird", that he dedicated to all the 'brothers' of the long list of the missing southern legends, from Ronnie Van Zant to Leon Wilkeson, through Duane Rolland or Hughie Thomasson, always a great moment of emotion, honoured and appreciated by the experts. A last charge with "Flirtin' With Disaster", and this beautiful evening was over, but it surely will live on during a long time in the attending heads, "chez Paulette" (by Paulette) this Friday, the 19th of December 2008 !
And as we looked at the smiles, everybody seemed to be very happy (audience and musicians), and thanked indirectly this event's managers !
Keep on Southern Rock my friend !
JOHN MOLET