Copyright © 2007 Road to Jacksonville
Webmaster : Patrice GROS
Tous droits reservés.
Design par Zion pour Kitgrafik.com
SOUTHERN EXPERIENCE Interview Ron Humphries
(by Philippe Archambeau)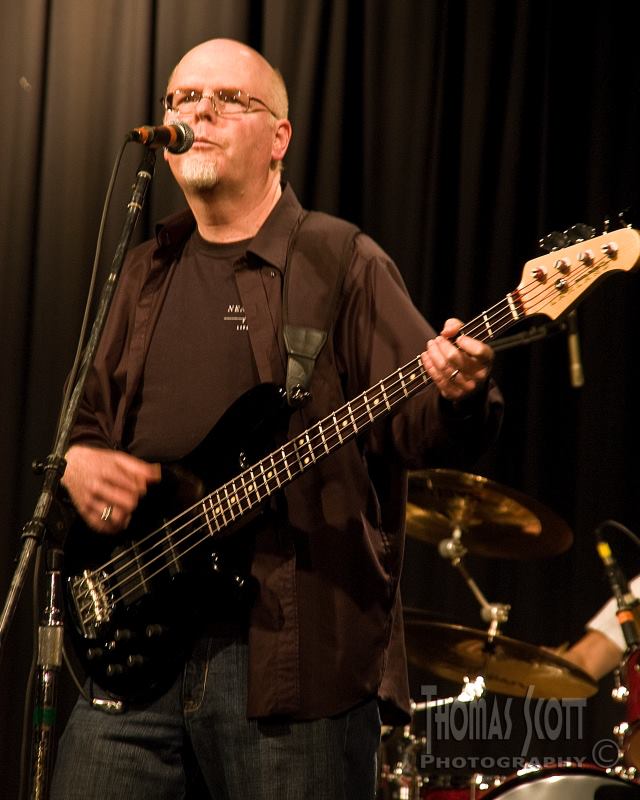 RTJ : Hi Ron, thank you to give us a little bit of your time for Road To Jacksonville,
a French website about Southern Rock.
First, where do you come from and how old are you ?
Ron : It is my pleasure Philippe. I grew up on a farm between Lattimore and Shelby, North Carolina.
I now reside in Kings Mountain, NC. I am 53 years old.
RTJ : Can you tell us who are your favourite musicians who gave you the envy to play Music ?
Ron : There are so many. The bass players I tried to emulate when I was just learning to play
were Tommy Caldwell, Berry Oakley, and Chris Squire. The album that I heard that really set me on
fire for music was the Yes album "Fragile". The album that threw the gas on that fire was
Lynyrd Skynyrd's "Street Survivors".
RTJ : How did you become a bass player ?
Ron : I started out playing piano at a very young age but became very bored with the lessons.
I played my cousin's bass when I was 13 and it just felt so natural. I fell in love with it.
RTJ : Can you tell us which have been your first bands ?
Ron :While I was still in High School I played in a couple of bands with my mother.
My first experiences playing in a band was actually bluegrass music. My first « road band »
was a cover band called Silver Street.
RTJ : Before creating Southern Experience, can you tell us who did you play with ?
Which were your most famous and moving shows ?
Ron : When Southern Experience was just starting to come together I was just playing in my
church praise band. I played in the past with a number of bands and musicians. I had the good fortune and pleasure of working with Artimus Pyle, Patty Loveless, Steve Gunner, Billy Scott, Minx, State Line Band, John Daniel Coe, Silver Street, and the list goes on… The most moving shows I've been a part
of are with Southern Experience. It is awesome to be making music with my son.
RTJ : You played with Artimus Pyle. How was it possible and when did it happen ?
Ron :A guitarist from California named Steve Gunner was playing with Artimus at the time. Steve
and I had worked together before so when Artimus held auditions they asked me to come down
to Spartanburg and give it a go. I'm not sure what he heard in my playing but I got the gig.
This was around 1980.
RTJ : For you, as a bassist, what did it bring you to play with the historic Lynyrd Skynyrd drummer ?
Ron : More than I can put into words. First off Artimus is one of the kindest, caring, and giving people you could hope to meet. Next, I had the pleasure of playing with one of the greatest drummers ever.
He created such a huge pocket. He gave me the confidence to explore musical directions that I had
not been able to before. Still to this day I go back and listen to the Skynyrd recordings and just
marvel at the work he and Leon did together.
RTJ : Can you remind us how did Southern Experience begin and how did you choose such
a name ?
Ron : Back in April 2009 JT and Scott had started a band called Southern Breeze. Two days before their first show the bass player and drummer quit the band. They called me up and asked me to sit in.
The boys, both 17 at the time, raw talent really impressed me. A few months later JT and Scott were asked to put together a few songs for a high school event. My son Jon took on the drumming role at that point and we've been together ever since. We remained Southern Breeze until the original material started flowing. Before recording the EP I checked and found a number of other bands with that name. During one of our shows a fan yelled "give us some of that southern experience".
We all looked at each other and said that's our band name, Southern Experience.
RTJ : Can you tell us about Kings Mountain, North Carolina. Is it the real South ?
You come from a place where the Marshall Tucker Band comes from, is it easy
to play Southern Rock in 2011 ?
Ron : Kings Mountain is a small town of about 10,000 people. We are about 30 minutes west
of Charlotte, NC the State's largest city and about 30 minutes North East of Spartanburg, SC which
is the home of Marshall Tucker. The town's claim to fame "The Battle of Kings Mountain" is known
as the turning point of the Revolutionary War. We are most definitely in the real South. Southern Rock
is very well received in our area.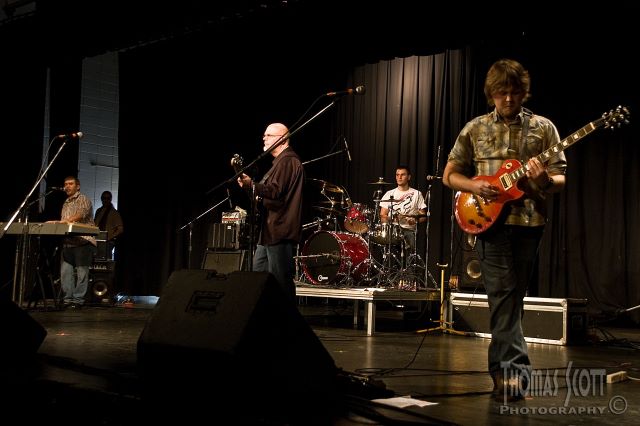 RTJ : Can you introduce the Southern Experience members to us ?
Ron : Absolutely, we have JT Fitch on lead guitar and vocals, Scott Sanders on Keys, guitars, harmonica, and lead vocals, Jon Humphries on drums, percussion, and vocals, and me on basses and vocals.
The boys are all from Kings Mountain and they are all 19 years old.
RTJ : Are you now a professional band ?
Ron : Yes we are.
RTJ : We have been really surprised, here at Road to Jacksonville, to find your 4-title EP.
Why only four songs ?
Ron : The EP originally was just intended to be a learning experience for the boys. We had four songs that I was confident they would do well on in the studio. We went in and recorded them without a click track and for the most part what you hear is one take material. It totally took me by surprise.
They were still in High School and this was the first time they had been inside a studio for any reason.
I had no idea it would turn out as well as it did and have been blown away at how well it has
been received.
RTJ : In our opinion, the first song, Fine by Me, looks like the Marshall Tucker Band and it's unusual nowadays to find such a style of music. How did you create that song and who is a real MTB
fan in the band ?
Ron : Scott walked into my house one day and told me he had a new song. He picked up his
acoustic and played Fine By Me for me pretty much the way you hear it now. I think I added the bridge.
The biggest MTB fan in the band is probably me simply because I grew up listening to them.
The bass line was written with an intentional nod to Tommy Caldwell.
RTJ : This song looks like the Silver Travis band. Do you know this group ?
Ron : We do and had the pleasure of opening for them this past summer at the Fourth of July celebration in Columbus, NC. To me they have the most true Southern Rock feel of any band playing today. Love their material ! They are great musicians and people.
RTJ : The following songs, The Heart of His People and Live My Life, in a "pop" way just like
the Atlanta Rhythm Section, are surprising. Did you really want to create something different ?
Ron : Live My Life was written by Scott shortly after the passing of his Grandfather. This is the first song that Scott ever wrote. He just literally wrote what was pouring out of his soul. I wrote The Heart of
His People several years ago prior to working with these guys. I wrote it for a Progressive
Christian project that I had in mind at the time.
RTJ : Who is the composer and how do you create the new songs ?
Ron : Everyone in the band now contributes to writing. Someone will present a core concept and then
we literally sit around in a circle and finish it up.
RTJ : Your EP last song, You on my Mind, is a real boogie jam. Does this song looks like
your future album ?
Ron : That song was written by JT prior to the current band. It really reflects his love of Elvis
and the rock-a-billy sound. There are of course occasional reflections of this style in some
of the new material but not to this extent.
RTJ : How are the sales of your album ? How can we get it ? Cd baby I think ?
Ron : Better than I ever imagined. They are available on CD Baby and Amazon.
RTJ : Have you already new songs for the next album to come ?
And what will be the musical direction of this album ?
Ron : We do have the new material ready and are currently scheduling studio time.
I would characterize it as Southern Rock. You will find some surprises in it though.
RTJ : What is Southern Rock for you today ? Do you think that there's place enough for new bands such as Blackberry Smoke, for instance ?
Ron : I'm not sure that I hear any new Southern Rock on the radio anymore. There is a fine line
between Southern Rock and the New Country but it just doesn't have the true Southern feel to me.
It is too formulated and seldom written by the performer. I think Blackberry Smoke is a great
rock band but for me crosses the heavy line. My upper end bar for heaviness is set by Blackfoot.
Don't get me wrong I enjoy what they are doing along with some other bands such as Rival
Sons but for me its not true Southern Rock.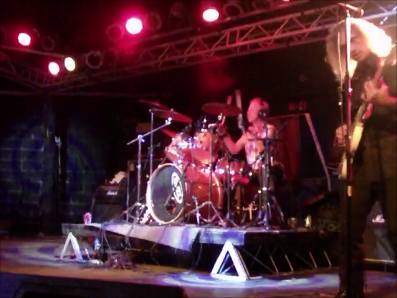 RTJ : Are there new bands you enjoy in North Carolina ?
Ron : There are lots of great bands in North Carolina. Evergreen, a local Americana band comes
to mind immediately. A Southern Rock Band you should check out is No Alibi from Boiling Springs, NC.
I just heard a band from Raleigh called American Aquarium that really impressed me.
RTJ : Which are your favourite Southern bands ?
Ron : Allman Brothers, MTB, Wet Willie, Elvin Bishop, CDB, Lynyrd Skynyrd, Cowboy (Boyer and Talton), Blackfoot, and many others.
RTJ : We just heard about the death of Taz Di Gregorio, Charlie Daniels keyboard player.
Did you ever meet him ?
Ron : No I didn't have the pleasure of meeting Taz.
RTJ : Have you already played as support band of some famous groups ?
And do you plan to play in the USA out of the South ?
Ron : As I mentioned earlier we opened for the Silver Travis Band. We just did a show an up and
coming country artist, Travis Powell. We are currently in negotiations with an entertainment group
from Nashville to do a US tour next summer.
RTJ : What does really mean for you the Southern Flag ? Do you use it on stage ?
Ron : The rebel flag as it is known today I believe was actually the battle flag of a Virgina
regiment during the civil war. It has meanings that run deep in the heart of different peoples
and I respect all of their opinions. To me it just represents a sad moment in the history
of the United States. No we do not use it on stage.
RTJ : For our bass players readers, can you tell us about the bass guitar and the amp
you usually use ?
Ron : On Stage I use a Lakland 44-02 Bass and SWR 400 head with a Behringer/Bugera 4-10 cabinet.
In the studio I sometimes use my '76 Fender Precision w/ Jazz neck.
RTJ : Last traditional question ; if you have to live on a desert island for the rest of your life,
which would be the five albums you take with you ?
Ron : Wow this is always a tough question. Today it would be #1 Yes – Fragile, #2 Lynyrd Skynyrd – Street Survivors, #3 Jeff Beck –Blow by Blow, #4 Neal Morse - One, #5 Allman Brothers –
Live at Fillmore East
Thank you for answering our questions.