Copyright © 2007 Road to Jacksonville
Webmaster : Patrice GROS
Tous droits reservés.
Design par Zion pour Kitgrafik.com
DON RAY BAND
Interview b y Philippe Archambeau and Yves Philippot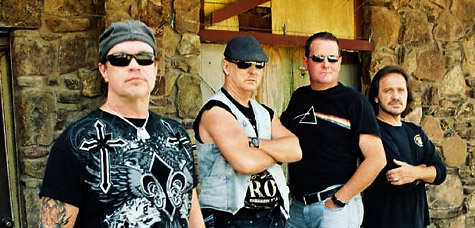 Hello DON RAY, we're very happy to make this interview with you for ROAD TO JACKSONVILLE , webzine dedicated to Southern Rock http://www.roadtojacksonville.com .
RTJ : First, for our readers, can you tell us where you come from and how you start your band ?
Don Ray : I was born and raised in Sioux City, IA. where I learned to play music from my hero, my Dad. I moved to Austin, TX. when I was 18 years old to pursue my music career because I loved what Stevie Ray Vaughan, ZZ Top and others where doing down there. Not to mention it is the home of my songwriting hero, Willie Nelson. When I was 26 it was on to Nashville, TN. to further pursue music and songwriting. I started the first Don Ray Band shortly after moving to Nashville with some songwriter friends of mine but shut that down after a couple years to focus on writing.
I was a staff songwriter for Square One Publishing for a few years but really started missing performing live. I was also writing mostly Country Music at that time and in the 90s, Country started to change a lot and it wasn't exactly turning me on anymore. It was a lot less about soul and a lot more about being popular with kids. Pop music if you will. So I started a new version of Don Ray Band and began performing locally around Nashville, this time I was doing what my heart told me to do. Tell a good story and rock the heck out of the music with some good Blues feeling thrown in. In 2009 it started coming together perfectly for us.
RTJ : I red that you began on stage at the age of 10, how was it ?
Don Ray : As I said, my hero was my Dad. He played Steel Guitar with Country legend Ferlin Husky, you know, "On The Wings Of A Snow White Dove", I love that song. He left the road to settle down a bit and raise his family. That also meant starting a band with his sons and he did just that. I started playing drums with him when I was ten. I was hooked by ten and a half.
RTJ : When you started, who were the artists who influenced you ?
Don Ray : On the stereo on Saturday mornings in our living room it was Willie Nelson and Ray Price and a lot of Western Swing records. On the stereo in my bedroom it was The Allman Brothers, Eric Clapton, Foghat, Pink Floyd, Rush, Lynyrd Skynyrd, Areosmith, Chicago and Buddy Rich. I am a drummer remember. Ha ha. What was kind of interesting were the other influences
I had from the stereos of my brothers and sisters that were all at least 6 years older than I was. That's where I got big doses of everything from Elvis to Gary Lewis and the Playboys, The Yardbirds to Deep Purple. What a mess huh?
RTJ : Can you introduce your band to us ?
Don Ray : That will be a pleasure. These guys are my brothers in all things music.
Don Ray, better know to myself as me. Vocals, Songwriter and percussion. I left the drum kit behind but still love to play percussion.
Jonathan Armstrong, Keyboards, Songwriter and Vocals. Jon is a Nashville studio musician and was the keyboard player and road manager for Country singer Earl Thomas Conley for nearly 15 years.
Donnie Lee Clark, Guitar, Songwriter and Vocals. Donnie also was the lead guitar player for Duke Tumatoe and currently shares his time with Don Ray Band and is also the lead singer and guitarist for Country Rockers Pure Prairie League. Remember "Amie, what you wanna do". That's him.
Curtis Jay, Bass Guitar. Curtis is a Nashville session player and a studio owner. Curtis did a project several years ago with former Lynyrd Skynyrd drummer Artimus Pyle.
Scott Thomson, Drums. Scott also is a Nashville session Drummer with many master and demo sessions to his credit. He has also toured with Pam Tillis and several other national recording artists.
There we are, Don Ray Band.
RTJ : Is Lonesome Rider your first record ?
Don Ray : No, it's our second. When things started coming together for us in 2009 we had some really rockin' and really bluesy songs that we had written. The Nashville indie label Margdon Records got behind us and we released our first album in 2009 titled On Top Of The Heap.
RTJ : When and where did you record it?
Don Ray : We recorded the tracks for our first album at The Rukkus Room studio in Nashville but recorded vocals, mixed and mastered the record at my good friend and co-producer, Curt Ryle's studio in Clarksville, TN. Lonesome Rider was completely recorded, mixed and mastered from
start to finish at Curt's ART Studio in Clarksville.
RTJ : Have you your own studio ?
Don Ray : I have a small studio in my house that I only use for writing and some
pre-production stuff.
RTJ : Who composes in the band ?
Don Ray : I have been blessed to have written everything we have recorded on both records so
far but I've only written a few by myself. We have recorded several songs that I have written with our producer Curt Ryle, a few with our keyboard player Jon Armstrong, and a couple with guitarist Donnie Lee Clark. We already have some great stuff that I'm really excited about for our next album and our bass player Curtis Jay has got in on writing one of them. A song written by a bass player is always a good thing. Ha ha. I hope to write with Curtis more by the time we start recording.
RTJ : I appreciated the CD cover's back, are you a biker ?
Don Ray : Depends on your definition of biker. I love bikes and even more so, I love the biker community and the freedom they stand for. Some of the most giving and compassionate people I have ever met are bikers. Right now I do not have a bike, though I can always rent one for a day, or my four wheeled hot rod for that matter. We have all given up a lot of toys and things to sacrifice and invest in this band. We are all at a place in our lives that we just want to create and share our music with people worldwide. I'm happy to say, the reaction we are getting at our concerts and to our records is rewarding us daily. I'll have a bike and a hot rod again one day but the reaction and love we are getting from our fans is a joyride in itself.
RTJ : On this cover, you're alone on the front, like the CD title, Lonesome Rider, tells us,
but do you think that you're in good company on the back ?
Don Ray : I'm in excellent company. And ,if you check out the lyrics, I am speaking to a girl that just got burned by her man and she is the lonesome rider. I'm just telling her that going for a ride with me will make her feel better. Ha ha ha.
RTJ : On the boogie « The Ruckus Room », we notice a superb slide, who's playing it ?
Don Ray : Donnie Lee Clark in the studio and live in concert. He rocks so hard. He's a great player. I hope we do a European tour soon so all of our friends across the sea can check him out.
« So Far Away » and « Ball And Chain » have a jazzy groove, are you a jazz fan ?
Don Ray : I am a fan of all music and that comes from having such a diversity of influences
at such a young age. I appreciate how people make me feel when they perform what they are passionate about. Diana Krall is a favorite of mine. A drink and a smoke and Diana, nice.
RTJ : Do you often write in this style ?
Don Ray : It's a little bit me and it's also a flavor given to a few songs that comes from a Curt Ryle arrangement. He is a master guitarist as well as Donnie and has played a ton of guitar
for us in the studio.
RTJ : « Lonesome Rider » is a hell of southern boogie. Have you other tunes like that live ?
Don Ray : We perform songs off both our albums live. Off our first album we have a couple like
"I Can't Find My Angel" and "The High Road". We have already got a killer for the next album
that coincidental will probably be the title track. Can't tell it yet though.
RTJ : For some times, we can admire some live tunes featuring you and your band on YouTube. Did you reap the benefits of this media exposure ?
Don Ray : I think most people love to see a band perform. I know I do. I don't really like music videos with actors and scripts, but I like to see people I admire playing their asses off on stage. We have had great response to the Youtube clips and a big increase in the number of people joining our fan club.
RTJ : On stage, you seem to concentrate yourself on the additional percussions better than to take a guitar, letting your guitarist playing alone. Though you play a little this instrument, no ?
Don Ray : I play enough guitar to be dangerous. As I said a little earlier, I've been a drummer all my life. I only play guitar while writing and not very well when I do that. I'm surrounded by great guitarists. You ought to here the ribbing I take when they hear my playing on a work-tape that I made of a new song on my home recorder. I usually try to spare everyone the pain. Ha ha.
RTJ : By and large, the album Lonesome Rider got very good reviews (and here in RTJ as well).
Did you feel it in the sales or in the gig proposals ?
Don Ray : We are feeling a good surge right now and I'm not sure if it is the addition of Youtube clips or the addition of us releasing our Live Concert DVD ( Don Ray Band Live In Nashville ) back in April or the release of our new single "Love Is" with Shaun Murphy from Little Feat and Bob Seger fame. I'll bet it's a bit of all three and we are all grateful for the support we are getting from the media and our fans.
RTJ : Do you have in mind another studio album, or will you record a live album ?
Don Ray : With the live concert DVD out now we are focusing on writing a new studio album.
It's a little early for a release date but the Summer of 2012 sounds good to me.
RTJ : If you have to finish your life on a desert island, what would be the 5 records you'd like to take with you ?
Don Ray : No DVDs? OK, I'll answer the question. Allman Brothers At Fillmore East, Willie Nelson - Live at Panther Hall. The Commitments - Soundtrack, Diana Krall Live In Paris and a homemade
CD of my favorite Christmas songs.
RTJ : So, I won't take you more time, but if you want to finish this interview speaking directly to your European fans that read our site, it would be nice.
Don Ray : Hello all you Southern Rock fans. I know you are the same as the Southern Rock fans in the US. You are hardworking down to earth people that love living life and rockin' guitar music makes your world go round. I can not wait to tour Europe and meet as many of you as I possibly can. If you are a Don Ray Band fan, thank you. If you aren't a fan yet, please give our music a listen. I think you'll dig the groove and I hope we have something to say that makes you feel good. Peace to you all and thank you Philippe for reaching out to us. Rock on my friends.
Long live Southern Rock and Roll!