Copyright © 2007 Road to Jacksonville
Webmaster : Patrice GROS
Tous droits reservés.
Design par Zion pour Kitgrafik.com
BRUCE BROWN guitarist of CHARLIE DANIELS BAND
By Philippe Archambeau & Yves Philippot. ( February 2011)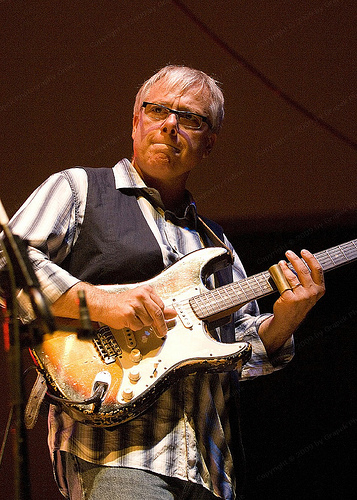 Hi Bruce,
We thank you for answering our questions for the Road To Jacksonville
(French and English versions).
RTJ : Can you tell us how and when you began to learn to play guitar?
Bruce : I started playing when I was around twelve years old. I learned a lot from songbooks. Playing folk songs on acoustic guitar. I also would ask a lot of questions if I knew someone who played more than me I would pick their brain and have them show me chords and songs. Later I got an electric and started playing with my friends in the garage or basement. One thing led to another and we stared playing out and making money. Once I got paid to play I knew what I wanted to do for a living. Play guitar.
RTJ : Can you tell us what were your first musical influences?
Bruce : You just released a record « Off The Edge », how would you describe it?
My first influences were hearing songs on AM radio. The Kingston Trio, Peter, Paul and Mary and the likes. Then I saw the Beatles on the Ed Sullivan show and that was it for me. The Beatles are by far my biggest influence. As for " OFF THE EDGE" it's a mix of my musical tastes and styles I like to write and play. We'll call it an eclectic mix.
RTJ : Is it your first solo recording?
Bruce : Yes
RTJ : What is your favourite tune on the album? What do you want to point up?
Bruce : I like " BEFORE THE FALL" a lot. I like the melody and the melancholy mood it invokes.
I like the quirky playfulness of " ONION SKINS " I'm proud of all of it really.
RTJ : Can you tell us how and where you recorded this album?
Bruce : The basic tracks were recorded at Casey Woods's studio, The Insanery. Casey played drums, engineered and helped me produce the CD. The tracks were cut as a trio. Drums, bass and guitar with all the other parts overdubbed later. I have Pro Tools at my house so a lot of the guitar I did at home.
RTJ : Can you say some more about the musicians playing on the record?
Bruce : They are all top-notch Nashville session guys and my friends. Tony Harrell played keys; he and I worked in Mel McDaniel's band in the 80s. Bob Patin played keys I've known Bob since 1981, he played with Jerry Reed and many more artists. He's a brilliant player. Casey on drums, Tim Marks on bass, he was brought in by Casey, I didn't know him, but love what he did. The horns were John Heinrich and Sam Levin, both good jazz players and session cats.
RTJ : Your instrumental pieces sound between west coast and jazz-rock, is it the music you like the most to play when you're not with the Charlie Daniels Band?
Bruce : I enjoy creating and playing a lot of styles but yes it is fun to play this style when I'm not working with the CDB. I also play a lot of finger style acoustic music that hope to share with
folks someday.
RTJ : In west coast and jazz-rock, who are the artists that inspired you the most?
Bruce : Larry Carlton, Lee Ritenour, The Crusaders, Tom Scott and the LA Express, Joni Mitchell, Steely Dan, Michael Franks….
RTJ : Most of the acoustic or electric guitars on your record are often brightened up with wah wah and sound clear, was it a choice you wanted?
Bruce : Yes I wanted clean tones on the record. I avoided using too much distortion by design. The longer I play the more I like clean pure tones. The wah stuff is funny to me. I used it as humor. It sounds light hearted to me and I wanted a lot of the songs be fun.
Not too serious or heavy.
RTJ : Had you in mind for a long time this way to let your guitar and the saxes have talks?
Bruce : Yes I've always liked the sound of guitar and sax together ala Larry Carlton with the Crusaders and Lee Ritenour's records always had horns. Tom Scott also used the horn and guitar together a lot. I like that sound. I think the sax is the best solo instrument.
RTJ : Can you tell us the gear you used for this album?
Bruce : The majority of the guitar you hear is my 64 Strat, I also used a 69 Gibson ES335, Martin D18, Martin D41, Alvarez nylon string. I played Dobro on a couple tracks. The amps were all old Fenders. A 64 Fender Deluxe Reverb amp, Fender Super Reverb, Tweed Fender Deluxe. The pedals I used were an Ibanez Tube Screamer, Heil talk box, MXR envelope filter. Cry Baby Wah.
RTJ : Do you tour with your band? Do you achieve to get dates?
Bruce : I play some clubs in Nashville, but do not actively pursue dates. Nobody wants to pay bands I Nashville. I'm busy in my studio at home writing and recording. I enjoy playing my music out, but it is very hard to get gigs and club owners want you to play for tips. It's hard to get a band together under those circumstances.
RTJ : Can you tell us more about the tune « TELL ME I WAS DREAMING » that you wrote for Travis Tritt and about your job as songwriter? How do you compose?
Bruce : That song started on the road in a hotel room as a single melody line that I was playing on guitar. I added the chords to match the line and it reminded me of Lynyrd Skynyrds "SIMPLE MAN" I also heard some elements of "Stairway To Heaven" so when I got to the chorus, I changed keys to a D chord like Page did on "Stairway". The title just sort of rolled off the end of my tongue, so I was singing Tell me I was dreaming and strumming the chords in the chorus. The chorus I borrowed musical ideas from George Harrison. I was thinking of his "All Things Must Pass" album. I called Travis who was staying in the same hotel and asked him to help me finish it. I went to his room and together we wrote it in about 10 minutes. I always thought of it as a sort
of bluesy southern verse with a Beatles type of chorus.
As for the way I compose, it is very intuitive. I like to start in the morning playing guitar and noodling around, if I'm lucky I'll get an idea, a riff or chord pattern and I'll hum or whistle a melody and build from there. A lot of times I'll hear a lyric and if so I'll try to write the story around the first spark. It's a very free let it flow approach at first. I don't edit myself and just
let it happen, then go back and fine tune later.

RTJ : Of course you're for everybody Charlie Daniels Band's guitarist, can you tell us how
and when you went on in the band?
Bruce : I joined Charlie in 1989, when Tommy Crain left the band. I had worked with Jack Gavin Charlie's drummer in another band, and when Tommy was leaving Jack called and asked if I wanted to audition. I did and have been here twenty-two years now.
RTJ : Can you say some words about Chris Wormer? You are both with Charlie Daniels for some years. How do you share the guitar parts? And when Charlie is on guitar, does he decide the skeleton of the parts, or is it something you make all the three together?
Bruce : Chris is a very good player, a schooled musician with a lot of knowledge and capable of playing about anything thrown at him. Charlie usually starts tunes with a skeleton or rough idea and we sit and work out the parts together the three of us. Of course on the older songs we play the parts close to the original recordings.
RTJ : Here in Europe, we consider Charlie Daniels as the southern rock grand father,
is it the same in the USA?
Bruce : Yes. Charlie is considered one of the founders of that style of music along with Marshall Tucker and the Allman Brothers Band ECT…
RTJ : The band came in Disney Paris in 1996. Do you think we will have the chance to
see the Charlie Daniels Band in Europe once again?
Bruce : I hope so. I was at that gig and loved being in Europe. I remember the slide guitarist
Roy Rogers was on the bill that night, and he was great. My wife and I had a good day in Paris.
I'd love to came back and do some shows.
RTJ : What is your favorite memory on stage with the Charlie Daniels Band?
Bruce : Playing for the troops all over the world at different bases. Those folks make the ultimate sacrifice, so to entertain them for a few hours is always an honor.
RTJ : The southern rock knows at last the arrival of some new bands; for example, do you know Blackberry Smoke, Preacher Stone or Hogjaw? And if you do, what do you think of them?
Bruce : I have to admit I do not follow them. I have heard of Blackberry Smoke but I'm not
familiar enough with their music to comment.
RTJ : To end, a traditional question in RTJ : if you have five records to take with you on
a desert island, which records would you choose?
Bruce : This is a tough one but I'll try to narrow it down to five.
1. Abbey Road -The Beatles
2. Indianola Mississippi Seeds- BB King
3. Billie Holidays Capitol recording from the mid fifties
4. Goodbye Yellow Brick Road- Elton John
5. Romantic Guitar- Julian Bream