Copyright © 2012 Road to Jacksonville
Webmaster : Patrice GROS
Tous droits reservés.
Design par Zion pour Kitgrafik.com
Charlie Starr (Blackberry Smoke)
interview for RTJ by Manu Aeschbach (Natchez)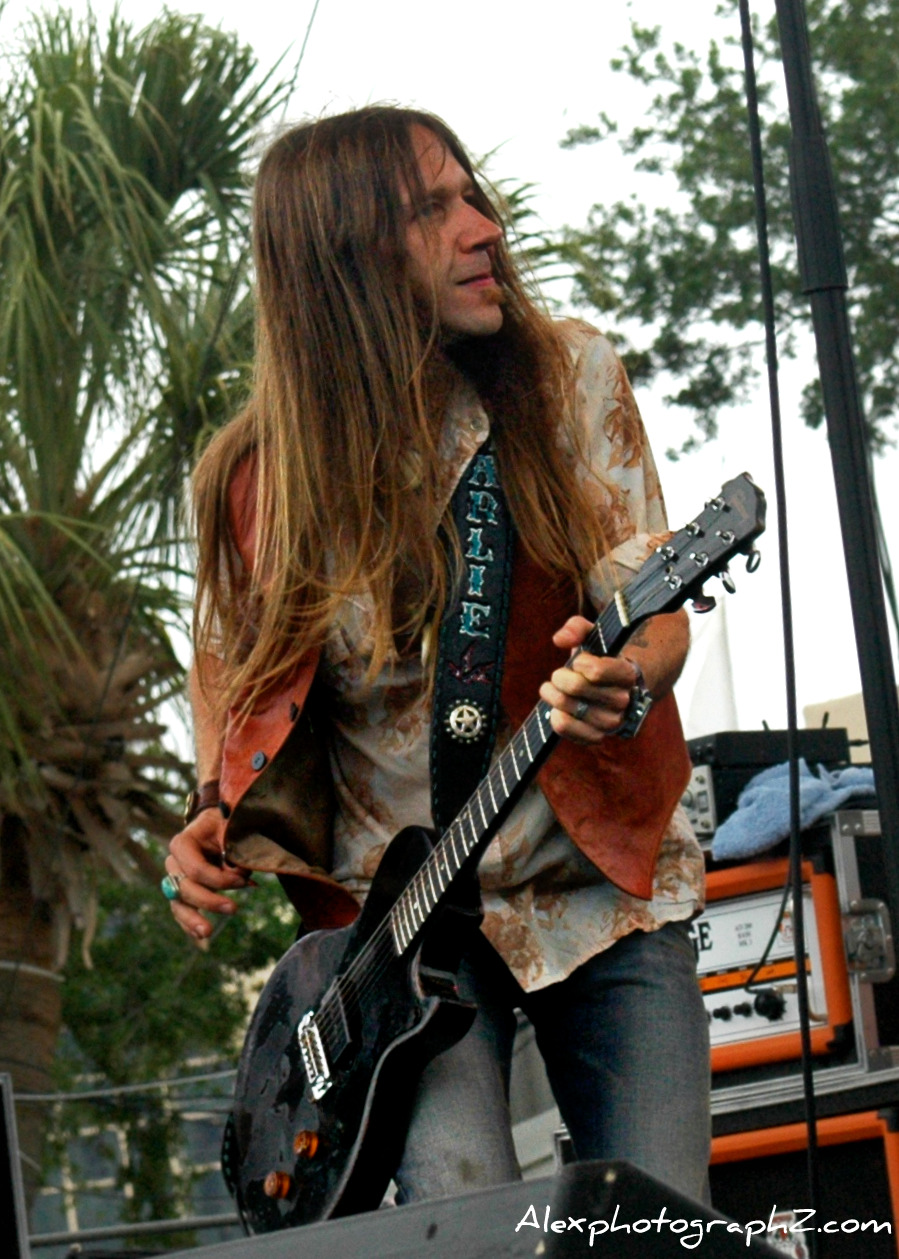 Manu : Hello Charlie,
I'm very glad to be able to ask you some questions. Currently, there is a good activity around Blackberry Smoke with the respective releases of the DVD « Live at the Georgia Theatre » and of the album « The Whippoorwill ».
Can you tell us how the DVD recording went on? Did you record several shows?
Charlie : We came to the Georgia Theater straight from Echo Mountain Studios where we'd just finished recording "The Whippoorwill." We were all pretty exhausted but very excited about the show. It was definitely a crazy day with all the cameras, lights and extra production. We only played one show. All in all it was a big week for us.
Manu : Did you record some tunes that are not on the DVD?
Charlie : There are a lot of songs that didn't make it on the DVD because of time restraints. We played a 3 hour show and that wouldn't fit on one DVD. Maybe at some point we'll make all the other material available.
Manu : I'm surprised that it's not distributed on an international basis, is it your choice?
Charlie : That definitely is not our choice. Southern Ground Artists is working on international distribution for ALL our stuff. Should be soon, we hope.
Manu : Brandon's keyboards take a good place in your music, who made the choice to add another musician? Was it necessary for the evolution of your music?
Charlie : We've wanted a permanent piano/organ guy for years. The circumstances were perfect when we met Brandon, because we'd just started travelling in a bus. That way he'd have a place to sit and we wouldn't have to tie him to the roof of a van. He is an amazing musician and has such a great understanding of our music.
Manu : You use a lot of guitars on stage, can you reveal some secrets about them, where they come from, your different tunings, the pick ups used?
Charlie : I use a few different tunings onstage. Drop D, Open G and a couple different weird capo things. It's easier to have guitars already in those tunings than to retune one guitar during the show. I LOVE guitars so much, it's good to be able to put them all to work on a regular basis. My main guitar is a 1956 Les Paul Jr. It's pretty ragged but it is just a wicked little guitar. It once belonged to Mr. Rick Richards of the Georgia Satellites. Good mojo in it.
Manu : Let's go back now to the topicality, that is to say the magnificent album
« the Whippoorwill »Same question than for the DVD: it is still not distributed, will it be soon ?
Charlie : Same answer as above. Hopefully international distribution will be put in to effect very soon.
Manu : We know the problems of the record companies with the decrease of the sales, in particular with the downloading, are you affected by this crisis?
Charlie : At this point it's not a problem for us, really. We need as many people to hear our music and become aware of our existsence as possible. Sure, we'd love for everyone to actually buy a physical copy of the CD, but if someone hears about us first from a download and loves it, that's still a victory for us, you know.
Manu : Can you tell us about the title « the whippoorwill »? It seems to be a bird, but unknown in our countries, what does this bird mean for you?
Charlie : I wrote the song basically as a tribute to my late Grandmother. She was a great woman and really the matriarch of our family. When I was a young boy she taught me so many things. One thing in particular was the sound a whippoorwill makes. It has a very distinct call. Other lyrics in the song speak of things she taught me thru the years.
Manu : Like on the DVD, Brandon's keyboards are very present (and very inspired!), however Paul's guitars seem to be more distant, do you play most of the guitar parts on this record?
This album is redolent of the « deep south », a kind of crossing between The Black Crowes and the original Skynyrd, do those bands form a part of your influences?
Charlie : Everyone really played and sang their asses off on this album. I'm so proud of what we accomplished. I do play most of the solos on the album, but that's not different from the last one, really. Paul plays what's comfortable for him, ya know. The comparisons with the Crowes and Skynyrd are fine with us. Those bands made GREAT music that is timeless and definitely influences us.
Manu : How do you compose the songs, have you outer composers?
Charlie : I write most of the songs at home, then bring them to the band and we work them up. A few songs on the album I wrote with a couple of friends of mine, then brought to the band. On a couple of songs, the whole band contributed to writing the music.
Manu : How many times did you need to record it? Is it a « live in studio »?
Charlie : All the basic tracks were cut live in the studio. Most of the solos as well. I think you can really feel that when you hear it. We tracked the whole thing.
Manu : In Europe we classify a lot the bands like Skynyrd, ABB, Molly Hatchet, and now BBS, with the term "Southern Rock". Do you agree with that designation?
Charlie : We agree with that, yes. We fly the flag, so to speak. As long as people remember that "Southern Rock" is a melting pot of different musical styles and genres.
Manu : Are you aware of the fact that BBS is now one of the new leaders of the Southern Rock? And the excellent «The Whippoorwill» won't contradict this reality!
Charlie : Thank you very much. We are very proud of The Whippoorwill and we hope everyone loves it as much as we do.
Manu : In 2009, BBS made an European tour performing every night in small clubs. Was it a thoughtful and necessary wish to let grow BBS' fame... and wasn't it physically to gruelling?
Charlie : We've enjoyed our trips to Europe very much. The people there have been so gracious and hospitable. The fans' love for the music there is overwhelming. Our first tour there was pretty gruelling but it was definitely worth it. We don't mind working hard and we can't wait to come back to see you again!
Manu : Do you think you'll come back soon to see us?
Charlie : We plan to come back as soon as possible!
Manu : Thanks for answering those questions Charlie, I hope to see you again soon you and your band, in Europe or on the Simple Man Cruise!
Manu Aeschbach (NATCHEZ)
Translation : Y. Philippot-Degand