Interview Lou Kaplan (Lonesome Crow) December 2015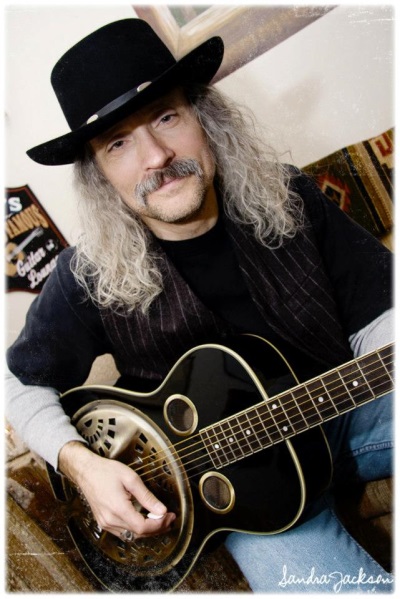 RTJ: First can you tell us where you come from ? Which area ?
Lou Kaplan: I hail from Cortland, New York. The same town where Ronnie James Dio and Elf come from.
RTJ: Do you come from a family of musicians, cab you tell us more about the way you came into the music ?
Lou Kaplan: There are no other musicians in my family. I started playing for the same reason everyone does… to meet girls!

RTJ: Did you always got this warm husky voice ?
Lou Kaplan: Well, I'm a baritone, I loved Gregg Allman and Ronnie Van Zant, and I drank Jack Daniels. Maybe that explains it!

RTJ: Can you tell us how Mad Jack set up ?
Lou Kaplan: I was living in Los Angeles in '82 - '83. It was the beginning of hair metal, which wasn't my thing. I decided to move home and start a band that was more of a roots thing, and that ended up being Mad Jack.

RTJ: How did you come to play Southern Rock while Mad Jack comes from Syracuse, state of New-York ?
Lou Kaplan: I liken it to the British guys playing blues in the '60s. It was just what we felt in our hearts.

RTJ: About Straight Up, your album from 1984, in which setting and how did you record it ?
Lou Kaplan: Straight Up was recorded at Penguin Studios in Syracuse, New York. Dave Porter from 805 produced it, and Bill Scranton was the engineer. They actually encouraged us to drink in the studio to get the attitude right… maybe you can hear that!

RTJ: It's old school Southern Rock, what is your favourite tune on this record ? Could it be « Fast Guns And Rot Gut », very Molly Hatchet with very persuasive guitars ?
Lou Kaplan: Hangin' Tree was my favorite, and was our encore for 20 years.

RTJ: « Hangin' Tree » has some Mama's Pride ingrédients, did you know them ?
Lou Kaplan: No. When I started writing it I wanted a lot of chord changes like the Eagles' Hotel California. Later we had the idea to speed up the end like Freebird, Highway Song, Green Grass and High Tides, etc.

RTJ: Who had the idea of « Fortunate Son », your famous Creedence cover ?
Lou Kaplan: That was guitarist Dan Austin's idea. Our keyboard player Nick Nicholas sang the shit out of that one!

RTJ: What are your best memories amongst the shows you opened for ? Have you some anecdotes ?
Lou Kaplan: I have great memories of playing with Molly Hatchet, Blackfoot, the Outlaws, and Marshall Tucker Band. The best anecdote is probably this. One night our road crew took a piss in what passed for our dressing room. The venue found out about it and threatened to call the police if we didn't leave immediately. Molly Hatchet guitarist Dave Hlubek stuck up for us, telling the venue we were their guests and they wouldn't play if we were ejected!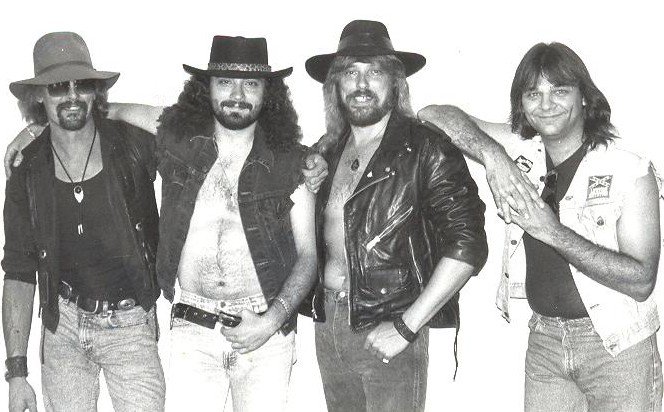 RTJ: You released an EP 5 titles in 1986, can you tell us more about the titles it contains ?
Lou Kaplan: The best tune from the EP is Runnin' With the Night, which is now available on the Best of Mad Jack (1985-2005). It can be found on CD Baby, Amazon, iTunes, etc.

RTJ: The tune « Runnin' With The Night », that appeared on your EP of 1986, is a true jewel, can youtell us more about this title that has an Outlaws streak, was it a will ?
Lou Kaplan: I always loved the Outlaws, and it was a thrill to play and party with Hughie Thomasson and Henry Paul. I probably had Hurry Sundown in mind when I wrote this.
RTJ: How did Rick Jewett joint you in 1994 for On The Run ?
Lou Kaplan: Rick actually joined back in '87. Then he, drummer Pete Mendillo and I spent a couple years touring and recording with Savoy Brown before reforming Mad Jack and putting out On the Run.

RTJ: Can you tell us more about your 2005 record that take again the « Hangin Tree » from 1984 ?
Lou Kaplan: That CD featured me on vocals and bass, Mike "Smokey" Brown on guitar, Rick Jewett on keys, and Al Macomer (also formerly with Savoy Brown) on drums. Four songs from this CD (American Dream, Soldier of Fortune. Desperation Road, and Tonight We Ride) are now available on the Best of Mad Jack (1985-2005).

RTJ: Your record Straight Up released again in 2011 in Germany, did it bring you a new fame ?
Lou Kaplan: Any exposure is good, and I'm thrilled to have a fan base in Europe!

RTJ: With Rick Jewett, you played in Savoy Brown, can you tell me how it passed and how it happened ?
Lou Kaplan: At the time we shared the same management, so when Kim Simmonds needed players we were able to walk right in.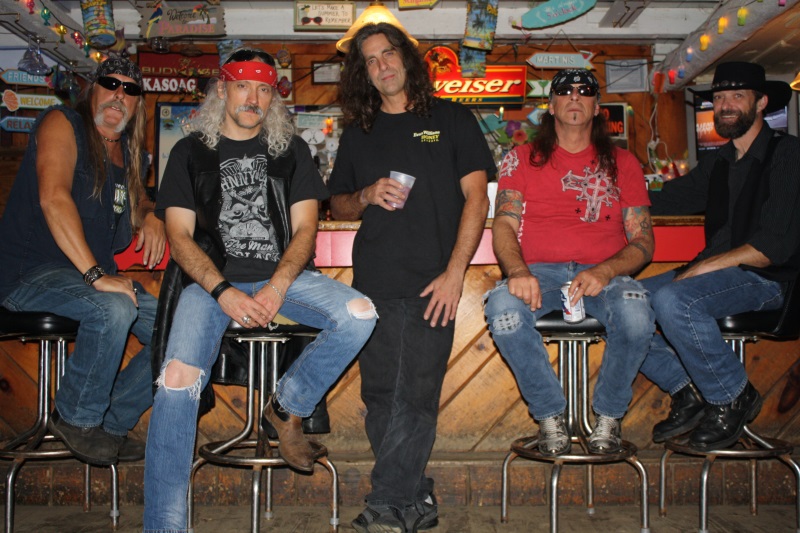 RTJ: Did you take part of the recording of an album ?
Lou Kaplan: Rick, Pete, and I are on Live and Kickin'. Rick is also on the subsequent release Let it Ride.

RTJ: Let 's come to Lonesome Crow, your current band, how was it set up with Rick Jewett ?
Lou Kaplan: Rick started Lonesome Crow in 2008. Originally they had a singer named Keith Ford, who is quite good. When Keith decided to leave in 2013, Rick invited me in.

RTJ: Two tunes of this Lonesome Crow record, namely « Desperation Road » and « Tonight We Ride », were already present on the 2005 record of Mad Jack, why did you take them again ? Was it for a special reason ?
Lou Kaplan: We felt they were strong tunes that would fit well with the new stuff we were writing.

RTJ: You play piano on the first title « Rollin' Into Town ». On this tune your voice is under an Outlaws influence and the guitars are silky, can you tell us more about the way this tune was recorded and composed ?
A: That's Rick on piano. I wrote this song to be an opener. "We're going to drink in the music / We'll quench the thirst in our souls." The Southern rock influence in inescapable, as I listened to so much of it! On this cut I'm playing acoustic guitar, and Slaus Brown-Paul is playing electric. That probably accounts for the silkiness!

RTJ: « Lay Me Down », in a Marshall Tucker Band style, offers a superb steel guitar part by Gary Burns, can you tell us more about him ?
Lou Kaplan: Gary is a friend of our bass player George Lamb. We felt steel would serve the song well. I was going for an Eagles style song, but it reminded Slaus of the Grateful Dead!

RTJ: Slaus Brown-Paul speeds up the rhythm on the swinging « American Small Town Boy » with his slide, and also on « Wicked Ways », how do you share your guitar parts ?
Lou Kaplan: Slaus and I tried to consistently take different approaches to our parts. For example, one of us would be in standard tuning and the other in an alternate tuning, or one of us would use a capo so the voicings would be different.

RTJ: « Pick Up Truck » sees Rick Jewett singing, does he often sings lead on stage ?
Lou Kaplan: Pick Up Truck is Rick's song, so he took the lead on that one.

RTJ: « Desperation Road » allows us to measure your dexterity, what does this Mad Jack tune coming from the CD with the same name released in 2005 represent ?
Lou Kaplan: To me, Desperation Road means to keep the faith, never give up, etc. I don't want to say too much, as I feel it should be open to the interpretation of the listener.

RTJ: Your album gives a feeling of fullness, is it what you are feeling in the daily life ? To have reached what you wanted to do in music ?
Lou Kaplan: I'm happy and fulfilled, but I still feel like a musical outlaw because I never sold out!

RTJ: If you have to stay on a desert island, what are the records you'd bring with you ?
Lou Kaplan: Wow… here's 10 off the top of my head…
Neil Young - Harvest,
Steve Earle - Copperhead Road,
Beatles - White Album,
Allman Brothers - Fillmore East,
Eagles - Desperado,
Skynyrd - One More From the Road,
Rolling Stones - Exile on Main Street,
Outlaws - 1st album,
Derek and the Dominos - Layla,
Willie Nelson - Willie and Family Live.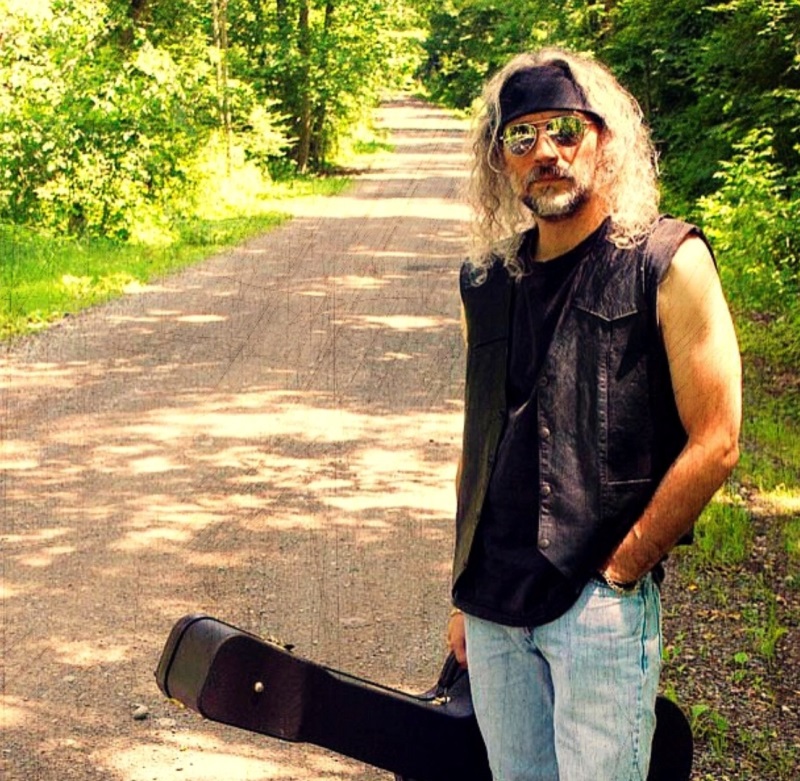 Lonesome Crow photo by Deborah Brooks Miller
Mad Jack photo by Judy Ferrara
Lonesome Crow photo by Kasey Bec
Lou Kaplan Photo by Bruce Clayton
Copyright © 2013 Road to Jacksonville
Webmaster : Patrice GROS The Sound Of Chicago The best of Blues Rock in France
Tous droits reservés.
Design par Zion pour Kitgrafik.com