MIKE ZITO Interview August 2015
by Philippe Archambeau & Yves Degand Philippot.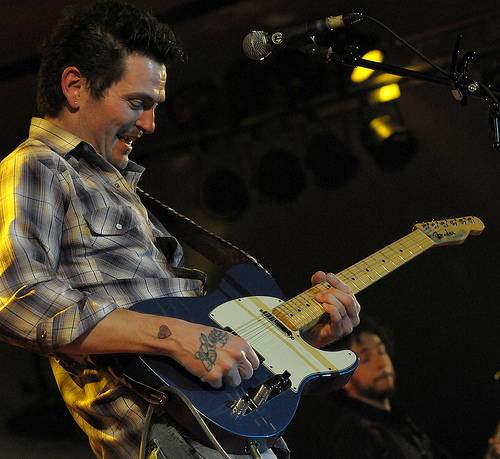 RTJ : In a first time, Mike, could you introduce yourself our readers of Road to Jacksonville, webzine specialised in Southern Rock, where do you come from ? You were born at St-Louis, Missouri, is it true ?
Mike : I was born and raised in St. Louis, Mo on the south side of the city.
Born in 1970 - regular middle class parents, 2 sisters, 1 brother, all very much older and no one played music.
RTJ : How did you start the music ? What was your first step ?
Mike : I loved to sing and dance when I was very little.
I saw Michael Jackson with the Jackson 5 on tv and wanted to do that.
RTJ : What were your very first influences ?
Mike : Michel Jackson of course, but also Frank Sinatra and Dean Martin - those were my fathers favorites to listen to.
RTJ : Your Family was a musician's family ?
Mike : No, not at all. No one played music in my family. I was on my own in new territory.
RTJ : Why did you choose the guitar ?
Mike : I heard Van Halen when I was 8 years old and was blown away - I had to have a guitar!
RTJ : What did happen when you played your very first rehearsals with your band ?
Mike : I joined my first band in high school as the singer, not guitarist at first.
I was not very good at guitar because I had been teaching myself - so I just sang.
I played guitar later in the band as I got better. Right away I felt comfortable in the band and performing.
I knew this is what I wanted to do.
RTJ : I discovered you in Royal Southern Brotherhood. How was created the band ?
Mike : Myself along with Cyril Neville and Devon Allman decided to write some songs together during Jazzfest of 2011 in New Orleans.
By the fall of that year we decided to go play some shows and see if we could be a band, by the end of the year we were going into the studio to record our first album.
It kind of happened that fast and that natural.
RTJ : Can you because you left the band, fefine your music in Royal Southern Brotherhood ?
What are your favorite songs ?
Mike : Yeah, RSB's music to me was a melting pot of rock, soul, funk and blues.
I love "Moonlight over the Mississippi" and "World Blues"
RTJ : Who was in change of what when you played with Devon Allman ? How can you define his style ?
Mike : No one was in charge of when or how we played - we just worked together. Devon has a very strong personality.
He is very persistent. His guitar playing is powerful and unique.
RTJ : Why did you left the band ? Is it just to play your own music and fly in your own space ?
Mike : Well. I started the band - but I knew it would be forever for me.
I have had my own solo career for over 15 years and I have made 10 albums or more of my own music,
I could not just walk away from all of that work for good.
So, in the end I left to pursue continuing my career.
RTJ : How can you describe for sale Mike Zito band to a new listener ?
Mike : Mike Zito and The Wheel are a very tight, funky, southern roots and blues band.
We mix blues, country, funk and soul with rock n roll and turn it all upside down.
RTJ : How did you choose your musicians for Mike Zito band ?
Mike : I chose them based on the fact that they were excellent musicians and they were very good people.
Easy to get along with and seemed to like the same things I liked musically.
RTJ : The Jimmy'saxophone allowed you to give a New-Orleans ambiance, is it what you expected for the stage ?
Mike : I met Jimmy in 1999 when he was playing with Jimmy Thackery. He plays like a guitar player - he also sings really well.
I hired Jimmy because I knew we would work really well together and I love the sound of the sax and electric guitar.
RTJ : Where was recorded Songs from The Road ans how and when ?
Mike : It was recorded and filmed at the Dosey Doe Big Barn in The Woodlands, Tx. January 2014.
We filmed the live DVD and recorded the audio there - it is all completely live and unedited.
RTJ : « Pearl River » sounds blues like Allman, did you get a particular feeling to play this piece of music from your 2009's album ?
Mike : I have always loved the Allman Brothers Band - they're one of my biggest influences musically.
I can't say that I was going for that on this song, but I am not surprised if it resembles an Allman feel.
RTJ : « Gone to Texas » is with a Dickey Betts inspired solo, according to me, did you meet him? This guitarist inspired you a lot ?
Mike : Yeah, this is definitely got a Dickey feel to it for sure- again not on purpose, but he is a big influence for me.
He is so melodic and plays so pretty.
RTJ : What is your rig and epuipment in studio and stage ?
Mike : I play Telecasters mostly - Delaney Guitars makes me some fine customer guitars.
I also have some Fenders and Gibsons and such. I play through Category 5 amplifiers, but also Fender amps and Dr. Z amps as well. For the studio - I bring everything I've got just to be safe.
RTJ : Did you composed new tracks for a new album ?
Mike : Yes - we recorded a new album this past June and it will be released on Ruf Records in November this year. It is titled "Keep Coming Back"
RTJ : Do you will play in Europe in 2015 ?
Mike : We played festivals over the summer in Italy, Germany, Poland, Bosnia and Norway.
We have a full tour of Europe in October and November.
RTJ : Do you know southern rock bands in Europe ?
Mike : No, I don't think I do.
RTJ : Did you came to a Sal Lafauci gig in New-Orleans in the past ?
Mike : ?
RTJ : Did you could say a word about the cruise that you make with the band ?
Mike : We perform on the Sandy Beaches Cruise in January 2016. This cruise is held by Delbet McClinton. He is another one of my favorites.
It is the most excellent musical experience you can ever have.
With country, blues and roots and rock n roll music - some of the greatest musicians and songwriters in the world are on that cruise - it's inspiring!
RTJ : If you have to stay on a desert island, what are the records that you would bring with you ?
Mike : Allman Brother Live at Fillmore,
BB King Live at the Regal,
Lyle Lovett Live in Texas,
John Hiatt Perfectly Good Guitar,
Johnny Winter The Progressive Blues Experiment
Emmylou Harris Wrecking Ball
Copyright © 2013 Road to Jacksonville
Webmaster : Patrice GROS (The Sound Of Chicago) The best of Blues Rock in France
Tous droits reservés.
Design par Zion pour Kitgrafik.com