JEFF BECK Salle Pleyel, Paris 24 October 2016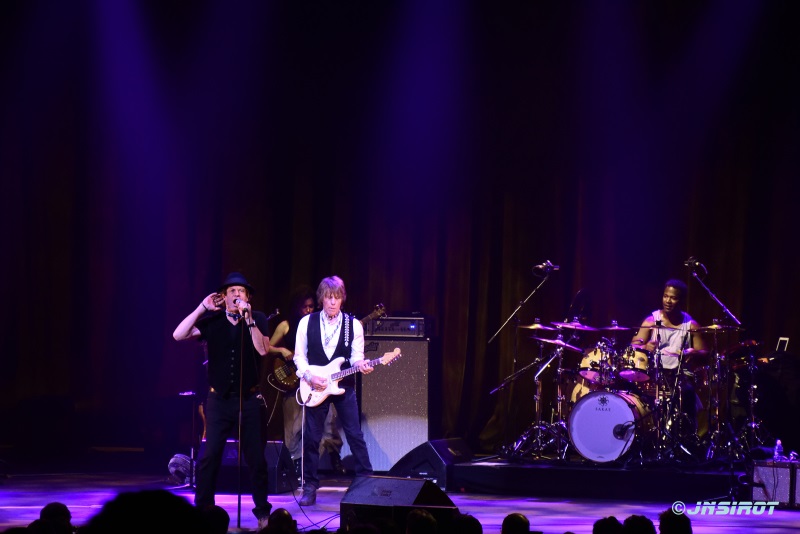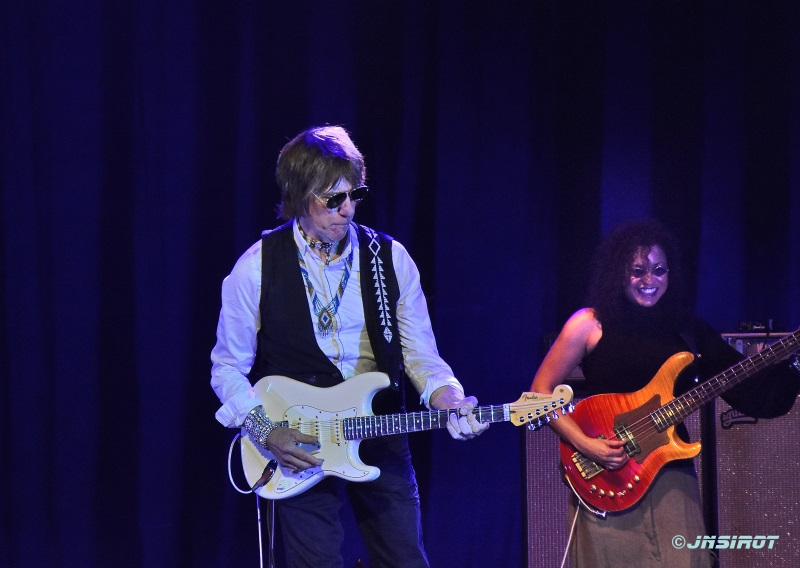 At the age of seventy two, Jeff BECK is still a little rascal, with his sixties haircut, his bracelets and his white shirt.
And he adores to be where no one is waiting for him (anymore).
In the venerable Salle Pleyel we were waiting for him to play titles of his new album (quite average), Loud Hailer, with the singer Rosie BONES like the the night before in Basel.
No female singer in Paris but a male singer, and not anyone. From the third song Jimmy HALL takes over the microphone. Wet Willie's leader himself, who already played with Beck in 1985 and more recently during the American tour.
Our Jimmy isn't impressed at all by the Becko, he's the one who played with the cream of the Southern rock bands, so the banging guitars don't frighten him off.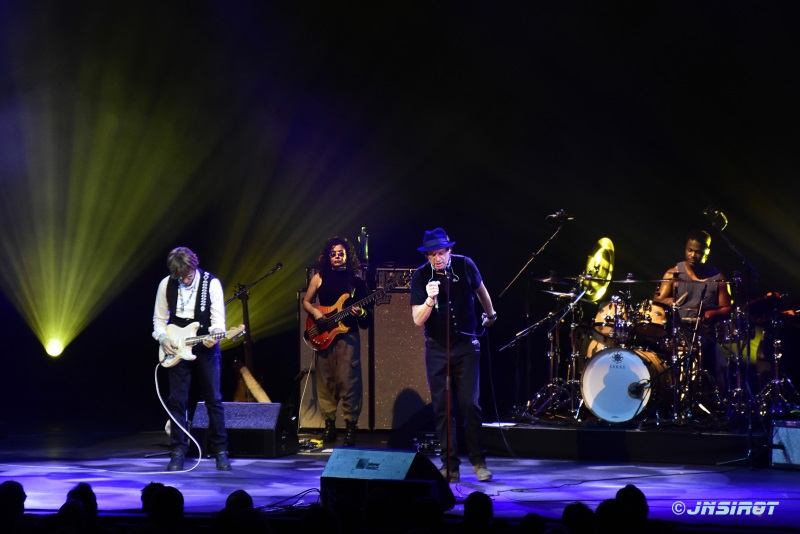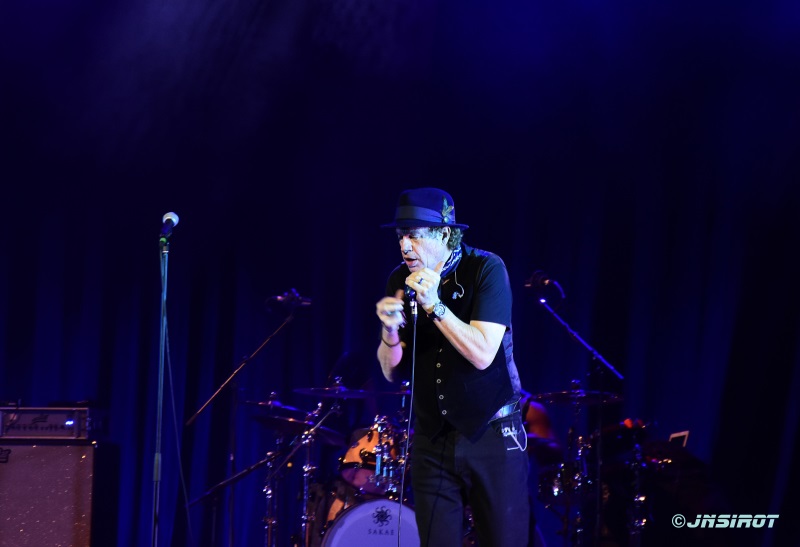 Yet the Jeff rocks it, the knobs of his Marshalls to the max…
An hour and fifty minutes of madnes : the usual instrumentals, but also titles of the Yardbirds, Hendrix tunes sung, a Muddy Waters blues as encore followed by a great Southern rock tune : the Don Nix « Goin Down ».
A lot of audience members complained about the sound that was incredibly loud ! Well that's Jeff BECK my friends, the tremolo raving lunatic, on top of that with an exceptional singer who comes and stimulates him, so Salle Pleyel or not, decibel limit or not, he doen' t give a damn about his first racing car accident.
But he's still a rare guitarist at that level daring to embark on blinding improvisations.
Huge concert !
Jeff Beck - Lead Guitar
Rhonda Smith - Bass
Jonathan Joseph - Drums
Jimmy Hall – Vocals
Freeway Jam / Lonnie /Morning Dew / Little Wing /Even Odds /You Know You Know / Shapes of Things / A Change Is Gonna Come / Stratus /Over Under Sideways Down /Blue Wind / Led Boots / Red House /People Get Ready /
Big Block /Rollin & Tumblin /Superstition / A Day in the Life / Little Brown Bird / Goin down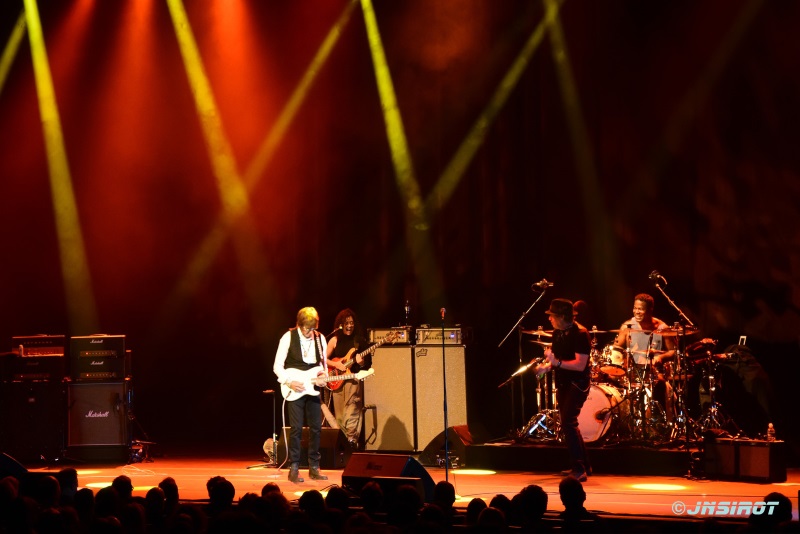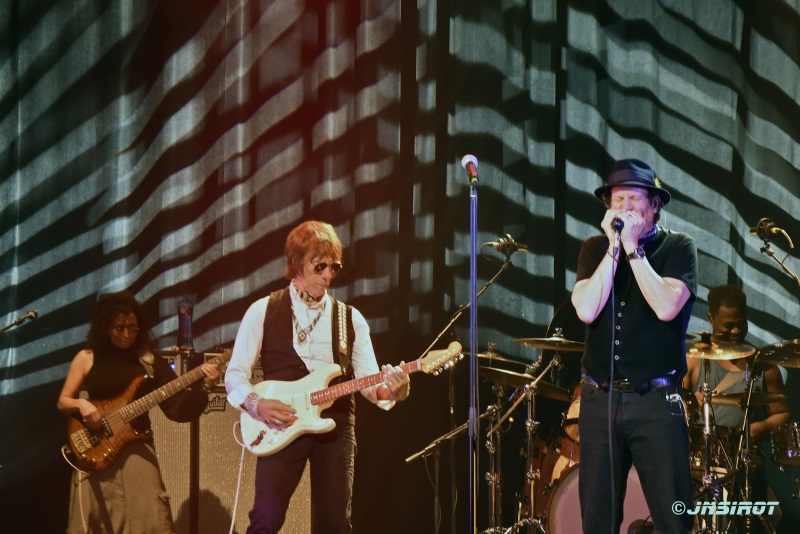 Copyright © 2013 Road to Jacksonville
Webmaster : Patrice GROS The Sound Of Chicago The best of Blues Rock in France
Tous droits reservés.
Design par Zion pour Kitgrafik.com