Interview GREG MARTIN
by Philippe Archambeau, Yves Degand-Philippot and Olivier Aubry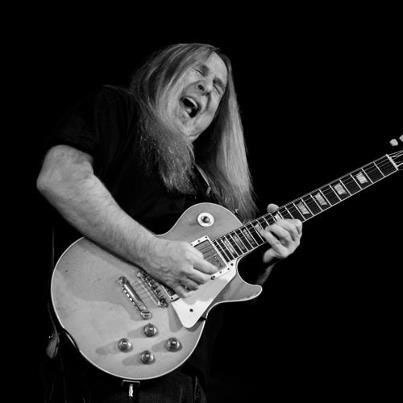 RTJ : First can you introduce you to our readers and tell us witch town you come from ?

GREG MARTIN : I was born in Louisville, KY, March 31st, 1953. I was born at the same hospital Artimus Pyle was born, St. Joseph's Hospital on Eastern Parkway. Unfortunately, it was torn down around 1980.
I spent my early years in Louisville, moved to Edmonton, KY in 1967, back to Louisville in 1972, then back to Glasgow in 1979.

RTJ : Can you tell us how did your debuts go, do you come from a musical family ?

GREG MARTIN : Both sides of my family were musical, my mothers side of the family played banjo, fiddle, guitar and sang in church. They were influenced by country artists like the Carter Family, Jimmy Rogers, Pop Stoneman and listened to the Grand Ole Opry. My Uncle Carl Dowell played on local radio stations in south central Kentucky in the 50's. My fathers side of the family also played music, especially dad and his brother Wade Martin. Uncle Wade was a huge influence on me early on. He was very much into Hank Williams and 50's country music. He had some Rock-A-Billy influence in his sound as well, which I loved. He played Honky-Tonks around Louisville, recorded a couple records opened up for Merle Haggard, George Jones, Jack Green and other country stars in the 60's. The HeadHunters recorded his song "High Steppin' Daddy" on "Pickin' On Nashville," a song he wrote for another Louisville country artist, Grover Gaddie. Grover recorded for the legendary Louisville label, Blue Angel Records.
I picked up the guitar around 1964, there were always nice electric guitars around the house. My older brother Gary played rock n' roll, and my cousin Larry Dowell came to live with us in the early 60's, he also played. Between the both of them, Uncle Wade's influence and seeing The Beatles on Ed Sullivan in 1964, it only made sense to play guitar.I met Richard and Fred in 1968, we started playing together immediately.

RTJ : Did you always play together ?

GREG MARTIN : After meeting Richard and Fred Young in the Fall of 1968, a year and a half after I moved from Louisville, we started playing together. I always said it was fate to meet those guys. We played together from 1968-1972, then I moved back to Louisville after I graduated from high school, mostly due to my parents relocating back there. We got back together in 1973 to make a 45 record, and again in 1977, during Itchy Brother. Around 1980, I started working out of Nashville, there was a period of about 5 years we did other things, only played together occasionally. We formed The HeadHunters in 1986, have played together ever since.

RTJ : Can you tell us about your band Itchy Brother ? And about the farm where you played ?

GREG MARTIN : I started playing with Richard, Fred, and their cousin Anthony Kenney in the Fall of 1968. I met Richard through another cousin of mine, Larry Sullivan, who was the nephew of country artist Lonzo and Oscar. Lonzo and Oscar sold millions of records in the 40's and 50's, and also hail from Metcalfe County like The Kentucky HeadHunters and Black Stone Cherry.
I met Richard through doing a 4-H Talent Show at High School with some other students in November 1968. He and I immediately hit it off, he introduced me to Fred and and Anthony, and off we went. We went through a few names until we settled on Itchy Brother in late 1973. After I left Itchy Brother, due to a job in Louisville, they kept going with different members, I returned in 1977 after their bass player abruptly quit. Guitarist Anthony Kenney went to bass, I took over the lead guitar position. We rehearsed, wrote, played gigs in the region, recorded a few demos, came very close to signing with Swan Song Records in the early 80'a. Unfortunately, due to John Bonham's death, and rock music changing, things never quite got off the ground. By 1981, it was painfully obvious we had to rethink things and take a break. As good as The HeadHunters are, Itchy Brother was the best rock band I ever played in, hands down. We had a passion for blues rock, we never wavered off that path.
As for the farm, it belongs to the Young family. The Practice House sits on the farm, we've been using it ever since we got together in 1968. "Beaver Creek Mansion" was actually written about the farm.

RTJ : How did the transition go and how did you become The Kentucky Headhunters in 1986,
what were the changes ?

GREG MARTIN : I went to work for a Nashville country artist in 1981, the week I started with him, Doug Phelps was hired to play bass guitar with him as well. Even though I wasn't playing with Itchy Brother at the time, we would get together and play a reunion show every now and then. In 1986 Richard, Fred and me decided we wanted to put a band together to play whenever I was off the road. Initially we asked Anthony Kenney about putting Itchy Brother back together, but since he had just gotten married, he declined. I suggested us getting together with Doug Phelps, so we got together for a jam at my house in April 1986. There was an immediate chemistry, and off we went. The original HeadHunters lineup was Doug, Fred, Richard and I. A few months later we added Doug's brother Ricky Lee as vocalist, and that pretty much cemented the classic Kentucky HeadHunters sound. In 1992 Doug and Ricky Lee left to form Brother Phelps, we then added our cousin Anthony Kenney on bass and Mark Orr on vocals. That lineup went from 1992-1996. When Mark Orr left the band in 1996, Doug Phelps took his place as lead vocalist. Anthony Kenney left in 2007, Doug went back to bass. Since then it's been like 1986 all over again, Doug, Fred, Richard and me. We're back to square one.

RTJ : Let's go to your last record On Safari, why did you give it this name ?

GREG MARTIN : Last year we finally traveled out of the States and went to Sweden, England and Scotland.
For years we've toured Canada, 2016 was the first year we finally got out of our comfort zone and traveled abroad. That's pretty much the inspiration for the album title. Richard's father also had a antique picture of a girl in hunting attire, going on a Safari. That made an impact as well.

RTJ : This record was recorded only three days after the decease of Richard et Fred Young's father, why didn't you move the recording ?

GREG MARTIN : Richard and Fred felt like a good way to deal with the grief of their fathers passing was to make music. We didn't rehearse or overthink the music, about a week after his funeral, we went in and started
recording the CD.

RTJ : The Southern style is present from the start, on a background of medium tempo with « Beaver Creek Mansion », and a superb slide part ? Can you tell us more about this tune ?

GREG MARTIN : Thanks! That song was written by our former lead vocalist Mark Orr for the band. When he left the group in 1986, we shelved the song, more or less forgot about it. Sam Bush, a friend and an amazing Bluegrass musician, recorded the song for his album 'Howlin' At The Moon.' It's about the Young brothers farm, so it was only natural that we revisit it. It's my favorite song on the album. As for the slide part. That was my 1958 Les Paul
tuned to open G.

RTJ : How did you work the slide guitar, who are the guitarists playing slide who had a great influence on you ?

GREG MARTIN : Slide guitar was an accident, I never really played much slide guitar early on. Around 1986, I picked up a glass slide at a HeadHunters rehearsal, it just seemed to made sense at that moment. Duane Allman, Matt Andes, Ry Cooder, Mick Taylor, Robert Nighthawk, Leslie West, George Harrison, Santo & Johnny, Earl Hooker are some of my early influences on slide.

RTJ : And in general, who are the guitarists who had the biggest influence on you?

GREG MARTIN : I have many guitar influences, I must say Jimi Hendrix probably inspired me the most, and continues to inspire me today. You can also add Eric Clapton, Peter Green, Mick Taylor, Jeff Beck, Paul Kossoff, Chet Atkins, Merle Travis, Keith Richards, Billy F. Gibbons, George Harrison, John Lennon, John Sebastian, Zal Yanovsky, Mike Bloomfield, BB King, Albert King, Freddy King, Otis Rush, Leslie West, Jimmy Page, Lonnie Mack, Steve Ferguson, Ronnie Montrose, Todd Rundgren, Duane Allman, Dickey Betts, Jerry Reed to the list, and I could easily give you another 50 players!

RTJ : Who composes in the band ?

GREG MARTIN : We all compose individually, but when the songs are brought in to the band, they are reworked and become Kentucky HeadHunters music. It's really a collective effort. Richard and Doug are the most prominent writers, but we all contribute. It takes all 4 members to make HeadHunters music.

RTJ : What are the themes that you prefer to land on your texts ?

GREG MARTIN : The song themes have to be real, have to make people connect. You can't really write about something you don't know about or haven't experienced. Love, life, family, God and life experiences.

RTJ : We stomp our feet unrestrained on « Way down yonder », a Southern rock with a medium tempo and an efficient solo, composed in 1977 by Mr Charlie Daniels. Who had the idea of that cover ? And why ?

GREG MARTIN : That song was brought in by Doug Phelps. For one thing, it's got the classic southern rock feel and lyrics we all love, such a great song. It also mentions Bowling Green, which is about 40 miles away from us, it felt natural for us to do it. We did it our own way, but hats off to Uncle Charlie for writing such a great song.

RTJ : Did you have the opportunity to play with Charlie Daniels, the Godfather of the Southern Rock who celebrates the 80 years this year ?

GREG MARTIN : Yes, I have jammed with the Charlie Daniels Band a few times over the years. We were honored to play his 2015 Volunteer Jam in Nashville. We love Charlie and the band very much, they are like our family.

RTJ : I could review quite the titles of this album, but perhaps have you a title that is important for you ?

GREG MARTIN : "Crazy Jim" is one of my favorite themes on the CD, it was brought in to us by Richard. He wrote the song about a local character known as 'Rock Man.' People never understood the guy, he actually would give rocks away as gifts to people on the street. He insisted they were worth money. 'Rock Man' was misunderstood and ridiculed by folks, Richard was touched by the man. It's about not judging what and who we don't understand, and to love each other unconditionally.

RTJ : Some titles might have influenced Blackberry Smoke, what do you think of Charlie Starr's band, that just played in the Beacon Theater of New-York and seems to be placed on the fast track. Do you think it's your heir ?

GREG MARTIN : We absolutely love Blackberry Smoke, we've known them for years. They opened for us around 2003, now we open for them! We are very proud of their success, Charlie is my pal. I actually heard from Charlie today, I hope to see him and the guys this weekend here in Glasgow. We may have influenced BBS a bit, but it could be we're all from the south and grew up on a lot of the same kind of music.

RTJ : Did you always play on Les Paul ?

GREG MARTIN : I have switched between a Les Paul, Fender Stratocaster and Gibson ES335 over the years. These days I play a Les Paul 95% of the time, I just seem to gravitate to that model. I also play a ES335, a Gibson SG, Fender Stratocaster and Telecaster guitars whenever the spirit hits me. But, I feel like I was born to play a Les Paul, I feel more at home there than with any other model.You got an original 1958 Gibson Les Paul 'burst with PAF pickups, given by Hank Williams Jr, what is its story ?
It is truly my favorite guitar. It was originally owned by a gospel group out of Ohio. There's a kings crown drawn on the case, to symbolize Jesus Christ. Somehow the guitar ended up with Ed King of Lynyrd Skynyrd a few years back through a trade. Ed then sold the guitar to Hank Williams Jr. through Nashville vintage dealer George Gruhn. Hank Jr. and his band used the guitar on tour, where I first saw it in 1988. In 1991 Hank let me borrow the guitar for a video shoot, and after a few months, gave it to me. It will be with me forever, I love the guitar. I am forever indebted to Hank Williams Jr for the guitar, it was my life dream to own an original 1958 Les Paul.
The guitar is truly anointed with a tone.

RTJ : Do you use it often ? And on which titles ?

GREG MARTIN : Yes, I use the guitar in the studio a lot. It's the guitar I use on every track for 'On Safari,' except on "Juke Box Full Of Blues." On that track I did the slide solo with a modded 1964 Gibson Melody Maker. I don't use the guitar on shows much these days, I'm afraid something will happen to it. But it's my first go to guitar
for studio work.

RTJ : Did Gibson a « replica » guitar of that Gibson ?

GREG MARTIN : Yes, the Nashville Gibson Custom Shop replicated 300 guitars after it in 2013, it's known as the
CC #15, or Collector's Choice #15. It was a huge honor, Gibson did a great job.

RTJ : What are you favourite Southern rock bands ?

GREG MARTIN : Allman Brothers Band, Hydra, Lynyrd Skynyrd, Wet Willie, Barefoot Jerry, Marshall Tucker Band,
The Outlaws, ZZ Top, Charlie Daniels Band, Atlanta Rhythm Section were just a few of my favs growing up.

RTJ : What are the amps and guitars that you use ?

GREG MARTIN : For the road, I use a 1958 Gibson Custom Shop R8 with original PAF pickups, CC #15 Les Paul, 1964 Gibson Melody Maker. For a spare, I rotate different Les Paul's and Fender guitars, depending on the mood I'm in. My main road amp for the last 10 years on the road has been a stock 1975 Marshall 100 watt head and 4x12 cab.
For the ''On Safari' sessions, I used the 1958 Les Paul on every track but one. For amps, I used a 50's tweed Fender Deluxe and 50's tweed Fender Champ chained together. I plugged straight in, no effects.

RTJ : When you play slide, is it in open tuning? What are your string gauges ?

GREG MARTIN : For strings, I use D'Addario 10-46. I play slide in standard tuning, also in open E, D, G and A.

RTJ : Why did the band stop between 1982 and 1986? What did you do during this time ?

GREG MARTIN : We took different jobs after we failed to score a recording contract in the early 80's, we put the band on hold. Fred worked for country artist Sylvia, Richard wrote songs for Acuff Rose, I worked with country artist Ronnie McDowell until The HeadHunters signed the recording contract with Mercury Records in 1989. We just needed a break, and by the grace of God, it worked out.

RTJ : Did the Kentucky Headhunters ever play in France ?

GREG MARTIN : Not yet, hopefully in the future.

RTJ : Do you think that you will come back in Europe? I think that you played in the UK , have you some memories ?

GREG MARTIN : Yes, I believe we will make it back, we had a great time in Europe last year. There's so many great memories of going to U.K., it's hard to pick just one. Just landing in London and seeing London for the first time was amazing. Going to the Marshall factory and buying two Marshall amplifiers was also a great experience.

RTJ : What are the Kentucky Headhunters projects after the release of this new album ? A DVD ?

GREG MARTIN : Other than touring and promoting 'On Safari,' there's nothing else planned for now. I'm sure at some point we will start thinking about another CD, and possibly a live DVD.

RTJ : The question we are curious to : you replaced Ed King in 1992, in Lynyrd Skynyrd, how did it go ?

GREG MARTIN : For three weeks in 1992, I filled for Ed King. Ed had broken a finger, the band was getting ready to cancel some shows when he called me. We had met at the Dallas Guitar Show a few weeks before and hit it off. It was a great experience, a huge honor, I love Ed and the Skynyrd family much. Gary called me in 1994 about joining the band, but The HeadHunters is my family, I couldn't leave them.
RTJ : Have you some anecdotes ?

GREG MARTIN : It was a great experience, it was an honor to play the classic songs with Lynyrd Skynyrd. Back in the 70's, I had played many of these songs with cover bands, but playing the songs correctly with them was like having the light switch flipped on. They were amazing people, they treated me like family. I will always cherish that experience. I love them all very much, I miss Billy and Leon a great deal. I have a lot of fond memories of talking to Billy and Leon on the bus as we travelled to gigs. We had bus trouble outside Atlanta one night, we flew to the next gig in the Carolinas. I remember Leon sitting next to an elderly lady on the plane, explaining how to play bass guitar to her. He was such a sweet guy, nice to everyone he met.

RTJ : Then were you contacted to play in Skynyrd ?

GREG MARTIN : Yes, in 1994. I passed on joining due to my commitment to The Kentucky HeadHunters. My friend Mike Estes took the spot, he did a great job.

RTJ : Last and traditional question here, if you have to stay on a desert island, what are the five records that you would take with you ?

GREG MARTIN : Hard question, these 5 for sure.
'Pet Sounds' The Beach Boys
'Blues Is King' BB King
'Live At The Fillmore' The Allman Brothers Band
'Are You Experienced' Jimi Hendrix Experience
'Wheels Of Fire' Cream

Copyright © 2013 Road to Jacksonville
Webmaster : Patrice GROS The Sound Of Chicago The best of Blues Rock in France
Tous droits reservés.
Design par Zion pour Kitgrafik.com