BRAVEHEART

Interview of Rick Medlocke of Lynyrd Skynyrd By Iain Monk. (June2019)
Photos by Joe Okpako.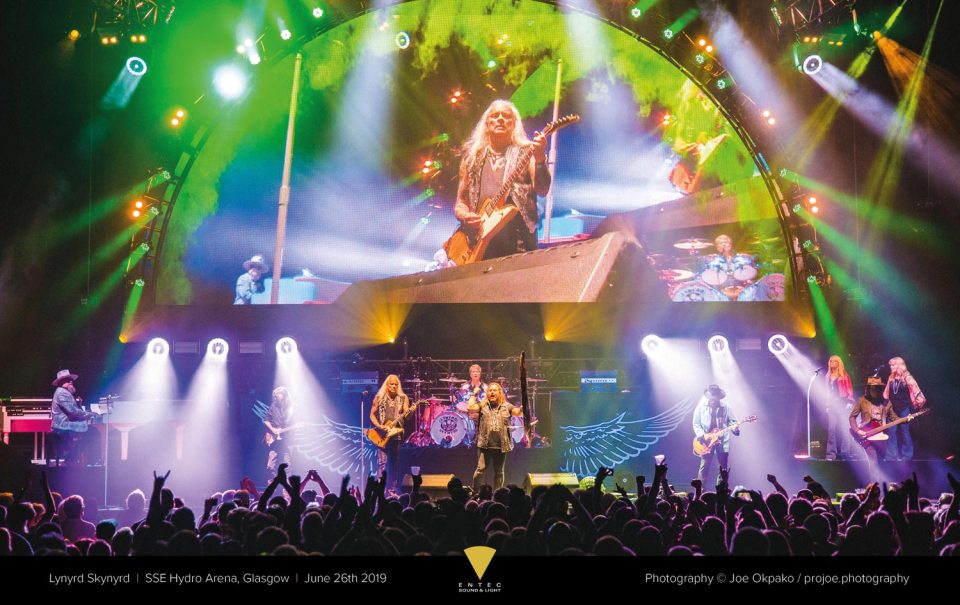 I am backstage at the SSE Hydro Arena in Glasgow about to interview Rickey Medlocke. My lovely Skynyrd handler escorts me down a warren of corridors to a dressing room, the one set aside for band back-up singers, the Honkettes.
Thankfully, Dale Krantz Rossington and Carol Chase have yet to arrive. I sit down in a corner sofa and survey the room. Lipstick, eyeliner pens, mascara, foundation cream and all manner of soft brushes are laid out neatly on a table. Colourful stage clothes hang in a portable wardrobe.
None of these items are for Rickey who strides in purposefully looking tanned, fit and sporting his trademark tattoos. 'Hello, how are you!', be bellows affectionately. A firm handshake and we get down to business.
I begin by asking Rickey how it feels to be back in Scotland.
'Well it feels like old home. After being over here with Blackfoot in the late 70s and into the 80s I just love coming over here. I was over here for so many years and gathered so many friends and I just love the people over here. It just feels natural. When we got in the other day I stepped off the plane and thought this feels natural to me. There is a kind of a thing, it is almost like the South, the people, the friendliness, they are charming.
In the early 80s, Blackfoot could do no wrong, riding the crest of a wave with a string of commercially successful LPs: Strikes, Tomcattin' and Marauder. The band toured the UK regularly, firstly as support to the Scorpions, and then as word of their incendiary live shows spread, headliners.
As with Skynyrd in the 70s, Blackfoot's sound stuck a chord with the Scots. Rickey recalls the intense noise, the passion, the energy-sapping performances.
'It was magical, those shows at the Glasgow Apollo. I can vividly remember the balcony looked as if it was going to fall any minute. It was swaying and the people didn't care, they didn't want us to quit, they wanted us to keep playing. I remember after that show I was totally exhausted. The energy level was so up there that it took me a good full day to recover. Back then, we loved the high energy of rock and we were not a very laid back band! I saw Gary Holt from Slayer at a festival the other day (Hellfest – 23 June, France) and he says "I always like to think of Blackfoot as the only original Southern metal band, that is the way Blackfoot always hit me".
We move on. I want to find out about his relationship with a gold-plated rock God: Free and Bad Company frontman, Paul Rodgers. He has been a hero of Rickey's for many years. So much so that Blackfoot recorded a cover of the Free classic Wishing Well for the Strikes LP. He finally got a chance to meet his hero in 1982 when Blackfoot played at the Reading Festival. However, the experience of finally rubbing shoulders with his idol proved memorable for all the wrong reasons.
'I was at the Reading Festival and Jon Lord was there. We had become friends because Blackfoot had toured with Deep Purple. He said that one of my heroes was at the festival. And I said, who may that be? He said "Paul Rodgers". I said oh, my God! Can you take me to him?
'He said "sure" and we walked over to this tent and Paul had had a few too many by that point. Jon tapped him on the shoulder, he spun round and Jon said: "This guy is lead singer from the band Blackfoot and he's always wanted to meet you."
'And Paul said: "Fuck yeah, you've always wanted to meet me, you did one of my songs!" And he was being belligerent and I backed up and said, you know what, I didn't want to meet this guy anyway, and I walked out.
'So later in years, I was doing this radio show where I would call rockers and wake them up, early in the morning. I got Paul's hotel number and the room he was in and I called and finally got him on the phone. And you know what, we talked it out. He said, "I am so sorry that happened", and we spoke about it. And after all those years we are great friends. He told me that he loved our version of the song. When we played it live, it was the highlight for the band and really popular.'
I ask him about another cover version that appeared on Blackfoot's After The Reign LP, the original track having been recorded by Van Morrison.
'My manager brought that song to me and he said, "I really believe you could do a great version of this tune." And he said, "It's Tupelo Honey" and I said ok, so we put it on. I had always loved Van Morrison. For me, the song struck me. If I was going to do it, it was in a more Hendrix style so I sat with the band and we did it in two takes. We did it live for a little while and then put in Guitar Slinger Song and Dance (from Blackfoot LP Medicine Man) because it came out in the States and started to do well.
We turn to Rickey's future plans. Skynyrd's days seem to be numbered, certainly in terms of undertaking lengthy tours. Rickey, however, is adamant that he will not retire and will continue to perform and record music.
'Music is what I do, I am not one of these guys that is going to fade away and you are never going to hear from him again. I have quite a few side projects going on.
One of those projects is Blackfoot, shorn of original members and comprising four young musicians. Without question, this new formation has divided opinion among fans of the classic Medlocke, Spires, Hargrett and Walker line up.
'The reason I put together a Blackfoot with all young guys as members is that number 1, Jack (Jackson Spires) and I were in tune with each other for many years. Things happen the way they happen because of the business and then Jack passed away. If Jack was still alive I would probably set about maybe trying to do some kind of reunion tour.'
I ask if he would consider a reunion with Charlie Hargrett and Greg T. Walker, but that door remains firmly shut.
'No, I don't think so because Jack is not here. Without Jack I just can't foresee doing that.'
Rickey reveals that although Skynyrd are embarking on their final tour, there will still be opportunity for future band collaborations.
'I am always going to be available to those guys because I promised Gary when I first got with Lynyrd Skynyrd. Gary, I promise I will be with you until the last note in Freebird is struck.
'And the band, as it is right now, we are staying in tact as a band, even after this farewell tour has come to an end. It's staying in tact because we want to do special shows, charity stuff and maybe a residency in somewhere like Las Vegas.'
'We're recording right now. We just cut a new song we're getting ready to put out called, aptly enough, Last of the Street Survivors, that we wrote about ten years ago. Me, Johnny and Gary went into the studio and produced the song. We have already recorded it, mixed it. It's a ballad, beautiful man. We are going to do records, we want to record more and do records.'
Even after all these years Rickey's creative juices still flow, inspired to make new music and never tiring of writing new songs.
'I was born into music and bred for this. I was bred for touring. I did a Bonnie Raitt song one time called The Road's My Middle Name and you know it's the God's honest truth. I love it. I don't love the air travel in the United States anymore because it's a real pain in the ass! I love the art of still climbing on that stage, and playing for those people. Big time.'
Skynyrd band members are never complacent about delivering the very best performance. Rickey explains that after a show, the band talk about what went well and what could have been improved.
"We always do, we go back and critique ourselves. We beat ourselves up. I go out there with one sole purpose, to play a great show for those fans. If something happens equipment wise then I fall down and I falter, it makes me feel bad that I cheated them and I don't like to do that.
'I try to be consistent every night , I go out there, you put that guitar in my hand. I don't get high and I don't get drunk. My high is from holding that guitar and playing. This is what I do."
With that, my ten minutes is up. I have a surprise for Rickey, a wee Scottish gift. I give him the original ticket stub for the 1982 Glasgow Apollo show. "Wow, thank you!", he exclaims like a child that's been handed the keys to the chocolate factory.
We shake hands and I bid Rickey farewell. He walks off but looks back and says, "enjoy the show, the energy levels are going to be off the chart". And as it turned out, he was right, they were.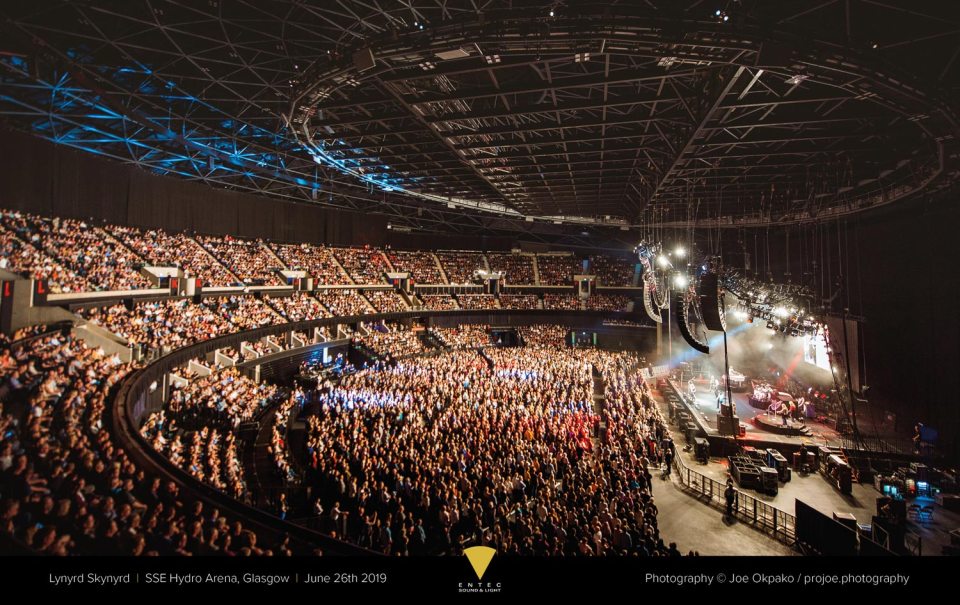 Copyright © 2013 Road to Jacksonville
Webmaster : Patrice GROS
Tous droits reservés.
Design par Zion pour Kitgrafik.com