Interview Harvey Dalton Arnold.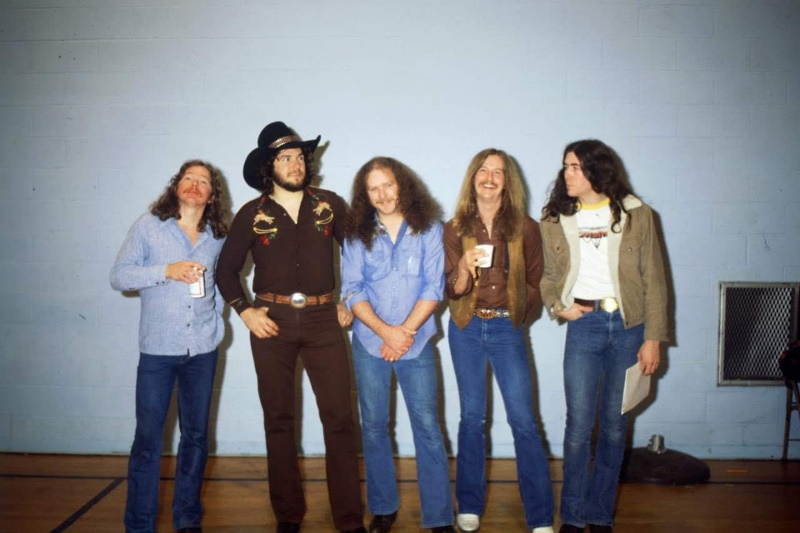 1) Can you tell us a little bite more about you, where are you from? Where were you born?
I was born and raised in eastern North Carolina USA. Born in Mount Olive and raised in Rose Hill, both very typical southern small towns.
2) Do you come from a musician family?
I don't know of anyone before me that had a musical background. However, my son is a very talented writer and musician.
3) With what instrument did you begin and at what age?
I started piano lessons at about age 11 but my teacher told my parents it was money wasted because all I would play were popular songs.
4) What were your musical influences?
Of course the Beatles; and I was surrounded by country music such as Hank Williams Sr. My musical direction blossomed when I heard the blues in my early teens.
5) In what group did you play while teenager?

We had a high school band called Heather. Most of that band and I still play together to this day.
6) When and how did you join the Outlaws?
I joined the Outlaws in July 1976. I happened to be in Tampa, FL performing when a friend called and said the Outlaws were looking for a new bassist. They met and heard me on Friday and the following Thursday we were in Birmingham, AL opening for Lynyrd Skynyrd and Johnny Winter.
7) At that time, with what materials did you play?
I played my right handed 1966 Fender Precision base strung left handed.
8) On the album Hurry Sundown, I especially appreciate two tracks that you composed: « Cold and lonesome » and the stunning song « So Afraid » with country style. Did you like country music, if yes, do you still like it?
I grew up hearing country music because of the area in which I lived. So yes, it's in my blood and I really appreciate and like older, more soulful country music.
9) Do you know why Henry Paul left the band?
I think Henry was anxious to branch out and he immediately formed his own band and made some good recordings.
10) In October 1977, how the band reacted knowing about the plane accident that carried Lynyrd Skynyrd?
We were supposed to leave Tampa, FL the morning after the crash to join Skynyrd wherever they were headed. We were totally devastated like everyone. We had played with them on the west coast shortly before the crash and it was the best I'd ever heard them.
11) What memory do you keep in mind of the Outlaws' tour with the Rolling Stones?
That they were simply a good rock and roll band. Our band didnt get to meet the Stones and their security was intense- the crowd accepted us greatly and is was quite an honor to be on their show-. My best personal memory was meeting the bassist Duck Dunn who was a childhood hero of mine.
12) On the sleeve of « In the eye of the storm », we see all members of the Outlaws wearing a mustache.
Was it a bet?
It was coincidental only. It was kind of funny looking; I think once we saw that picture we changed our look.
13) The Outlaws have frequently turned with Molly Hatchet. Apparently, both bands were good friends. Do you have any anecdotes about that time? Did you attend some disagreements between Molly Hatchet's members?
We did 100 dates with Molly Hatchet and did become good friends. There was a historic pie fight on our last date at University of Virginia. I think all bands have loud discussions at times to blow off steam, which they did and I'm sure they heard us as well.
14) Southern Rock bands had the reputation of doing huge parties. Was it the case of the Outlaws?
We never hosted any large parties but were always on the lookout for one.
15) It seems that Billy Jones often hanged out with members of Doc Holliday known for their insane parties. Do you confirm that?
I don't recall as it may have occurred after I left the band.
16) What kind of man was Billy Jones? Do you have any anecdotes about him?
Billy Jones was my closest friend in the Outlaws. He was very soft spoken and a complicated person with a good heart. I miss him to this day.
17) Do you know why Billy left the Outlaws?
Billy left after I left the Outlaws.
18) Did you have any explanations about the circumstances of his suicide?
No, I heard the news and was shocked and saddened.
19) Do you play on the album Ghost Riders?
No.
20) What is your best and worst memory with the Outlaws?
Best memory was recording Hurry Sundown at Coconut Grove FL with producer Bill Szymczyk. My worst memory would have to be that at the end it was no longer fun.
21) When and how did you leave the Outlaws?
I left the Outlaws in 1980 by mutual agreement. As I said, in the end it was no longer fun or rewarding. You know when it is time to move on.
22) Did you keep playing afterwards?
I have never stopped playing music professionally.
23) When Hughie Thomasson reformed the Outlaws in 2005, did he contact you to be part of it once again?
Hughie and I talked in the late 1980s but never made a commitment to rejoin.
24) On your solo album « Outlaw » you play alone with an acoustic guitar. On the following, Stories to live up to, you have a rhythm section. On both albums, we notice that you fully master the guitar. When did you switch from the bass to the guitar, was it difficult for you?
Thank you for the compliment. I had messed around with the guitar for years but got serious with slide guitar in the late 1990s. I am more of an emotional and not a technical player.
25) Both albums show your passion for blues. Did you always like this style?
I've been playing blues music for over 50 years, before and after the Outlaws.
26) In your opinion, for the bass and the guitar, what is the best combination (amp, microphones, string gauge)?
For the bass, I use a 1965 Fender Bandmaster converted to Dual Showman at 80-100 Watts (The Bandmaster is a 40 W amp, Editor's Note). I use d'Addario chrome bass strings on a 1998 Danelectro reissue bass. On guitar, I use a 1995 USA Fender Stratocaster with .010 d'Addarios. I use a Fender Custom Vibrolux black face reissue.
27) You defeated the disease, but you also regained your voice, which seems to be a miracle. You often sing in hospitals to provide support for patients. Are you planning to perform on other places or resume a musical activity full-time?
I, like everybody else, was brought to a sudden halt by the Covid19. I was playing constantly up until then and am looking forward to getting back at it.
28) Can you tell us the themes you address on your new album Stories to Live Up to?
After my first CD was predominantly blues, I wanted this recording to present songs that painted pictures that evoked emotions in a more electric format.
29) I really appreciated Lone Outlaw, with its Southern influences that are heard on the chord progression and the guitar in the manner of Dickey Betts, can you tell us more about that song?
I wrote this song in 1983 at a point when Hughie was the last original member of the Outlaws. I was inspired by the fact that he was still grinding it out. I've always been a fan of Dickey Betts, so I guess his style seeped in there.
30) How do you see the future of the Southern Rock?
I am astounded by the people who still love it from the past and how it surfaces in some young new bands. I'm confident it will live forever.
31) Do you have regrets concerning your career of professional musician?
Life is just a path you follow, I am grateful to have played music while working and raising a family. Retirement from real work is sweet with a guitar in my hand.
32) What advices would you give today for a young musician wishing to become a professional?
You must practice and at least touch your instrument every day. Treating people right and being on time goes a long way.
33) What are your projects?
I am writing and playing new material every day in my home studio. I'm very proud of Stories to Live Up To and am promoting as well. With such a great international response to my CDs, the idea of touring overseas is intriguing.

Questions by Olivier Aubry / Philippe Archambeau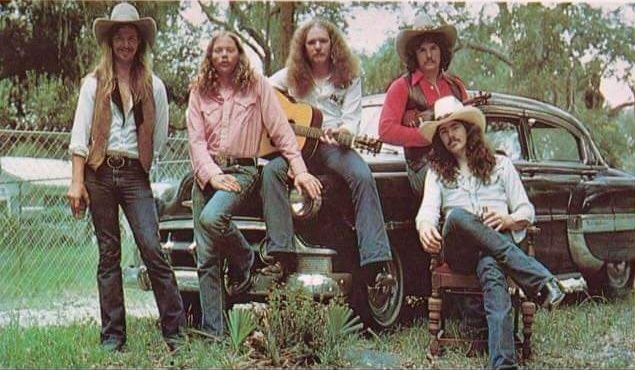 Copyright © 2013 Road to Jacksonville
Webmaster : Patrice GROS
Tous droits reservés.
Design par Zion pour Kitgrafik.com