INTERVIEW JOEY PARRISH (Silver Travis Band)
Questions by Philippe Archambeau, Yves Philippot-Degand & Olivier Aubry.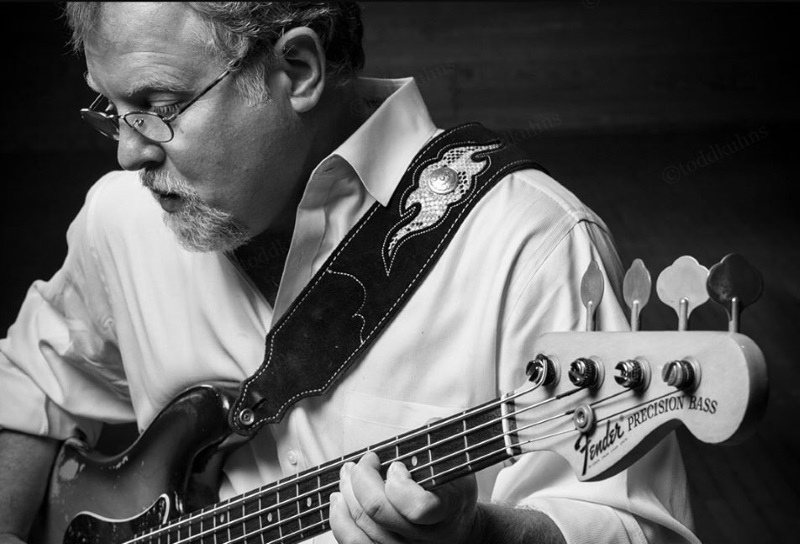 Hello JOEY, thank you for giving us this interview for Road to Jacksonville..
Can you tell us more about the area you come from? Are you born in Spartanburg? In which year ?
I was born in September 1962 and raised right here in Spartanburg. I had several opportunities to move though out my life but I just never felt comfortable about leaving my home town. It's a wonderful southern city and the community I'm from is like heaven on earth.
Are you from a family of musicians?
My Brother actually taught me how to play the guitar when I was very young. He was 6 years older than me and we would sing Hank Williams and Jimmie Rodgers songs while playing acoustic guitars and learning new chords. My brother also played a mean harmonica as well. My Father also played guitar but I'm the only one in the family that took it to the next level with playing in bands and touring.

When did you start playing bass and in which bands?
I started playing the bass when I was 14 years old. I was actually listening to The Marshall Tucker Band 'Where We All Belong' album when the song 'Everyday (I Have the Blues)' came on the stereo. Once that bottom end of the bass started coming through those speakers, I was hooked. Spartanburg was a very musical city back then so I wanted to play the bass and go to work. Probably having so much famous musical talent from the area enhanced my desire to practice and play.

How was the Silver Travis Band set up?
While in High School, I played on a Beach and Top 40 band getting local gigs on the weekends. Some good friends of mine from the same school and small community also had a band gigging on weekends but they played more Southern Rock and original music. We were all cutting our teeth on playing gigs and trying to be cool when my friends band needed a bass player so they asked me to try out. Those two friends were Randall Calvert & Mike Satterfield. Once we started playing it was like "Damn the Torpedoes" and we started writing music. We played as a three piece and added members as we needed. The next thing you know we had the nucleus of The Silver Travis Band. We three are still in the band today. We rehearsed six nights a week. What made us different from the rest of the area bands was we played our original music as much as possible and threw in covers to fill in the time.

Is it true that the band's name comes from an error on the name of General Lee's horse?
Yep, that's a true story. We have always been proud of our southern heritage so Randall wanted to name the band something that was really southern. What could be more southern than Gen. Robert E. Lee's horse … right ?!? So Randall named the band The Silver Travis Band, however, Robert E. Lee's horse wasn't named Travis, it was Traveler. The t-shirts had already been printed and such so we stuck with the name Travis. That's why we named our latest CD 'Traveler' in honor of the story that I just told you.
Were the Marshall Tucker Band guys your heroes? Did you have other iconic figures?
The Marshall Tucker Band were our influences and heroes for sure. You'd run into them all over town and each member was always glad to take time to speak and be friendly. There was a great music store in town where you'd also run into members of bands such as Lynyrd Skynyrd, Folks from the Hee Haw television show and countless iconic musicians. The Allman Brothers was another influence of mine that I still listen to daily.
How did you react to the announcement of the plane crash that decimated Lynyrd Skynyrd? What was the atmosphere in town that day?
Artimus Pyle was from Spartanburg so naturally the entire town was let down when their plane crashed. The band actually came back to live for a while in a town in Spartanburg county to relax and decide what's next in their career. We would see members around town but never brought up the plane crash. In our early years, Artimus came to do an impromptu appearance with us at a local club. For some reason he was blowing a whistle into the microphone and blew out our PA horns. We never did hit him up for the $50 to get the horns replaced.
The Marshall Tucker Band was inevitably very popular in Spartanburg. How did the community react to the deaths of Tim and Tommy Caldwell every month?
Tim Caldwell's accidental death caught the community by surprise. There was lot's of love and support for the Caldwell family. When Tommy had his vehicle accident a month or so later, the whole city was in shock. There were signs at restaurants and business asking everyone to pray for Tommy Caldwell. Tommy was known through Spartanburg as a very friendly and personable person. It was a sad time for everyone. Folks still ask each other the question "Where were you when you heard that Tommy Caldwell passed away"?
Your friends and you have opened for the MTB. Do you have anecdotes about the musicians in this band? Did Toy Caldwell play as loud as it was said?
Unfortunately Toy had already passed away by the time Silver Travis opened for MTB. Stuart Swanland played with Silver Travis in the 80's and he was now a guitarist with MTB. That was a great reunion. In our early years of the band, some members of MTB owned a studio in Spartanburg where they would record several of their albums. Silver Travis would run wires and cables for their Sound Engineer and in turn he would let us record demo tapes to test out the new equipment. That's where we recorded our first 45 record single 'Baby it's True', released on their Creative Artists label. STB is one of the few bands to be released on that label. We would also get to hear some old Tucker stuff on tape and new stuff they were working on at the time. That studio was haunted by the way… that's another story but it's a good one.
Do you know what happens to Paul Riddle and Jerry Eubanks?
Silver Travis's previous CD release before 'Traveler' titled 'Take the High Road' had an instrumental tune called 'El 'Segundo' that both Paul Riddle and Jerry Eubanks recorded with us. Paul played the drums and Jerry plays the flute and saxophone. We are very proud of that song and that they would appear on our CD. We still see both Paul and Jerry around town. Jerry has come to some of our recent performances. They both are doing well.
The Silver Travis Band also opened for 38 Special and George Hatcher. What memories do you have of these bands? Did you open for other artists?
I remember the guys from George Hatcher and 38 Special being friendly. They knew we were up and coming and made us feel right at home. We always had nice dressing rooms and they come to have laughs with us. The Confederate Railroad band and crew are a whole lot of fun. We opened for them a few years ago, they even had a couple of STB members come join them on stage to play 'Can't You See'. There have been lots of others that we opened for but they weren't really interested in hanging out or having laughs.
Is it true that Silver Travis split at the end of 1983 after a tour bus failure?
Yes, that is true. The band was traveling through West Virgina in a snow storm when the bus broke down. Mike Satterfield and I walked several miles in 13 inches of snow. We hitched a ride, got our bus towed and we made the gig. However, at that point we were tired and decided to take a break from playing. Some went to college, got married, had children, got a job … life happened. The bus breaking down wasn't the catalyst of the breakup but it was the tipping point for sure.
Can you tell us more about the recording of your single at Creative Arts Studios in Spartanburg Marshall Tucker Studios?
The engineer at Creative Artists studio was Randall Merryman. He engineered the Marshall Tucker albums that were recorded there. Randall loved the Silver Travis original music and talked us into making and releasing a record. The A Side was 'Baby it's True' and the B side was 'Web of Love'. We got lots of traction with that release. We were new to the recording process so it was always a learning experience. On a funny note, there were pictures of all the famous bands and artists that had recorded at the studio lining the stairways and rooms. Our Silver Travvis picture was hanging in the bathroom so everyone would see us at least once during their recording visit. (Hahaha) I mentioned that the studio was haunted, the building was a burned out school house where apparently several children perished in a fire decades before. There was always things getting moved, things going bump on the recordings and kids laughing and running. STB always recorded late at night so many times there was just something that didn't feel right….
Do you know about Lightning West Band, Trouble Band and Bramble? Do you have anecdotes?
Silver Travis used to go watch Lightning West play every weekend when we were first starting. They were a great collection of eclectic musicians, talents and song writing. Stuart Swanlund was in the band. That's how we met him. They released one self-titled album. It was a great record but they didn't release anything after that. Their drummer Ace Allen later went on to play with The Marshall Tucker Band as did their guitarist Stuart Swanlund.

The band is reformed in 2005. What did you do between 1983 and 2005?
After the band broke up. I decided to attend college. I got a Bachelor of Science Degree in Data Processing from the University of South Carolina. Got a wonderful job, married, had three children and simply made things happen. When we finally got the band back together, it was like something that had been missing in my life had finally come back. I didn't realize how much I had missed Silver Travis.

What is your best and worst memory of your music career? What have been the highlights of the Silver Travis Band since its reunification?
One of my best memories is playing in front of about 1,000 bikers on Bike Week at Myrtle Beach. We could do no wrong that night. It's was a great experience. The worst was breaking a bass string on the second song of an important gig and not having a replacement string. I had to work around the missing string all night. Boy was that a challenge.
Probably the best memory since the reunification is opening for 38 Special and Marshall Tucker. Both nights we were opening for our heroes and players that we respected.
What gear did you play in the 80s? What is your current material?
In the 80's I played Fender Precision bass guitars with Peavey amps and cabinets. I had an old 1969 Sunburst and a 1979 Antiquity Precision. I still have the Starburt Precision. Today I'm playing Fender Jazz and Cort bass guitars. I'm also using Eden and Ampeg Amplifiers

What do you think is the best bass/amp/string combination?
The sound I get using the Fender Jazz, round wound Rotosound roundwound bass strings and the Eden amps is the best sound that I've ever had. I look to it as my signature sound.

Which bassists influenced you?
My early years were influenced by Tommy Caldwell of the Marshall Tucker Band. That's where I formed my fundamentals. Berry Oakley and Lamar Williams of the Allman Brothers help me find some jazzier influences. Allen Woody of the Allman Brothers/Gov't Mule was also a huge influence. Tim Lawter of the Marshall Tucker band helped me realize how to let the notes breathe and to avoid being too staccato. I've worked a lot with Tim and he helps bring out the best in me.
Can you introduce us the new members of the Silver Travis Band and particularly in detail your new singer Daniel Jackson?
Our new CD 'Traveler' introduces both Daniel Jackson and Carey Upton. Daniel has a bluegrass background as well and southern gospel and country. Daniel brings the harmonies, lead singing and song writing that we needed as a band.
Carey Upton if more influenced by Bruce Springsteen and Jackson Brown. The same can be said of Carey that he brings the harmonies, lead singing and song writing that we needed.
Both have help us progress our songs into more technical playing and harmonies. We've wanted to have double leads and harmonies for a long time. We also just brought in anther new member Woody Cowan. Woody is a retired music teacher. Woody brings guitar abilities allowing us to utilize triple leads at times. He also brings a wonderful singing voice as well as adding a trombone to many of our original songs. I'm very excited about our current lineup.

The last album of Silver Travis Band is excellent. Of course, we hear some influences but the band has managed to create their own style. However, when we listen to the record, we immediately feel that it is a combo of the South of the USA who plays. Personally, I think only a Southern group can sound that way. Do you agree ?
Yes I do agree. We would never attempt to copy or cover another group's style but you can't deny that southern rock has influenced our playing both as a band and individually. Growing up listening to and playing songs by these bands ingrains the styles into your creativity process. It's not really something that you would play if you weren't from the South and lived it every day.
Can you give us news of Rick Cash who had to leave the group, can you tell us the reasons?
I miss Rick Cash being with the group. His voice was a signature sound for Silver Travis for many years. We were looking to add new members and perhaps update our sound when Rick decided that it's time for him to move on. After 30 years sometimes it's best to get a fresh look at new things. He is doing well. He still lives in Spartanburg and is enjoying playing with his Granddaughter. He and his wife Deborah have been married since the mid 80's and are still going strong.

The album is dedicated in tribute to Stuart Svanlund, missing in 2012, MTB and Lightning West Band guitarist, can you tell us about it?
After Lightning West, Stuart Swanlund played with Silver Travis for a couple of years. We all learned a lot from Stuart. He had experience from time spent on the road, taught us to enhance our technical fundamentals that we were missing as a band and individually. STB had a great friend and co-song writer of Stuarts in the band named Steve Harvey. Steve and Stuart wrote great songs together and came up with some of the tastiest twin leads that you'd ever hear. After we broke up Stuart played a while with the Artimus Pyle band and ended up later with MTB. Both Stuart and Steve brought so much to the band, we felt that we should dedicate our latest CD to their memory.

What are the roles of Rusty Milner and Tim Lawter, former members of Marshall Tucker Band?
We record our music at Mill Street Recording in Inman, South Carolina. The Studio is owned and operated by Tim Lawter and Rusty Millner (both formerly of The Marshall Tucker Band). Tim works with us on the recording and producing of our music. He really has a keen ear for hearing harmonies also for bringing out the best in your performance. He works with Rusty on how we're sounding and Rusty does the Mastering of the CD. We always want someone mastering our music that wasn't involved in the production phase. That way we have different perspectives and sets of ears listening.


Can you tell us more about the title "Chain Gang" whose riffs are reminiscent of Skynyrd?
It's the style that's ingrained into our playing and writing. It's not a copy by any means but there's definitely an influence in there. It's an in your face song and many of the Skynyrd hits were an in your face type of song.
"Spirit In The Hills" sounds like the last Charlie Daniels, can you tell us more about this title?
A friend of Daniel Jackson's (Brink Brinkman) wrote this as a bluegrass song and sent it to us to see what STB could do with it. We didn't want to release it as a bluegrass tune so we started noodling. Randall has always been a fan of the old Charlie Daniels albums from the 70's (lots of riffs and breaks). He came up with the riff to use as an intro then we started from there to arrange the song. It's almost like we decided to make it an old Charlie Daniels song. The arrangement of the last verse is my favorite. Brink's bluegrass version is also very good.

Three tracks in the middle of the album present us some vivid guitars, true Southern rock, with "You Lie", "Waitin 'On My Ride", "Lesson Learned". Who composes in the band and how do you proceed to set up the songs?
Randall, Daniel and Carey wrote the songs on the 'Traveler' CD. The writer brings in the fundamentals and certain things they are looking for to be played on the song. The individual parts are composed by the musicians in the band. We come together and decide if and where twin leads or piano breaks, etc … should be placed. Then we start hammering it out until it's what everyone feels the song represents what we want it to present.

It's harder and harder to find guitars in harmonies or intertwined for the new bands that appear today, is it too difficult to play?
I do feel that many players today don't put as much work into refining their talent as players did years ago. Perhaps it's because there are so many distractions in society today (social media, interactive games, guitar player type of games). Perhaps since the style has been out of the mainstream music for so long that the players today don't think about working up the parts.
It was refreshing to hear the Allman-Betts Band bring back the twin leads. I feel having the harmonies and such show our audience how hard we work on our music and how serious we are about our craft.
What is your definition of Southern rock?
It's like the Delta Blues. You feel it in the music because of where you your roots are from. Southern Rock is a style of music that isn't as much about the arrangement as much as the feel that the listener gets from listening. It's not a technical sound, it's a feeling that you can identify with and sing along without even knowing if the band is from the south. You can just feel it in the music.

Apparently, Southern rock has remained popular in the Southern states. Do you agree ?
I do agree.
The mainstream radio today pretty much tells us what we can listen to. You won't hear Southern Music around here on the radio. Blackberry Smoke and Allman-Betts aren't mainstream radio but you can bet the fans are seeking them out, playing their music and listening. There are play-lists on the streaming music services that are full of both old and new Southern Rock music. Southern Rock has a huge fan base.
I look for enterprising radio program directors to start playing southern rock and bring back the radio listeners. New Southern Rock bands need to be available to the public on FM radio.

Do you think that Southern rock will become popular internationally again as in the seventies or even the eighties?
I think the players today will have to step up their game and take the southern sound to the next level of playing and writing. While you can be influenced by their style of writing or playing, you can't copy Dickey Betts or Allen Collins. You have to step up to have a fresh and new sound. Come up with something that brings in the new fans and makes the older fans happy as well..
Will we have the chance to see the Silver Travis Band in France one day?

I sure hope that Silver Travis can tour in France. We have a huge following in France and Germany. The guys in the band are in a position where we could travel extensively and we would love to make that happen. Perhaps a European tour.

What future do you see for your band? The recording of a DVD?
We're ready to start writing our next CD in the Spring. Randall already has a smoking southern rocker ready to go but I can't say anything else about it yet. Each year we work on upscaling our gigs. This past year we worked more on exposure and selling CD's. This next year we hope to get back to opening more shows and play more larger festivals. We are planning on a digital only release of a live CD, going back to pull songs from all of our albums and having some fun with that. Perhaps a DVD would be fun as well. There's a local video grapher that films us live and makes videos for us. His name is Kerwad. Please check out his videos of us on Youtube.

Last and traditional question here, if you should stay on a desert island, what are the five records you would bring with you?
My five Southern Rock albums would be:
Charlie Daniels – Saddle Tramp
Allman Brothers – Live at Filmore East
Marshall Tucker Band – A New Life
Gov't Mule – Dose
Elvin Bishop – Raisin' Hell

Copyright © 2013 Road to Jacksonville
Webmaster : Patrice GROS
Tous droits reservés.
Design par Zion pour Kitgrafik.com