Interview Britt TURNER May 2021.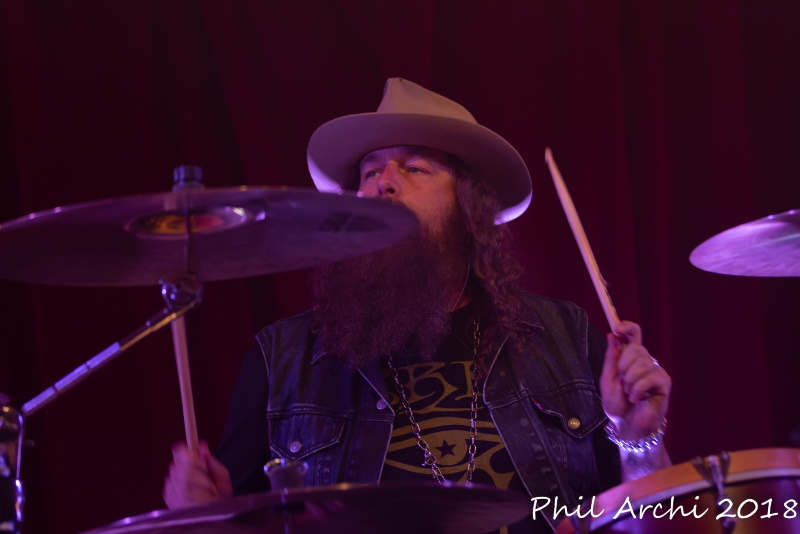 RTJ: Hello BRITT, thank you for giving us this interview for Road to Jacksonville webzine dedicated to southern rock, First, I'd like to come back to your start, can you remain us where you come from ?
Britt: I Grew up in Smyrna, Georgia.
RTJ : Was your family a musical one ? Who where the main artists you listened to ?
Britt: My dad played clarinet and saxophone. My grandmother played the piano and of course my brother Richard played the bass. My mother loved Elvis, Elton John, The Beatles and Willie Nelson. My dad was into big band music Bennie Goodman, Duke Ellington and so on. I really took a liking to Elton , The Rolling Stones and the Beatles early. Once I got a drum set I was listening to AC/DC, Judas Priest, Iron Maiden, Ratt, Van Halen. Local radio stations introduced me to Lynyrd Skynyrd, Molly Hatchet, Blackfoot, Atlanta Rhythm Section, Mothers Finest, Marshall Tucker Band and The Allman Brothers Band. Those were exciting times on the radio in the south.
RTJ : Which instrument do you begin to play ? And which tunes ?
Britt: Drums were my first instrument and AC/DC's Highway to Hell didn't leave my tape deck for a year.
RTJ : How did you start to play in a band, was it in the high school ?
Britt: In high school a bunch of us would pile our gear into whoever's parent's basement that would allow it. We would stay down there playing Judas Priest, Def Leppard , Ratt and Van Halen as long as we could.
RTJ : For our readers, can you remain us how BLACKBERRY SMOKE was set up and introduce us to the members of the group who are accompanying you?
Britt: Blackberry Smoke was born out of a band that Richard , Charlie and myself were playing in called Buffalo Nickel. We decided to start a different band and have Charlie not only play guitar but sing. Our next task was to find a second guitar player that could sing high harmonies We happened upon Paul Jackson. Charlie knew him from the club scene in Lagrange Georgia. We went into the studio pretty quickly to start recording. So it was Charlie Starr on vocals and guitar, Paul Jackson on Guitar and backing vocals, Richard Turner on Bass and myself (Brit Turner) on Drums. After years of touring and recording, we have enlisted Benji Shanks as a third guitar player along with Preston Holcomb on percussion (Nothing on Brandon Still, who is on keyboards since 2009, Editor's note.). This has really helped us to be able to duplicate our recordings to the stage. On occasion when we are very lucky we have the opportunity to share the stage with the beautiful and talented twins the Murphy sisters otherwise known as the Black Bettys.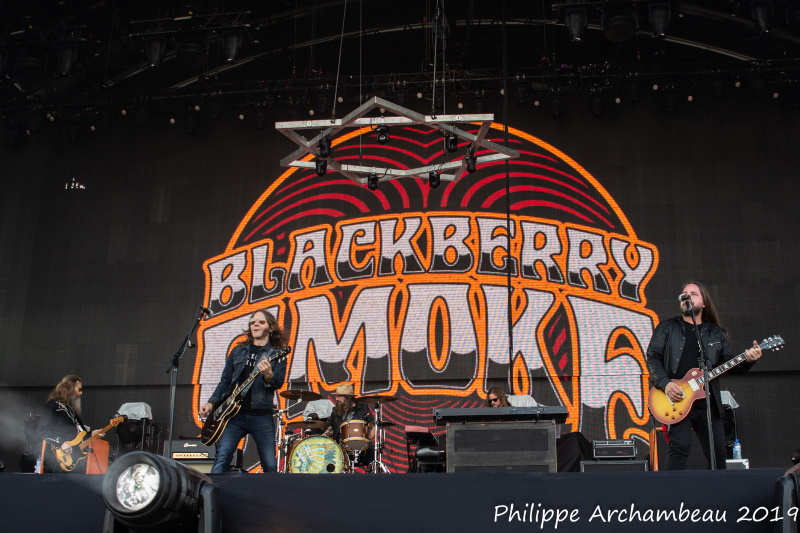 RTJ: Can you tell us more about your new record coming out at the end of May "You Hear Georgia"? How and where was it recorded?
Britt: We recorded live at the historic RCA studio A in Nashville Tennessee with Dave Cobb producing.
RTJ: What is the title "You Hear Georgia", which gives its name to the album, about?
Britt: It is about possibly being misunderstood or assumed to be a certain way because of your accent.
RTJ: Can you tell us what is your favorite track on this new album? And why?
Britt: I don't have a favorite track on the record. I feel strongly about them all. That's like asking which one of my kids I like better.
RTJ : Blackberry Smoke tour regularly in Europe, do you think the band is more popular here than in the US today?
Britt: I think it's about even all over. We look forward to coming back to the UK and Europe as soon as possible.
RTJ : Is there a difference between the European audience and the American one ?
Britt: I would say certain audiences are more passionate than others but we always gauge an audiences appreciation by whether they ask for their money back or not.
RTJ: Do you think you will be able to come back to Europe to play for your fans?
Britt: I think we will be back as soon as possible. Hopefully before the end of the year.
RTJ : Last and traditional question, if you have to stay on a desert island, what are the five records that you would take with you ?
Britt:
- Rolling Stones - Exile on Main Street
- OutKast - Stankonia
- Elton John - Captain Fantastic
- Bob Marley - Legend
- AC/DC - Highway to Hell
Copyright © 2013 Road to Jacksonville
Webmaster : Patrice GROS
Tous droits reservés.
Design par Zion pour Kitgrafik.com