Copyright © 2007 Road to Jacksonville
Webmaster : Patrice GROS
Tous droits reservés.
Design par Zion pour Kitgrafik.com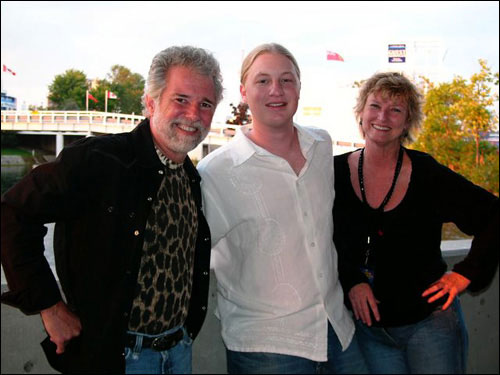 Chuck Leavell's interview
By Philippe Archambeau and Y. Philippot-Degand. November 2008.
Philippe...here ya go!

RTJ: Chuck, can you tell us where you're from?

I was born in Birmingham, Alabama. My family moved around a bit...to Montgomery, back to Birmingham...and eventually to Tuscaloosa, where we settled when I was about 10. I lived there until 1969, when I moved to Macon, Georgia where Capricorn Records was established.

RTJ: Can you tell us about your musical first steps? What were your first influences ?
Well, the first and probably most important influence was my mother. She played the piano. She was not a professional or a teacher... but she simply played for family enjoyment. I was the "baby"... the youngest of three children. So, when I was very young... about 5 or 6... often times it was just myself and my mother in the house. My dad would be out working, and my older brother and sister in school. I used to tug on my mother's skirt and ask her to play me something on the piano. She would sit down and entertain me... and I just loved it. I was fascinated watching her hands going up and down the keyboard... and loved hearing the melodies, the harmonies and rhythms. She would encourage me to play... and taught me a few little things. Sometimes she would leave me there on my own to experiment. She also did something very interesting... she would ask me things like..." ...Chuck, what would it sound like if you were really mad at somebody?"... and I'd bang around and make some "mad" sounds. Or she might say..." ...what would it sound like if you woke up and felt really good and happy?"... or, ..."...what would it sound like if there was a storm outside?". That kind of training made me think of music in terms of painting pictures... not just notes. I've always tried to remember that in my playing. Later on, when I started listening to other piano players... artists like Ray Charles, Billy Preston, Elton John, Nickey Hopkins, Leon Russell became of interest to me. Also... Pinetop Perkins, Memphis Slim, Otis Spann, Amos Milborn and more came into play.

RTJ: How did you choose the piano ?

Again, it was really my mom. I also played guitar in my first band, the Misfitz. I had learned to play from a cousin of mine. We first started playing folk songs... then graduated to rock 'n roll.
I also played tuba in Junior High School, and that helped me gain an understanding of ensemble playing. But the piano kept coming back into the picture from me, and eventually I made it my main instrument.

RTJ: When you joined the Allman Brothers, you took Duane Allman's place. How did it unfold, while you didn't play the same instrument ?

Well, I wouldn't say that I replaced Duane. It was an interesting move by the band, and an unplanned and unexpected move. The way it happened was that I had been with a couple of artists that had been opening up gigs with the Allmans... .Alex Taylor and Dr. John. So the guys in the Allmans had heard me with those artists, and I had listened quite a lot to their music... and really loved it. After Duane died, the band went out without any replacement... with only Dickey playing guitar. It was a really emotional and "gutsy" thing to do. But when they came off of that tour, they needed a break. Gregg decided to do his first solo album, and I was called in to play on that (Laid Back). During those sessions, sometimes the other members of the ABB would come down and we'd have these jam sessions. It started sounding pretty interesting to all of us, and was feeling really good. About three weeks or so after that was happening, I got a call from Phil Walden, the band's manager and the owner of Capricorn Records... he asked me to come into a meeting. When I walked in, all the Allman Bros. Band was there. We chatted a bit... then the question was popped... "would you be interested in joining the band?" Of course, we know what the answer was! I had just turned 20 years old, and it was a huge step for me.

RTJ: Are you as much influenced by the jazz than you were when you joined Sea Level ?

I started listening to jazz music because of Jaimoe, one of the drummers in the ABB. He would call me up and invite me to his house, and he'd be playing all these great records by Coltrane, Cannonball Adderley, Miles Davis and others. Then we'd jam and play some things that were sort of in that direction. I owe a lot to Jaimoe for his influence on me, and for introducing me to so many great players. He was like a teacher, a mentor.

RTJ: Sea Level was a kind of superband with musicians as known as Lamar Williams, Jimmy Nalls, Jaimoe ou Randall Bramblett, how did you get along ?

It was a wonderful time for us. We were exploring... trying new things, experimenting.
It didn't always work... but we were pushing ourselves to learn and to try different directions.
We were all like brothers... and those of us that are still around are still like brothers, I believe.

RTJ: Can you tell us more about your collaboration with Eric Clapton ?
What has it brought to you ?

I got the gig with Eric because of the Stones. He was a special guest artist on several shows back in 1989 when we did the Steel Wheels tour. Lucky for me, they set him up on my side of the stage, right next to my position. We did "Little Red Rooster", a slow blues tune... and of course he just blew everyone away, including me. But we had some "musical conversation" between us... with me answering back some of his fine blues licks. It was a great experience for all. When I got home from the tour, there was a message on my answering machine from him, asking me if I would be interested in playing some shows at the Royal Albert Hall. Of course we know the answer to that! That turned into the "24 Nights" CD, and I worked with Eric for a couple of years. One of the most memorable gigs was the "Unplugged" CD, which I believe is still his best selling recording. It was truly special...

RTJ: You played with Warren Haynes and Gov't Mule, how did it unfold ?

I've known Warren for a long, long time. I produced and played on his first solo record, "Tales of Ordinary Madness". After that, he got the gig with the Allman Brothers Band... and eventually started Gov't Mule. We stayed in touch during all of that, and I sat in with the Mule on several occasions... and when Allen Woody (original bass player with the Mule) died, Warren did "The Deep End" project, in which he invited a number of talented bass players to play on the recording. I worked on that CD, and when it was done, Warren called me to ask if I would go out on tour with them. I accepted the invitation, and we were on the road together for several months, until I had to go back to work with the Stones. They eventually got Danny Lewis to play keyboards...
a very good player, and he's still with them.

RTJ: Can you tell us more about your Live album recording in Germany ? How did you find the german musicians? Did you know them before ?

"Live In Germany: The Green Leaves and Blue Notes Tour 2007" was a great experience for me.
I have lots of friends over there through my work in forestry and environmental issues. For several years, we had discussed the possibility of me doing a tour that would not only be about playing music, but also include some public relations work for the environment. But we had scheduling problems, and it wasn't until last year that we were able to sort it out. It was originally going to be just me... a true solo tour. Some of the dates did indeed turn out that way, but some of the promoters wanted me with a band. So my friend and one of the sax players with the Stones, Tim Ries, had some contacts for German musicians and shared them with me. I called Paul Hochstadter, a drummer that Tim had suggested. Paul was great... and he helped me put the band together. I sent them mp3 files over the Internet so they could learn the tunes... and we had one rehearsal before the first show. They really did their homework, and it all worked out. One of the shows was for a live radio broadcast for HR1 radio out of Frankfurt. Lucky for me, it was recorded on multi-track and it turned out so well that I acquired the rights to it, re-mixed it and put it out.

RTJ: Jessica is really magnificent, do you regret sometimes to have left The Allman Brothers ? Can you remind us of your contribution to that title ?

No, no regrets. If I had stayed with the Allmans, I would never have had Sea Level... never had played with the Stones, Clapton, Harrison, and likely would not have my solo career. So as much as I loved the Allmans, it worked out much better for me to take those other paths. Jessica was indeed a magical song... and I think a magical recording for all of us. It was a great vehicle for my piano solo, and I'm happy to say it seems to have stood the test of time.

RTJ: You make a quite punchy cover of "Here Comes The Sun". Is it your way to pay tribute to George Harrison, a way to remind us that you played with him, or just to have fun playing a song that you like ?

Yes, it is certainly a tribute to George... and like so many other people, I just love the song.
I think it represents George's philosophy of life. It's a very positive and uplifting song, and that's the way he was. It was such an honor to play with him... and he was and still is a huge influence on me and my playing.

RTJ: Did you meet the Beatles ? If you did, which one and on which occasions ?
Did they influence you ?

I never met John, unfortunately. I have met the others and of course played with George. I can't say that I really know Paul or Ringo, just have met them and shook their hands... and of course thanked them for the music. Of course they influenced me... in a huge way. I loved the Beatles and learned just about every song they ever recorded when I was in my early bands. Still love the music, still listen to it and it still blows my mind. RTJ: Can you tell us how unfold your integration in the Rolling Stones ?

It was Bill Graham that suggested they try me. Bill was a huge promoter of rock 'n roll. He ran the Filmore East and Filmore West venues... and promoted lots of shows all over America... as well as managing some artists like Carlos Santana. We became friends during me Allman years. In 1981 he became Tour Director for the Stones... meaning he pretty much ran the tour. He suggested they try me out, and I went up for an audition in '81 when they were rehearsing. The audition went really well, and we all became friends. I didn't get the gig immediately...
Ian McLagan held the position for the US tour. But they called me for the '82 tour in Europe,
and that's when I took over, and I've held the spot ever since.

RTJ: We often emphasize your contribution on keyboards, but, in particular with the Stones, you have an important role in backing vocals, and you didn't need anyone to sing on the live album in Germany since you make yourself perfectly the job. Can you talk about this often unsung aspect of your skills ?

Well, thanks for the compliment! The truth is that I've always wound up in bands that had singers much better than me! And I don't think I have a great voice... especially compared to all the great singers I've been fortunate to have worked with. But I do enjoy singing, and while I've never really developed my voice like others have, I do get to use it now and then. I love singing harmony with the Stones, and had the role of singing counterpart to Clapton on songs like
"White Room". I do think that I've improved as a vocalist in recent times. Maturity helps, I think.

RTJ: What are today your next musical projects ?

I've been doing some shows here in the States... both totally solo and some with the Randall Bramblett Band backing me up. Randall was in Sea Level, and we remain very good friends. He's continued his solo career and has made some excellent CDs in recent years. As far as my next recording... it will be a tribute to blues piano. I want do help make people aware of some of those wonderful pioneers of blues piano like Little Brother Montgomery, Otis Spann, Leroy Carr, Cow Cow Davenport. It may turn out to be more than one CD, but I'm not sure yet.

RTJ: Do you think that you could play in Europe in 2009 ?

It could happen... but things are sort of uncertain right now. The Stones may want to crank up again... I don't know that for sure, but I just sort of feel like that may happen. I'd like to come back to Europe and play more dates... we'll just have to see how the cards fall.
RTJ: There's today in U.S.A. a kind of rebirth of southern rock, encouraged by Lynyrd Skynyrd, Allman Brothers Band and Gov't Mule's success, with bands like Laidlaw, Rebel Train, The Rebel Pride Band, Derek Trucks Band, Ghost Riders, Liquid Groove Mojo, etc...
Do you know those new bands ?

Sure... and I think it's great that they are carrying on the tradition. It seems like southern rock sort of disappeared for a while... but with those bands it's re-surfacing, and I think
it's a good thing.

RTJ: What are the european bands closed from southern rock that you've heard of ?

There is a band called Blues Blend that has a little tinge of southern rock in them. They are from Germany. I have to say that I'm not really aware of any others.

RTJ: Today, the ecological ideas are very fashionable, with the "low energy" houses, and soon the first electrical cars that don't discharge exhaust fumes, or those that run on hydrogen, that discharge only steam, and a lot of ecological stuffs. Are those ideas close to yours ?

I am very involved in environmental issues. I have a new website venture that I'm really excited about... it's called The Mother Nature Network, or MNN.com. Our goal is to be the worlds number one site for good, accurate and easy to understand information about the environment. We have a fantastic team, and we've been building the site for about 8 months now. Our offices are in Atlanta... and I've been spending some time there working on it. I'm one of the founders, and I'll have two video programs on the site. One is called "Love Of The Land" and the other is called "The Green Room". We will launch the site in January of '09... so be looking for it!

RTJ: You released a book, « Forever Green », in 2002, can you tell us more about it ?

The whole title is "Forever Green: The History and Hope of the American Forest". I wanted to get the public to understand the value of the resource of wood and of our forests... and to tell the story of how America has depended on our forests since our beginning. It's done quite well for me, and it's now been translated into German and released there and in Austria. RTJ: In the same time, you created a plantation Charlane, on a land inherited by your wife. Can you tell us more about this occupation very different from the music ?

People can learn more about us at charlane.com, or from my website, chuckleavell.com .
Our main purpose is managing our own family forest... but there is more to it than that. It's also about all the things that live in the forest. The wildlife, the bio-diversity. We are also involved in education efforts in these issues. I sponsor a scholarship at the University of Georgia... and give speeches about forestry and the environment quite often. I love working in the woods and being outdoors. It's who I am.

RTJ: What do you think about the current stands of your country on the Earth's ecological problems, en especially on the very criticized points, like the disdain of the Kyoto protocol, the CO2 discharges and the water management ?

Let's just say that with the new Administration coming in here in the States, I am much encouraged. Over the past 25 years I've been involved with things like forest and environmental policy both in my home state of Georgia and up Washington, DC. As we all know, the Bush administration has not exactly been "eco-friendly". Obama will no doubt make environmental issues a priority, and I think we'll be seeing major changes... I know we all look forward to that!

RTJ: Can you talk to us about the boxed set you released in limited edition?
What does it contain ?

It's called Forever Green/Forever Blue. I wrote the Forever Green book at the same time I was recording my solo piano CD, Forever Blue... so I decided to combine them in a special package and put in some other little fun additions, like a watercolor painting that my wife, Rose Lane, did, and a special photo booklet about Charlane Plantation. I also put in a package of tree seeds. It was a fun project, and there are not many of them left as it was a limited package.

RTJ: All the interviews for RTJ finish with that kind of question : if you had to finish your life on a desert island, what could be the five CDs that you would take with you ?

Aw man... I hate that question! It would be so hard for me to decide...
and if you asked me that tomorrow, it may change a bit... but ok, here goes:
Ray Charles: Boxed Set
Keith Jarrett: The Köln Concerts
Albert Ammons/Meade Lux Lewis: The First Day
The Rolling Stones: Exile on Main Street
The Beatles: The White Album
Chuck Leavell
Charlane Plantation and Evergreen Arts
665 Charlane Dr.
Bullard Community
Dry Branch, Ga. 31020
Phone: (478) 9453939 Fax: (478) 9456566
http://www.chuckleavell.com
http://www.charlane.com