Copyright © 2007 Road to Jacksonville
Webmaster : Patrice GROS
Tous droits reservés.
Design par Zion pour Kitgrafik.com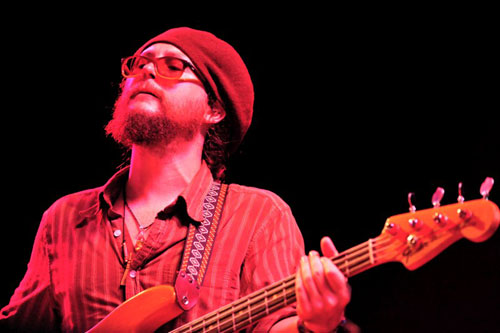 PEDRO AREVALO'S Interview
By P. Archambeau & Y. Philippot-Degand. November 2008.
RTJ: Hello Pedro. First, we'd like to thank you for answering our questions for
"Road to Jacksonville".
RTJ: Pedro, can you tell us where you come from ?

Pedro Arevalo: I grew up in the midwest of the United States, in the city of Cincinnati, Ohio. At age 20, I moved to Boston, Massachusetts to attend Berklee College of Music. By 24, I started traveling internationally with various latin and african groups. For the last 8 years, I have been in South Florida at my island home (Siesta Key, Florida) when not touring.
RTJ: Can you tell us about your musical first steps? What were you first influences ? Your first instrument ?

Pedro Arevalo: As a child, my family lived in a log cabin in the middle of nowhere outside Cincinnati. From my earliest memories I was surrounded by hippies with guitars and various other instruments. In my youngest years, I vividly remember my parents and all their friends playing music around campfires and on boats on the Ohio River. Although my father was certainly my first major influence (as he never seemed to put the guitar down), it was actually my mother who first taught me how to play on a toy electric organ. I must have been around six or seven years old when she started to teach to play Christmas songs. On my tenth birthday I received my first bass. As the house was already filled with guitars, from that day on I was pretty much always pickin' on something...
RTJ: How many instruments do you play? And which one do you prefer ?

Pedro Arevalo: That's a tough question, I suppose that I play half a dozen instruments fairly well and I'm still working on many others. I'm most proficient on : contrabass, electric bass, standard guitar, slide guitar, dobro, lap steel, and the puertorican cuatro. For me, the variety of playing many different instruments, say, through the course of the week, is the most rewarding part. I could not say that I favor any one instrument over another, as they are all just tools for different means of expression. Having the opportunity to work with broader pallet of colors is the most invigorating part of performing for me. RTJ: You are both on the bass with Dickey Betts and on guitar with Devon Allman. How do you make it ?

Pedro Arevalo: Scheduling is always the trickiest part. As long as that works out, I'm just fortunate to be working.

RTJ: Can you tell us what is your gear?

Pedro Arevalo: For bass with Dickey, I play a 1966 Fender Precision bass formerly owned by Allman brothers founding member Berry Oakley. This instrument was given to me a couple years ago by Dickey Betts on the condition that I play it. I also bring a 1973 Rickenbacker 4001 and a Fender "relic" 64' Jazz Bass for backup. As for the upright bass, I bring my mid-sixties Ampeg Baby Bass on the road and leave my 1964 "Gotz" german-carved double bass at home. For amplification,
I use an Ampeg SVT 300 watt tube head and 8x10 cabinet. I also bring along an Epifani combo and a David Dden head and cabs just in case.
For slide guitar, I use several "Telecasters" built by my step father, Mike Donoghue under his "Slidemo" brand. For guitar amplification, I have been bringin both a Fender Twin Reverb and a 4x10" Fender Hot Rod Deville on the road. However, in truth I prefer Fender Blues Juniors for smaller gigs and recording.
RTJ: With Dickey Betts, you have two drummers, what does it bring you more ?
Is it more easy or more difficult for the bassist?

Pedro Arevalo: Playing with two drummers, it is very liberating as a bassist, especially with Dickey's music which demands a very busy and melodic approach. With two drummers anchoring time I am able to take on a very different role as a bassist and participate in the harmonic structure of the music. More so than in a traditional rhythm section role.
RTJ: You came three times in Europe this year, in May and July with Dickey Betts,
and in September with Devon Allman. Does the audience react differently?

Pedro Arevalo: Every audience reacts differently. In the United States, crowds tend to be rowdy and boisterous. This is also true of my experience in many European nations although, certain countries seem to present a more reserved audience; sometimes even clapping in unison,
which is a strong contrast to the chaotic behavior that we're so familiar with.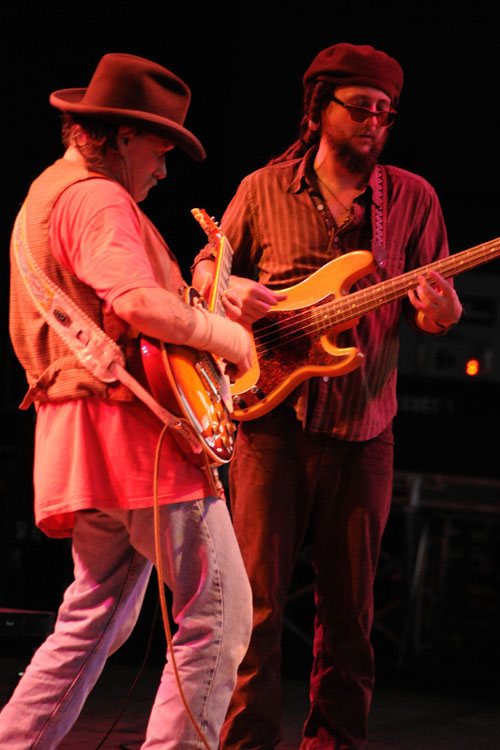 RTJ: What was your "hottest" show, the Barcelona one ?

Pedro Arevalo: Barcelona was fantastic! I love the city, I love the people, and it was a great honor to perform with Raimundo Amador and Javier Vargas. The Isle of Fehmarm Festival in northern Germany and the Pistoia Blues Festival in Italy, were also great highlights to this year's
european tours.

RTJ: What are today your next musical projects ?

Pedro Arevalo: I've just finished "Pedro Arevalo & Friends Too" with guests such as Dickey Betts and Great Southern, the Nitty Gritty Dirt Band's Jimmy Fadden, members of Devon Allman's Honeytribe, and many other friends and family. I hope to release this project before Christmas. We have already started recording tracks for my next album as well.
Dickey Betts & Great Southern are scheduled to release a live album from the 2008 tour and a DVD from our Rockpalast performance in Bonn, Germany. In addition, I am constantly working with other artists from South Florida on up-and-coming studio projects.

RTJ: In 2005, you said that you didn't listen to many of the new bands. But there's today in U.S.A. a kind of rebirth of southern rock, encouraged by Lynyrd Skynyrd, Allman Brothers Band and Gov't Mule's success, with bands like Laidlaw, Rebel Train, The Rebel Pride Band, Derek Trucks Band, Ghost Riders, Liquid Groove Mojo, etc..., followed in the world by Savoy Truffle in Japan, but the band doesn't exist anymore, or in Europe W.I.N.D., Voodoo Lake, Medicine Hat, Lizard, General Store, Natchez, Plug and Play, Truckers... Do you know those bands ?

Pedro Arevalo: Well, of course we played with W. I. N. D. at a couple stops over this past summers' tours, they were both talented musicians' and extremely gracious people. The Derek Trucks' Band is an ever-present influence on most young musicians in the world of Southern Rock and far beyond. I love Dereks' direction on his last couple of records and equally so the directions' of each of his band members' side-projects. This is an extraordinary group of musicians whom I'm always interested in checking out new material from, and delighted whenever I have a chance to work with. All this being said, I still spend the majority of my time listening to music that was recorded many years before I was born.

RTJ: All the interviews for RTJ finish with that kind of question : if you had to finish your life
on a desert island, what could be the five CDs that you would take with you ?

Pedro Arevalo: First of all, can't I just bring my ipod? I guess if I had to pick, a few records jump out right away: John Coltrane's "A love supreme", Pharoah Sanders' "Karma", and Willie Nelson's "Redheaded Stranger". Lately I can't get enough of Django and Stephan so, they would have to be very high on this list. It's impossible to continue this list without Bob Dylan, so I guess I'm torn between "Bringin' It All Back Home" and "Blood On The Tracks". I hope I can bring a guitar too, 'cause there are a lot of other songs that I would like to hear again before I die.
Thanks again,
Pedro