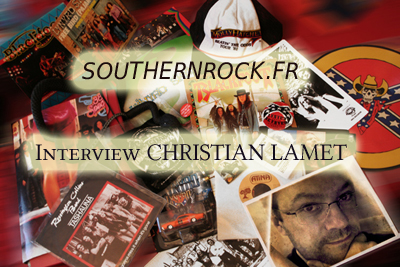 We thought this man was out of the business for a long time nom, but he's just back, still alive and well, and he has created a Web place that every Southern Rock die-hard fan will sure enjoy! This man is not a fresh one, because before his job in the Southern business, he was the boss of the French magazine 'Hard Force', very well known in France.
Today, Christian Lamet is not out of business and that's a good new, because this man has a lot of things to say!
RTJ : Hi Christian !
Christian Lamet : Hello John ! It's been a long time ! I know you for about 25 years now.
We can say thank you to Point Blank and its last show near Paris where we just met again !

RTJ : yeah ! What a good surprise to wee you again and to discover your Website about Southern Rock. Before we talk about it, I'd like that we talk about the job you did with your Rock magazine. Today many people on Road to Jacksonville don't know who Christian Lamet is and what he did in France in the eighties and the nineties. So, let's talk about this time!
Christian Lamet : I've already talked about this time when I created a fanzine that became a famous Rock magazine in France. To resume, with some members of my family, with some friends, I've created Hard Force in 1985. And in some years, this fanzine born in Fontainebleau near Paris in France, has become one of the most famous Hard Rock and Heavy Metal magazine in France.
It last about 15 years and stopped in the year 2000. We have had a real good time all together, with all the people we could met, the interviews, the concerts. These years were hard but really great. In the same time I've created a Rock magazine, Rock Spirits, I became the boss of the other Rock magazine Best, and I was on the official French Radio France Inter for two years between 1998 and 2000.

RTJ : With all those years, I can imagine you have has a lot of good and special moments in your memory. Can you tell us about these moments for RTJ ?
Christian Lamet : There are so many stories that I can't talk about every one ! We were in the music business 24 hours a day and 7 days a week for 15 years ! I'll just talk about Southern music, it you don't mind. Hard Force magazine has begun when Southern Rock was at his worst period. In the eighties, Skynyrd had disappeared, Capricorn label was out of duty, the Rossington Collins band and the Allen Collins band were already gone away. .38 Special, Blackfoot and Johnny Van Zant were looking at some commercial hits, Molly Hatchet and the Outlaws were still alive but didn't know how to survive, and the ARS and Point Blank were dying. So you understand that the times were really hard for the Southern Rock fans. So you understand that when I begin my job, not any of these bands were touring in France. For a long time I did all my interviews with the telephone, and I never met the musicians.
The first meeting I could have was with Rick Medlocke in 1987. Usually it was pleasant to meet such musicians, but it stayed very 'official'. We just used these interviews, the telephone interviews, the rare albums issues and some concerts to try to do our job.
I remember that Molly Hatchet, when they come in the Paris Elysée-Montmartre in 1990 that I could, for the first time, meet a real Southern band (just after the Georgia Satellites I met in London one year before). We were so happy to be able a band from Jacksonville that we were three of the redaction to meet them. So we could get three musicians, Danny Joe Brown, Riff West and Bruce Crump. I tried to get Danny's beautiful Molly Hatchet watch but he didn't want to give it to me.
My best interview was with Lynyrd Skynyrd in the nineties. We met at the Republique Holiday Inn, Emmanuel Potts and I, for an interview with Ed King and Leon Wilkeson. We were impatient to see them and we just waited in the Hotel hall. And some minutes later, Johnny Van Zant arrived and sat with us. We talked about everything, I remember he was so surprised he could buy some Coca Cola bottles in France ! The interview was unbelievable : Ed king had a fur hat and talked like a Russian guy. My friend Emmanuel gave him a Bourbon bottle, Leon and Ed drank it during the interview and we all drank the bottle during the interview. What a souvenir ! At the half of the interview I was unable to pronounce Lynyrd Skynyrd or whatever else ! Happily Emmanuel could continue the interview. The first show at the Elysée Montmartre was very moving for me : I couldn't see them on stage before the plane crash and I believe it was the real Lynyrd Skynyrd present on this tour, even if the famous dream team Medlocke/Hall/Rossington had more charisma than the association King/Hall/Rossington.
I could also meet Johnny Van Zant and later Gregg Allman, and I could make an interview of Bobby Ingram.
RTJ : I remember this special moment where you could be the guest to a private show of Lynyrd Skynyrd at the Paris radio France Inter in 1997. When I tell my friends you gave me an invitation and I couldn't be there, they think I'm mad ! Do you remember this special show ?
Christian Lamet : Exceptional ! This show was during the Laurent Lavigne show called 'Playlist'
at France Inter. I could meet the whole band in the hall of the radio building (Wilkeson and Powell were not there this day), and after we got the unplugged session. The musicians were close to me, and after we could get the artists autographs. And it was great !
When we left, Dale Krantz asked me where the Pont de l'Alma was, because she wanted to bring flowers where Lady Di died. She really wanted to do that but she didn't know where to get flowers. I ran and went to a flowers shop, and I came back with some roses. She just kissed me and I remember Rossington looking at me just at that moment ! I didn't want to know how tough was his fist but he soon realised why his wife was kissing me !
I also remember I could go to the United States in 1988 to meet Rossington the band for an interview, but I couldn't go there because of a busy schedule…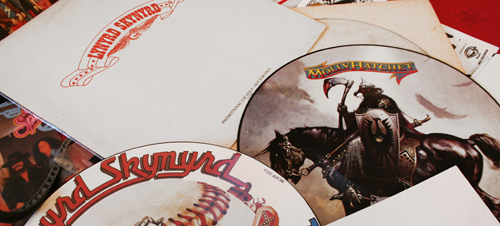 RTJ : What do you think about the musical French magazines today (Rock Hard, Hard n' Heavy, Crossroads, etc…). What do you think of these magazines and do you think they could last ?
Christian Lamet : I'm gonna be honest : it was hard for me to be obliged to stop my magazine, that's why I don't really enjoy to read the other ones. That's why I don't really read them. However Hard Force and Best were those I wanted to read. Even if these magazines are good, they are not as original and professional as we were in our magazines. That's not because I say they were better, but we were very professional ! The other magazines don't have the same spirit I think, and I think it's still the same today. I often read the English and American magazines and I also read many musical Webzines.
What do I think about the press future ? I know some journalists, I work on the Internet for eight years now, and I don't think that the actual press has a future. We are in the middle of a revolution and the musical magazines are involved. Maybe they can stay but I don't think they
will be on papers. Now, there is no musical press example on the Internet. How can we pay the journalists, the photographs ? For ten years, people never pay for anything, even the music.
That's why I don't think the paper press can have a future, and even Music itself.
RTJ : Back in time, I remember we first met at the beginning of the eighties (just before you created Hard Force). I sent an ad in a newspaper because I was looking for a bass player and a drummer, and you called me. You said you didn't play but you enjoyed like me Southern Music
and you wanted to meet me. We just met and I think you remember ! We enjoyed talking about Skynyrd, .38 Special, Molly Hatchet… and we shared some bootlegs recordings on tapes (with bad sounds !). We got the passion ! What do you think about this time and do you think we still can be such musical addicts today ?
Christian Lamet : I do remember these moments. I'm sad because at this moment I didn't dare to play with you, I was too shy. I tried to play in a band for four years and I couldn't find musicians that wanted to play such a musical style. When I was in school, in 1978-1979, Southern Rock didn't exist. I had a long hair, trying to look like Rossington or Collins. I wanted to get a Firebird Gibson, and I talked about records that nobody knew. When I arrived in the town of Tours to go to the college, I didn't want to play music anymore. I just collected bootlegs recordings, records, posters. I remember I wrote something about Southern Rock during a lesson at the college. After all those years, I knew I will never be a musician and I wanted to create Hard Force. I played some guitar with the French Peter Alexander Band. We just rehearse at my parents' home. Olivier Lucas sang and played the bass guitar, and I played the guitar with Valérie Lestienne and Patrick Garel I think. We didn't have any drummer. We had another guitar player too, but I don't remember his name. We played some Point Blank tunes, Skynyrd' Searching. We made some good covers. I remember we also played in a bikers meeting one evening.
About us, we really were die-hard fans, and I don't think we changed. We listened to bootleg tapes, we shared the tapes, we copied the musical papers. Such an attitude does exist today.
My children prefer Linkin' Park, but I don't know why we couldn't have the same passion today. I think that with the Internet, it's easier to be connected to the world and get contacts everywhere. When in 1980 I joined the Molly Hatchet fan club, I waited three months to get an answer and it was hard to get some merchandising. We deserved to be true fans… but we got real original gems !
RTJ : Let's always talk about Southern Rock ! You know the French fanzine "Band of Dixie" that is ten years old now, and our site 'Road to Jacksonville'. I think it ain't obvious, especially in France, to be able to gather some true fans, and to be a real support to old and forgotten bands.
Don't you think it's funny to get this in France and nowhere else in the world ?
Christian Lamet : As you said it, we are in France and our country is not the father land of Southern Rock ! Out of France I must admit that in Germany, they have great labels and fans
that support the bands.
Here we are very few to support our music and I don't think we can hope to be more. This musical style is not a 21st century commercial music. It's great that today, thirty years after Ronnie Van Zant death, a lot of fans remember his influence, it's great that Point Blank is supported by the French label Dixiefrog and come and play here, it's great that Blackfoot and Molly hatchet are still alive and create new records ! Seventies are gone away, we still hang up to the golden age of music, but I'm afraid it will die with us. I don't think people do listen to Southern music in thirty years. Last week, on a French radio, Jean Giraud the famous comics writer, told that it's incredible to believe that in France the Western era is still alive. It's the only country where this period is still alive. So maybe French people can save the Cowboys in the comics, and Southern music, maybe it's our goal and our cultural exception !
RTJ : When you were young what were your favourite bands you could see on stage ?
Christian Lamet : I enjoyed this music when I was very young. My father listened to Jimmy Hendrix, Led Zeppelin, Alvin Lee, Cream, the Yardbirds, but I do remember the first time I listened , on the radio, to 'Free Bird' and 'Searching'. Freebird solo is the right moment where I have understood ! It was in 1975, I was 9 years old. I never could see the band on stage, it didn't come after the Olympia and Pleyel shows. It was horrible when I heard about the plane crash. I remember a newspaper with Leon Wilkeson photograph, and the title 'No More gas !'. Somebody gave me 'Street Survivors' and the flames on the cover shocked me for years. I knew I missed something very important. In 1978, 'Skynyrd' First… and Last' seemed to be the end of an era.
I didn't bear that album for a long time, even if I enjoy 'Wino', 'Comin' Home' and 'Lend a Helpin' Band'. Happily this same year Molly Hatchet appeared with a great first album. The band came for a show at the Empire theatre in Paris, September 1979 the 7th, and I was there. I could bring a big recording machine, nobody saw it because I was very young and little, nobody cared about me. But the tape broke during the beginning of the show ! However I joined my father and my brother at the first row, just in front of Dave Hlubek on 'Boogie No More'. We can watch the tapes of the show. I must check if I'm on.
After that show, I was lucky enough to see Molly Hatchet again at the Lorelei Festival in Germany, August 1980 the 24th, with Pat Travers, Ted Nugent, Ian Gillan, Johnny Winter, Saxon. Jimmy Farrar sang ; he's not my favourite singer but the show was great and the audience incredible ! Then we got a festival at Annecy in 1981, August the 17 ; Blackfoot should have been there, but they couldn't get their stuff so they didn't play ! .38 Special opened the festival, what a great moment ! next year, we all waited for the Rossington Collins Band, but they cancelled their European tour. Happily I could see Iron Maiden with Blackfoot as support guest in Paris. Extraordinary ! Blackfoot was better than Maiden, high energy show like on 'Highway Song Live'. Iron maiden was great, but Blackfoot was better ! I wanted to record the show but my
tape-recorder was out of duty the night where it was aired on the radio !
RTJ : So, let's talk about your new Website 'southernrock.fr'. Why did you create such
a site on the Internet ? Just tell us, we want to know !
Christian Lamet : I didn't do it on a two second decision, I thought about it for a long time.
In 1993, with the arrival of Internet at our magazine, it was a shock ! We made the first Internet page in France on our magazine, and sometimes it was hard to discover new sites, it was the real beginning. When our magazines stopped, five years alter, I tried to create harforce.com, but it didn't work because I had no money for it and the journalists couldn't work for nothing !
I was disappointed because it was too early and I was tired to talk to the music companies about the future of Internet. I remember one of those music big boss telling me that Internet sure have no future and won't be used for the bands promotion or diffusion… I don't know where this man works today, but I sure will be happy to talk with him now about the Web musical market.
In the same time, I worked for a Parisian post- production company named Highway Television and, since 2000, I am in the production business : documentaries, historical DVDs, events.
I use my press experiment, especially when I write, but it's far away from the musical area.
For 30 years, I collect everything I could find about Southern music, and I've organised all these documents, I've bought many records too, and I know a lot of people like you now, so that why I've thought that I had to create this website. I want to say that everyday I add some stuff on the site, on my free hours, it means often very late. Southernrock.fr must be a very large documentary base about Southern Rock, with press articles, photographs, covers, rare stuff. It is a big challenge and it's a real no-ending job ! I've seen what was missing on the Internet. What you do on Road To Jacksonville, with other French, European, American Websites, is really unbelievable and great to inform, to write chronicles, to make some interviews and to gather people. I don't want to do the same job as you. But, with all I have, every element, I can't find it today on the Internet, and I want to gather everything about our music in a virtual but permanent place. I also want to say that Southern Music I enjoy is not, in the spirit and in the production, close to what I can hear today. I must admit I prefer the original creators more than all the cover bands, and the old and original groups will have the priority. But it doesn't mean I'll forget the new bands, and they sure will be present later with the older ones. I have so much work with the seventies that I have to make choice to do the best job as possible.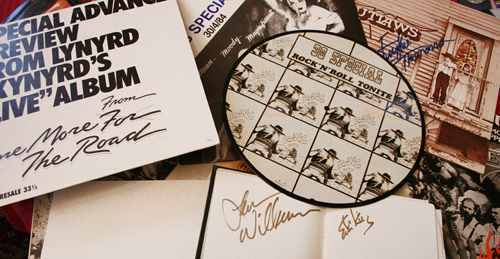 RTJ : Did you talk about your site, and give the address, to the other medias ?
Christian Lamet : I'm not especially afraid, but I wanted to wait that my site becomes bigger before I begin to talk about it. Some friends, some friend sites and some true fans know it.
So I can't stay hidden on the Internet. My site is better known everyday on Google, and I know that people come and visit it from everywhere in the world (recently Indonesia, Argentina, Japan, joined all the European countries and Canada and the United States). I believe I can now talk about it because it appears beautiful to me. I'd enjoy being able to make some exchanges,
get in touch with fans from everywhere. Don't hesitate to write me.
RTJ : What kind of Southern Rock do you listen today T Do you enjoy the new bands that try to keep the flame (Rebel pride, Tishamingo, Liquid Groove Mojo, etc..) ?
Christian Lamet : Maybe I won't keep all my friends, but I am very precise on what I prefer with Southern Music. I enjoyed the spirit, the sound, the visual universe, the feeling of the first bands so much, that I only have to listen to their records to be happy. I've learned that the clones were not indispensable and I do prefer new bands in a new wave than just cover bands. I understood that the old bands couldn't stay longer when I heard songs on records such as 'Vertical Smiles', 'Love Your Man', 'On A Roll', 'Truth In A Structured Form' or songs on 'Los Hombres Malo'.
And I don't talk about .38 Special which is very close to the American radio music. I am not happy with what are doing Lynyrd Skynyrd musicians today. They are not Paul Anka ! They should better stay along the Mississippi or in the Everglades. I'm not as violent as some American Websites about today's Lynyrd Skynyrd, but they look more and more pathetic to me. Some are ill, some are gone, always the fights, it's a non-sense at the end. There are quite not any of the original members. I think that Rick Medlocke should better go back in Blackfoot, that's were the energy is ! Are there new bands ? Sure there is, and it deserves to be better known. About fifteen years ago, I was confident about Raging Slab, Black Crowes. I was confident about Zakk Wylde too. But they all deceived me. I listened to what did Rebel Pride, that was close to Molly Hatchet I think, but they suffered of a lack of production. Tishamingo, from Georgia, is a very interesting band, with their keyboards and melodies. Their album 'The Point' is excellent. I always try to discover new sounds and bands : I recently listened to Laidlaw 'First Big Picnic' and Foghat 'Rock and Roll Outlaws'. I also listened to some Paul Kossoff and Atlanta Rhythm Section big hits, because
Barry Bailey is one of my favourite guitarists. In the new bands, I do enjoy Alter Bridge, with a great guitar production work, the new Joe Bonamassa and I really enjoy Foo Fighters 'Echoes, Silence, Patience and Grace'.
RTJ : And what do you think about Point Blank return ?
Christian Lamet : A big shot ! I never saw them live before, and the show at Marne-la-Vallée,
near Disneyland, was incredible because we were very close to the musicians. I was on the right side of the stage and I could see you close to me. We all were happy ! It sure will be a great souvenir and one of the best shows I could see this year. It was clear and very technical too.
RTJ : Will your Website stay an information site or could it have an influence
on today's Southern Rock ?
Christian Lamet : It's a very good question. I think that if it becomes an important information centre it will be an major step. I am not sure we could finish all we want to do before next year, because I'm a Webmaster, and I'm also a journalist, and I do everything on the site. If it becomes a main actor of the music scene, I sure will be happy, but I have a lot of work, an important family life, and I spend my free time on it when I can. I want to be an actor of this history in helping websites like Road To Jacksonville that are very close to the musical actuality. I can help for sure, but I'll do it in my way, not in the traditional way. I wanted to make a coordination between all the French Medias and Websites.
RTJ : So, let's go for the last and traditional question that every reader enjoy : if you have to finish your life on a desert island, what will be the five albums you take with you ?
Christian Lamet : I only do my choice in Southern Rock, I'll go on another island for Rock Music, another one for Hard rock music, another one for the Jazz, one for the Blues… or it's impossible ! Thin Lizzy with Philip Lynott, is an unforgettable band, and I enjoy Steve Lukather and Michael Landau way of playing. I do appreciate Robben Ford, Mike Stern, I enjoy some electro-jazz records and I listen to all kind of records I can find.
So, if I have to go in an island close to Florida, I take with me
1.I'm cheating, because I take 'The definitive Collection Box-Set' of Lynyrd Skynyrd. I can't make
a choice between 'Second Helping', 'Street Survivors', 'Pronounced' and 'Gimme back My Bullets'. With the box, I have no choice to do.
2.Molly Hatchet 'Flirtin' With Disaster' (but I do enjoy their first album too!)
3..38 Special 'Special Delivery' (and I enjoy their first album and 'Wild-Eyed Southern Boys' too!)
4.Point Blank 'Point Blank'
5.Blackfoot 'Tomcattin'
And I have to leave thousands of records at home (ARS 'Are you ready ?', 'Underdog', 'Quinella', Rossington Collins Band 'Anytime, Anyplace Anywhere', the Outlaws 'The Outlaws', 'Bring it back Alive', 'Playin' to Win', 'In the Eye of the Storm', many songs of the Allman, Blackfoot six first albums, some Johnny Van Zant songs at his beginning, some Stillwater, Molly Hatchet with
Danny Joe Brown, .38 Special until 'Tour de Force', and Raging Slab first album).
At the end, on a desert island, I sure need a iPod full of mp3 !
RTJ : Thank you Christian and long live southernrock.fr !
Christian Lamet : Thank you John and thank you to all the fans that work or just come on Road To Jacksonville. See you soon on my website !