Copyright © 2007 Road to Jacksonville
Webmaster : Patrice GROS
Tous droits reservés.
Design par Zion pour Kitgrafik.com
Interview Mike Gage
for www.roadtojacksonville.com Juillet 2008. By John Molet.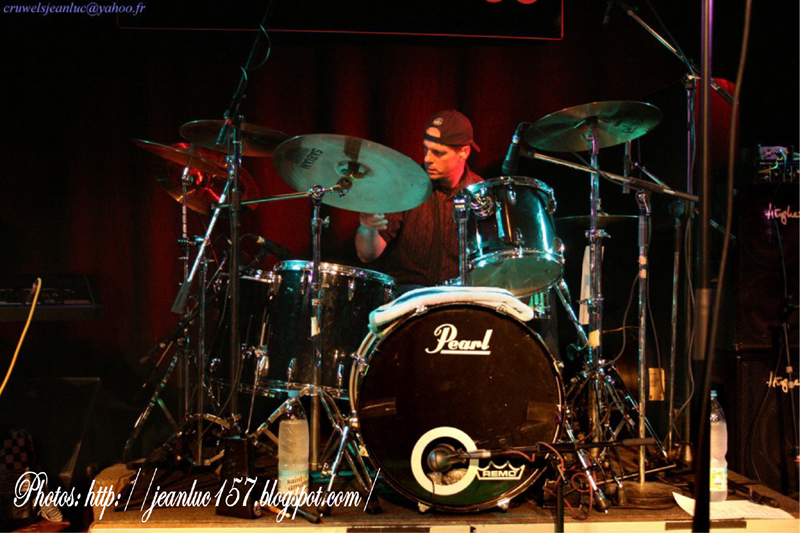 RTJ: Hi Mike
We had the pleasure to meet and to appreciate you when Point Blank came in France last month, that's why we wish to ask you some questions for the many fans touring the site Road To Jacksonville !
Thanks
JOHN ( Rock n Roll Soldier in France )

First, before talking about Point Blank, can you globally tell us about your musician's career?

Mike Gage : I started playing drums at age 7, formed my first band at age 10. Played on my first record by 21 and have had a lengthy career as a session drummer with multi-platinum album credits under my belt. I played in various bands in Texas including a 6 year stint with blues guitarist Bugs Henderson and lived in New York for a while playing with one of Steve Winwood's former guitar players. I have also been a recording engineer/producer for the last 25 years and have my own private recording studio.
RTJ: What are your musical influences?

Mike Gage : I have been influenced by nearly everything I have ever listened to, but I will narrow it down to some of the influences on my drumming---John Bonham, Phil Ehart, Don Brewer, Tony Williams, Mike Baird, Jeff Porcaro and many others including Texas drummer Ron Thompson.
RTJ: How did you meet Point Blank?

Mike Gage : I have played with all of the current and former members in different bands over the years—I have played with John O'Daniel in the Statoblasters off and on since 1986—With
Rusty Burns in a band called Ouch in the early 90's---With Kim Davis in the Electrics in the late 80's and the rest of the guys in various bands and gigs. The only guys I haven't played with before joining Point Blank are Phillip Petty and Buzzy Gruen (since Buzzy and I both are drummers).

RTJ: Did you know the band before meeting its members?

Mike Gage : I have been a fan since the first album. A girl I used to know worked in a record store and she turned me on to the band.
RTJ: You probably know that during the seventies, the band played more than 300 shows a year, do you know well its story?
Mike Gage : Yeah, unfortunately I never got the opportunity to see them live.
RTJ: What is the general feeling for a young musician like you to play with experienced
musicians like them?

Mike Gage : It is an honor to be playing with them.

RTJ: The present style is rather bluesy, is it very suitable for you or would you prefer atmospheres with a little more "Rock"?
Mike Gage : There is plenty of "rock" for me in Point Blank's style, especially the older stuff.
The new album has some songs that have more of a "rock" edge to them that we haven't
played live yet.
RTJ: How do you consider your role with them today?
Mike Gage : Very excited to be in the band as their drummer.

RTJ: Was Buzzy Gruen's playing full of specific difficulties at all?
Mike Gage : Not really, but you have to take into consideration that I had over 30 years to learn the first 2 albums—plenty of prep time!
RTJ: What where Point Blank's demands in relation to your drumming parts?
Mike Gage : They have some specific ideas about what they want in the songs, but also
give me a lot of freedom to put my own identity on them as well.
RTJ: Do you know well their six albums and which one do you prefer?

Mike Gage : I used to have all 6 albums and liked them all, so to pick just one is a little hard.
The first album would probably be at the top of the list.
RTJ: From our area in Europe, we feel that Point Blank was a bit lost in Texas since 1982,
what is your opinion about it ?
Mike Gage : I think they were around until 1984 and then they took a very long vacation (ha-ha)!
RTJ:Is there still a lot of fans having a passion for Point Blank in the U.S.A.?
Mike Gage : We are starting to see that everywhere we play in the states.
RTJ: How can you explain their resurrection?
Mike Gage : Glad to see them doing it again. Texas radio never stopped playing them.
You can hear "Nicole" and "Mean to your Queenie" everyday down here.

RTJ: Do you contribute to the next album's recording?
Mike Gage : Yes, I am playing on the new record.

RTJ: What happens with "The Powerhouse"'s career, half of the members of which finished
to play sooner or later with Point Blank?
Mike Gage : I started playing with Powerhouse in the summer of 2002 with Mouse Mayes and Wayne Six (bass player) and stayed with them until the spring of 2006 and left to pursue other projects. It's a fun band—miss playing with them.

RTJ: Has you other musical projects?
Mike Gage : Mouse and I play with Buddy Whittington when we are able and
I am currently working on several projects--one being a solo album—I sing and play other instruments besides drums.

RTJ: Do you like the Southern Rock, in the style of Lynyrd Skynyrd, 38 Special, Molly Hatchet, Allman
Brothers, etc...?
Mike Gage : Yes, I do---grew up listening to it and playing it in a lot of bands over the years.

RTJ: Does a young musician like you make a difference between Southern Rock and Texas Blues?
Mike Gage : I think good Southern Rock has a bit of Texas blues in it already whether
you notice it or not.

RTJ: If you had to finish your life on a desert island taking only 5 albums with you,
what could be those you may take?
Mike Gage : Led Zeppelin, Eagles, Poco, Blackfoot and of course Point Blank!

Thanks a lot Mike for your availability for the site Road To Jacksonville and Point Blank's fans!

JOHN