Copyright © 2007 Road to Jacksonville
Webmaster : Patrice GROS
Tous droits reservés.
Design par Zion pour Kitgrafik.com
Interview Mike "Mouse" Mayes
for RTJ (english) by John MOLET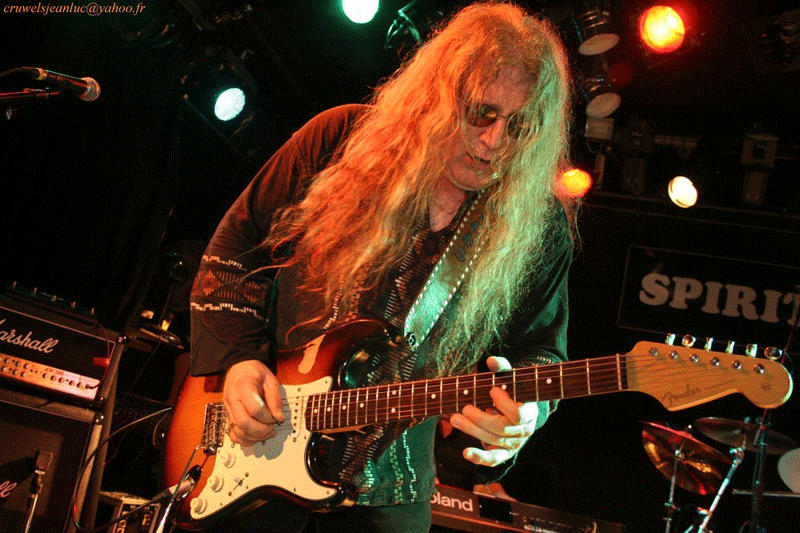 RTJ : First, before talking about Point Blank, can you globally tell us about your musician's career?
Mouse : First started taking lessons when I lived in Iowa at about 9 years old. I was in my first band in junior high school (around 12 years old). I really started playing when I moved back to Texas in 1968. After a brief stint at the University of North Texas, I headed to California with a band called Southpaw. I came back to Texas sometime in 1975/76 and formed Big D Stuff. In 1982 and again in 1987, I worked with Black Oak Arkansas. In 1990 with a band called Alamo, we shopped a demo to Epic Records but they passed. In 1996, an independent label picked up my band, The Voodoo Kings, and we toured for four years. I started working with Buddy Whittington and then got a call from Point Blank to sub some gigs while I played with my current band The Powerhouse.

RTJ : What are your musical influences ?
Mouse : Jimi Hendrix, The Beatles, Cream, Mountain, The Allman Brothers, The Nazz,
and all the old school power bands
RTJ : How did you meet Point Blank ?
Mouse : Rusty and Philip used to come and sit in with Big D Stuff, Philip managed Big D Stuff when he left Point Blank, I played guitar for John when he left Point Blank.
RTJ : Did you know the band before meeting its members?
Mouse : I knew the band prior to meeting the members because I used to steal licks off the first and second records.
RTJ : You probably know that during the seventies, the band played more than 300 shows a year, do you know well its story ?
Mouse : I kept up with the band as best I could but always had my own bands working.

RTJ : When we recently met in France, you spoke very highly of Kim Davis; could you be a little specific for our readers ?
Mouse : I always thought Rusty was the rock/progressive player but if you wanted the blues,
Kim was your guy. He was/is a killer blues player.

RTJ : Can we consider that you fill in definitely for Buddy ?
Mouse : YES (as far as I know). They have asked me to fill the second guitar spot permanently.
RTJ : The currently band's blues style is surely very suitable for you, but would you be comfortable with more Rock songs, like Louisiana Legs, Turning Back, Penthouse Pauper, etc…
Mouse : I am more of a rock player and I love all those songs and would love to play them
if we decided to.
RTJ : How do you consider your role with them today ?
Mouse : I am the second guitarist and do back-up vocals while still adding my
own personality to the music.
RTJ : Last December, the band played "Part time lover" but didn't play it again anymore,
is it easy in the band's way of living to be able to add new songs in your set-list ?
Mouse : It is always hard to balance the new material with the old because you have
so many fans that have their favorite songs so we just try to mix it up.

RTJ : Don't you think that Bill Ham restrained a little Point Blank in favour of ZZ Top ?
Mouse : Well, I don't usually discuss politics (and that's politics) but Ham probably
did what he had to do to keep ZZ Top where they were.
RTJ : Do you know well their six albums and whitch one do you prefer ?

Mouse : Good songs on all of them but the first 3 records are still my favorite.
RTJ : How can you explain their resurrection ?
Mouse : Right place, right time for something to happen.
RTJ : Last week-end, you played in Algona (Iowa) for the Freedom Rally, how did it take place?
Do the Americans have such a passion for Point Blank like the Europeans ?

Mouse : American motorcycle clubs host big events all year long such as the Freedom Rally for bikers to get together and enjoy live music. But I think that Americans don't have the same passion for Point Blank that you guys have.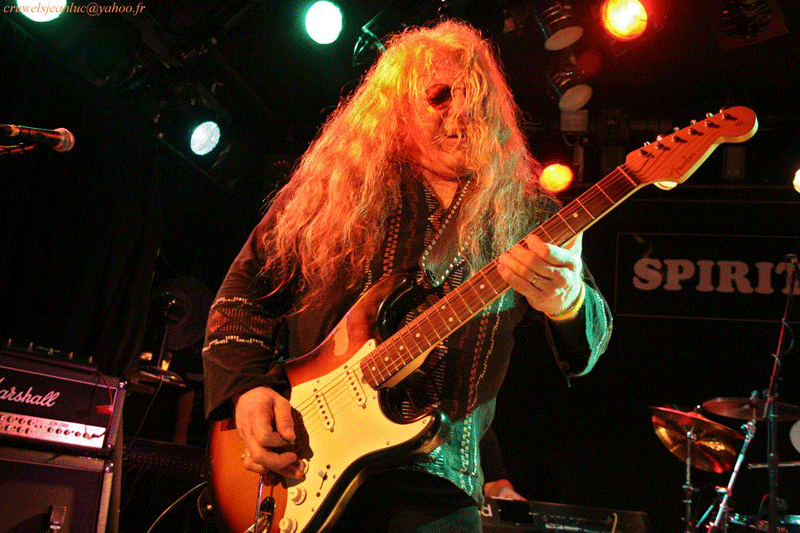 RTJ : You played with Black Oak Arkansas (Rusty too I think !), can you recount this stay ?
Mouse : I started out on the crew and worked my way into the guitar slot.
RTJ : Do you contribute to the next album's recording ?
Mouse : A lot of the songs have been written but hopefully I will have some input.
RTJ : What can you say about "The Powerhouse" 's career, and how do you explain that half
of the members of witch finished to play sooner or later with Point Blank ?
Mouse : The Powerhouse was put together as a working band that just wanted to play
the songs we grew up playing. It's just a coincidence that members of the band are
now playing with Point Blank.

RTJ : Do you play currently with other bands ?
Mouse : Yes, The Powerhouse and Buddy Whittington.
RTJ : Do you like the Southern Rock, in the style of Lynyrd Skynyrd, 38 Special, Molly Hatchet, Allman Brothers, etc...?
Mouse :The Allman Brothers were really the "music" band in a sense that they let the music
go its own course (in a jam format) instead of being just about the song.
While I still respect the other bands, The Allman Brothers are my favorite.

RTJ : Does an experienced musician like you make a real difference between
Southern Rock and Texas Blues ?
Mouse : The roots of both are really one and the same to me.
RTJ : I just view with a great pleasure somme 2008 shows on Youtube, do you think
that all those Internet-linked evolutions are an asset or an inconvenience for Point Blank?
Mouse : It's all publicity and it gets the music out there but you get the good shows
along with the bad shows but in the end it is an asset because it gets the music out.
RTJ : According to you, how is it possible to explain that we ain't got any video material about Point Blank "seventies", not even a TV show, while the band toured as much as possible
at that time ?
Mouse : The video era had not begun and what video there was might not be of good quality.
RTJ : If you had to finish your life on a desert island taking only 5 albums with you,
what could be those you may take?
Mouse : Allman Brothers - Live at the Fillmore, Beatles - Rubber Soul,
Jimi Hendrix - Greatest Hits, B.B. King - Live at the Regal, and Free - Fire and Water.

RTJ : If I forgot something that seems to be important for you and Point Blank,
don't hesitate to add it !
Mouse : I am very flattered and excited that the guys wanted me to be a part of
the next phase of Point Blank.

RTJ : Thanks a lot Mouse for your availability for the site Road To Jacksonville
and Point Blank's fans !