TOM COERVER: On Louisiana, China Sky and Hurricane Katrina
BACKWATER TALES FROM A GREAT SOUTHERN MUSICIAN
by Michael Buffalo Smith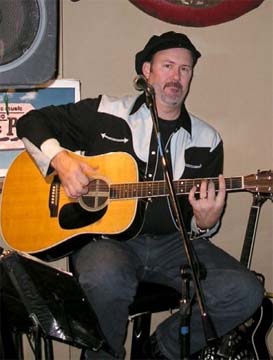 Tom Coerver is a musician's musician. A good ol' Louisiana boy who has an
inate ability to play just about any musical instrument he can get his
hands on, including a mighty impressive lead guitar. Tom's "claim to fame"
includes a stint wit the band China Sky, which featured future Molly
Hatchet leader Bobby Ingram, as well as being a spotlight artist in Guitar
Player magazine recently.
After years of friendship between Coerver and GRITZ, we decided the time
was right to get to know the man behind the music in this exclusive one on
one interview.

MBS:Tell us about where you were born and raised, and when you first became
interested in playing music.

Tom:I was born July 22, 1958 in Baton Rouge, Louisiana and raised in the
enchanted forest. We lived across the street from a little wooded park
called "Parkview Park" on South Parkview Drive in a "Leave It To Beaver"
late 50's vibe with the laid-back Looziana pace and I was a 'half-country
/ half-city' kid. My grandmother lived 'out in the sticks' and we'd ride
horses or go hiking in the woods out there or go water skiing and fishing
with the Claibornes in the swamps and the rivers that join Lake
Pontchartrain and Lake Maurepas near New Orleans.
It was like something from a Disney movie or Mutual of Omaha's "Wild
Kingdom" show
until age 12, and then we moved to the outskirts of Houston when my Dad
got transferred for his 'Chemical Plant Job' and it was a total 'shock to
the system' for me in Texas because of the 'bigger-better-badder Texan'
attitude that was completely foreign to me. I had already started playing
the drums (at age 11 in 1969) after seeing a sparkling new red "Sears
Best" el-cheapo drum kit at my cousin's house and hearing
that cowbell that sounded like 'Honky Tonk Women'...
I was 'hypnotized' in a second and had to get a drum kit. I had already
had a couple years of piano lessons (from age 7 to 9), but it was so much
more fun to smack those drumheads and I lost interest in the piano,
baseball, horses, boats, and fish. In Houston, the drums became 'my
identity' because I was a pretty quiet 'bookworm' kinda kid and then I
played in the grade-school talent show and did a drum solo based on the
groove to 'Situation' by Jeff Beck Group and some lessons from my great
drum instructor Denny Hair and the 'frozen shock' look on their faces
hooked me for life on the live performance adrenaline rush.

MBS: What was your first band like?

Tom:In another talent show in freshman year of high school (1972), I played
the drums again and met some other musicians and started jamming a bit.
This one guy named 'Joe George' played amazing piano and organ and was a
child prodigy and we got to be friends and that led to my first band. Joe
had some older friends and we rehearsed some of the guitarist's original
tunes and a bunch of Grand Funk, Leon Russell, James Gang, and other rock
faves. It didn't last long, because Joe got snapped up by a popular band
called "Jason" that was making good money and we knew it would happen
because he was that good.

MBS: Other bands?

Tom:My Dad got transferred back to Baton Rouge after four years in Houston
when I was 16, and we lived in an apartment where I tormented the
neighbors with jams that my guitarist school buddy Ed Gassie put together,
and once again... you guessed it... we played in the talent show with
another talented keyboard player named Jeff Jones and we called the band
'Elton Jeff' (Laughing). Jeff was also a hilarious dude and he lived
right down the street, so it was easy to get the band going and it later
became the first "real" band I was involved in that went by the name
"Southbound".
I had a cheap Les Paul copy I bought with 'yard mowing' cash and Ed and a
couple other guys showed me a bunch of cool tunes and I developed my ear
by sitting around breaking turntables trying to learn Cream, Creedence,
Stones, Allmans, Johnny Winter and ZZ Top tunes. A couple years later, I
wound up playing drums in another band called "BooKooWattz" that was a
real powerhouse boogie rock band that played the bars, schools and parties
circuit. By this time, I had already started getting absorbed by the
guitar and had a pretty nice rig that came from 'slaving away' during
summer break at a chemical plant making great money for a slacker-type
kid.
I had also bought a beat-up TEAC 2340 4-track tape recorder that you could
'overdub' with and then we were 'off to the races'. By this time, the
band had morphed into a new thing and changed the name to "LaFauci" and
the singer/bandleader Sal LaFauci was a really solid punchy drummer who
had been playing keys when I was on drums in "BooKooWattz", and Sal
decided to switch back to drums, and asked me to switch to guitar. Sal
had put a self-titled 'indie' album out and pressed 1000 copies, and
wanted to put a band together to promote it, so I learned the guitar parts
and we went out and 'played the circuit' and 'took what we could get'
which was mostly cover gigs around Louisiana, Mississippi, Arkansas, and
Texas for about six or seven months.
You can imagine my amazement when in 2005, Mike Varney from Guitar Player
magazine knew about the band and yelled into the phone "Can you get me a
copy of the "LAFOOOCHY" album?" during our interview for my spot in his
"Spotlight" column - he's a mega-collector of vinyl LPs! This band was
tearing up the highway in 1978 during my third year at LSU in engineering,
and it was the 'semester from Hell' where I made every grade you can make
and destroyed my GPA and cemented my future.

MBS:Tell us about how China Sky came to be, and how you got a record deal.

Tom:After that 'summer in chemical plant Hell' and the subsequent 'semester
from Hell', I graduated in December 1980 in the 'dead center' of my class
(truly 'middle class trash') and I swore I'd never set foot in a chemical
plant again! Well, when you're in the middle of your class, guess what?
Your options are chemical plant or ... chemical plant around here, so when
my pal Eric Hunter took a job with the Jacksonville Naval Air Station (aka
Jax NAS), I followed his advice and interviewed there and wound up moving
to sunny Jacksonville, Florida in February of 1981. I was a huge fan of
the city's musical progeny such as The Allman Brothers Band, Lynyrd
Skynyrd, Blackfoot, The Rossington-Collins Band, Molly Hatchet, .38
Special and so forth, but to be honest, the real factor in moving to
Jacksonville was to escape the clutches of a life in Chemical Plant Hell.
Needless to say, I was itching to play music but surprisingly, it took
about six months before I found a band that seemed to be a good fit to my
taste and style.
I had 'engineer bucks' coming in and I bought a Wurlitzer electric piano
and a Hammond "Porta-B" organ and Leslie speaker and was getting deeper
into reviving the keyboard jones from when I was a young kid. The music
scene was shifting drastically at that time and 'new-wave' and
'heavy-metal' were killing off Southern Rock in Jax, so I looked around
and found a 'new-wave-rock' band called 'The Philters' and it seemed to be
a good match. That band filled a niche in Jax and got popular quickly,
and we wound up opening for the Rossington-Collins Band at the Jax
Colisseum in February of 1982 - amazing night. The other guitarist in The
Philters was Scott Montgomery, and Scott had played in a band called 'Rum
Creek' with Bobby Ingram, and Scott introduced me to Bobby at a gig and a
few weeks later,
Bobby called to ask if he could borrow my TEAC four-track tape recorder
and get some engineering help on some demos he was doing with a new band
he was putting together. Bobby and the guys had a great 'wall of sound'
with slamming drums, big twin guitar arrangements, and some catchy songs
and I thought "I wish I could play the keyboards behind that group."
I had seen Bobby play with The Danny Joe Brown Band on MTV just a few
months earlier right after MTV descended upon Jax, and I couldn't believe
he was in this stinky old sweatbucket of a bandroom right down the street
doing demos with some guys I knew from a couple bands around Jax that had
just broken up - I thought he must be riding around in a limo or some
giant tour bus 'living the dream' because I'd heard about the giant
advance DJB had gotten from Epic Records and all that star-type thing.
Little did I know that good-ol' Southern Rock was dead as a doorknob and
that MTV was about to eat the planet.
A few months later, The Philters broke up and Bobby called right after I
had gotten a gig playing drums with a "show band" to go to Japan and do
'Fifties Revival' type-stuff. How strange is that? I decided I'd rather
play 'my kinda rock' with Bobby and the guys and I knew and liked Rik
Blanz (guitar), Kevin Taylor (drums), and Jim Wheat (bass) from seeing
their old band "Asylum" around Jax a bunch of times at gigs and various
music stores and I had met Richard Smith (singer) during the demos where
Iloaned them my beloved TEAC.
We all slaved away at day jobs while writing, rehearsing, and recording
demos six nights a week, four hours a night - sometimes more! We kept this
up for months and Bobby was on the phone with all these bigwigs, and
finally about a year later around mid-1984 "The Bobby Ingram Project"
(BIP) signed a management contract with Pat Armstrong & Associates
Management who had Molly Hatchet, Pat Travers, and Stranger on their
roster at that time. We managed to squeeze in some gigs and opening-act
slots around this time to keep our sanity, but Armstrong kept us busy
writing and doing demos on a tight schedule and brought us to Orlando
several times over this period to do demos at Bee Jay Studios and
'showcase' for various producers and A&R guys and we were hopeful of
getting a 'big record deal'.
We got all the usual rejection notices with comments like 'dated style',
'wrong singer for the band', 'not the right look', 'needs work on the
songs / lyrics' until late 1984 when A&M records got interested in us.
Pat looked over the offer, and advised us that we'd be stupid to take the
deal because it was a one-chance thing, and if the single they were
interested in ('Restless Hearts') flopped... stick a fork in us, we're
done! We kept beating our heads to bloody pulp with demo after demo of
new songs tailored to Pat's suggestions, and it was grinding us down
because we all wanted to play more shows, but Bobby insisted that we would
be wasting our time, and it was more important to keep writing because
that was our ticket outta the bandroom to the 'big time'. We finally
moved to an air-conditioned bandroom and spent a year from late 1985 to
late 1986 auditioning new singers and Jim threw in the towel and quit to
join The Johnny VanZant Band, so Richard moved to bass and harmony vocals
and we kept experimenting with different music styles with some strange
tunes Pat found and got us to demo like "Eyes In The Back Of My Head" and
it was a case of 'left shoeon the right foot' for quite a while.
Around the middle of 1986, Molly Hatchet was going through some turmoil,
and Bobby started playing guitar for them after Dave Hlubek left and Bobby
was gone for a couple weeks at a time every month. Just when it looked
like the BIP would collapse under the weight of all the time struggling to
find a new singer and make something happen, Ron Perry came down from
Michigan after being contacted by Pat Armstrong and auditioned for the job
singing with BIP. Finally, it seemed like the wheels were starting to
move and then Pat struck a deal with CBS records to start his own record
label called PARC Records and built a state-of-the-art recording studio
called PARC Studios in collaboration with Full Sail Recording in Orlando.
Pat signed BIP to PARC and now he was our manager, our publisher,
President and Owner of our record label, owner of our recording studio,
our babysitter and our psychic advisor... does anything seem "FUNNY" about
that scenario? Pat arranged
for us to work with a 'big-time' songwriter whose name escapes me, and we
did a bunch of demos of those tunes, and CBS decided it was time to do a
record based on those demos so we borrowed or rented every guitar, amp,
keyboard, and gizmo known to mankind and landed in Orlando to work with
renowned Producer/Engineer Karl Richardson- a heck of a nice guy- at PARC.
After much wailing and gnashing of teeth, about 13 songs made their way
onto tape and got mixed and mastered and massaged into being. Along the
way, a little phrase ("under a china sky") in a ridiculously overblown
'Journey-on-steroids' ballad (or was
it Ex-Lax?) was uttered and became the moniker of doom for the BIP.
Ron wanted to vomit when we heard that this phrase had been ramrodded down
our throats as our new identity and we saw the photos of just Ron,
Richard, and Bobby on the back in these insanely cheapo trendy 'wannabee
BonPoisonRatt' vinyl leatherette outfits with the poofy goofball aquanet
hair treatment and all. They wear ya down so much in this biz, that after
five years of beating yer head against the wall and salivating over
fortune and fame, you'll sign, wear, and do just about anything and try to
smile pretty in the process! By this time, in reality, BIP had already
collapsed under its' own weight and no longer existed. Half the band had
been 'released' from the contract - a polite phrase for 'fired' - for
being too scary looking for the pre-pubescent female demographic that was
targeted for the marketing campaign. Ahh, the history of the mainstream
music biz in one short sentence. Thank God that the Beatles and the
Stones and the -fill in the blank- were pretty enough for the young girls
and that the music got released, promoted and distributed and we have it
to listen to today in this
prefab cyborg pop era.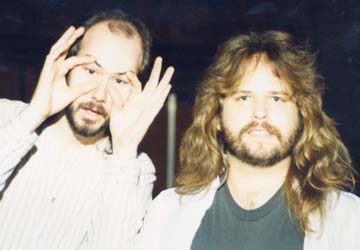 MBS: What was Bobby like to work with?

Tom: Bobby was like a Zen Hillbilly Preacher Accountant Referee Diplomat
Guitar-Slinger. He had amazing discipline, perseverance, drive, ambition,
and insight and would just not give up when disappointment was the daily
word. He quietly negotiated settlements in the daily songwriting wars
between six opinionated dudes and always focused on meeting milestones and
deadlines and had a clear plan and procedure worked out and stuck with it.
Lots and Lots and Lots of folks in Jax told me and the guys that we were
outta our minds to join with Bobby and that we wouldn't see a dime when
the dust settled because Bobby had a degree in Accounting and would work
the 'smoke and mirrors money game', but Bobby had a way of building faith
by calmly explaining the way the business worked and giving examples of
the way the record company / publishing
money is invested and divided from his experience in the 'big leagues'
with the Danny Joe Brown Band.
Bobby could play some amazing chop-busting parts on the guitar, and was
very consistent in his performance and repeated the Skynyrd mantra of
'work out yer parts and never ever ev vary them, play them exactly the
same every time you play the song and put every ounce of yer concentration
into the execution of the melodies and chords'. We came up with a handful
of what I thought were potential hit songs that had the Southern Rock
drive blended with big vocal harmonies from Bobby, Richard, Ron and me but
those songs reside in magnetic heaven and you will most likely never hear
them because the A&R guys said they were 'dated'. Oh Well.

MBS:How did that band break up, and what did you do next?

Tom:I got a call at work one day around May of 1988 from Bobby at about
4:00 P.M., and he told me that Pat had decided that only Richard, Ron and Bobby
would be in the band to promote the record and that I would be 'released'
from the contract. Needless to say, after five plus years of effort, I
was pretty depressed about it, but I was also relieved in a way because
even though I had not seen the embarrassing pictures and promo stuff, I
didn't like the music on the record very much except for a couple of the
songs and the production of those songs took all the power and life out of
them and I didn't like the sound of the final mix, either, so the news was
kind of anti-climactic at that point.

MBS:Talk about your musical influences...

Tom:Well, they are all over the map, but the obvious ones in
semi-chronological order are Creedence (my Dad and I loved them for the
sound and the songs and I still try to sing like Fogerty), Cream (the
obvious), The Beatles (I think you understand this already...), The
Monkees (Okay, admit it you hipsters, you had a copy of 'Headquarters' or
'The Birds, The Bees, & The Monkees' or 'Head' hidden somewhere in your
collection - Mike Nesmith is like Einstein in the sky... his song 'Writing
Wrongs' transported me to another dimension at age 10...) Jimi Hendrix
(speaking of transported to another dimension... what can you say about
Jimi that isn't obvious to the least among us? 'Hear My Train
A-Comin','Drifting', 'Ezy Rider', and 'Villanova Junction' along with any
Band of Gypsies immediately come to mind at the mention of his name - the
deepest blues in existence), Rolling Stones (who can write a better
simple song? That's the hardest thing in the world for me! Also, Keith's
open-tuned rhythm guitar and other tricks, Charlie's groove and tone, the
rest is obvious), Allman Brothers (Duane's fire and drive and Dickey's
sound and lyricism and Gregg's voice and especially that thick swirling
Hammond organ like on "Dreams"...), The Who (Live At Leeds with
'Summertime Blues' and the 'My Generation/Tommy medley' - great drums from
Keith (another main influence), great guitar with unique tone and harmony
and songs from Pete with great vox and bass that redefined the role of the
instrument in rock), Derek & The Dominoes (the obvious), Johnny Winter
(probably my biggest influence from the time in Texas... the stingin'-est,
most intense slide and lead guitar I'd ever heard), ZZ Top (one word:
Hombres), Chicago (the first five albums with Terry Kath on guitar and
Robert Lamm writing songs...), Mahavishnu Orchestra (Billy Cobham was my
favorite drummer for ages, and I thought the music was the most intense
and harmonically interesting stuff my thirteen year old brain could
consume...), Yes (the keyboards and the strange unique songs... something
I had in common with Bobby), Led Zeppelin (the obvious), Lynyrd Skynyrd
(the songs grabbed me right away when my friend Patty Brady told me to
check out this new band from Florida when I was in the ninth grade... I
loved 'Things Goin' On' and 'Poison Whiskey' and it just got better from
there... I could go on and on, but you know what I'm talkin''bout), Jeff
Beck (the obvious and everything else... the most soulful and emotive
guitarist of all time and space), Little Feat (Lowell George is like a
Dali painting come to life in a spaghetti western... one of my biggest
influences as a singer (I wish...), a songwriter, and a slide guitarist
who invented a new vibe for the instrument...Bill Payne is one of my three
favorite keyboard players along with Billy Preston and Billy Powell... the
Three BPs... and a close fourth being a tie between Dr. John and Chuck
Leavell...), Steely Dan (the obvious), Dixie Dregs (the obvious), Pat
Metheny (mostly the early stuff), Jaco Pastorius with or without Weather
Report (beyond innovator - he's an inventor), Jimmy Smith (the man
invented the way we play the Hammond Organ in 1956... you gotta give him
props...), Elvis Costello (the songs, the songs, & the songs), Ralph
Towner (I just hope to get tuned into his crystal 12-string acoustic
frequency at some point... not to mention the nylon string thing...),
Miles Davis (almost any era, but especially the space vibe stuff), John
Coltrane (Giant Steps over the tonal and atonal spectrum), Terje Rypdal
(the guy created new dimensions for guitar... he's a solar system unto
himself), Mike Stern (if you study the tune Fat Time from Miles Davis's
album "The Man With The Horn", you'll smirk a lot when you listen to my
records... he created five of my favorite guitar 'licks'/'lines'/'runs'
... whatever you call it, I can still remember the moment I first heard
him play on SNL with Miles in 1981 - it was so intense, I think my watch
stopped and then burst into flames...), John Abercrombie (the album
'Timeless' will always be one of my top 10...), and the list goes on and
on and on...

MBS: So, no influences? (Laughs) What is the greatest record album ever
recorded and why?

Tom:I can't even begin to answer that, ... but I would say that my favorite
and "most listened to" is a close tie between "The Allman Brothers Band
Live At The Fillmore - Deluxe Edition with the Tom Dowd edits and the
extra songs" and "Timeless" by John Abercrombie because they both are
among the most engulfing, transporting records I've heard that just exist
in a place outside time and space and take you there where there are no
cares and you float in a pool of warm jello with velvet tentacles encasing
your cerebellum.

MBS:Tell us about yourself, family, hobbies...

Tom:I'm 49 going on 69... freeze-dried mentally at about 17, I have
surprisingly poor motor skills and the CDs demonstrate my total compulsion
to play music - those who have seen me trying to put strings on my guitar
understand completely (it usually involves massive flesh wounds and
Neosporin), I love my Jesus and have absolutely no vices or annoying
tendencies to ramble on about... what was I talking about? My family is
straight outta "Leave It To Beaver" (I'm striving to be Wally, but have
been accused of being Eddie Haskell), my beautiful wife Esther has trained
me to crush all opposition at Scrabble, and tolerates my obsession with
music even though she can play circles around me on the piano and has
tried and failed to make me into a sight reader (ya might as well teach a
monkey to swordfish...) and we have three kids, two sons-in-law, one
wife-in-law, two grandkids (#3 on the way), my hobbies are raising a
terrifyingly sedate Doberman Pinscher named Lucy VanPelt - caution, Dobie
will lick you to death...photography, graphics, tennis and fishing about
every 12 years or so, movies, scrabble, home destruction/improvement, and
formula one racing - yeah... that's it... my life is interesting.. yeah.
I can often be found under the drawbridge 16 miles north of New Orleans on
the Lake Pontchartrain Causeway Bridge with massive headwounds from the
426,000 conduits and junction boxes that protrude from ceilings and
sidewalls or on the side of I-10 or I-12 staring befuddled at one of the
many CCTV cameras or Dynamic Message Signs that comprise the 'Intelligent
Transportation System' for the Louisiana Department of Transportation &
Development inmy job at GEC, Inc.

MBS:Talk about how you came to record your first album...
Didn't you play all instruments?

Tom:In late 1995 I bought my first real Baby Grand piano, and the feel and
sound got me started thinking about writing songs for the first time since
1987 when BIP got burned out on writing songs after the marathon
demo-mania. I had about 20 songs written by 1998 when I met my pal John
Lisi and we started recording his music together at my little home studio
and John heard some of the tunes and said "dude, you gotta finish that
stuff and turn it into a CD and get a band together and play the tunes..."
so I started polishing the efforts and then edited the rewrite of the
revisions to the original ideas and then it started sounding like a nice
cluttered cacophony. I had been playing drums again for fun with my pal
Mike Owings (aka R.L. Spencer of the Delta Rockets and Allen Collins Band
(Mark II) and with John Lisi and Tabby Thomas and I could
once again get a groove going with the guitar recorded to a click track
and then I'd add bass, keys, vox, etc. until John said "erase all that
junk at the intro and let the guitar have room to breathe" and then it
started to sound like music. I knew better from all the observations of
Karl Richardson and other experiences, but my OCD kicked in and I couldn't
stop myself from dubbing the dubs until John put the razor to my throat
and forced me to edit. Then I got addicted to editing and they had to
call the fire department to get the jaws of life to pull my head outta my
backside.

MBS: What about your second album....

Tom:Encouraged by the reception from Germany and vicinity to the First CD (aka
"Backwater Tales" by Tom Coerver - roots, rock, and blues from Planet
Louisiana), I decided that I had enough steam left in me to start doing
another CD. I had put together a band that we called 'Backwoods BBQ' to
play the first CD material, and that was fun but it broke up when our
other guitarist Johnny Rosetti broke his arm after the bassist Denise
Brumfield quit to get married (in completely unrelated events). Having a
bit more time on my hands led to indulgence in recording cover songs such
as "Sitting On Top Of The World" by Howling Wolf, "One Hundred Pounds Of
Trouble" by Burton Gaar, "Don't Let It Bring You Down" by Neil Young, and
my medley of two clever songs about the music biz by Robert Lamm from
Chicago "Sing A Mean Tune, Kid" and "A Hit By Varese" in between working
on 13 new original tunes I had percolating in my subconscious mind. The
second CD came to adopt the title "Waterfront View" while I was pondering
what to put on the cover to follow in the footsteps of "Backwater Tales"
and saw the photo of me walking past 'beautiful' Alligator Bayou in the
swamps just outside of Baton Rouge. In other words, I had already paid
for the photos and I wasn't getting any younger, thinner, or 'less gray',
so I used what I had (Laughs).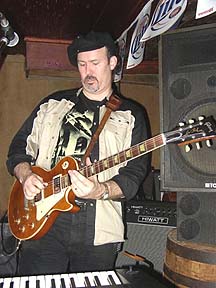 MBS: And then you did Thirds....and more... This one with a band called Goin'
South. Tell us bout the band members.

Tom:The "Thirds... & More" CD by Tom Coerver & Goin' South has so many little
puns that crack me up... I'll share some with y'all: First, the title:
"Thirds... " is a play on words in the sense of the musical interval of a
'third' between two notes, my third CD under my name, one of my favorite
CDs from the early 70s is "Thirds" by The James Gang with Joe Walsh, who
is one of my favorite guitarists and songwriters, and the term for the
third course of a 3-course meal... a pun on Lynyrd Skynyrd's "Second
Helping" LP to clue people in that this is Southern Rock music (whatever
that really means...); Second, the cover: the blue sky is from the chorus
of 'Sweet Home Alabama' (where the skies are so blue); Third, the band
name: we were searching for a name that screamed "we play Southern Rock
music" and 'Southbound' was already used, and Esther's favorite 70s movie
was 'Goin' South' (starring Jack Nicholson) so we picked that with tongue
firmly in cheek; and fourth, the cover (again): Our bodies sinking into
the road (goin' south or 'goin' down'...) symbolizing the fact that, yes,
we are getting kinda old now.
The band came together in a kind of organic way - just before Backwoods
BBQ broke up, my classmate from 1974 Bill Doran called me up to re-connect
after he was talking with one of his co-workers down in New Orleans who
happens to be my son-in-law who happened to ask Bill if he knew Tom
Coerver in Baton Rouge since he knew Bill played upright bass in a
'Rockabilly' band. Well, Bill called and it turned out I needed a bass
player and Bill told me about this great drummer he had played with in an
old band, and he got Keith Simoneaux to come over and jam, and it worked
right away. Keith and Bill know how to play together, and it was easy to
do my thing with them and they seemed to be 'in tune' with my style right
away.

MBS: Do you still gig?

Tom:Yep, we're still doing gigs around Baton Rouge and vicinity.

MBS: What would you like to see come from your musical work?
Besides a million dollar farm?

Tom:I'd like for U.S. Americans to be able to be able to better find and
locate the USA on a world map of the world and I believe that our
education such as South Africa and Iraq such that and our education over
here in the U.S. should help the U.S. help South Africa and Iraq and the
Asian countries so we will be able to build up our future for us and the
U.S.A. I think. Uhh... OK, I couldn't think of a better answer than Miss
Teen South Carolina gave in the recent Miss Teen U.S.A. pageant, and being
that y'all are from South Carolina, I thought that y'all would relate to
her revelations. Now, if you could explain to me what I just said...
MBS: Describe what it was like during and after Katrina down there... and what
is it like now.

Tom:Katrina hit Mississippi much harder than Louisiana and Baton Rouge only
had a few gusts over 30 MPH and we didn't lose power until late morning on
Monday, August 29, 2005. The next couple days were hot and smelly without
power and the radio was blasting scary stories of flooding and chaos in
the New Orleans area. Thursday, September 1, 2005 was one of the strangest
days of my life. I was out on the Lake Pontchartrain Causeway ("The
World's Longest Bridge" - 24 miles long from Metairie
(just west of New Orleans) north to Mandeville) for my job to do a survey
of the damage to the Causeway's electric power system from hurricane
Katrina and the winds and ominous grey sky were still hanging around to
make the vibe like a bad dream.
Military helicopters large and small were zooming overhead following the
path of the bridge and being refueled in flight by those giant prop-driven
cargo planes and the
whole vibe reminded me of the Gulf war. Only emergency vehicles were
allowed on the bridge and we had a Causeway Police escort as we made our
way from North to South and it was strangely quiet except for the
helicopters fighting the wind. The electrical vaults are a couple miles
apart, so we spent a lot of the day in the car riding from vault to vault
and the first thing we heard on the radio was a talk-show when the
president of Jefferson Parish came on and started ranting about the chaos
and crime running out of control with stories of a shopping mall being
burned and the firemen being shot at by the thugs looting the place and
hospitals being robbed and shot up by thugs stealing drugs and thugs
shooting up the police headquarters with automatic weapons and thugs
shooting at the rescue helicopters and he said he had just come back from
Baton Rouge (Louisiana's Capitol City) where he had tried to seek help
from the governor in restoring law and order but had to stop at a police
barricade near the downtown Government building because there was "a
disturbance from the evacuees" near the area in the River Center complex
and the State offices were "locked down" and the interstate was closed and
the police said he'd just have to go back to New Orleans for now. This
was about 72 hours after the hurricane had passed through and the levees
had breached and the city was flooded and most of the stuff you heard
about in the media was just getting really bad.
I ran across some technicians from Sprint at the bascule (drawbridge)
control house who looked like they'd just seen a ghost and they said
they'd just come from the Morial Convention Center and had seen some dead
people whose throats had been cut and that the scene was way out of
control. Then, when we were almost finished (about a mile from the south
shore near Metairie), the Causeway police told us we had to clear the
bridge to "make way for the Red Cross convoy" and right about that time
the "man on the radio" was ranting about how the "Red Cross is not welcome
in Jefferson Parish if they don't get in here right now because everybody
is out of everything". Of course, we never saw a convoy but we did see
one (1) little box truck with the Red Cross logo on it and it turns out
that they held off until the mayor and the governor and the feds finally
got "squared up" with all the paperwork signed and then the National Guard
troops came in the following day and cleared a path for them so they
wouldn't get shot. The national media started backpedaling around then and
changing their story about all the chaos but I have it from eyewitnesses
that it was horrific and an extreme example of what happens when the bad
guys have the upper hand and when I was doing FEMA trailer site
assessments a few weeks later everybody was talking about "secret
deployments of special operations military teams" to take care of the bad
guys because the police were so overwhelmed by the storm damage situation.
I don't know about all that, but I do know that the next few weeks were
super-heated tense around Baton Rouge with the "couple hundred thousand"
extra people in our city of around 400,000 population and the roads were
jammed and crawling and power was still out in lotsa places and gas was
scarce.
The situation in 2007 is getting better, but the recovery is moving very
slowly and only about half of the pre-Katrina population has returned to
live in Orleans parish in the vicinity of New Orleans. Many of these
folks relocated to Baton Rouge and Houston and the city authorities have
struggled to deal with traffic jams that have resulted from the sudden
population growth in Baton Rouge (maybe 50,000 stayed in BR) and housing
prices skyrocketed for a while because of the shortage of housing and now
rents are just astronomical in New Orleans and vicinity, almost twice the
old rates. My pal John Lisi and his family lived in the Lakeview area of
New Orleans near the infamous 17th street canal levee breach, and their
house had 12 feet of water at the peak, and then it receded to 7 feet, and
now the insurance company is trying
to set the repair reimbursement based on 7 feet of floodwater. Lots of
folks got the insurance screw job, and there is still plenty of corruption
with bogus contractors and political diversion of funds, and our governor
wisely decided it would be a 'bad idea' to run for another term. It still
blows my mind that the remaining people voted that
imbecile Ray Nagin in for a second term as Mayor of N'Awluns... it just
goes to show that Louisiana politics is every bit as corrupt and screwed
up as ever, and with Congressman Jefferson getting popped for his
shakedowns and Congressman Vitter getting popped for his philandering, I'm
almost afraid to listen to the news to hear and see the next 'wound' to
Louisiana's reputation. Okay, I'll towel off and get off my soapbox, for
now.

MBS: As a Louisiana home boy, how do you feel about the government reaction to
Katrina?

Tom:It just got more and more disgusting and by now you've all heard the
stories on the news and all the politicians for both the Republicrats and
the Demicans (aka Corleones and Gambinos) came out smelling like month-old
catfish carcasses and the whole world witnessed the stuff of legend when
it comes to "Louisiana Politics" that we've been famous for since the
early part of the last century and the feds skewered their fall-guys and
played damage control and it doesn't seem to matter whether yer on the red
or blue side, around here almost everyone is disgusted with the local,
state, and federal government reaction to this whole ordeal and having
been involved with the FEMA recovery efforts and seeing the cronyism and
incompetence first hand, I can vouch for this story's effectiveness as a
natural laxative.

MBS:If you could play with any musician, living or dead...who and why?

Tom:I'd love to work with Bill Payne of Little Feat and take advantage of his
uncanny ability to compose and perform the ultimate most complementary
backing part for any song in any style with any singer on any day with any
type of keyboard in any climate in any part of the world. Billy Preston
could also touch the soul of the most casual observer with his fantastic
organ and piano parts, especially in ballads like his incredible and
simple and memorable and moving performance on "Isn't It a Pity" and "My
Sweet Lord" from the 'Tribute to George Harrison' DVD. I also have a
couple tunes that just beg for Billy Powell to do his old-time Americana
thing like he does in the immortal piano solo at the end of 'Sweet Home
Alabama'. I'd love to take some guitar lessons with Steve Khan for his
chord Khancepts (and he's an all-around cool guy to have an email
conversation with!) and 'dreamscape guitar' style and with Mike Stern to
get a handle on his Bebop Blues Rock from outer space lead style that I
have learned about seven seconds worth of in 26 years of trying
(Laughing).

MBS: What are your future musical plans?

Tom:We just finished another CD titled "From The Mud...To The Sky" that
features Goin' South and a few friends and also some more tracks of me
doing the 'One Man Band' thing on some unusua covers of "Satuday Night
Special" by Lynyrd Skynyrd, an all-acoustic version of "Ego Tripping At
The Gates Of Hell" by The Flaming Lips - imagine if the Beatles grew up in
Oklahoma and got Neil Young to sing it...can you tell I'm a big fan of
irony in music? And an mournful version of 'Angels & Fuselage' by the
Drive-By Truckers with a tip of the hat arrangement-wise to the Allman
Brothers version of "Dreams" (since I did the MH groove version on the
"Thirds" CD, I had to do the ABB thing this time!) with the swirling
Hammond organ and soaring Duane-ish slide guitar with an added dash of Lou
Reed's live version of 'Heroin' with Steve Hunter and Dick Wagner guitar
touches. There arel also several original TC tunes that cover all the
musical bases from L.A. to Louisiana to Macon to Jax and back.
We're having a bunch of fun recording this puppy!
Visit tomcoerver.com