Copyright © 2007 Road to Jacksonville
Webmaster : Patrice GROS - (CountryMusicRadioMagazine.com)
Tous droits reservés.
Design par Zion pour Kitgrafik.com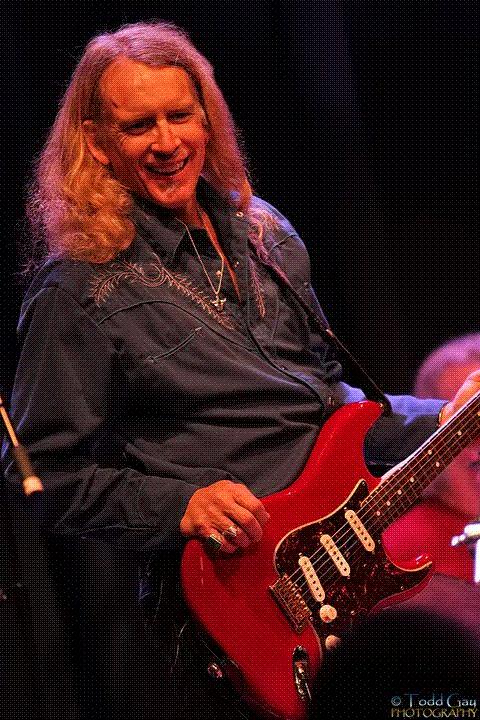 Hello Billy,
Thanks a lot for accepting to answer to our questions for the webzine Road To Jacksonville
(French and English versions).
As you surely notice, we are a Southern Rock enthusiasts' generation, that's the reason of the name given to our Internet site ! We just want (of course) to contribute by our passion to let
live the Southern Rock music !
In the past, we interviewed very involved people in this music like Don Barnes (38 Special),
Mark Matejka (Lynyrd Skynyrd), Rusty Burns (Point Blank), Bobby Ingram (Molly Hatchet), Warren Haynes (Gov't Mule), Charlie Starr (Blackberry Smoke), and many others... Each time, those guitarists tried to convey to us what is the southern rock feeling, so we're very happy today
to be able to record your opinion, because a lot of enthusiasts think that you are the right man
in this style !
So, let's start :
We are mostly french fans, and in France (like in Europe in general), since the seventies, we have labelled this music with the name of "Southern Rock". According to you, was it right to distinguish this music with this name, and do you think that this label "Southern Rock" is important?
Yes the label Southern Rock does fit. It all started to me with the Allman Brothers Band and Marshall Tucker Band, Skynyrd, the Outlaws and a slew of others. We all kind of banded together and had this special bond and this rootsy kind of music. I think Southern Rock is a very important brand of music and there is a whole new generation of fans out there.
On the Outlaws' site, we can read that you wrote for celebrities like Dixie Chicks, Poco,
Martina Mc Bride, etc... Can you explain to our readers your composer-guitarist's carreer ?
I kind of retired from the road in 1988 and moved back to Nashville from Florida and started writing songs. I ended up signing with a publishing company and the songs I was writing ended
up being cut by various artists.
You came in the Outlaws to substitute Hughie, sadly passed in 2007 ! Did you know Hughie
before ? And the other band's musicians (Chris, Randy, Monte...)?
I met Hughie, Henry, Billy, Frank , and Monte in 1973. My brother Tom and I had a hot up and coming southern rock band and we were playing a club in Knoxville Tennessee and the Outlaws came down to see us. After that the Outlaws were opening for Charlie Daniels and I would see them from time to time. I was probably closer to Billy Jones than anyone but was on good terms with Hughie and saw him last about 6 months before his passing.
When we see you play on stage, you give the impression to be as comfortable on Fender than on Gibson, what is the sound you like the much? Do you play on other brands with a typical sound like Don Barnes, for exemple, who plays sometimes on a 12 string Rickenbacker, or Rusty Burns who recorded some tracks of "On The Run" on Gretsch ?

I am most comfortable on Gibsons and Fenders BUT I do have an array of guitars that
I use in the studio including Gretschs and Rickenbackers and Taylors....
Do you use effects racks?

I don't use effects live. A use a floor tuner and I use a Pod Line 6 in the studio.
I'm kind of a purist live and like to go for an amp sound.
How do you share the different guitar parts with Chris ? I suppose that you mostly take
Hughie's parts, do you ?
Yes I do most of Hughie's parts since I'm playing the Strat but Chris does alot of his parts too since he knew them so well from playing with Hughie. We split some of it up.

Hughie had the reputation to be a very technical guitarist, and even Ed King expressed his


I have a roadmap I kind of follow that is a mixture of Billy Crain and Hughie. I can't play like Hughie and never will be able to. He was one of a kind. I do use some of his parts but really stretch out on the second solo.
When you have to play "Green Grass And High Tides", have you a definite laid down part,
or do you give yourself some freedom in the chorus ?
I don't even try to mimic his parts. He had his own style that can't be duplicated.
According to a lot of fans, the current band sounds really great, one of the best line ups
under this name of the Outlaws, how do you explain it ?
Without taking part in a debate that doesn't concern us, we're very sad to see the current problems between Henry Paul's Outlaws and Hughie's family. Would it not be better that
all those people try to agree ?
I don't really want to comment on the current legal issue. It is all just a travesty to me...
Is it musically conceivable to see two bands with the name Outlaws ?
There will always be one Outlaws to me. The Outlaws to me was Hughie, Henry, Billy, Frank,
and Monte and David Dix. The only 3 left are Henry, Monte, and David and David doesn't
want to tour anymore. So if Henry and Monte aren't there, there are no Outlaws.
Well, I don't insist, because we're only a little webzine, enthusiast just about the music of the Outlaws and the people that created it ! What are your favourite titles in the Outlaws' set-list?
There Goes Another Love Song, Hurry Sundown, and Green Grass and High Tides hands down....
Are there some Outlaws' tunes that are not on the current set-list, but that you'd like to play ?
Several french fans and friends liked you in January during the Simple Man Cruise and were very impressed by your shows! What is your opinion about the Simple Man Cruise ?
Does rock and cruise go together well, from a philosophical point of view ?
Yes it goes together wonderfully. It is a great way to get up close and personal with all the
fans and other bands as well.
Nonce, you are not in the next 2011 cruise's program (that should be the last for Lynyrd Skynyrd !) while it was planned. Do you know the reason why ?
I don't know why we aren't back on the cruise.
Among the major southern rock bands still active, Skynyrd, Allman, Molly Hatchet, 38 Special, Marshall Tucker Band, etc.... from which ones do you feel the closer?

Probably the Allman Brothers and Rossington Collins. We spent a lot of time touring with them.
Whoops I see you were asking about current bands. Probably Molly Hatchett and Skynyrd......"
Did you know the band Point Blank in the 70's, and what do you think of its come back ?
We did a few shows with Point Blank but have not seen them since.
Isn't it delicate for you to go from the Outlaws to Blackhawk, and inversely, all the year long ?
The Outlaws and Blackhawk thing is part necessity. By combining the 2 acts we have enough dates for us all to make a living. Also they can schedule dates close together to where Henry doesn't have to fly different members in and out to do the dates. We enjoy doing both bands.
Are we allowed to think that your style as a guitarist finds a better expression
in the Outlaws' register ?

Yes it is more suited for the Outlaws. I'm not really a country guitar player plus I get to really stretch out with the Outlaws.
Can you remain us on the whole your great years with the Henry Paul Band ?

I was with the Henry Paul Band from start to finish which was 1978 to 1983. Henry was always
a fan of my guitar playing and when he left the Outlaws he called me. I was playing with
Bobby Whitlock (Derek & the Dominoes) at the time so I wasn't very interested at first but
after talking to Henry I warmed up to the idea and jumped aboard. It was a great band and
I had alot of fun. I wish we had a longer career out of it.
I think that you admire very much your brother Tommy who worked a long time beside
Charlie Daniels, can you tell us some word about that?

Tommy taught me how to play guitar when I was 7 and we remained very close. We had a band when I was in high school caled Flat Creek Band that had a great local following. I unfortunately was quite young and immature and left the band after a couple of years. TC went on to play with Charlie and we got to open alot of dates for Charlie with the HPB. TC has a band called Tommy Crain & the Crosstown Allstars now that are really great. He's still playing just as great as he was 30 years ago.....
Can you say some words about the Flat Creek Band where you have played with Tommy ?

The Flat Creek Band was born out of TC and my love of The Allman Brothers. We both saw
Duane and Greg play a lot and loved their sound and created this band around that sound.
We started writing our own songs and kind of developed our own sound.

In France a lot of fans would be happy to see The Outlaws live, is it conceivable for you
to come in our country during a mini European tour ?

We hope to came back to Europe and play. We didn't get to come over this year.
I'm just listening now to the "Demos" album that was recently offered to the sale on the Outlaws' site, do you really consider this recording like demos or should we understand something else in this title?
It was just demo's for the new record but it was mixed really well and is just as good as a master recording in my opinion.
I like some tunes very much, like "Train", "Can't Break Me", "Tomorrow's Another Night" and of course "Its About Pride" and its splendid guitar outro !
First, who sings the lead vocals on "Train"

Chris Anderson sings the vocal on "Train".
What kind of message should we understand in the "It's About Pride" lyrics?
It's a song about the southern brotherhood that exists between all the Southern Rock bands. Especially back in the '70s all the bands were very close and worked together to develop this sound called Southern Rock.

Why didn't you include the live intro on "Tomorrow's Another Night" ?
That was just something that we kept for the live performance and we had already
recorded it the other way.
From a musical point of view, how do you rank this album, Country Rock or Southern Rock ?
I think it is a little bit of both.
Many thanks Billy for spending some of your time with us, and we really wish to see you on stage, during the Simple Man Cruise 2011 or in Europe !
I hope we will see you on the cruise too thanks for the interview!!!!
Billy Crain