Copyright © 2007 Road to Jacksonville
Webmaster : Patrice GROS
Tous droits reservés.
Design par Zion pour Kitgrafik.com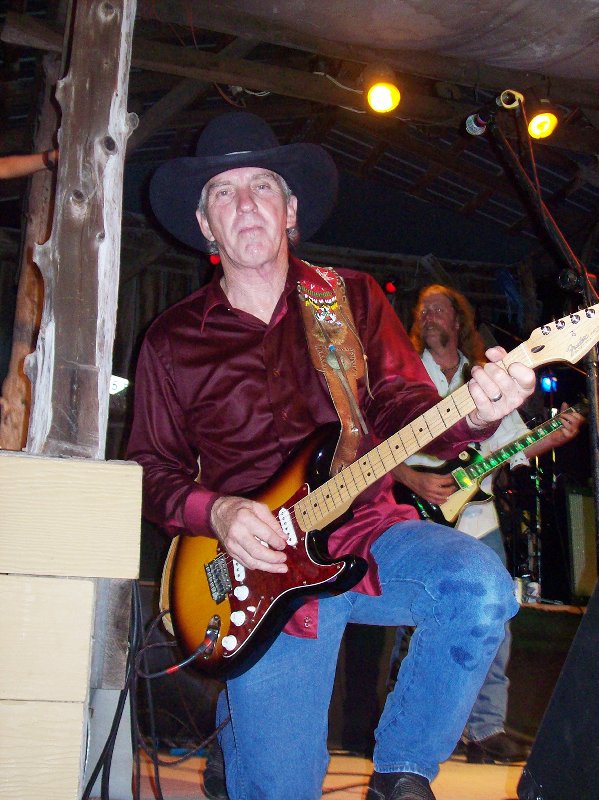 Interview DENNIS WINTERS (Winters Brothers Band)
By Y. Philippot-Degand, with the valuable support of Southern Georg. (June 2008)
RTJ: Hello Dennis. First, we'd like to thank you for answering our questions.
This is your second interview for "Road to Jacksonville". Do you remember the first, in 2005?
Dennis Winters: Yeah, I remember it pretty good.RTJ: The main reason for this interview is the new "Coast 2 Coast" release, but first, can you tell us what happened to you during
this last two years ?

Dennis Winters: Working on the farm / in the barn / on heroin (loughs).
RTJ: The first edition of "Coast to Coast, the Lost Album", in the 90's was a kind of concept album, musicaly describing song after song the long journey between the West Coast and the East Coast. This new edition doesn't respect the order of the songs and completely brakes this concept.
Does it mean that you consider that the concept wasn't strong enough to persist ?

Dennis Winters: First release was just a bootleg in poor quality. It was taken from unfinished tapes. This album was never "lost", just hold back from the record company.
This second release is the first and only official release ever, we're touring from coast to coast, that's on that album.
RTJ: On this album, we can listen to the acoustic version of "Homegrown" but also to three other acoustic songs. The common point beetween those songs is that there's only the voices and a guitar (is it yours?). We can catch the strength and the harmony of your voices, and the quality
of the songs: they sound very well played in this very simple way, and we also can compare the electric and the acoustic versions of "Homegrown". Was it your decision to introduce those acoustic songs in the album ?

Dennis Winters: Yeah. WBB is electric music, when friends produced this in 1977, and now
we got the digitally remastered CD we thought we have to put it on as a bonus to our fans.
RTJ: If this introduction is your decision, what were you looking for ? Did you want to be recognized as a "complete artist", did you want that people notice the songwriting ?
Or perhaps did you simply find great the acoustic songs ?

Dennis Winters: Try to open it up, show all sides of it/ what we got, like Lynyrd Skynyrd /
Curtis Loew or ABB with acoustic sets.
RTJ: The acoustic side is it a side that you would like to develop now or later ?
On stage or only in studios or in radio sets ?

Dennis Winters: We've have a TV show for 12 years in Nashville, it's primarily acoustic. The southern summer jam is filmed every year, it's just something we do. Like Guns and Roses or Bruce Springsteen Unplugged. You ever heard Keith Richards doin' "Satisfaction" unplugged?
(Yes, and K. Richards alone with an acoustic guitar, it's quite impressive, and it helps to understand a lot of things, because it sounds like hell! NdR. & T.)
RTJ: In this album, we can also listen to a very good and amusing version of "If I Could Only Flag Her Down", with a coda like "La Grange", but there is no real link with the other songs.
Why did you include it in this album ?

Dennis Winters: You found the hidden track? Because we recorded this album just before
we put this one out. We played with them all out in California with Skynyrd, CDB and stuff.
We had fun recording this ZZ Top song hit. We laughed all way through.
RTJ: There are two lead guitars soloing in this song. Did you make one ?

Dennis Winters: First is myself, Dennis, second is Jamie Laritz, third Darren Brothers. (So, the two guitars soloing in the end are not an association of the two first guitars soloing, but a third and a fourth guitar! NdT.)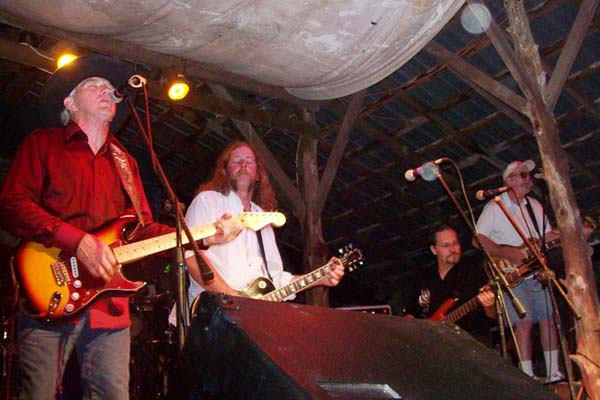 RTJ: With "Coast to Coast" and albums like "Stampede" and "Southern Rockers", you became "specialists" of concept-albums. Do you need to have a concept to help you to write, or do you think that you can make a southern rock album without a concept or a link beetween the songs ?

Dennis Winters: I'm the greatest to put together a Southern Rock concept album. No other Southern Rockers like Lynyrd Skynyrd, ...have ever put out such a great album. (laughs).
It doesn't have to be concept, but why just put out an album with a bunch of songs? Serious, Southwest Stampede is a real concept album. Listen to this album change your mind in listen to music, because you can see the music now.
Southwest Stampede was called, the Sgt. Pepper of Southern Rock.

RTJ: In 2005, you spoke about some projects like a blues album and a live album.
What do they become ?

Dennis Winters: The blues album, it is written, start production next year
(playing a few tunes of different songs for that album).
Live: I'm so picky having trouble to find the right stuff. There are so many songs, so many different recordings. Just waiting for the right stuff. Producers say it's fine.

RTJ: What are today your next musical projects ?

Dennis Winters: Like I sayed before. Finishing the projects previously mentioned. Would like to get a top notch DVD together starting to write new songs. Trying to do a project with Jerry Eubanks of MTB, that will be called the Southern Rockers Tour. It will be a tribute to Southern Rock. RTJ: In 2005, you said that you didn't listen a lot to new bands. But there's actually a kind of rebirth of the Southern Rock, encouraged by the success of Lynyrd Skynyrd, Allman Brothers Band and Gov't Mule, with bands like Laidlaw, Rebel Train, The Rebel Pride Band, Derck Trucks Band, Ghost Riders, Liquid Groove Mojo, etc... in the U.S.A., Savoy Truffle in Japan, but the band doesn't exist anymore, and in Europe W.I.N.D., Voodoo Lake, Medicine Hat, Lizard, General Store, Natchez, Plug and Play, Truckers... Do you know this bands ?

Dennis Winters: Very familiar and very much fan of Butch Trucks (Derek Trucks? NdT.)
and Gov't Mule. Out of all these bands, I've only heard of ...

RTJ: We have also a new activity in old bands, they organize their come back and have changed their line-ups. We saw recently the "new" Point Blank, the "new" Outlaws, the "new" ARS, a three guitars-Blackfoot without Rickey Medlocke and Jason Spires, the return of Dave Hlubeck in Molly Hatchet, and the rising of Dickey Betts Great Southern. Did you listen to them? What is your opinion about those "new-old" bands ?

Dennis Winters: Southern Rock is truly a dying breed unlike blues, bluegrass, jazz, there are very few to fulfill Southern Rock in the original form. If you like..., you should listen to them that are still out there and make the offer and everybody should respect and listen to them as long as they are still out there. Otherwise, only copies and cover bands will be around.
Best influence lately is Steve Earles song "Devil in a Hoe".
Best southern rock song written in years.

RTJ: Can the exemple of those "new-old" bands increase your envy to create, to record, to tour ?
Dennis Winters: These bands have nothing to do with our love for the music and our desire to write. But we have a lot of respect for these bands because they are still out there and helping Southern Rock.
RTJ : Did you know Hughie Thomasson ?
Can you say something about this musician and his recent death ?

Dennis Winters: Yes, I knew him. The Southern Rock world was saddened deeply by his passing. He was one who tried to do Southern Rock in his original form. He was a great guy and writer.
He is a part of Southern Rock history and a legend.
Footnotes (still Dennis Winters): It doesn't seem that there is near enough focus in the media and in the radio for no reason I know. It's a shame that all the focus goes to the top bands that have the hits, instead of Stillwater, Grinderswitch, Winters Brothers Band, bands such as us, because we have no relatives of the ABB, corporate backing.
Here we are, 32 years after our first release. We sell a lot of CDs over CD baby, ebay, our website. FM radio asks us about our songs because they get so many requests.
Delbert Mc Clinton, George Thorogood...., don't get the recognition they deserve.....
Bonnie Raitt! .... she plays a wonderful slide guitar. I never played slide guitar after I heard her. She takes blues to a new level.

RTJ: Unfortunately, we can only agree with you about those sad observations.
Thank you for your answers, and all the best for you, the band and the family.

Dennis Winters: Thank you and thank all the southern rock fans in France and Europe and worldwide. You, the fans, keep that thing goin'. Hope to see you at our shows.
The South's gonna do it again!