Copyright © 2007 Road to Jacksonville
Webmaster : Patrice GROS
Tous droits reservés.
Design par Zion pour Kitgrafik.com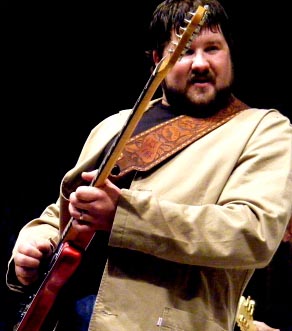 Marshall Tucker: The Next Generation:
An Interview with Justin McCorkle
by Michael Buffalo Smith

We've all heard the old saying, "the apple doesn't fall far from the tree." No where does that old chestnut hold more true than in the case of Justin McCorkle. Justin was born the only son of Marshall Tucker Band founding member and songwriter George McCorkle and his former wife Elaine during the very peak of Tucker's popularity. We spoke with the good ol' Carolina (as in "South" as well as "USC") boy about growing up in the shadows of Southern Rock giants, and his recent decision to carry on his dad's tradition by joining his cousins' band,The Southern Boys.

You were born and raised in my hometown, Spartanburg, SC. What are your earliest memories of your father and the MTB?

That's right Buff I was born and raised just outside of Spartanburg, it'll always be home. Well, I guess some of the earliest memories that stick out to me are the times over at Creative Arts studio in Moore, and earlier than that the bus they had. I was just amazed at that stuff in there man.

I can remember just about all of them recording at some point there.
I remember I always liked to watch Paul play drums. I was used to Daddy playing a guitar all the time around me, so I suppose the drum kit with Paul T. beating the heck out of them was a different experience for me. I was too little to really know what exactly what was going on but I do remember I had to be quiet when they were listening and recording. I used to go out there on the floor when nobody was around and play Daddy's guitar, or try to play it. I thought it was the coolest thing that I could watch them play something and hear it all together in the board room. I can still remember the smell of that studio. I'm not sure what it was, but reflecting back it kind of smelled like new carpet or something of that sort.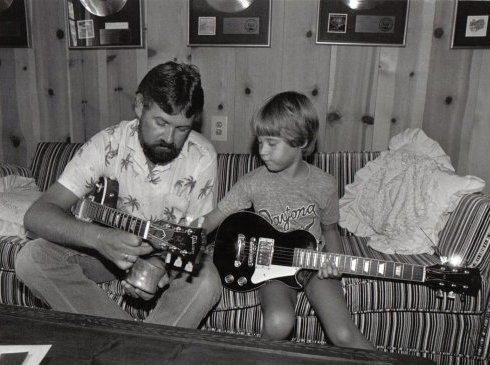 I also remember the bus that they rode. Man that thing would put me to sleep. I used to crawl up in Daddy's bunk and cover up with his goose down sleeping bag. I remember the sound of that motor inside the bus and I remember watching Buddy drive it, and I even remember Daddy driving some. I rode up to the venue at Red Rocks one time with Daddy and Johnny Lawson in the MTB 18-wheeler. I was flying high man, it was awesome.

Daddy was a really normal down to earth guy as far back as I can remember him. He taught me how to fish and hunt, gun safety, how to play golf, ride a bicycle, all the things that most American fathers do with their children. He had race cars and that was one of my favorite things. I loved going over to the race car shops with him and seeing other cars and listening to them run. To this day a good ol' loping small block Chevrolet gets my blood pumping! I bet I dove 100,000 miles in his '67 Chevy II drag car while it was either sitting in the garage or on the trailer. The other guys in the band and their amilies were all so very kind and loving to us "kids". It was literally like a big family looking back at it now.
Did you ever go on the road with them?

Oh, yes. Us rug rats got to go along at times. I can remember being backstage and everyone was so kind and laughing and just having a great time. They always paid attention to us and made sure we were well taken care of. Our mamas were always with us as far as anytime I can remember being at a concert. So you know that we were all taken care of and being spoiled rotten I'm sure. Cassady (Toy's oldest) dragged us all around most of the time and kept us in line. (Laughs) So she was the big sister that kept us little tykes straight. I guess I was the closest to Cassady in age until Amber. Jeff and Geneal were the same age I think and Helena and Gabriel were a little younger than they were. I hope Cassady don't see this and get onto me for telling that she's a couple years older than me. (Laughs)

Are you old enough to remember Tommy? If so, what are your thoughts?

I can see Tommy's face very vividly in my mind, I've even had dreams about him. In my dreams he never spoke, just looked at me and smiled a really calming smile. I can remember seeing him and watching him. I remember that he was a person I felt very comfortable around. He and Melody both for some reason. Being a small child I remember quite a few faces that I associate with being loud and scary. Tommy was not one of those faces. He was a very gentle, level headed fellow from what I can remember.

What do you remember most about Toy Caldwell?

It would be hard for me to name just one thing that I remember best about Toy. He always seemed like a cheerful guy and a straight forward kind of fellow. I can remember being around Toy even when I was older and in high school. He and Abbie were always so kind to me. I guess the thing I remember about Toy the most was how impressed I was with him when a guitar hit his hands, even as a little kid. As I grew a little older and was playing guitar myself I realized just exactly how much of Toy's soul flowed through that guitar. Toy was a mountain of a man, on stage and off.

You headed up the Jam 4 George last November.
What are your overall thoughts on the event?

Jam 4 George was an amazing, God sent, show. That's about all you can say. All of you that helped plan and pull that show off are the ones that made it happen. Everybody showed an absolute amazing outpouring of love for my Dad and what he was about on that day. Everyone that was there was just so happy to be there and smiling and just having a great time in honor and in memory of a great person. I was really shocked that we actually pulled it off like we did (laughs). It would be impossible for me to sit here and name how many people did absolutely crucial things to make that show happen and it all came together perfectly. Everyone that was there was really happy and honored to be there. And in the end we paid for the show and got to start a foundation in Daddy's memory that will hopefully help in the fight against cancer. It was just an amazing time. Old friends reunited, new friends made, families joining together, and of course some great Southern Rock music.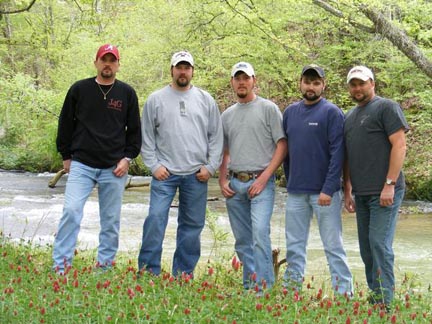 Tell me about The Southern Boys. Is it true they re your cousins?

Yes they are my cousins by marriage but it seems I am more like them than I am the other cousins we have in common. (laughs) Wayland, Kenny, Justin, and Kevin Bailey are of course all brothers, in that order from oldest to youngest. Jason Gooch is the lead guitarist in the band and he is a life long friend of the Bailey brothers. Bruce Wall who is our manager, also sits in with us and does a huge amount for this band behind the scenes. They are all just like us really. Just country boys from a small town in the South that love that old groove and Southern Rock sound. We are all very family oriented. We all hang out together, we all play music together, we all laugh together, we all cry together. It's really a big family and music is the one huge thing that we all have in common. Like this weekend I was down there in Alabama with them and Bruce recording some promos. Saturday night we all went over to Kevin and Justin's house and cooked out. They have a pond out there so everybody got to do some fishing and we all cooked out and picked some on the porch later that evening. The kids were all fishing and swimming in the pond and out in the boat. Even us big kids were out there at the pond and messing around with the little ones. (laughs) It's just really a big family and that's the way we like it. They are some of the most courteous, and sincerely good hearted people you'll ever meet.

You guys sounded excellent at J4G and when I saw the streaming video from Bruce's jam. How did you come to join the band?

Wow Buff that is really nice, we certainly appreciate your kind comments. We are just really happy to be keeping it rolling bro. We hope that Southern Rock fans enjoy this as much as we enjoy bringing this music to them the old way.

Well, it's kind of funny really. Uncle JW (their Dad) and my Dad were trying to get us all together and hang out and meet each other as adults and to play some music and all of that. Unfortunately that was just about to happen when Daddy was hospitalized and diagnosed with stage four cancer. I started talking more and more to them during that time and we all became really close. I started going to some gigs of theirs playing and they did the same up here a few times. Then Bruce got us involved in the Fame Cast contests. So we were all voting and talking about it.
One evening I was talking to Justin on the phone and I said "man we're really pulling for y'all and hope that you do well in the Fame Cast thing." He said "what do you mean y'all?
You're in this band too, dumb ass!"

So naturally I just died laughing as Justin and I are always joking around with each other.
A few days later I was talking to Wayland and he asked me if I really wanted to be a full member of the band. Of course I graciously accepted as I was hoping to do that somewhere down
the road anyway.

Are you writing songs?

Absolutely. I have been writing more as of late than ever. I've had a lot of experiences in my life in the last couple years that have provided me with plenty of fuel. Some experiences good, some not so good, but all equally ready to fly out and be part of a song.

Are you guys cutting an album?

Yes we are, Buff. We are in the process of doing that now. Paul Hornsby will be producing this one and we will be down in Macon, Georgia in the studio in August. I'm incredibly excited about it. Chris Hicks will also be doing some work on it and possibly "Dangerous" Dan Toler. There are some details still to be worked out but we are most definitely in the process It's really amazing to see all of these guys supporting us and believing in us. It's a real motivation booster and the anticipation is about to kill us all.

What are the future plans of SBB?

We have decided that this is just our dreams and something that we've all been doing and wanting to pursue for a long time. It's time for us to make that happen, everything has come together the way it was supposed to. Everything is lined up and waiting for us to take hold of it. We plan on coming to a town near you, and having at least a few more records under our belt before it's all over and done with.

Where can folks find you guys on the web?

We are at http://www.southernboysband.com or you can check us out on My Space at http://www.myspace.com/southernboysband Shoot us a message and a friend request!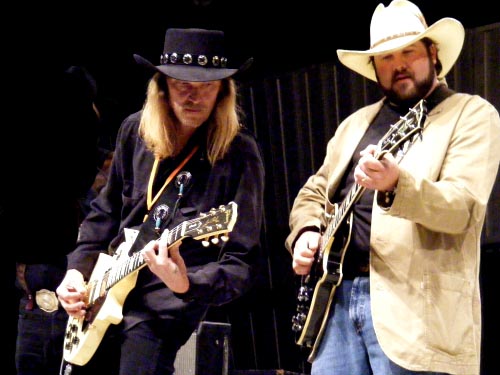 Back to George for a moment. I had heard there were a lot of songs he had written in anticipat ion of doing another album. Were any already recorded?
I also heard a rumor about a tribute album? Can you elaborate?

Daddy had quite a few songs in his catalogue of course. I couldn't tell you exactly which songs he had picked out for the G=MC2 album that he was working on. He had all of the songs that were possible for that album demo'd already. A couple of guys in Nashville mentioned some further plans for Daddy's music and possibly a tribute album. Unfortunately I haven't heard anything
else about it.

As an old school MTB fan, I remember George's song "My Sweet Elaine" written about your mom. In fact, I used to bag her groceries at Community Cash and she was always so sweet. How is Elaine these days?

She is doing great Buff. She lives about 5 miles or so away from me and I see her quite often. Her husband Terry is just one of the greatest guys you'll ever meet. He is very good to me and all of my family. Even when all of us and the Baileys converge on their house! (laughs) I'm really happy for Mama these days. They both seem happy and well content in their lives. Hard to ask for much more than that.

Here's one out of left field. What's your favorite MTB album and song?

(laughs) You mean I have to pick one? Sheesh, that's pretty tough to do. I think that Where We All Belong was put together really well and it's probably one of my favorite albums. I guess my favorite song would either be "Silverado" or "Never Trust a Stranger." Both of them have a real groove that just grabs you and says listen here!


Besides Tucker, name some of your favorite bands.

I'm a little odd when it comes to music. You might find me listening to Bluegrass one day and Metal the next, I just like it all. Some of my favorites besides Tucker would have to be Led Zeppelin, Stone Temple Pilots, Lynyrd Skynyrd, The Allman Brothers, Stevie Ray Vaughan and Double Trouble, Jimi Hendrix, Elmore James, System of a Down, Rage Against The Machine,
AC / DC, Stanley Brothers, Alice In Chains, Johnny Cash, The Fairfield Four, Shooter Jennings, Tony Rice ( and any band he's in) Pearl Jam.
Can you tell us about your family now?

Sure I've been married for about nineand a half years now. I married my high school sweetheart and even though I know it don't happen often we were just a great fit together. Beebe is her name and she is the love of my life. I couldn't imagine what life would be like without her.
You know us musicians have to have a really special woman by our side to keep us in line. (laughs) We don't have any children but we have plenty of dogs, two cats, and some chickens
to keep our home life interesting.

We live out in the country and have a great time out in our little house in the sticks.
We have some Mountain Cur dogs which we raise, train and hunt. We sell a few here and there and we have a great time with them. We're pretty simple folks. We have day jobs and like to kick it up a notch on the weekends and have a good time with friends like most everyone else. When we aren't somewhere at a music function we enjoy just hanging out at our house
and taking it easy in what little spare time we have.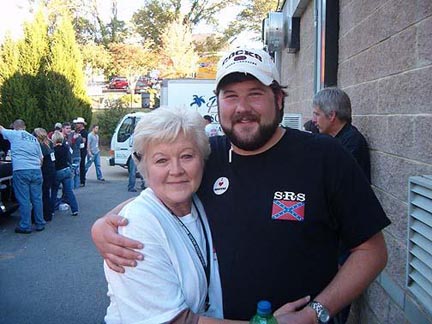 What's the most valuable lesson you ever learned from George?

Trust your instincts.