Copyright © 2007 Road to Jacksonville
Webmaster : Patrice GROS - (CountryMusicRadioMagazine.com)
Tous droits reservés.
Design par Zion pour Kitgrafik.com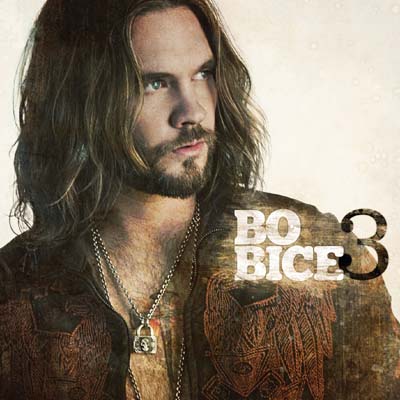 Bo Bice – the new southern sound
Interview made in Nashville during the CMA Music Festival by Johnny Da Piedade,
creator of the Big Cactus Country Web Radio www.bigcactuscountry.fr
BO Bice or rather Elwin Bice Harold being his real name was baptised « Bogart »
when he was born by his grandmother because she thought he had the eyes of the actor « Humphrey Bogart ». His family continued to call him Bogart. Then, little by little as time went by, Bogart became "Bo".
This multi instrument player is able to play electric guitar as well as he plays lap steel guitar, mandoline, harmonica, piano or even saxophone…writer, composer and singer, Bo Bice
is a complete artist! He is leading the new generation of the "Rockin' Country" music style. Strongly inspired by sounds from southern bands such as legendary Lynyrd Skynrd,
Marshall Tucker Band or Outlaws, he has his own style mixed with Country and Soul sounds, those that the southern singer was raised with.
Bo Bice appeared on the American country scene in a spectacular way in 2005 thanks
to a very popular TV program followed very closely by the American audience called "American Idol" (equivalent to what the "STAR ACADEMY" is in France).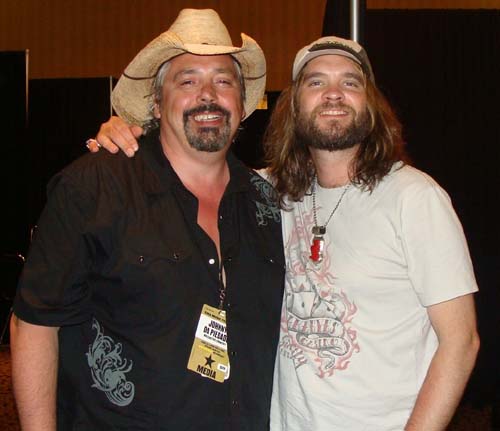 JD : Could you tell us, French audience, what happened during these TV shows.
Bo : A lot of people know me thanks to the TV show American Idol, I took part in the 4th season and was competing against Carrie Underwood. I came second and she got first nominated. Since then, I signed with RCA records, it went well and we released a single called « the real thing » and then we left RCA and I launched my own label and set up my own recording studio which then led me to my second single called "see the light", then we toured a lot the US, went to Afghanistan, and in Irak for a couple of dates, to support our troops, and when I came back I took some time off and worked on my CD, a brand new one that just came out and called "BO BICE 3".
JD : So where do you exactly come from ?
Bo : I'm from a little town in Alabama called Huntsville.
JD : When you took part in the American Idol singing contest, you sang a lot of classics
from Southern Rock. Can we say that you're a real southern guy?
Bo : I can tell you that you have in front of you someone who is a southern as cornbread that we have here, I grew up in the south, then went to live in England for a while and travelled through Europe, and even in my trips over there, I could see the tall grass of Southern Rock and Country, so it comes to say that it has always been what I love to do, writing songs, playing good music, and it just so happens that to me Southern Rock
is the best music there is.
JD : And you sure proved it to us especially on the Henry Paul's band's super album and among others Jimmy Hall, Brothers of the Southland! Because your interpretations are just simply incredible! The one from the great hit from Marshall Tucker "can't you see" And "dreams" borrowed from the Allman Brothers Band also very well done! I know a lot of amateurs of southern rock that expect you to make a single more in their orientation. Because your first album was more pop rock, the second a bit more committed to southern sounds, but with this 3rd one we have the feeling that your southern chromosomes have finally awakened and that it really fits you, it's really you there?
Bo : Yes, it's me it's true, just after American Idol, what I did at RCA wasn't my album, it was « an album » that anyone who had won second place could have done, but having left them helped me to free myself and discover who I really was and find the songs I was at ease with, it's what I did now and I feel that this new CD Bo Bice 3 is the best I've done up to now, and it shows the entire spectrum of who Bo Bice is, from country to Southern Rock and everything there is in between.
JD : That's exactly it, yeah and if I can make a comparison, I would place you musically speaking that is, somewhere between James Otto and Randy Houser, it's the same spirit of mind…You have your own style and put in all your heart, with some soul into it and a little bit of groove, I find it's truly a very good album.
Bo : well thank you very much, and that's just the achievement I've made ! in fact you know, I try to mix genders, there's a bit of James Brown, a bit of James Taylor, and a bit of things that get straight out you know with measures the Kravitz style, it's just very southern oriented and like I said, I'm very happy to have intertwined more country on this CD.
JD : Yes and I suppose that it's an open door for you…you know, our web radio team at
Big Cactus Country went on the "simple man cruise" (for 4 days between Tampa Florida
and Cozumel in Mexico), the cruise organised by Lynyrd Skynyrd that brings together
18 southern rock bands with groups such as 38 special, the Outlaws, Swampdawamp or even Molly Hatchet and Bone Pony, and we noticed that in the end, there were only a few bands that were "new" except for Blackberry Smoke, so the new generation of southern rock seems to be awaited for…but you give the impression to be born to follow theses guys' footsteps, and it comes to you naturally, you're not faking it, you grew up with these
sounds constantly on the radio?
Bo : That's absolutely right, some try to analyse their music and say « this is what I do » and for me, I look at those that paved the way like Lynyrd Skynyrd, and others like Allman Brothers, James Gang, Jim Croce…there are so many different aspects in music that I spent my life loving and I try to look at them that way : what I do is that I get inspiration from them and then I transform it. And I'm not saying that it's my own style or that I invented it, to me it's more like I'm doing it as a tribute to the ones who were here before I was and as you say, when we see a band like Lynyrd Skynyrd, seeing them on top of the charts, on the radio or other, that's not the most important. Each concert they make is full of screaming fans, and they're all packed, that's the kind of legacy that I'd like to leave behind and see at the end of my career. When I look at the past, if I can be like one of them you know Charlie Daniels, Hank Williams Jr, if I can have a career like that, I'm more interested in that than a bunch of gold records or rewards hung up on a wall.
JD : So what are your projects with this new album ? are you going to tour?
Bo : Yes, it's the case, the CD gives us the occasion to start a tour at the end of the summer with some sporadic dates, then we're gonna tour the US, I'd love to go over to Europe to visit you guys, I love France, I got to spend some time over there when I was a kid, it was a beautiful town called Annecy, that's where we were for a few summers, absolutely amazing, really south from Paris, we were in the mountains, I'd love to go back there, spend a good time, go touring with you guys, go visit you at your radio station, just sit down and do a live interview !
JD : Ok thanks to you.
Bo : No, I'm the one thanking you for your time, it's cool, it's really a wish come true to have fans like you over there in Europe, and honestly man, I'm gonna come and visit you, invade your studio, and you and me are gonna sit and chat again, I was happy to meet you and am gonna look at your website, thanks to you ! and take care of yourselves.
Thanks to Sandy Tordjman