SOUTHERN ROCK PATRIMONY
DENNIS ROSS & AXBERG BROTHERS BAND "In Case Of Attack" LP/1979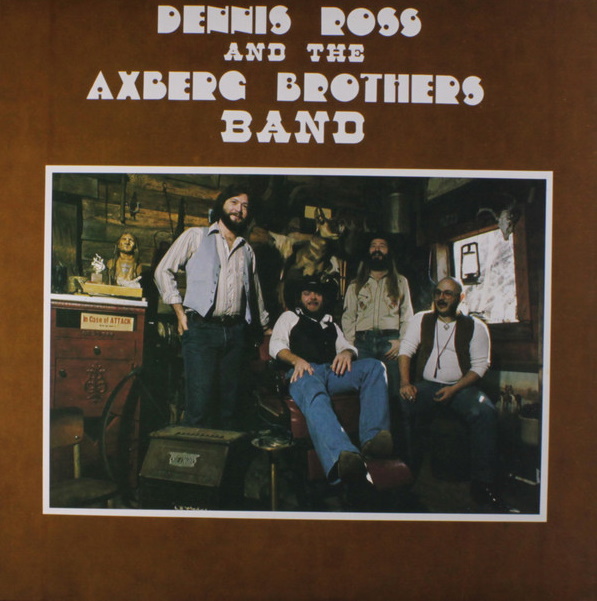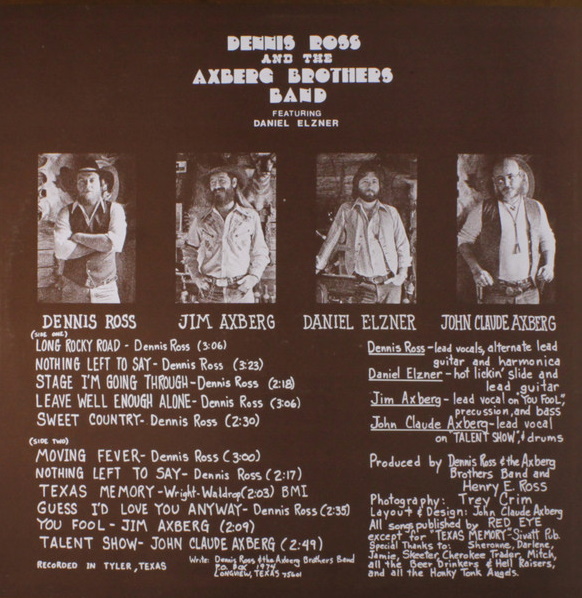 Here is a Texan band with an LP to their credit, with the patronym Dennis Ross and Axberg Brothers Band, 45 years old on the clock, certainly worned down by hard work but still in activity, with the motto "Beer drinkers and Hell Raisers", and always ready to draw in some old Texan drinking dens to brighten up the "redneck" with incisive music. Dennis Ross and Axberg Brothers Band, "power trio" of "Southern Country Rock Boogie" native of Longwiew/Texas is composed with the songwriter-guitarist Dennis Ross with the very irresistible rocky voice and the very sharp sense of the riff, which has unfortunately left us in this month of May 2021 for a better world, with the bassist Jim Axberg, as well as his brother John Claude Axberg at the drumheads pounding. These three men have buccaneered the southern states up and down and still travel through them with their own compositions and a few covers that range from "Soulshine" by Warren Haynes, "One Way Out" version Allman Bros, to jazzy "Texas On My Mind "from the Marshall Tucker Band for which they opened and formed friendships, notably with Chris Hicks and Doug Gray. Their record production is limited to a single vinyl titled "In Case Of Attack", recorded in Tyler/Texas in 1979 and including eleven tracks. They were supported for the occasion by a second guitarist, Daniel Elzner (Lead Guitar/Slide). Opening the A side, the speedy "Long Rocky Road" provides good big fleshy and sparkling boogie which is a little reminiscent nowadays of the musical approach undertaken by Chris Gates And Gatesville, also from Texas. Then their rock is a little "countrying" but with a lot of character on "Stage I'm Going Through & Sweet Country" and "Moving Fever". Then comes the success of the album with "Nothing Left To Say ": this song by Dennis Ross has just been re-recorded as" Stoned "by the excellent South Carolina Country Rock/Americana band The Piedmont Boys on their 2020 album "Almost Home" which is highly recommended.
DENNIS ROSS & AXBERG BROTHERS BAND
"Nothin Left To Say"
https://www.youtube.com/watch?v=xF-qbY7uEF0
THE PIEDMONT BOYS
Version of "Nothin Left To Say": "Stoned"
https://www.youtube.com/watch?v=1qRPIzrUlkY
To convince the recalcitrant, we also find things close to Asleep at The Wheel on the titles "Texas Memory" and "Talent Show", and good "Southern Boogie" with "You Fool" where Daniel Elzner distinguishes himself on the slide.
Jacques Dersigny

Translation : Y. Philippot-Degand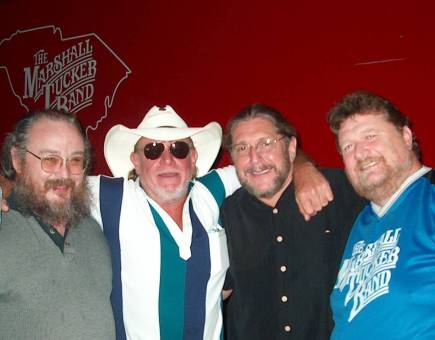 Copyright © 2007 Road to Jacksonville
Webmaster : Patrice GROS
Tous droits reservés.
Design par Zion pour Kitgrafik.com