DIAMOND GRAY: Live To Play, Play To Live (1997)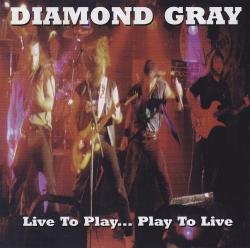 http://southern-records.de/en/CDs/CD-DIAMOND-GRAY-Live-To-Play-Play-To-Live.html
Musicians:
Danny Gray - vocals
Rocky Diamond - lead guitar
Chris Krause - drums
Todd Dyer - bass, harmonica
Jeff Scott - guitar
Titles:
1 Southern Pryde
2 Love Song
3 Texas Tango
4 Stop Running Away
5 Sold My Dog
6 Stagecoach Ride
7 The Seductress
8 Ready For The Highway
9 You´ve Done Me Wrong
10 Sweet Georgia Lucy
11 Next To You
12 Travelin´ Song
13 I´m In Love With My Baby
14 Since I Left You
15 Let Those Puppies Breathe
Ce groupe de Floride a sorti un unique album en 1997 avec deux guitaristes qui savaient harmoniser leurs instruments à la perfection. Sur cette galette, qui fait office de relique, se trouvent pas mal de bons morceaux. On commence par « Southern pryde » au titre évocateur, le « Y » faisant sans doute référence à Lynyrd Skynyrd. Il n'y a pas que l'orthographe qui évoque ce géant musical mais aussi le rythme. Ce titre peut s'apparenter à un genre de « Swamp music » speedé sur lequel le groupe cite un bon nombre de grands rockers sudistes tout en y incluant Stevie Ray Vaughan (on se demande bien pourquoi). Les Floridiens donnent aussi dans le « Southern boogie » à la Charlie Daniels (« Texas tango ») et dans la ballade sudiste mélodique (« Love song », « You've done me wrong », « Next to you » et le superbe « Stop runnin' away » doté d'un solo splendide). Citons également « Sold my dog » (un rhythm n' blues swinguant avec un harmonica) et « Sweet Georgia Lucy » (un rock sur-vitaminé rappelant « Bonie Moronie »). « Stagecoach ride », aux influences country, se révèle un cocktail de très bon goût entre Marshall Tucker Band et The Outlaws avec les guitares qui vont bien. Enfin, « Since I left you » s'engage sur la route du blues chauffé à blanc avec une slide incandescente. Du très bon travail en vérité ! Dommage que Diamond Gray n'ait pas percé la stratosphère musicale car ce groupe avait du talent mais, malheureusement, tout le monde ne peut pas réussir dans le business de la musique.
Olivier Aubry