LOUISIANA RED AND BOB CORRITORE: TELL Me Bout It (2021)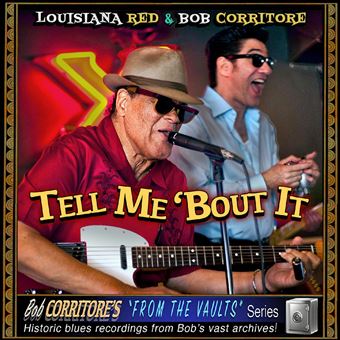 L'harmoniciste talentueux Bob Corritore ouvre ses archives pour le plus grand plaisir des amateurs de blues. Et c'est un plaisir qui risque de durer car Bob a fait tellement de sessions qu'il pourrait sortir un disque tous les mois. Pour le moment, il s'est contenté de quatre albums dans cette optique mais on peut raisonnablement penser que ce n'est qu'un début.
Là, il propose des enregistrements s'étalant de 2000 à 2009 avec Louisiana Red (décédé en 2012).
La voix et le jeu de guitare du bluesman transpirent la musique bleue et fait voyager l'auditeur entre Chicago et le Mississippi.
Les blues lents refilent des frissons (« New Jersey blues », « Bernice blues ») et les morceaux plus rapides donnent envie de danser (le jump blues « Earline who's been foolin' you »). Un swamp blues lancinant et hypnotique s'envole en direction du bayou (« Edith Mae »).
La slide de Louisiana Red glisse dans le style d'Elmore James sur « Freight train to ride » tandis que « Tell me 'bout it » évoque le grand Muddy Waters.
Et tout est dit avec le blues lent « Early morning blues » joué uniquement par Bob et Louisiana Red. Là, on atteint réellement l'esprit du blues !
Assurément, Bob Corritore n'a pas fini de faire des heureux avec ses archives personnelles.
Olivier Aubry