LOWELL FULSON: Live with Jeff Dale and The Blue Wave (2021)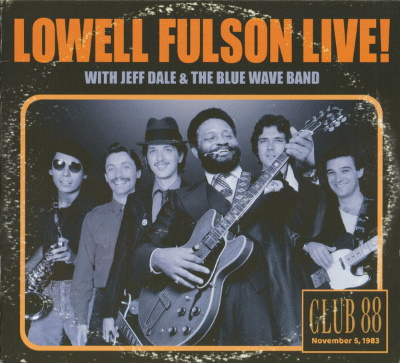 Profitant du confinement en 2020 pour faire le tri dans ses vieilles cassettes audio, le bluesman Jeff Dale a retrouvé ce show datant de novembre 1983 où il accompagnait avec son groupe le grand Lowell Fulson. Et là, ce sera sans doute un petit évènement pour tous les amateurs de la musique bleue.
Que ce soit sur l'instrumental funky « Do you feel it » ou sur sa version chantée, sur le Chicago blues rythmé « You're gonna miss me » ou sur les blues lents (« Blue shadows », « Reconsider baby », « Blues pain », « Goin' to Chicago »), Lowell Fulson joue le blues à l'état pur. Sa voix et sa guitare respirent l'authenticité et le feeling mais elles sentent aussi le vécu. Tout cela impose immédiatement le respect. Il faut donc remercier Jeff Dale qui a exhumé de l'oubli ce concert inédit de Lowell Fulson, un des pionniers du blues électrique, compositeur du premier hit de BB King (« 3 o'clock blues ») mais aussi du fabuleux rock'n'roll « Rock this morning » en 1958 (un titre qui pouvait rivaliser sans problème avec les tubes de Little Richard).
Blues forever !
Olivier Aubry