HOGJAW : Rise To The Mountains (2015)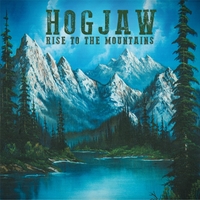 Musicians:
J.B. Jones - guitar & vocals
Jimmy Rose - lead guitar & background vocals
Elvis D. - bass
Kwall - drums & background vocals

Titles:
1 - Rise to the Mountains - 7:33
2 - Leavin Out the Backside - 5:39
3 - Over for You Know It - 3:19
4 - Where Have You Gone - 4:49
5 - I Will Remain - 8:34
6 - Fire, Fuel & Air - 5:02
7 - Another Day - 4:27
8 - Second to None - 4:25
9 - The Smoker - 3:35
10 - Grey Skies - 5:20
Cinquième album du groupe de Phoenix, Arizona. « Déjà ! Comme le temps passe ! » s'exclament leurs supporters. « Encore ? Ils n'ont pas arrêté ? » s'écrient leurs détracteurs. Les avis sont partagés ! Pour ma part, Hogjaw n'est pas un « Southern rock band » à proprement parler mais plutôt un groupe de heavy rock qui incorpore dans sa musique des influences sudistes et des colorations country. Quant à leur dernier disque… eh bien, c'est comme tout, il faut l'écouter pour se forger une opinion.
Ça démarre avec « Rise to the mountains », morceau qui donne son nom à l'album et qui commence en blues-rock speedé et continue en mode country à la Marshall Tucker Band. « Leavin' out the backside » est doté d'une intro country blues qui fait place à un rock costaud et entraînant avec un break à la tierce très mélodique. Un bon titre !
« Over for you know it », un rock rapide qui fait mal, envoie un solo « killer » bien sudiste d'inspiration Molly Hatchet. Même esprit avec « Where have you gone » et son intro de guitares à la tierce.
« I will remain » est très réussi avec son introduction à mi-chemin entre le « Southern rock » et Wishbone Ash ainsi que son solo de gratte musclé. Vient ensuite « Fire, fuel and air », un bon rock qui déménage. Le break s'oriente vers le blues-rock puis le rythme reprend pour amener un solo débridé.
Question déménagement, « The smoker » ne laisse pas non plus sa part au chat avec un final accéléré et un solo de guitare bien envoyé.
On termine avec « Grey skies », le meilleur titre de l'album à mon sens. Il s'agit d'une ballade acoustique (avec deux guitares sèches et une pedal steel) qui combine plusieurs influences (musique du 17ème siècle, folk celtique, country music). Un régal pour les oreilles mélomanes !
Hogjaw présente donc un album cohérent, résolument rock (mais pas sudiste), dont certains morceaux émergent carrément du lot (« Leavin' out the backside », « Over for you know it », « I will remain », « The smoker » et « Grey skies »).
Maintenant, on aime ou on n'aime pas. Comme je l'ai écrit en début de chronique, les avis sont partagés !
Olivier Aubry