ELO: Live – The Early Years (2010)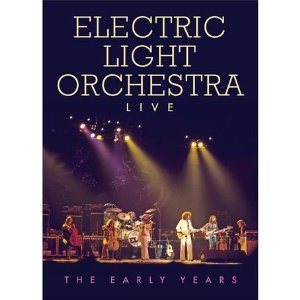 Titles:
Brunel University -1973
01 King of The Universe
02 MA.MA.MA Belle
03 In The Hall of the Mountain King
04 Great Balls of Fireà
Rockpalast – 1974

05 Daybreaker
06 Showdown
07Day Tripper
08 Orange Blossom Special
09 MA-MA-MA Belle
10 In The Hall of the Mountain King
11 Great Balls of Fire
12 Roll Over Beethoven
FUSION
13 Poker
14 Nightrider
15 Showdown
16 Eldorado Overture
17 Can't Get It Out of my Head
18 Poor Boy (the Greewood)
19 Illusions in G Major
20 Strange Music
21 10538 Overture
22 Do Ya
23 Evil Woman
24 MA.MA.MA Belle
25 Roll Over Beethoven
ROCKPALAST INTERVIEW
Bon je vais encore me répéter mais bon ? Eagle Rock nous a ici sorti une bombe en DVD. Des vidéos inédites à ce jour de ELO, quel beau cadeau de Noêl pour les fans du groupe que ce DVD des Early Years ! Formé en 1971, ELO, groupe dans la mouvance progressive, influencé par les Beatles et dirigé par Jeff Lynne, apparaît ici à Londres à la Brunel UNIVERSITY. Malgré l'âge des images, le groupe nous transmet une magnifique énergie. La vidéo de 1974 au Rockpalast présente une superbe version de « Great Balls of Fire ». La fin du DVD appelé FUSION a été filmée au New Victoria Theater de Londres en 1976. On y retrouve là les classiques de ELO, à savoir « Can't Get It Out Of My Head », « Strange Magic » et « Evil Woman ». Notons que le hit « MA.MA.MA Belle » est dans les trois shows. Bon allez je rêve : ah si Lynyrd Skynyrd avait une vidéo de 1973 ? Bon j'ai rêvé, en tous les cas, les fans de ELO seront aux anges et voilà un DVD de choix pour votre collection.
Juste sinon, si Rosie Vela qui est choriste (et girl friend du patron) dans la reformation des années 2000 de ELO pouvait revenir avec un nouvel album, on serait comblé.
Archi