EVERLY BROTHERS: Reunion Concert, Live at Royal Albert Hall (2010)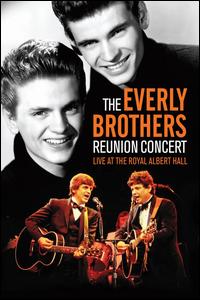 Titles:
01 Claudette
02 Walk Right Back
03 Crying in the Rain
04 Cathy's Clown
05 Love is Strange
06 Medley, Take a Message to Mary / Maybe Tomorrow
07 I Wonder I Care as Much
08 When Will I Be Loved
09 Bird Dog
10 Be-Bop-A-Lula
11 Barbara Allen
11 Put My Little Shoes Away
12 Long Time Gone
13 Step It up and Go
14 Bye Bye Love
15 Wake Up Little Susie
16 Medley: Devoted to You / Ebony Eyes / Love Hurts
17 ('Til) I Kissed You
18 All i Have to do is Dream
19 Temptation
20 Lucille
21 Let it Be Me
22 Rock'n' Roll Odyssey
Non, non, je vous promets, ce n'est pas du retour des Everly Bothers dont je vais vous parler ici, mais d'un concert réunion qui a eu lieu le 23 Septembre 1983 au Royal Albert Hall de Londres. Merci à Eagle Rock de nous permettre de retrouver sur scène près de 10 ans après leur séparation, en 1973, ce duo célèbre qui a multiplié les numéros 1 aux USA et en Grande-Bretagne, ceci avant l'apparition des groupes anglais aux USA. Nous nous situons donc en 1962, cela ne nous rajeunit pas ah ah … On retrouve donc ici les hits de l'époque, à savoir « Criying in The Rain », « Claudette », « Wake Up Little Susie » et » All I Have To Do Is Dream » ; bref du très lourd.
Ce DVD est donc un bon moyen de re-découvrir ce duo légendaire.
Archi